It's time for a lazy keto meals recipe round-up!

We've all been there. You are hungry, hangry, tired, or have a ton of things that need to be done and don't want to spend a lot of time in the kitchen. No worries, here are some lazy keto meals ideas to inspire you!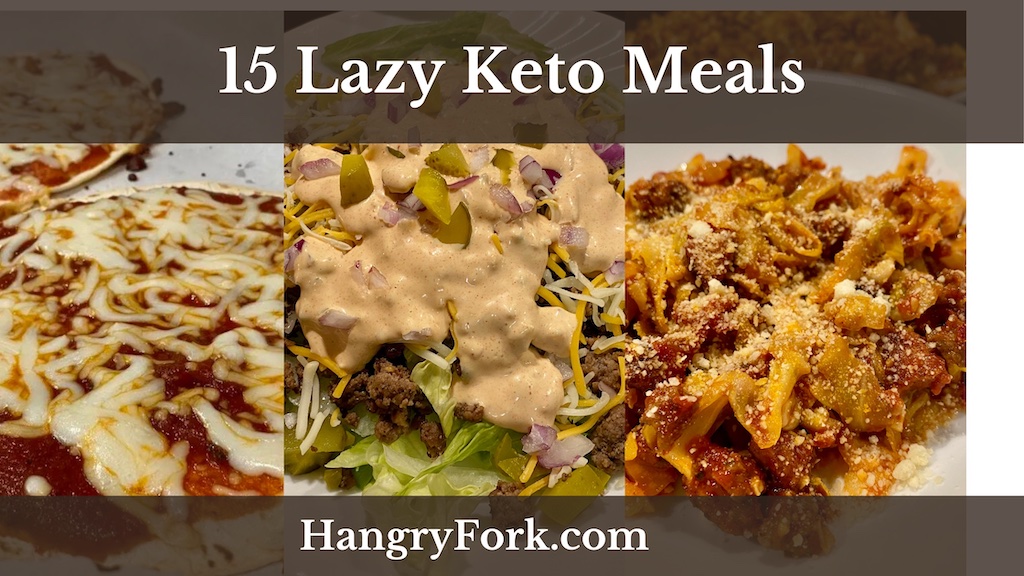 Lazy Keto Meals with Ground Beef
One of my favorite lazy keto meals for busy work nights is Korean Bowls. The ingredients are simple, but the meal is superb. This low-carb beef bowl is seriously one of my favorite go-to meals and we eat it a few times a month.

I like to top this off with a fried egg, which is optional, but the protein in the egg will keep you full for a long time.

This delicious Keto Korean Beef Bowl takes 35 minutes to make. If you feel especially lazy, you can buy pre-cut-up vegetables or use ONE vegetable to keep things simple. I've made this recipe using only cabbage, which turned out amazing.

Click here for this Healthy Korean Beef Bowl Recipe.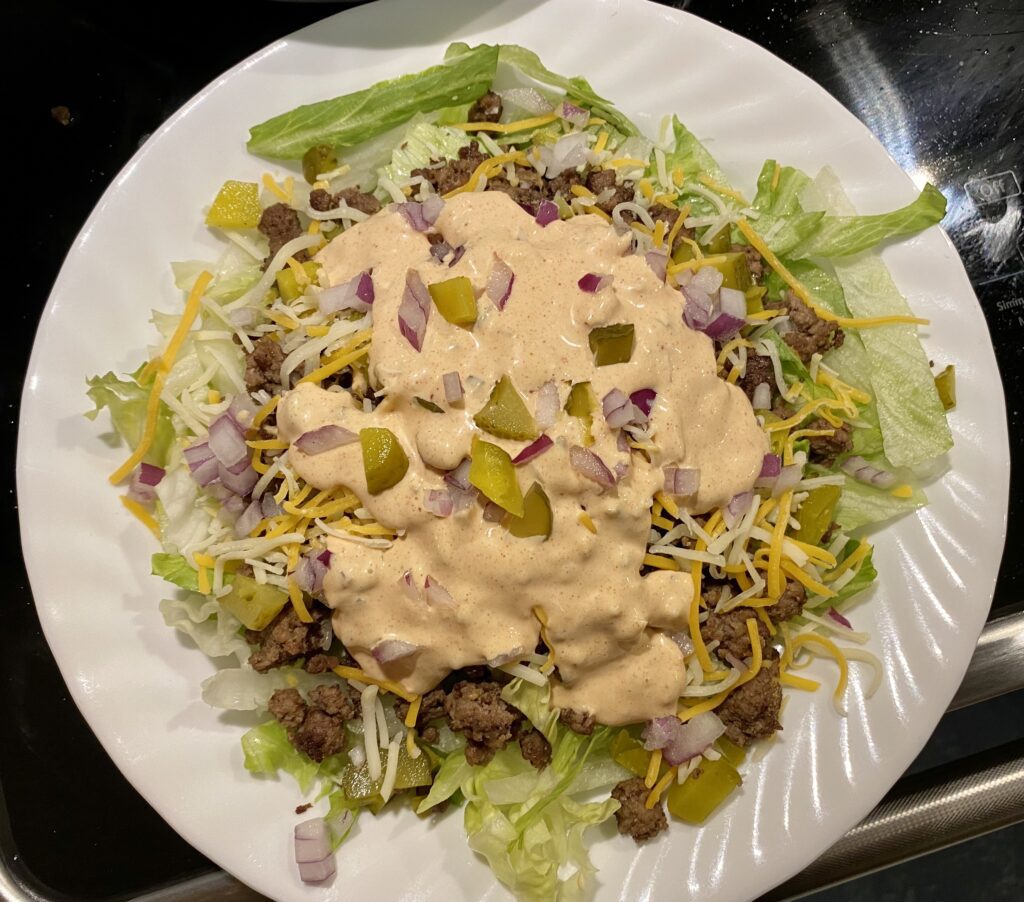 This easy keto big mac salad has all the flavors of a big mac but none of the guilt! This salad may seem a little strange, but it will soon become a family favorite!

The recipe calls for a Big Mac dressing that goes together quickly and calls for only seven ingredients you probably already have on hand.
Mayo
Ketchup
Minced Dill Pickle
Yellow Mustard
Apple Cidar Vinegar
Paprika
Onion Powder
Browned ground beef is combined with salt, black pepper, onion powder, and garlic powder.
Layer chopped-up lettuce, seasoned browned beef, and a homemade dressing. Top with diced dill pickles, red onion, and some shredded cheese. The results are delicious and keto-friendly!

You'll find this EASY LAZY KETO MEAL – Keto Big Mac Salad here.
Sausage Keto Lazy Meals
This recipe is one of my favorite keto bowl recipes! The recipe calls for eight ingredients, including sausage, cabbage, and spices. Keto crack topped with a fried egg makes the BEST KETO DINNER!

This keto crack slaw is also one of my easy keto lunch ideas. However, if you take this for your work lunch, I recommend storing the fried egg separately from the crack slaw. This helps with warming up your lunch so that the egg isn't overcooked.

For details on this Asian crack slaw recipe, click here.
This keto spaghetti meat sauce with linguica is made from scratch. The "noodles" are cabbage, and the results are so delicious!

The recipe takes only 30 minutes to make from start to finish. Leftovers make fantastic work lunches.

If you love linguica as I do, be sure to check out this Keto Spaghetti Recipe with Linguica and Cabbage Noodles.

Quick Lazy Keto Pizza Recipes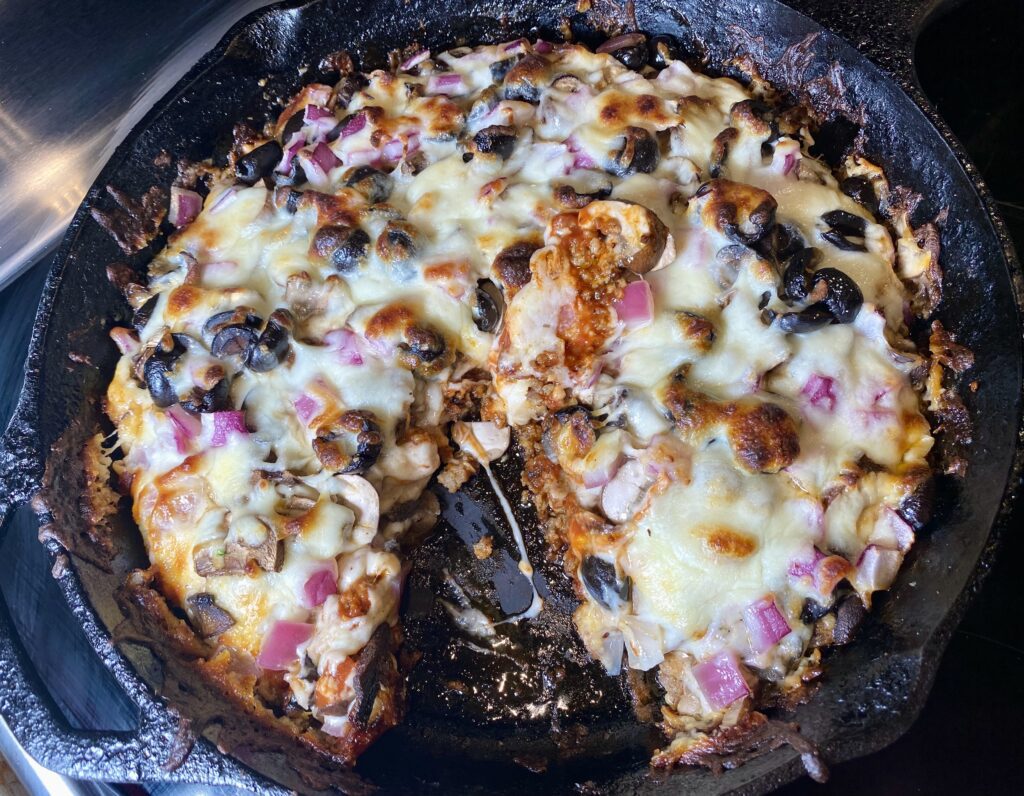 This keto sausage crust pizza is easy to make and tastes so good! You don't need a cast-iron skillet to make this pizza. I sometimes double the recipe and bake it in a cake pan, and this lazy keto meal turns out perfectly every time!
Brown sausage and spread in thin layer in bottom of skillet
Top with low carb pizza sauce and shredded mozzerella cheese
Top with cooked meats and chopped veggies
Add a little more shredded cheese to lock everything in
Bake for 20-25 minutes.
Let sit on counter for 10 minutes and then serve!
For more recipe details on this crustless keto pizza, click here.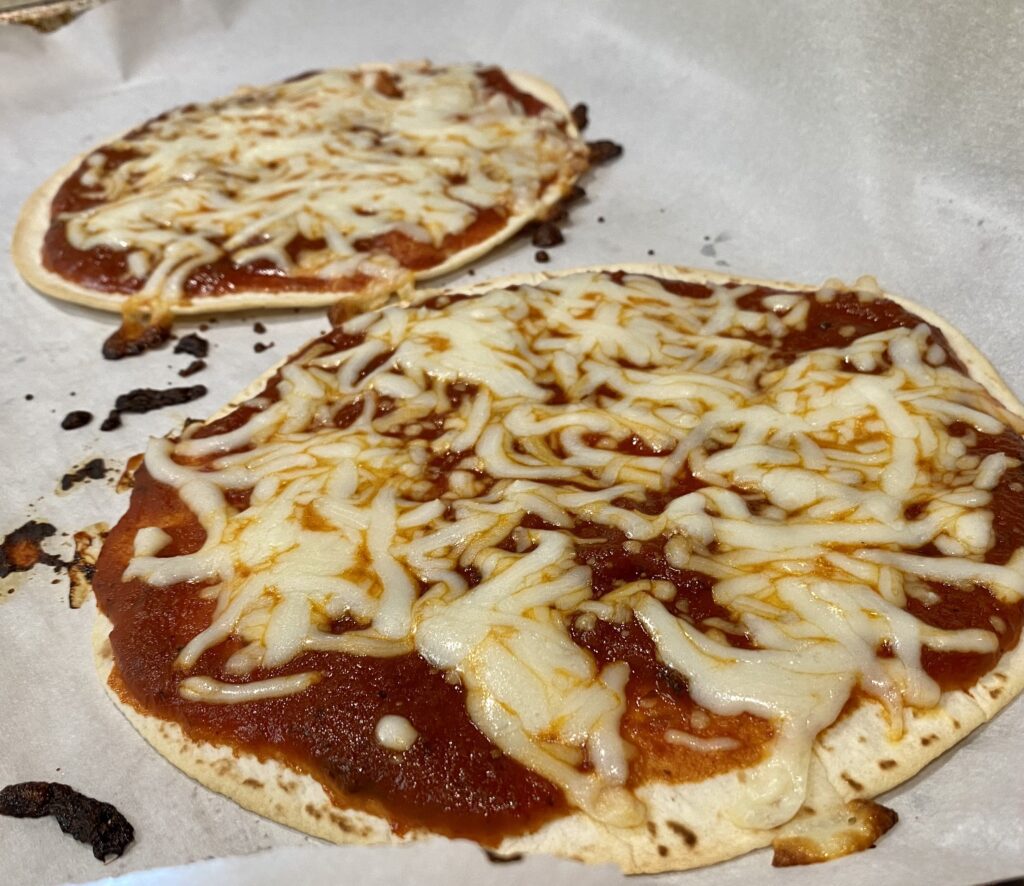 This tortilla pizza recipe is the ultimate lazy keto meals idea! This tortilla pizza oven recipe only takes 10 minutes! The results are better than frozen pizza and cost a fraction. You can pick the pizza up and eat it whole, or cut it up and eat it by the slice.

Kids love these tortilla pizzas so that you won't get any complaints at dinner time, and there won't be any struggles getting the kids to eat their dinner.
Breakfast low carb tortilla pizza – scramble some eggs and use them as a pizza topper.
Use cooked leftover meats as the toppers.
Leftover BBQ chicken tortilla pizza. Cut up leftover chicken into small pieces. Combine equal amounts of your favorite low carb BBQ sauce with your favorite low carb pizza sauce. Follow the recipe, cook tortilla, top with the BBQ/Pizza sauce combo, cheese, chicken and then a little more cheese. Bake according to recipe. Enjoy!
To read more about Low Carb Pizza on Tortilla, click here.
This lazy keto meals idea is so easy to make, and your family will never know the crust is made from canned chicken!

This keto chicken crust pizza is easy to make and doesn't require much hands-on work, but it does require 45 minutes total baking time.

The results are worth the effort. When the pizza is sliced up, you'll be able to pick up a slice just like regular pizza.

I always have canned chicken, parmesan cheese, and low-carb pizza sauce on hand to make this keto pantry meal. Of course, you can customize the pizza up to be as fancy or minimalistic as you'd like.

Click here for more information on this fantastic Keto Canned Chicken Crust Pizza.
Lazy Keto Meals – Keto Soup is for Dinner!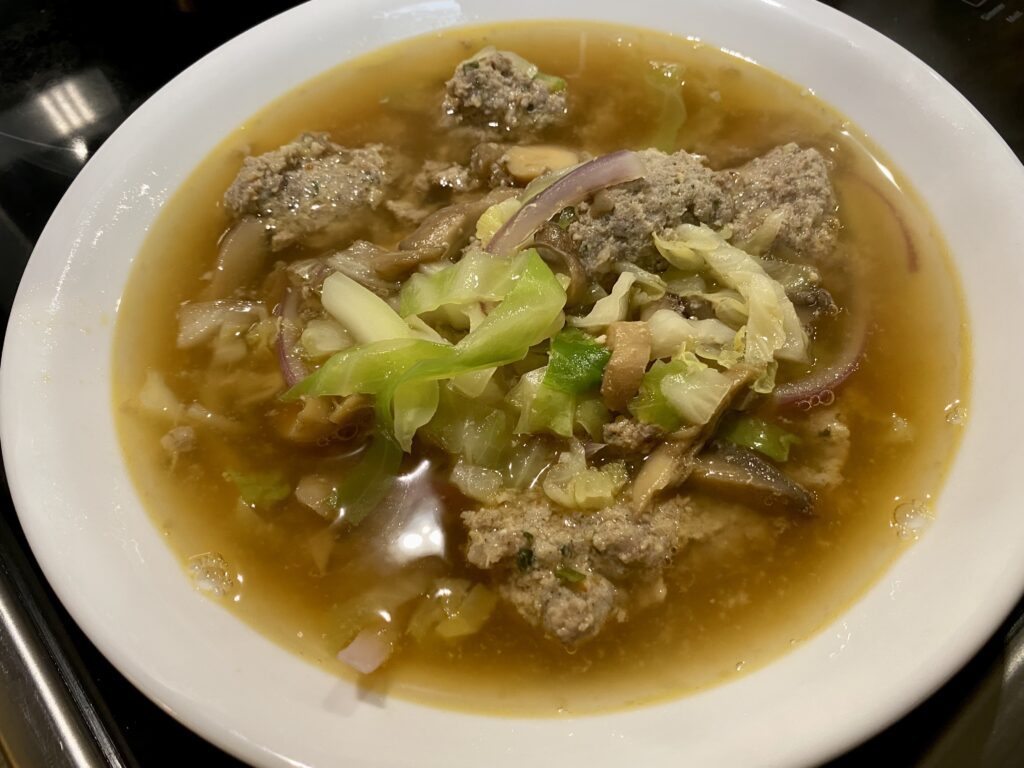 This Keto Thai Wonton Soup may not be authentic, but it is better than a lot of wonton soups you'd get from restaurants.

This soup tastes like it took all day to make, but it only takes 15 minutes from start to finish. The flavors are deep. The ingredients are pretty basic things you probably already have in your pantry. Here's what you'll need to make this fantastic lazy keto lunch or dinner:
Water
Bullion
Soy sauce
Sesame seed oil
Sausage
Green onions
Cabbage
Fresh mushrooms
Powdered ginger
Black pepper
Fresh minced garlic or garlic powder
Egg
Click here for more information on this super quick 15 minute lazy low carb wonton soup recipe.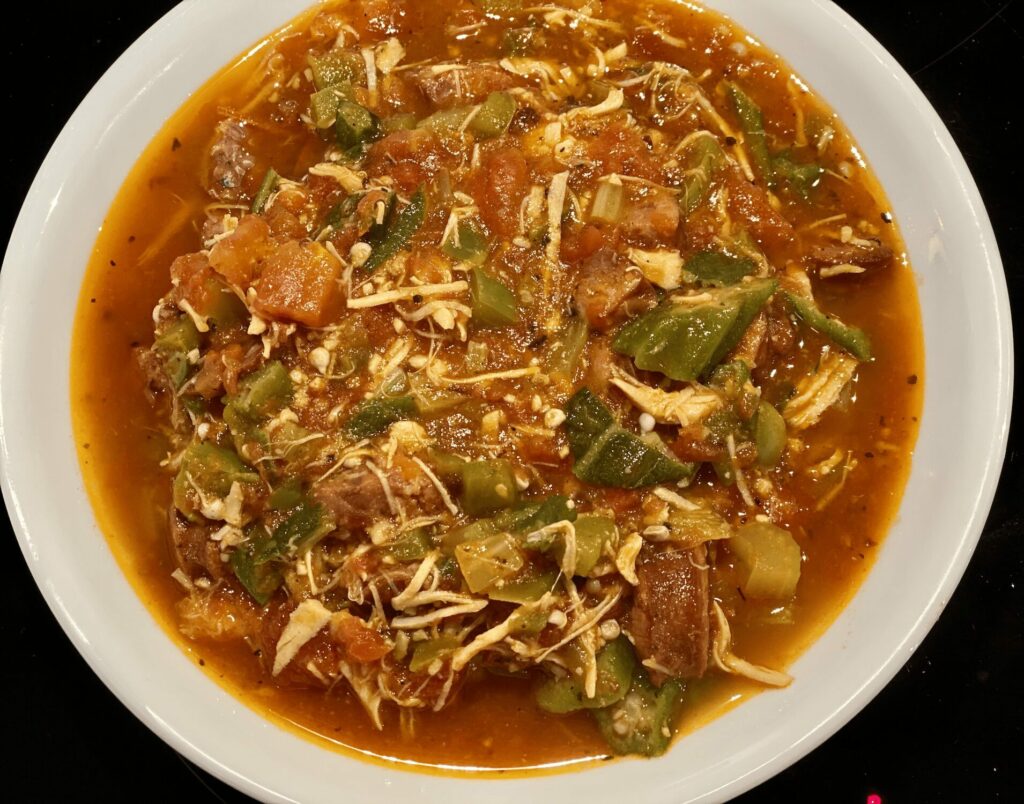 This keto gumbo is easy to make, the recipe doesn't call for a roux like traditional gumbo, but you won't miss it. The gumbo turns out so good and only takes 30 minutes to make.

I make this recipe on busy work nights at least once a month.
The recipe is very flexible. I like to use canned chicken for the recipe, but you could also use a rotisserie chicken or leftover cooked chicken.

Click here for more details on this Keto Chicken Sausage Okra Gumbo recipe.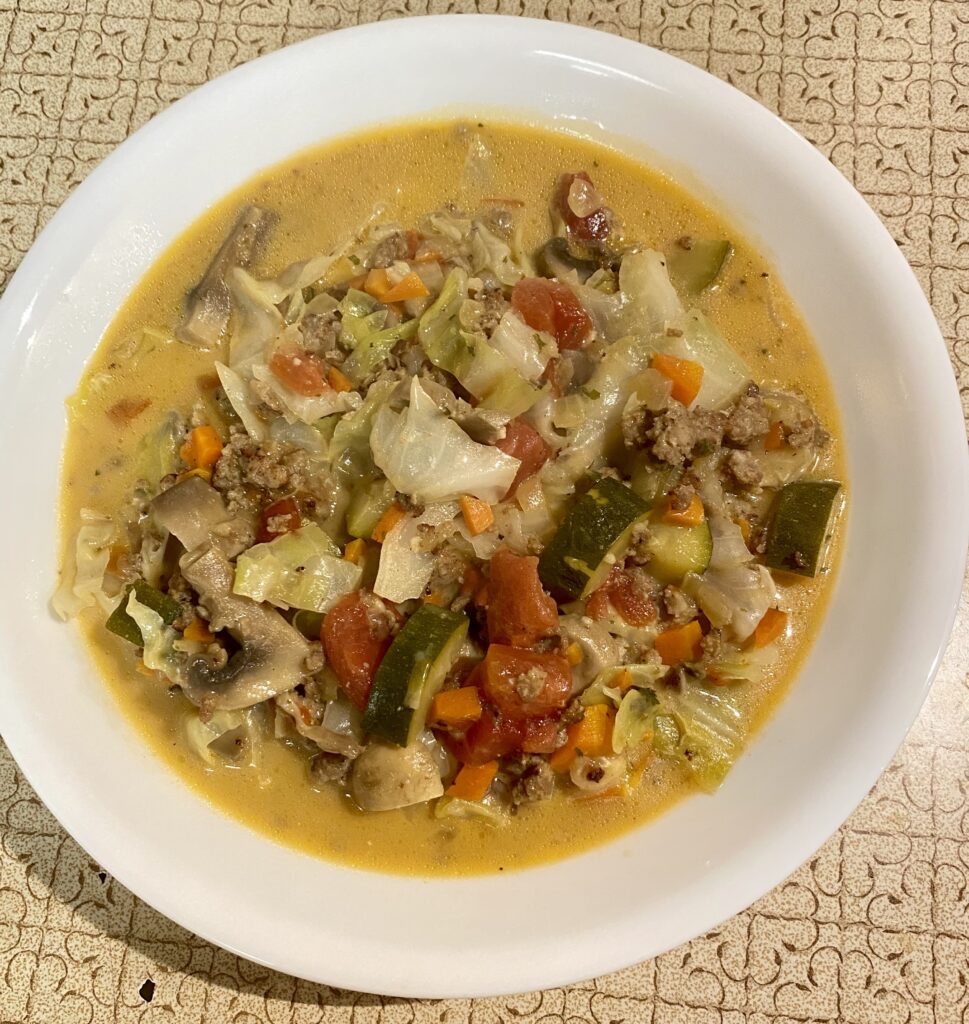 This keto sausage soup is creamy and packed full of nutritious vegetables. The soup takes just 25 minutes from start to finish.

The soup is easy to customize depending on what ingredients you have on hand.

Click here for recipe details on this Low Carb Sausage Soup with Vegetables.
More Lazy Keto Meals Ideas
Hamburger patty wrapped in lettuce – brown seasoned ground beef patty and wrap in lettuce for a keto burger.
Keto Grilled Cheese No Bread Sandwich – in a nonstick skillet over medium high heat create a ham or turkey sandich. Fold one or two cheese slices in three slices of deli lunch meat. Fold the lunch meat so that no cheese is showing.
I love to make these with ham or turkey deli meat. Make sure the cheese is sandwiched inside the lunch meat. Brown the meat until the cheese has melted. These breadless keto grilled cheese sandwichs are so good and one of the quickest lazy keto meals ideas.
Keto Taco Salad – make your favorite taco meat and put it on a bed of lettuce. Top with sour cream, hot sauce, avocado slices and grated cheese.
Breakfast for dinner – perfectly oven baked bacon and or sausage patties with fried or healthy keto scrambled eggs. Keto cream cheese waffles would be perfect too.
Pan fried pork chops with a simple side vegetable or salad.
Recent Posts
How is Sesame Seed Oil Made?
How do I do lazy keto?
Lazy keto is done by tracking macronutrients. Keep carbs under 20 grams a day. Carbs should not exceed 5-10% of total macronutrients.