Keto sausage soup with mushrooms and zucchini is a creamy sausage soup that goes together quickly. This soup is full of vegetables and is the perfect dinner for a cold night.
This Easy Sausage Soup Recipe Is A Quick Dinner
The soup goes together quickly and doesn't involve much prep work, so it's perfect for busy work nights.

The recipe calls for the sausage to be browned. While the sausage is browning, cut up the veggies. After the sausage is browned, the soup is cooked for 15 minutes.

Leftovers warm up wonderfully and make an excellent work lunch.
Related Posts
Creamy Keto Sausage Soup Recipe Ingredients
Sausage – I used Jimmy Dean hot. If you like Italian sausage, you could use that and make this an Italian Keto Sausage Soup.
Small onion – This is optional and adds carbs. If you want the lowest carb soup then omit the onion.
Garlic – One clove of minced garlic contains only 1 carb. When you consider the volume of keto sausage soup this recipe makes, the garlic addition is so worth the flavor payoff.
Water + Chicken bullion – My favorite is Better Than Boullion – Roasted Chicken Base
Cream cheese – Cream cheese is what makes this low carb soup creamy.
Canned diced tomatoes with the juices
Fresh spinach or cabbage – Use whatever you have on hand. Spinach looks prettier but both tastes great.
Dried parsley – Adds color
Cayenne pepper powder – Adds a little zing.
Garlic powder – Deepens the flavor of the soup.
Keto Sausage Soup Substitutions
This recipe is highly customizable. Don't be afraid to mix things up and use what you have on hand.

This soup recipe is a great starting point, but you can tailor it to what you have on hand. It's kind of like a Keto Kitchen Sink Sausage Soup.

This recipe is perfect for the end-of-the-week meal when you have vegetables that need to be used.

When making substitutions, try and keep the quantities the same.
Original Ingredient
Substitution
Sausage
Italian sausage
Browned linguica
Leftover smoked meats
Leftover chicken
Fresh Mushrooms
Canned drained mushrooms
Fresh Cabbage
Fresh spinach leaves – sliced or torn
Zucchini
Asparagus – Cut into bite-sized pieces
Broccoli or Cauliflower, fresh or frozen
Keto Kitchen Sink Sausage Soup – Use What You Have On Hand
Keto Sausage Soup Recipe Addins
Grated cheddar cheese
Cooked bacon crumbles
Dash of hot sauce
Equipment Needed to Keto Sausage Soup Recipe
Big soup pot
Cutting board
Chefs knife
Soup ladle
Stirring utensil
Serving bowls
How to Make Keto Sausage Soup With Mushrooms and Zucchini
In a large soup pot, brown the sausage over medium-high heat.

While sausage browns, minced onions.

Cut up carrots, zucchinis, mushrooms, and cabbage.
Finely chop carrots. The carrots need to be finely chopped so they cook in 10 minutes.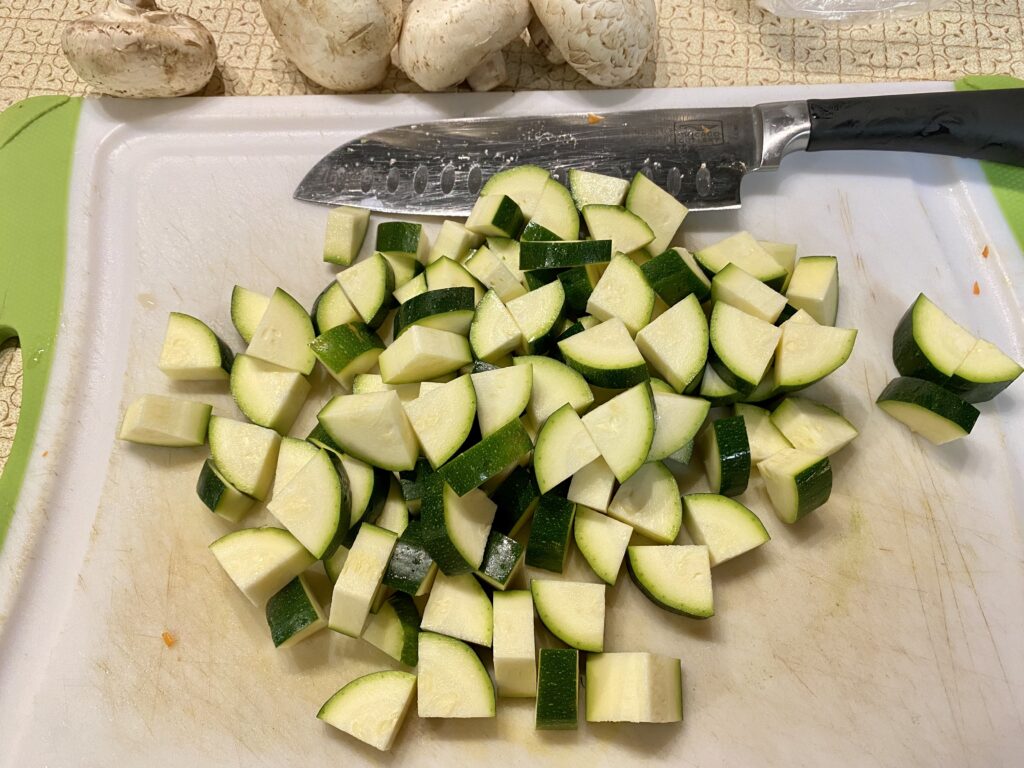 Chop zucchini into bite-sized pieces.
Slice the mushrooms.
Chop cabbage into bite-sized pieces.

Set the vegetables to the side.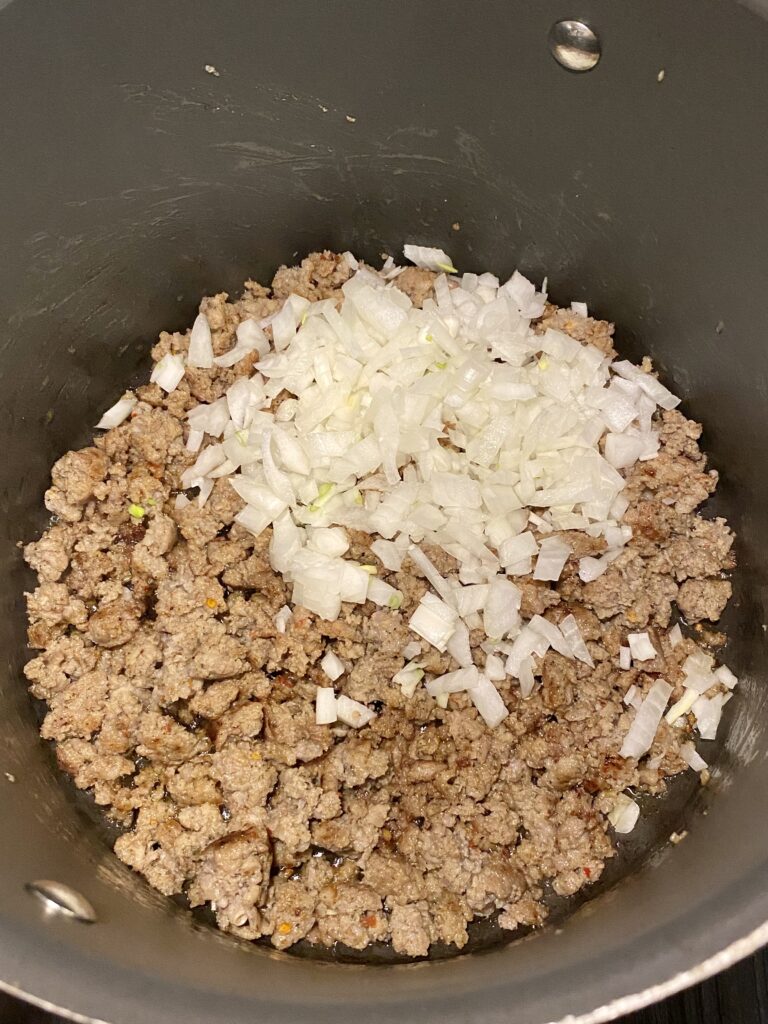 When sausage starts to get browned bits, add in diced onion.

Continue cooking for 5 minutes or until the onion is translucent.
Add garlic to the sausage onion mixture and cook for one minute or until the garlic is fragrant.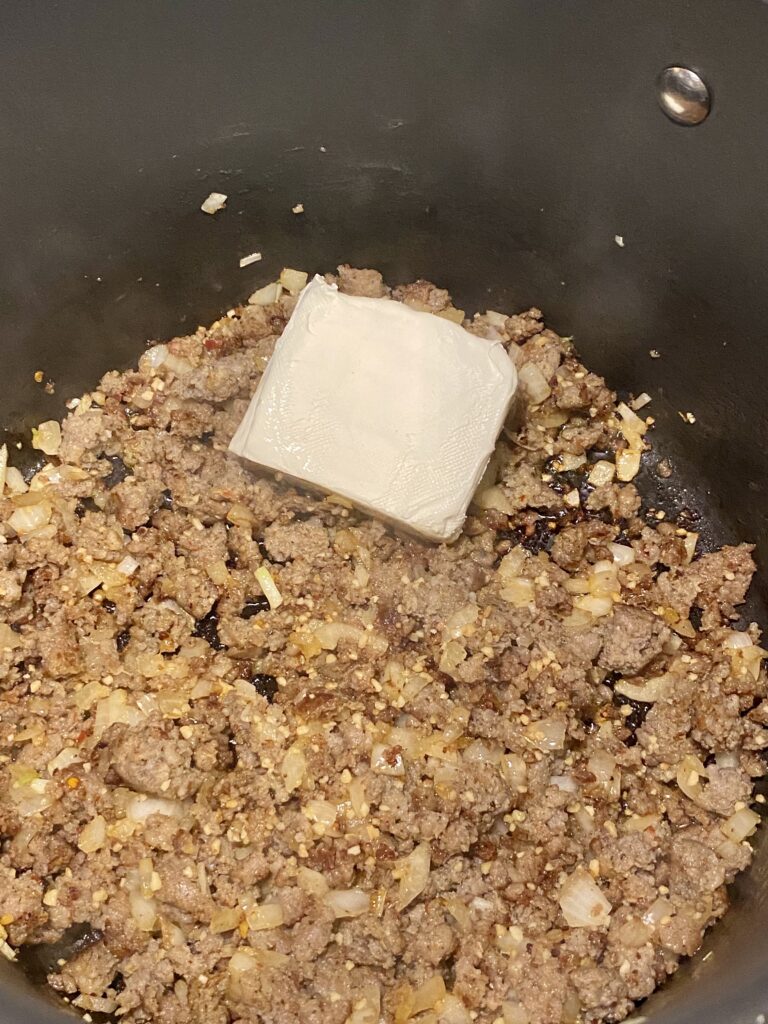 Add cream cheese to the sausage mixture.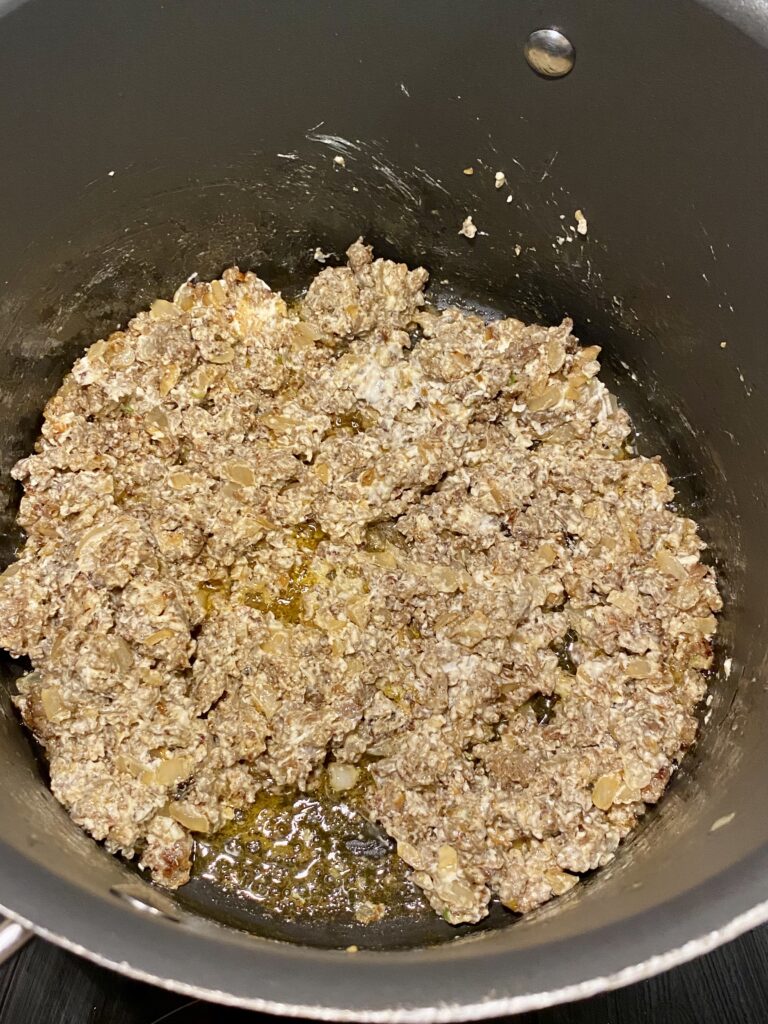 Cook until the cream cheese has melted and the cream cheese is combined into the sausage.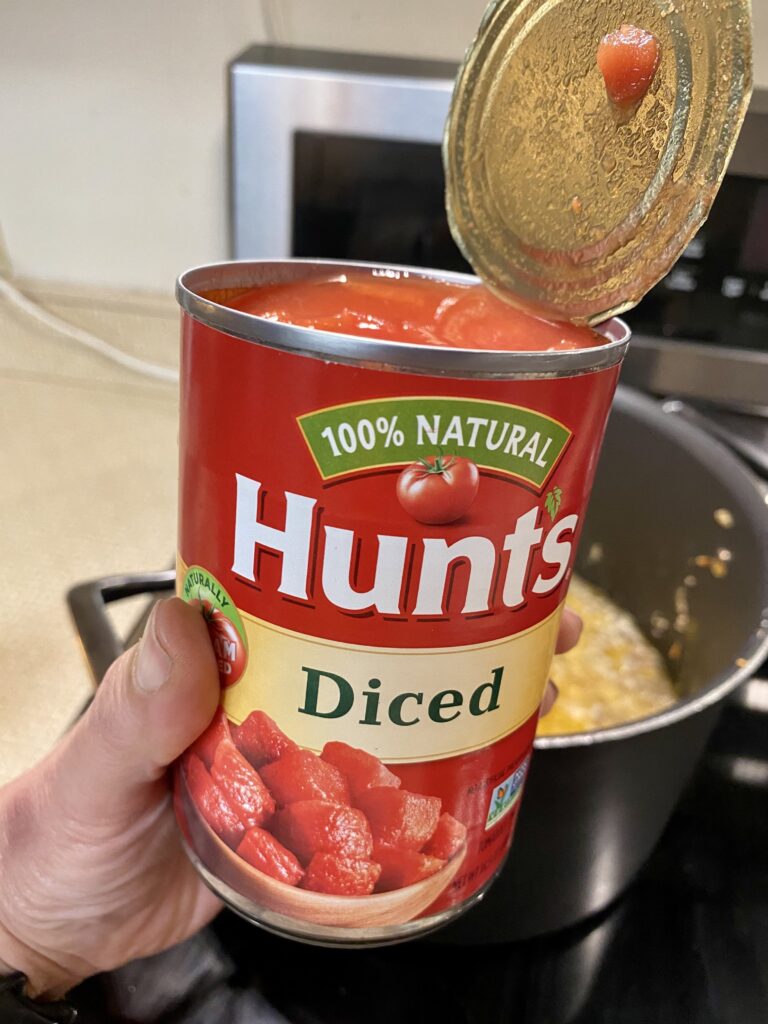 Add all ingredients to the pot except the cabbage and dried parsley.
Bring soup to a boil. Reduce to a simmer and cook for 10 minutes.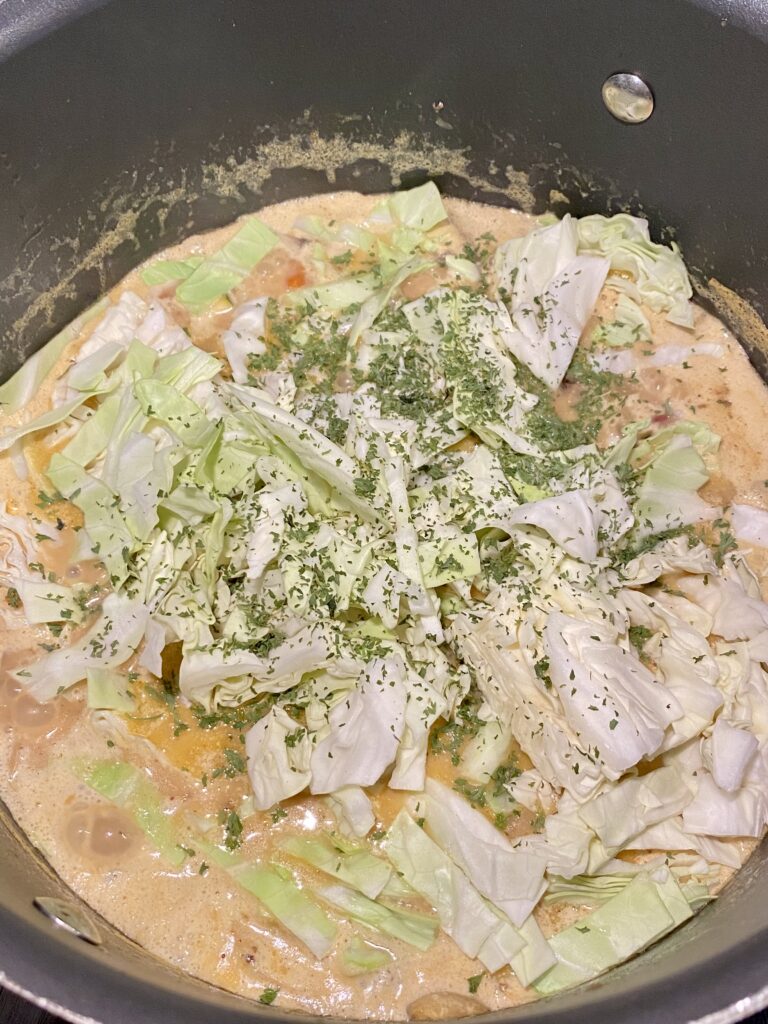 Add the cabbage and dried parsley to the soup pot.

Stir and cook for five minutes.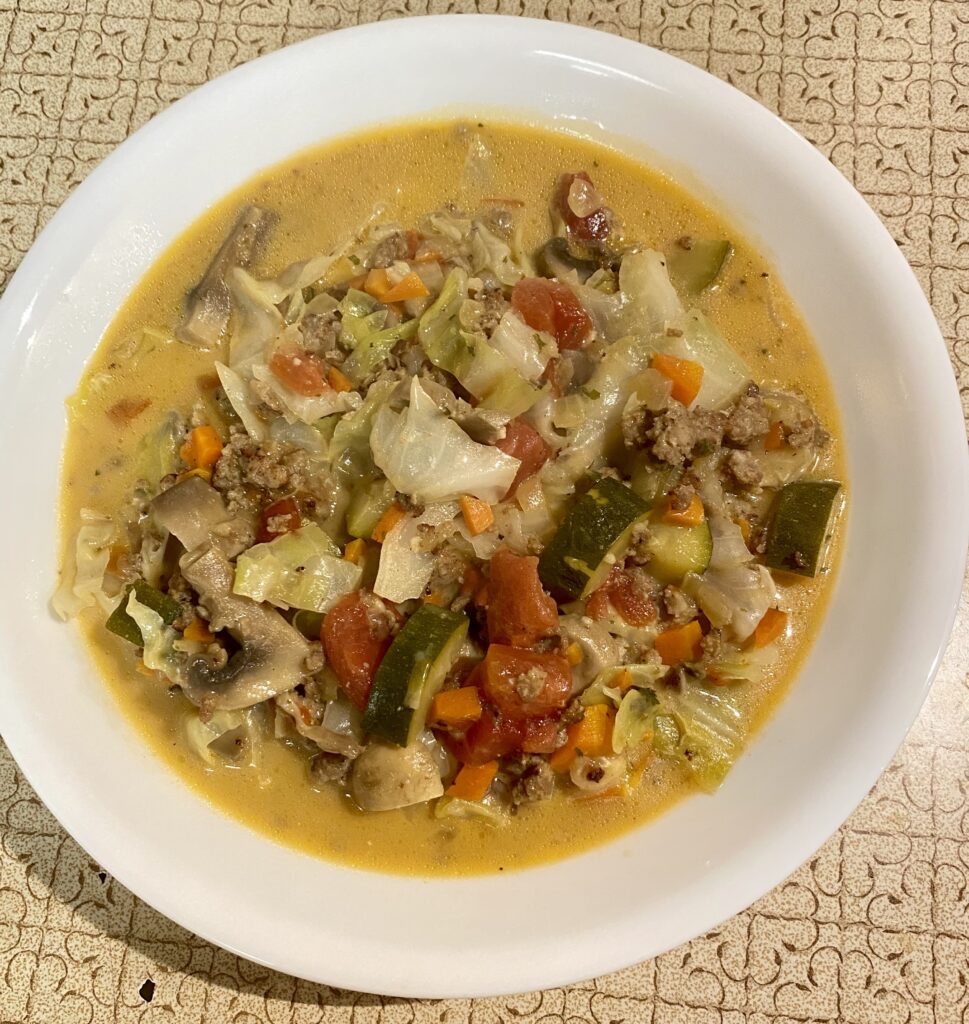 Taste for seasonings.

Depending on how you like your soup to taste and the quantities of vegetables you used, you may need to add a little bullion, black pepper, or garlic powder.
Keto Sausage Soup with Mushrooms and Zucchini Recipe Card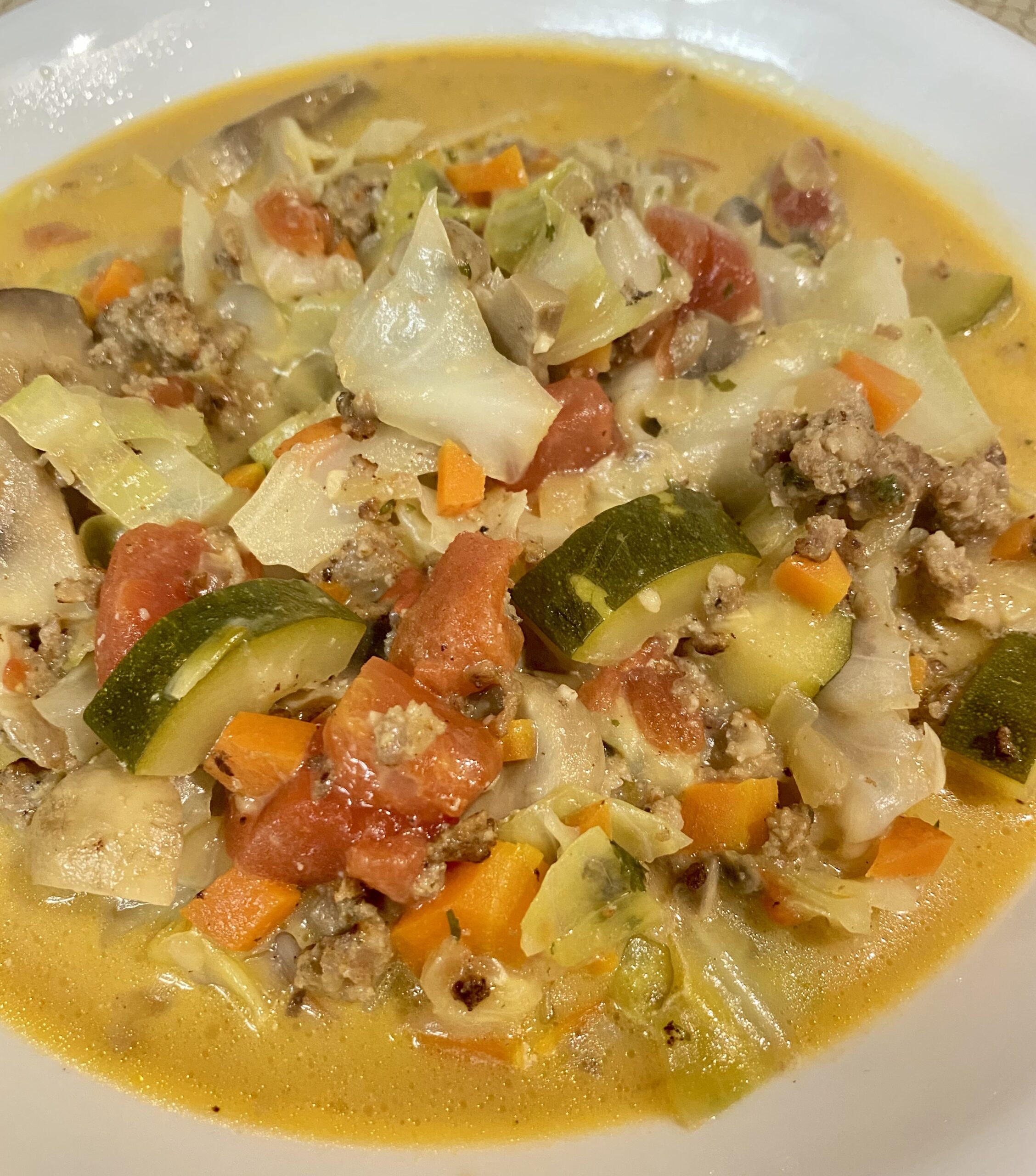 Keto Sausage Soup With Mushrooms and Zucchini
Ingredients
1 pound sausage
1 small onion - minced (optional)
1 teas garlic - minced
4 oz cream cheese
4 cups water
2.5 teas better than base - chicken
1 - 14 oz can diced tomatoes with juices
1 carrot - minced (optional)
2 zucchinis - chopped
1/2 pound fresh mushrooms - sliced
1/2 teas garlic powder
1/4 teas cayenne powder
1 dash of black pepper
2 cups cabbage - chopped
1/2 teas dried parsley
Instructions
Add sausage to a large soup pot. Break the sausage up. Cook over medium-high heat until the sausage starts to brown.
Add onion and cook for 3-5 minutes.
Add garlic and cook for 1 minute.
Turn heat down to medium and add cream cheese. Cook, often stirring, until cream cheese is melted and combined with sausage.
Add water, bullion, tomatoes with juice, carrot, zucchini, mushrooms, garlic powder, cayenne powder, and black pepper. Stir to combine. If the vegetables are sticking out of the broth, don't worry, they will cook down. Bring to a boil and simmer for 10 minutes.
Add cabbage and dried parsley. Bring to boil, turn down to simmer, and cook for 5 minutes longer.
Taste for seasonings.
Notes
For lower carb content omit onion and carrot.
Jimmy Dean was a singer and talk show host before he found fame as a sausage maker.
More Great Low Carb Recipes
More Great Recipes
How Long Does Keto Sausage Soup Last?
Most leftovers which are stored property are good for 3-4days.
What is in Keto Sausage Soup?
Sausage, cream cheese, and your choice of low-carb vegetables.