Here's a fantastic authentic carnitas recipe, this recipe makes the best carnitas ever! The meat is so flavorful and leftovers warm up great. Cubed raw pork, orange juice, lime juice, garlic cloves, cumin powder, salt, and water are simmered for two hours, no stirring necessary! Next, the lid is removed, the heat turned up and the liquid boiled down to nothing. The meat is then fried in the remaining fat. Yum!
How to Make This Authentic Carnitas Recipe
I've been making this recipe for many years, and I've used pork shoulder, pork butt, and my favorite cut of raw pork to use is boneless country ribs. When picking out meat, you want your meat to have plenty of fat. I picked up this pack of boneless country ribs from Costco. Since the recipe is so time-consuming, I like to make a big batch!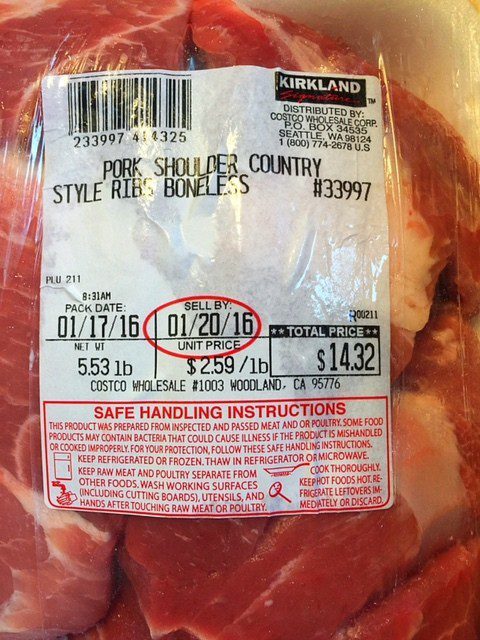 Cut your pork into 2″ (or so) cubes. Add raw pork cubes to large pot (with a fitting lid). I recommend cooking carnitas in a non-stick large pot or dutch oven. I used this 8-1/2 quart dutch oven,. Do NOT trim the fat, the fat is necessary for great carnitas.
Add in orange juice, lime juice, garlic cloves, ground cumin, salt and just enough water to barely cover pork. Bring the pot to a boil, and then reduce and simmer covered for two hours without disturbing the meat. No need to stir or take the lid off!
After two hours are up, remove the lid, turn the heat up to medium and cook stirring occasionally, until all the liquid is gone. In the picture below the liquid is almost gone, I think it took about 30 minutes or so for the liquid to reach this point.
After the liquid is gone, and only the fat remains, the frying begins. I use a slotted spatula turner, similar to this one. When you flip the meat, you want don't want to just scrape the meat, you want to flip the meat that's just browned, by scraping the bottom of the pot. Here's where using a non-stick pot really helps!
I've made this recipe more times than I can count on in an old 1950's aluminum dutch oven, it wasn't fun and the meat stuck, no matter what I did. Since I switched over to cooking in a non-stick pot three years ago, not only do my carnitas have more of the tasty brown meat, but it's so easy to make this recipe and cleanup is a breeze!
As you flip the meat every 3-4 minutes, the meat will begin to fall apart because it's so tender from the boiling.
I served this authentic carnitas recipe with warmed up flour tortillas, my grandma's recipe for refried beans and her special chili sauce which is very similar to this Mexican restaurant salsa.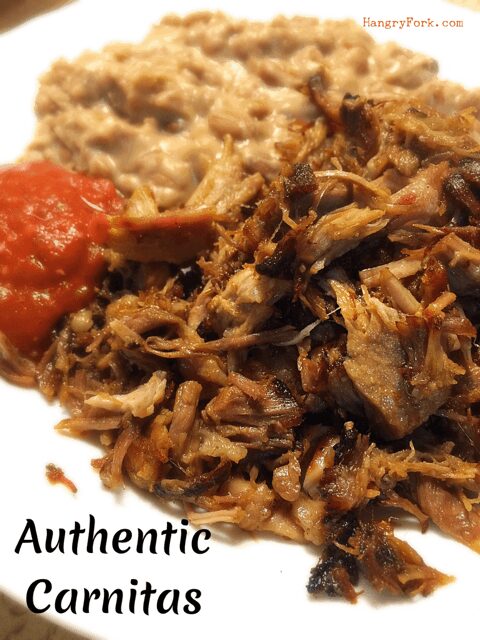 Authentic Carnitas Recipe
Authentic carnitas recipe.
Ingredients
5.5 - 6

pounds

pork country ribs

or pork shoulder

1

cup

orange juice

1/2

cup

lime juice

8

whole cloves peeled garlic

1.5

teaspoons

ground cumin

2

teaspoons

salt

Water
Instructions
Cut raw pork into 2" cubes and place in large non-stick dutch oven or pot.

Add orange juice, lime juice, whole garlic cloves, ground cumin, salt, and enough water to barely cover pork pieces.

Bring a pot to boil, cover with lid and simmer for two hours. Do not disturb the meat by stirring.

After two hours, remove pot lid and cook meat on medium, stirring occasionally until liquid is all gone and only fat remains.

As meat fries in rendered fat, flip meat every 3-4 minutes until most of the meat is browned.

Taste for salt and pepper.
Disclosure: This post contains Amazon affiliate links.
More Great Recipes