Here's an easy oven-baked chicken fajitas recipe. This recipe makes a lot of food and if you double the recipe, it makes perfect fajitas for a small crowd. I combine my own taco seasoning recipe with sliced bell peppers, jalapenos chilies, onions, tomatoes, and sliced chicken breast, toss in a little olive oil, and bake at 425 degrees for 30 minutes or so. These oven fajitas are an amazing one-dish meal. The recipe does take some prep though, but it goes by quickly.
If you are feeding a small family, you may want to consider reducing the recipe by half. I've never tried making this with beef, but I'm sure it would work out just fine.
Here's another great recipe for Steak Fajitas cooked on the Blackstone grill.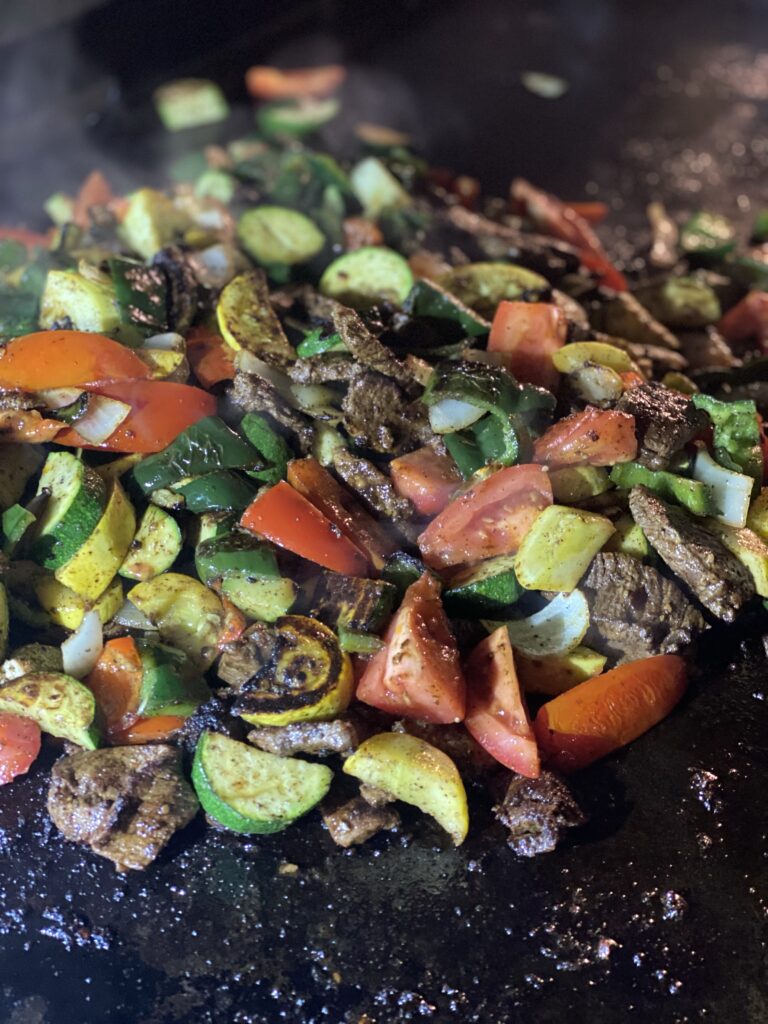 How to Make Baked Chicken Fajitas
The first step is to slice up the vegetables. You don't want them too thin or they'll burn in the oven, put you don't want them too thick either.
This recipe calls for the following vegetables:
Red bell peppers – seeded
Green bell peppers – seeded
White onion
Jalapenos -seeded
Poblano – seeded
Roma Tomatoes
If you have garden tomatoes, use them. If you don't have poblano peppers, don't worry about it, use another bell pepper instead. The recipe is very forgiving as long as you keep the volume of the vegetables about the same, if you use fewer vegetables, then you should also use less of the chicken fajitas seasoning.

Slice the Chicken Breast
Slice the chicken breast into thin bite-sized pieces and place them on top of the vegetables. Next, you will assemble the spice mix in a small bowl. The chipotle powder gives the fajitas a nice smoky flavor.
Disclosure: This post contains Amazon affiliate links.
Make Fajitas Seasoning
Chili powder
Salt
Paprika
Onion powder
Garlic powder
Cumin
Cayenne powder
Chipotle powder
Assembling Oven Baked Fajitas
Now it's time to sprinkle the spice mix over the chicken and vegetable mix.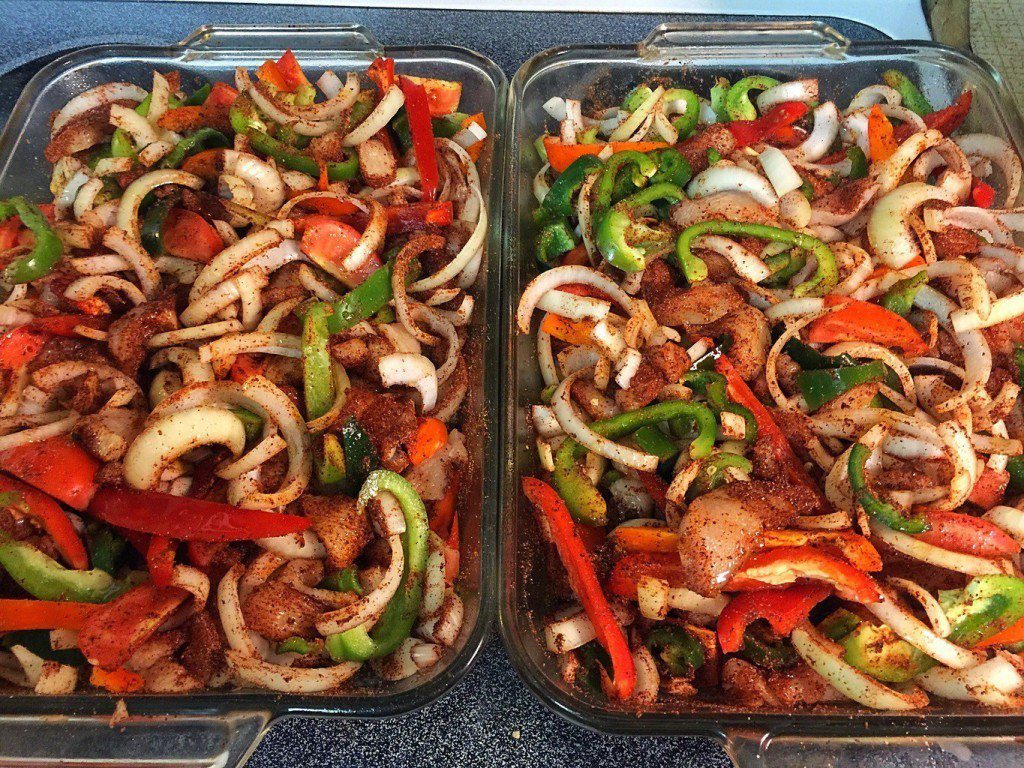 Use tongs to mix the spice into the vegetables and chicken.
Baking Chicken Fajitas
Drizzle with olive oil and bake according to directions. You will toss the fajitas halfway through the cooking time.
Served with warmed-up tortillas. I prefer flour tortillas, but some people really like corn. You could also serve this with guacamole, salsa, tomatillo avocado salsa, sour cream, taco cheese, and or slices of lime. These fajitas are also great served with authentic refried beans or spicy refried black beans.
Oven Baked Chicken Fajitas
This is an easy to make baked chicken fajitas recipe. This recipe is better most fajitas I've had in Mexican restaurants. The recipe makes a lot of food! If you are feeding a small family, you may want to half it. If you half the recipe, remember to half the spices too! For a less spicy version, leave out the jalapeno peppers, and cayenne powder.
Ingredients
2

Red bell peppers - seeded

2

Green bell peppers - seeded

1

Poblano pepper - seeded

4

Jalapenos peppers - seeded

3

or 4 Large white onions

4

Roma tomatoes

3

pounds

chicken breast

8

Tablespoons

olive oil

Tortillas - Flour or corn

Taco cheese

optional

Sour Cream

optional

Salsa

optional

Guacamole

optional

Baked Chicken Fajita Seasoning Mix


5

Tablespoons

chili powder

5

teaspoons

salt

1.5

tablespoons

paprika

1.5

tablespoons

garlic powder

1

tablespoon

onion powder

1

tablespoon

cumin powder

1/2

tablespoon

cayenne powder

1/2

tablespoon

chipotle powder
Instructions
Preheat oven to 425 degrees. Spray two big baking dishes with non-stick spray.

Slice all the seeded bell peppers into about half inch slices. Divide slices evenly between to big Pyrex baking dishes. Repeat with the poblano and jalapenos peppers.

Peel and slice onions into 1/2" thick slices, divide evenly between the two baking dishes.

Slice the tomatoes into 1/2" thick slices and divide evenly between the two baking dishes.

Thinly slice chicken breasts into bite sized pieces and divide evenly between backing dishes.

Assemble the fajita spice mix in a bowl and stir to combine. Divide oven fajitas seasoning evenly between the two dishes. Toss chicken, onions, peppers, tomatoes, and spices with tongs to blend in. Drizzle each pan with two tablespoons of olive oil.

Bake chicken fajitas @ 425 for 15 minutes. Toss fajitas and drizzle each pan with another two tables spoons of olive oil. Bake another 15 minutes, or until chicken is done.
More Great Recipes