This homemade Mexican restaurant style salsa is very easy to make. I made a double batch of this salsa yesterday, and I set some aside in a quart jar for daughter #1 to take to a Mexican fiesta dinner party she's attending tonight. The rest of the salsa was in a large bowl and we ate it all. Yep, that's right we ate the whole thing! We all couldn't get enough salsa.
How to Make Homemade Mexican Restaurant Style Salsa
** Keep in mind the photos here are for a double batch of salsa. The recipe is for a single batch. **
Here's What You'll Need To Make This Restaurant Style Salsa
3 jalapenos
3-4 cloves garlic
1 – 16 ounce can tomato sauce
1/2 a white onion
2 Roma tomatoes
1/2 cup of cilantro
salt
Tip: If you are wanting mild jalapenos, avoid the jalapenos with the little white stretch marks, supposedly they are the hottest.
The first step is to roast the jalapenos. I think the easiest way to roast jalapenos is to put them on a piece of foil and put them under the broiler. I put the jalapenos about 8″ below the heating element.
Don't leave the jalapenos for long, they roast up quickly. I like to check on them every three minutes or so. Using tongs, flip the jalapenos over and roast the other side. They should look something like this below when done.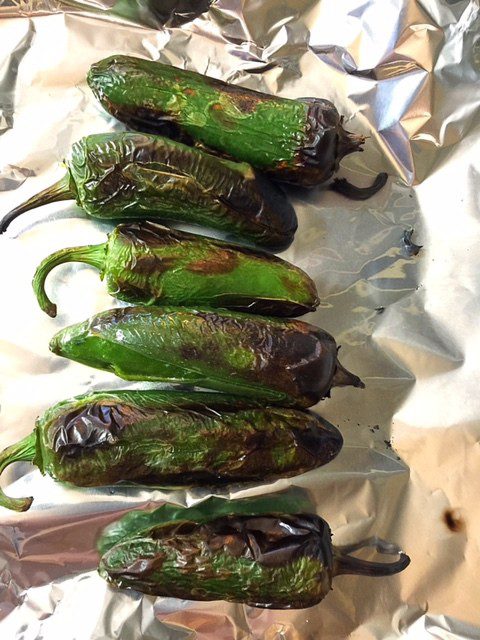 Using tongs, place the roasted jalapenos into a quart ziplock and zip the bag shut. This step steams the jalapenos and makes it easier to remove the skins.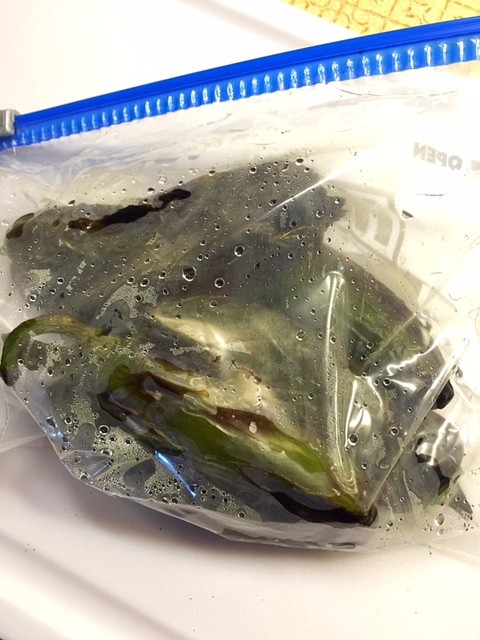 After 10 minutes or so of steaming, the jalapenos will be ready to peel and seed. I recommend wearing rubber gloves while removing the skins and seeds. Since I like salsa hot, I chose to keep the seeds in one of the jalapenos. If you like a milder salsa, you should probably seed all the jalapenos, or use less jalapenos in your salsa.
Under running water, peel the jalapeno skins, if a little skin sticks to the pepper, don't worry about it. Split the jalapenos open and remove the seeds.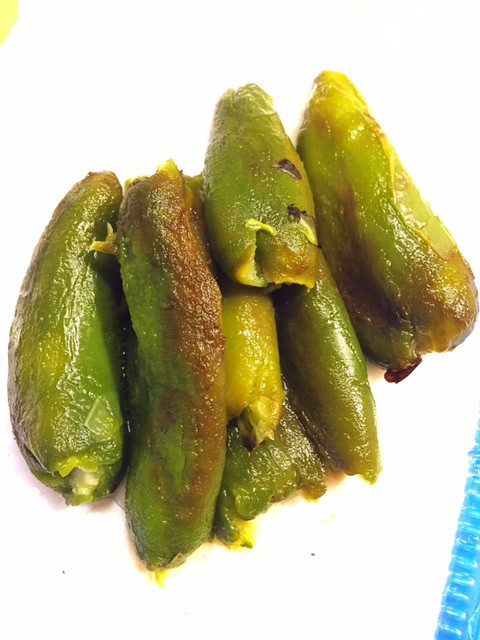 In a food processor combine peeled cloves of garlic with the peeled, seeded jalapenos. Scrape the sides and process again. Next, add in the tomato sauce. and pulse a few more times. At this point, since I was making a double batch of salsa, I had to transfer the salsa to a large bowl.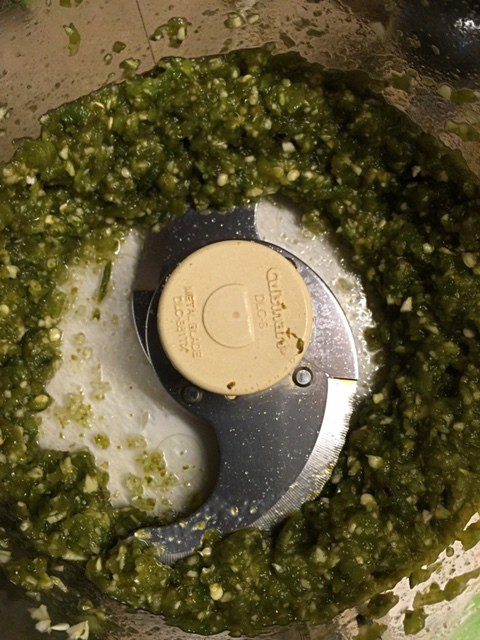 Next, I roughly chopped white onion, Roma tomatoes, and fresh cilantro. I processed these together in the food processor and then added them to the jalapeno mixture. Stir to combine and taste for salt.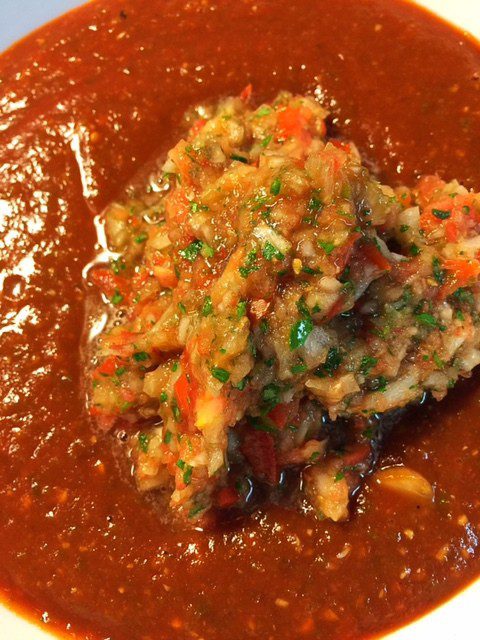 Yum!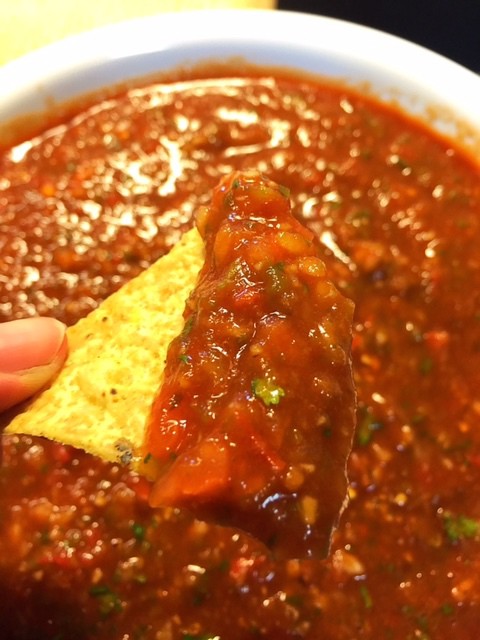 More Great Spicy Recipes:
Here's a fantastic authentic carnitas recipe, this recipe makes the best carnitas ever! The meat is so flavorful and leftovers warm up great.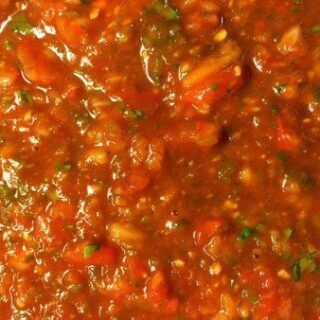 Homemade Mexican Restaurant Style Salsa
A quick and easy homemade Mexican restaurant style salsa made in the food processor.
Ingredients
3

jalapenos

3-4

garlic cloves

1 - 15

ounce

can tomato sauce

half a white onion - roughly chopped

1/2

cup

cilantro

2

roma tomatoes - roughly chopped

salt
Instructions
Roast jalapenos in oven under broiler.

Place roasted jalapenos in ziplock bag and zip shut to steam for 10 minutes.

Using gloves, remove skins from jalapenos under running water. Remove the seeds too. If you like really hot salsa, leave the seeds in one jalapeno.

Transfer the jalapenos to the food processor and add garlic cloves. Pulse the jalapenos, scrape sides with a spatula, and pulse again.

Add the can of tomato sauce to the jalapenos. Hit pulse, scrape down the sides, and pulse again.

Transfer the jalapeno mixture to a bowl.

Add roughly chopped onion, tomatoes and cilantro to the food processor. Pulse, scrape down the sides and then pulse again.

Transfer onion mixture to the bowl with jalapeno mixture and stir to combine.

Taste for salt.
Disclosure: This post for Mexican Restaurant Style Salsa contains Amazon affiliate links.
Here's information on how to grow jalapenos at home. It's easy!