This recipe is for cinnamon sugar pecans (candied pecans) made on the stove top, no oven involved! This easy candied pecan recipe takes about 15 minutes to make and another 15 minutes or so to cool down and harden. This batch of pecans disappeared about 15 minutes after the cooldown time. My kids and husband couldn't stop eating them. They really are delicious!
These cinnamon sugar pecans would make a thoughtful gift for anyone on your Christmas list. Amazon has so many options for wrapping up homemade food gifts.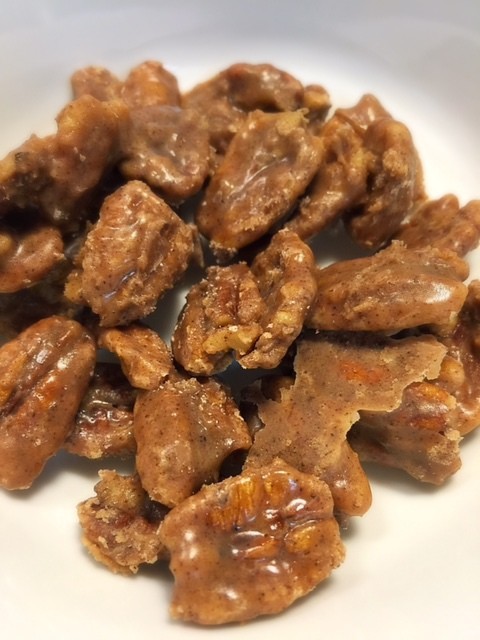 How to Make Candied Pecans
Begin by putting pecan halves, evaporated milk, white sugar, cinnamon powder, water, and vanilla extract in a saucepan.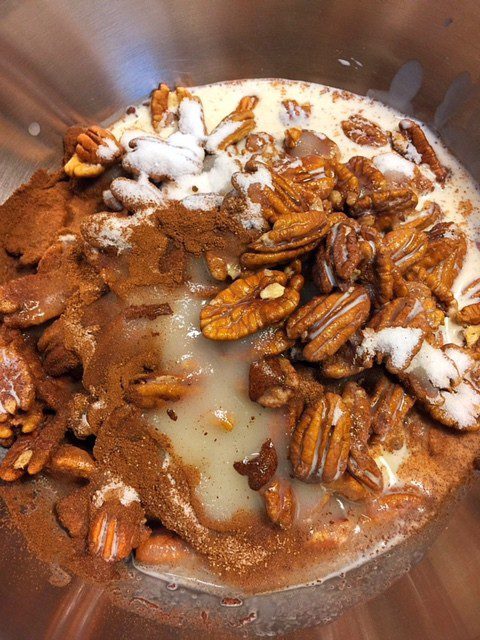 Cook the pecan mixture over medium heat, stirring constantly. At first, the sauce will look thin like below.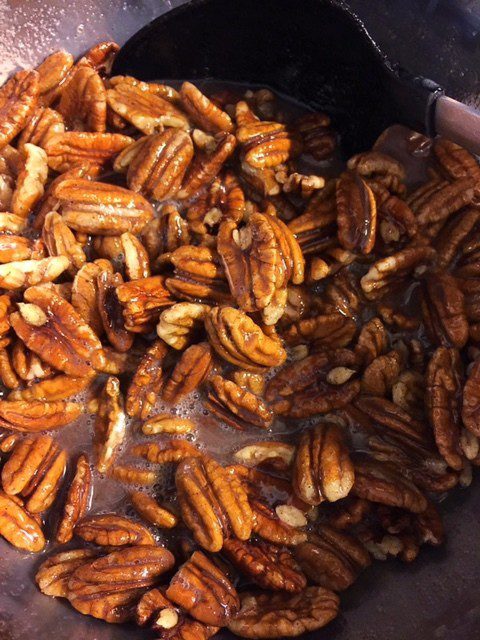 The picture below has just a little sauce left, so I kept on cooking the mix and stirring constantly. In the picture below, you can see the candy sauce is starting to harden on my spoon.
Spread Cinnamon Sugar Pecans on Waxed Paper to Cool
When the sauce was gone, I transferred the candied pecans to a cookie sheet lined with wax paper. I tried to space them out so they'd cool down faster. I had to work really fast because they harden pretty quickly. As the pecans cooled down I had to stand guard to keep my son and husband from eating them. The cinnamon in the recipe makes the house smell really nice and draws a crowd.
As they cooled down, the candy coating hardened.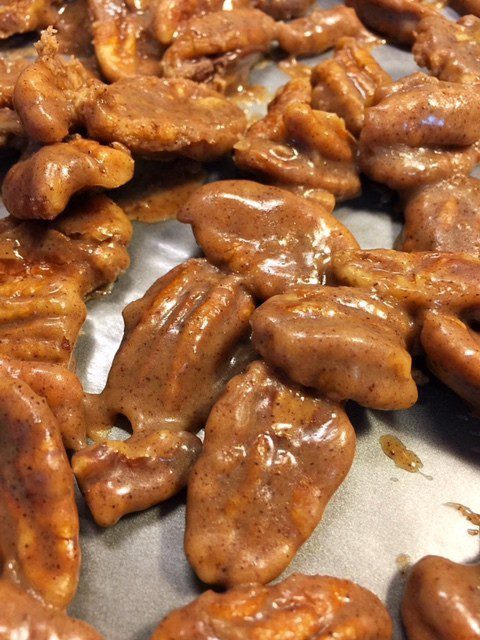 I snacked on a few myself, YUM! Cleanup wasn't too bad. I soaked the saucepan in soapy water and then my husband washed it. 😀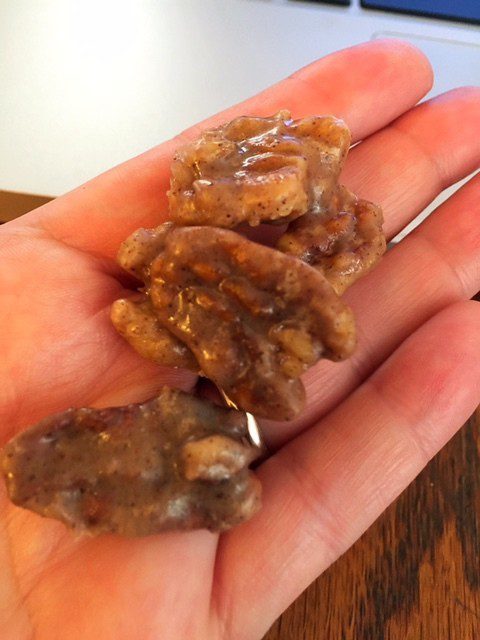 Ideally, I should have probably let the candied pecans dry a little longer, but they were dry enough that they were no longer sticky. I have no idea how to store candied pecans because we've never had any leftovers. I think a ziplock bag would work.
Stovetop Cinnamon Sugar Pecans - Candied Pecans
Easy recipe for cinnamon sugar pecans - candied pecans on the stovetop.
Ingredients
3

cups

pecan halves

1

cup

white sugar

1/4

cup

evaporated milk

2

tablespoons

water

1

teaspoon

ground cinnamon

1/2

teaspoon

vanilla extract
Instructions
Line a cookie sheet or large cutting board with waxed paper.

Combine all ingredients in a saucepan.

Cook pecan mixture over medium heat, stirring constantly. Cook until the sauce is gone and pecans are coated with sugar.

Spread pecans on the prepared waxed paper. Try and give them room to breathe so they cool down faster.

Let cool completely.
Disclaimer: This post contains Amazon Affiliate links.
Growing pecans at home.
More Great Recipes