Is this Chicken and Sausage Gumbo Authentic?
This delicious Easy Chicken and Sausage Gumbo Recipe may not be authentic but it is still wonderful and ready in about 45 minutes!
If the idea of making a roux intimidates you this is your gumbo recipe! It's lower in carbs and calories than traditional chicken sausage gumbo recipes.
If there are any leftovers, this gumbo makes an excellent work lunch.
What is Roux?
Roux is a mixture of butter or oil and flour, that's browned and used for thickening soups, stews, and gravy recipes. Roux is cooked to different color levels, white all the way to dark brown depending on the recipe. Roux is thought to have been first invented in France.
A lot of people are intimidated when it comes to making Roux because if it's not constantly stirred or whisked it can burn very easily. When Roux is burnt it's best to start all over again with a new roux.


Authentic Gumbo recipes all have a roux, this recipe does NOT call for making a roux but I don't think you will miss it. Best of all, this gumbo recipe is diet-friendly and will not make your pants tight!
Aidells Cajun Sausage is the Star of this Gumbo Recipe
Aidells Cajun Sausage is so darn tasty. I have never tried it sliced down the center and broiled in the oven like I would cook a polish dog from Costco but man do I want to try it.
Anyone that knows me knows how much I LOVE linguica, I love love love me some linguica! I think I love Aidells Cajun Sausage almost as much. This stuff is so good.
If Aidells Cajun Sausage isn't available in your area, then feel free to use another quality brand cajun style andouille sausage.
Easy Chicken and Sausage Gumbo Recipe Ingredients
Aidells Cajun Sausage
Celery
Green Bell Pepper
Minced Garlic
Canned Crushed Tomatoes
Canned Italian Tomatoes
Better Than Base Chicken
Water
Drained Canned Chicken or Fresh Cooked Chicken
Cajun Seasoning
Dried Thyme
Dried Basil
Cayenne Powder
Black Pepper
Salt
Vegetable Oil
Frozen Sliced Okra
Equipment Used for This Chicken Gumbo Recipe
Large Soup Pot
Cutting Board
Chefs Knife
Measuring Cup
Nonstick Skillet
How to Cook Aidells Sausage for Gumbo
Slice the cajun sausages in half lengthwise and then slice them into bite-sized pieces. Brown cajun sausage pieces in a soup pot. You want the edges to get little brown bits, this is flavor and tastes amazing!
When sausage pieces are browned remove them to a paper towel-lined bowl. Remove all but one tablespoon of grease.
In the same soup pot, add diced celery and green bell pepper. Saute for about 5 minutes. Add garlic and cook for a few minutes or until fragrant.
Next, add both cans of tomatoes, water, bullion, drained chicken, seasonings, salt, and black pepper. Bring to a boil and then reduce to a simmer.
Cooking Okra for Chicken Sausage Gumbo – Gets Rid of Slime
While soup cooks, cook okra. Don't skip this step! Cooking the okra gets rid of all the slime that okra is known for. Alternatively, I have read that you can soak the okra in vinegar for 30 minutes, rinse and then pat dry. Supposedly this will also get rid of the slime but I've never tried an okra vinegar soak so I can't comment if it works or not.
In a nonstick skillet add two tablespoons of oil over medium-high heat. Add frozen sliced okra and cook, stirring often until okra is no longer slimy which should take about 20 minutes.
After 20 minutes or so the cooked okra should look something like below.
The Chicken and Sausage Gumbo should be ready about the same time as the okra is done cooking. Add okra to the chicken gumbo recipe.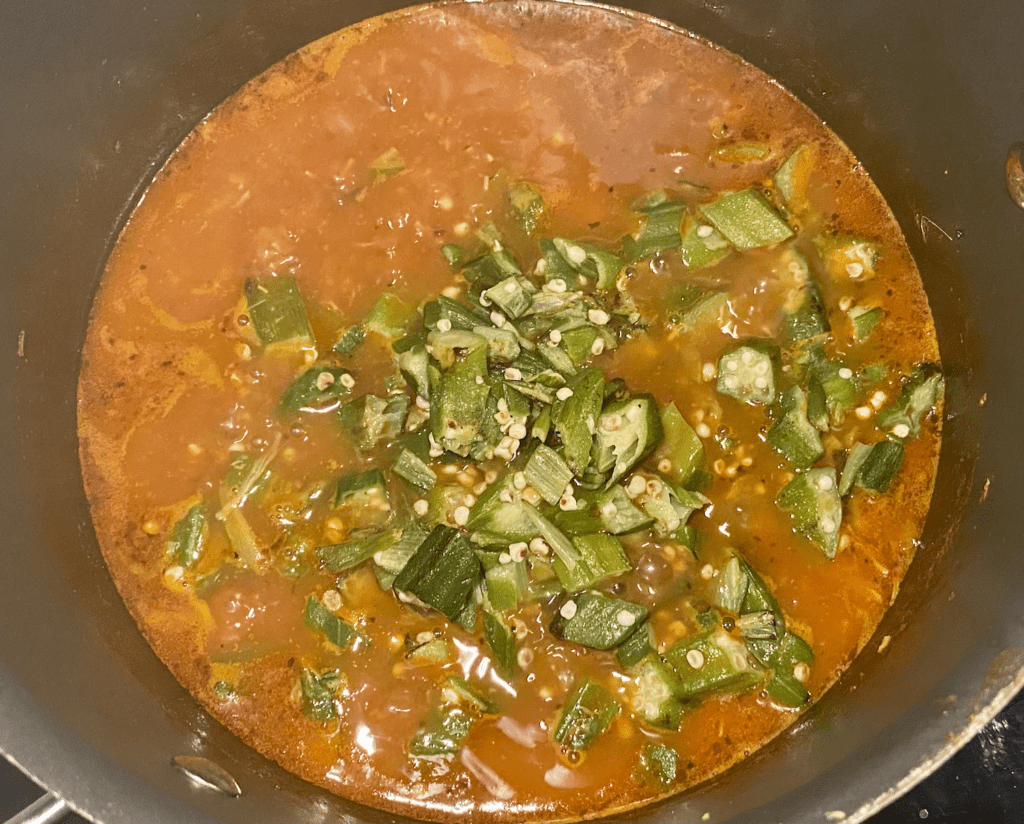 Give the gumbo a good stir and cook a few more minutes.
Easy Chicken and Sausage Gumbo Recipe
This easy chicken and sausage gumbo recipe may not be authentic but Its so good and will become a favorite.
Ingredients
2

packs

Anidoulle Sausage

Sliced

2

ribs

Celery

Sliced

1

ea

Green Bell Pepper

Seeded and Chopped

1

tea

Garlic

Minced

1

can

Crushed Tomatoes

15 oz

1

can

Whole Italian Tomatoes

15 oz

4

cups

Water

1

tbsp

Better Than Base Chicken

1

can

Canned Chicken

`12.5 oz Drained

1

tbsp

Cajun Seasoning

1

tea

Salt

1/4

tea

Thyme Leaves

1/4

tea

Dried Basil

1/4

tea

Cayenne Powder

1/4

tea

Black Pepper

1

bag

Frozen Sliced Okra

2

tbsp

Canola or Avocado Oil
Instructions
In a large stockpot, brown sliced andouille sausage In a tablespoon of oil. When Sausage Is browned, remove the sausage slices to a paper towel-lined plate.

Add chopped celery and bell peppers to the stockpot. Saute until done. Add-In garlic and saute for a minute or two.

Add the remaining ingredients to the stockpot EXCEPT for the OKRA. Bring to a boil and then simmer uncovered for 20 minutes.

While Chicken and Sausage Gumbo simmers, In a nonstick skillet add one tablespoon oil over medium-high heat. Add sliced okra and cook stirring every couple of minutes for about 20 minutes or until the slime Is gone.

Add okra to gumbo. Cook five minutes or so. Taste for seasoning and serve.
If you like this recipe be sure to check out these other great recipes:
This post contains Amazon Affiliate links.