I grew up eating my grandma's refried beans and I might be a little biased, but I think her recipe is the best ever! I compare all Mexican restaurant's refried beans to my grandma's beans. When I was in my mid 20's I went and picked my grandma up at her house three hours away and brought her to my house so she could teach me how to make her refried beans in my own kitchen. I used the cast iron skillet in the picture below to make my first batch. I've been making her creamy refried beans recipe for my own family once a month or so in the 20 years since then.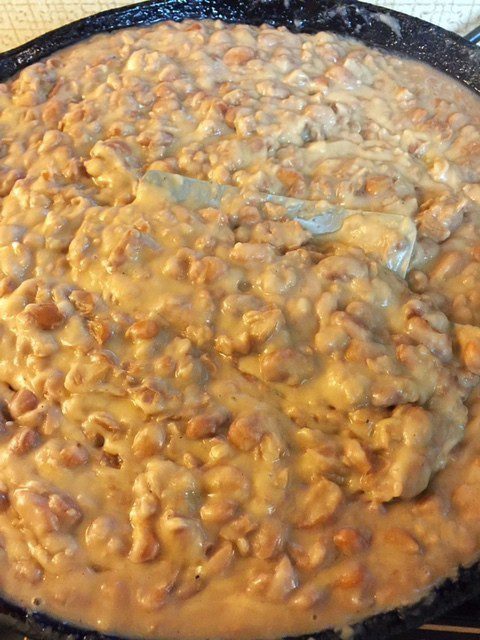 How to Make Authentic Refried Beans
When picking out pinto beans, always go with the lightest colored beans you can find. Pintos darken as they age. Lighter colored pinto beans will cook quicker than dark pintos. My grandma taught me that little trick and I've noticed over the years she was definitely correct! Light beans cook faster.
How to Quick Soak Pinto Beans and Get Rid of the Farts
Pick beans over discard broken, dark colored beans, rocks and dirt clumps.
Cover beans with a few inches of water and bring water to a boil.
Cover bean pot with a lid.
Let beans boil 3 minutes or so.
Remove pot from heat.
Let beans sit covered for about an hour.
Drain beans (goodbye fart water).
Of course, you could also soak beans in water overnight. I prefer the quick soak method.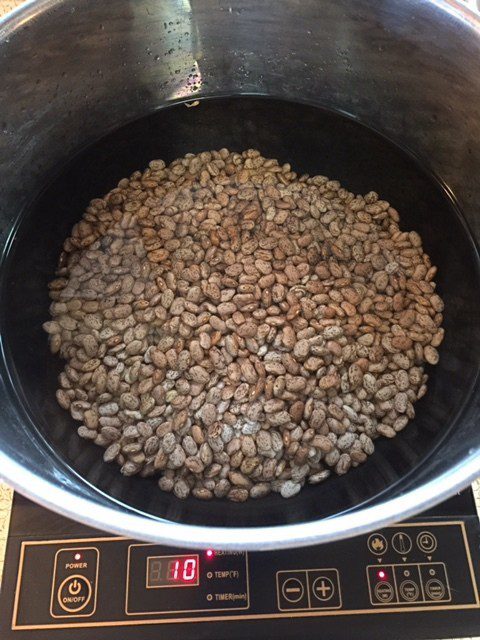 I cooked the beans on my portable Duxtop induction cooktop. If you aren't familiar with induction cooking, you can read more about it here. I cooked the beans until they were almost done (about two hours) then I salted them and finished cooking until the beans were soft. At this point, now that the beans are done cooking, it's critical that the beans taste perfect for salt. Adding salt later doesn't produce the same results. I used about four teaspoons of salt in three pounds of pinto beans and my pot was 3/4 full of water, so lots of water to salt. Set beans aside.
Now it's time to "cook" about 1/4 to 1/3 cup vegetable oil. This step cannot be skipped. The oil needs to heat up so that you can smell hot oil, but don't burn the oil. If you burn the oil, you will have to wash your skillet and cook the oil again or else your beans will taste like burnt oil.
When doing this step I often tip the cast iron skillet to stir the oil (I'm doing this in the picture below). Once you can smell the oil is getting hot, remove the skillet from heat and let it cool down a bit before adding beans to the skillet. If you add wet beans to the hot oil, you will have a mess, beans and oil will pop everywhere! That's no fun.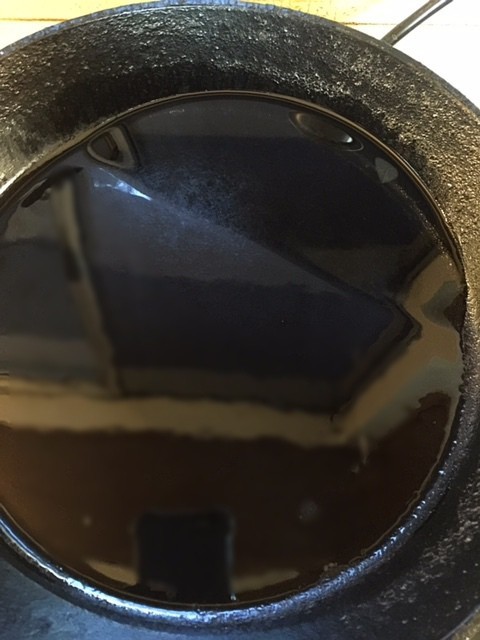 Add beans and plenty of the bean juice to the cooled down "cooked" oil skillet. Your beans should look something like this below. Don't throw out the bean water because you may end up having to add more to the beans. Cook the beans on medium stirring often.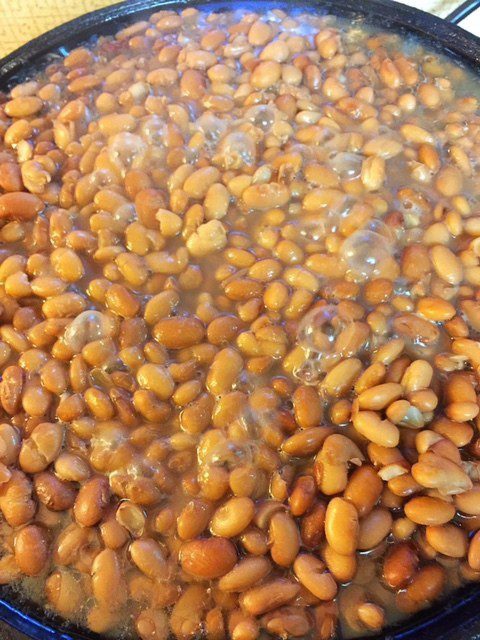 After awhile they will start to become creamy. See the difference in the pictures above and below?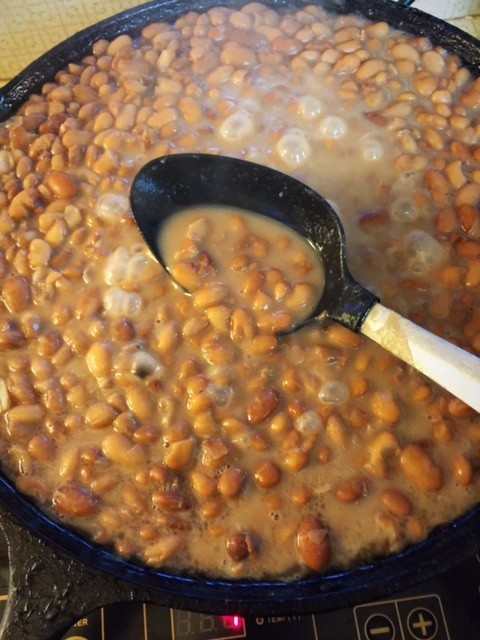 When the beans get creamy like this below, I take a spatula and smash about half of them. You may need to use a spoon to scrape the smashed beans off the back of the spatula.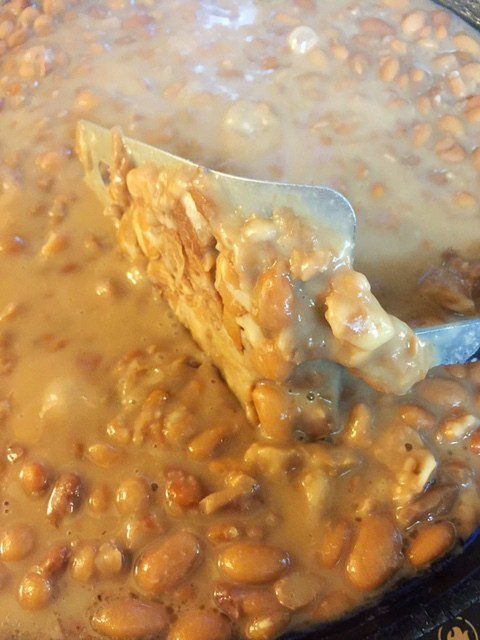 Add in Monterey jack cheese to the beans. I normally used block cheese cut into cubes but I only had shredded on hand. Use 1/2 to 3/4 of a cup. Fold the cheese into the beans so that the cheese melts. As the cheese melts, go ahead and turn off the heat.
These refried beans are great in burritos, as a side to your favorite Mexican dish or even by themselves. I served these refried beans with my Authentic Carnitas Recipe. Enjoy!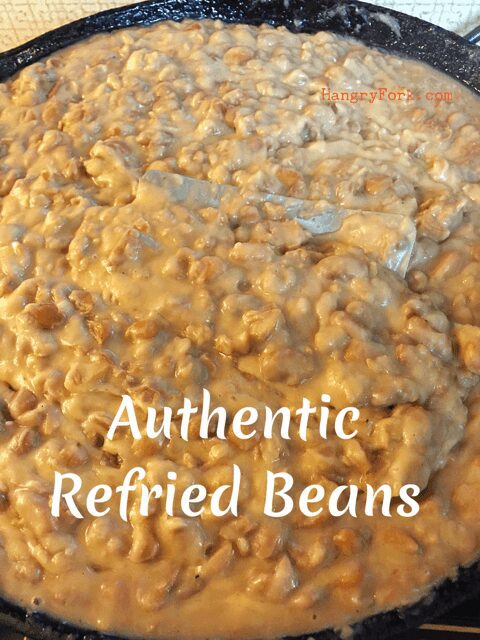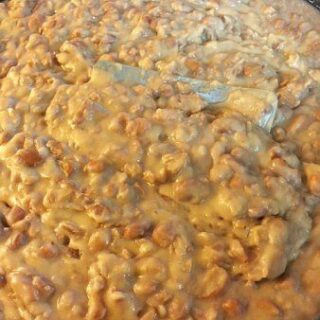 How to Make Authentic Refried Beans
Authentic Refried Beans - My grandma's recipe!
Ingredients
3

pounds

dried pinto beans

water

3-5

teaspoons

salt

1/4 -1/3

cup

vegetable oil

1/2

cup

Monterey jack cheese

Water
Instructions
Pick beans over, removing dark beans, broken beans, dirt clumps and rocks.

Quick soak beans. Put sorted beans in a large pot, cover with at least two inches water.

Bring water to a boil, cover bean pot.

Boil beans three minutes or so.

Remove pot from heat, let sit covered about an hour.

After an hour drain beans.

Fill bean pot up with water. I used a 10-quart pot filled 3/4th of the way with water.

Cover bean pot with lid and cook for about two hours on medium, stirring occasionally, and more often towards the end of the cooking time.

Season beans for salt.

Finish cooking beans and make sure the beans taste perfect for salt.

I typically add 3-4 teaspoons of salt.

In a cast iron skillet "cook" the vegetable oil. Cook so that you can smell the oil getting hot.

Remove oil from heat and let it cool down.

Add beans to the cooled down skillet with "cooked oil". Be sure to add some bean juice too. You need more bean juice than you think because the beans will thicken up.

Cook beans over medium, stirring often until the bean juice get really creamy.

Smash about half the beans with the back of a spatula.

Fold in Monterey jack cheese, and stir cheese in as it melts.
Disclosure: This post contains Amazon affiliate links.
More Great Recipes