A few weeks ago I made these black bean lime chicken burritos with guacamole and homemade salsa, wow that's a fantastic mouthful! These burritos were a megahit with my husband and our three teenagers.
We had made a trip to Costco earlier in the week and stocked up on basic food supplies. This dinner was inspired by what I had left on hand at the end of the week and it worked out wonderfully! No, I didn't have avocados in the kitchen a whole week and not eat them, I'm not that strong-willed if I see an avocado I'm going to eat it. 😀 My husband popped into a grocery store for something and saw the avocados on sale so he bought a few.
Just look at this refried black beans lime chicken burrito with guacamole and fresh Mexican restaurant style salsa! YUM!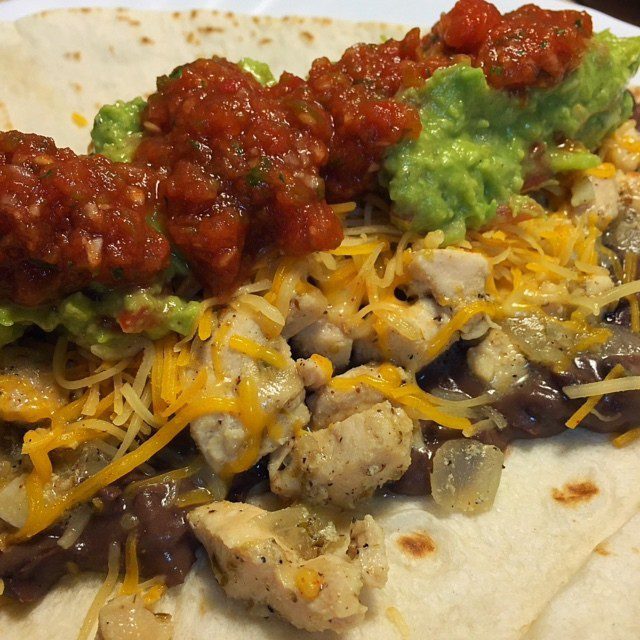 How to Make Black Bean Lime Chicken Burritos
Here's how I made these burritos. First I made Refried Black Beans, if you are in a hurry, you could skip this step by using canned refried beans.
While the black beans were cooking I made some fresh salsa. This is my absolute favorite salsa recipe, it's really great and doesn't take long to make, no endless chopping because it's made in a food processor. Again, if you are in a hurry, you could use store-bought salsa or Pace. This salsa really is worth the effort. It's delicious! When the salsa is done start cooking the lime chicken for the burritos.
Mexican Lime Chicken Recipe
This chicken filling is based off of this Lime Chicken Taco recipe from Allrecipes and takes about 30 minutes to cook plus prep time. I've been making variations of these lime chicken tacos for about 10 years. The recipe is really good. I varied my recipe a bit, using what I had on hand. I didn't have any green onions so I chopped up an onion and threw it in with the chicken when the chicken was almost done. I also didn't have any granulated sugar, so I substituted a little brown sugar. The lime chicken taco meat turned out just as good as the original recipe.
Making Fresh Guacamole
While the chicken is cooking get the guacamole add-ins chopped, but leave the avocados whole, don't cut into them until everything else is almost done cooking. I make pretty standard guacamole, and it's always a big hit. I have never measured what I put into guacamole, I just kind of eyeball it and try to make sure the add-ins don't take over the avocados or outshine each other.
3-4 avocados
1/2 white onion – minced
1-3 jalapeno -or- serrano chilies – seeded and minced
2 – Roma tomatoes – chopped small and placed on a plate with paper towels to absorb the liquid
Fresh lime juice
Salt
Pepper
When the black beans, homemade salsa, and lime chicken are done open up the avocados and remove the seeds and peels. In a big bowl smash the avocado halves with the back of a fork. When they are all smashed, add in the guacamole add-ins. I'd add a little of each item until you get your perfect guacamole. Add in a few squeezes of lime juice and season for salt and black pepper. Taste the guacamole and adjust the salt and pepper again. I like to add in a dash of garlic powder. My kids always tease me and say I add garlic powder it almost everything and I think they may be on to something.
Guacamole Tips: If you are going to have guacamole sitting out and don't want it to turn brown be sure to add in some fresh lime juice and stir the avocado seeds back into the guacamole. If you end up having a little leftover guacamole, store the fresh guacamole in the refrigerator with the avocado seeds stirred in and a layer of plastic wrap touching the guacamole-like skin, the goal here is to keep out oxygen.
Assembling Black Bean Lime Chicken Burritos with Guacamole and Fresh Salsa
Warm-up a flour tortilla and spread a layer of refried black beans.
Top the black beans with the lime chicken taco filling and a little shredded cheese. I used shredded cheddar, but taco cheese or Monterey jack would be great too.
Next, top with homemade guacamole.
Top Burrito with some fresh salsa and enjoy!
Check out these other popular recipes
This post for Black bean Lime Chicken Burritos contains Amazon Affiliate Links.