The "secret sauce" in this amazing fruit salad recipe really makes the fruit salad unbelievably delicious. I've been craving this fresh fruit salad for months. Yesterday afternoon I noticed the honeydew, cantaloupe, blueberries, and strawberries at my local grocery store all looked fantastic, so I bought everything and came home and made the salad immediately.
This fruit salad recipe is really versatile, you can customize it to your own tastes, or what's on sale at the grocery store.
I used fresh strawberries, cantaloupe, honeydew, fresh blueberries, canned peach slices in juice, and canned pineapple chunks in juice. Sometimes I'll also use grapes instead of the honeydew and if cantaloupes are on sale I'll sometimes use two cantaloupes and skip the honeydew altogether.
Don't Use Frozen Blueberries in the Fruit Salad Recipe
A few years ago, the lady in front of me at the produce aisle grabbed all the fresh blueberries so I dealt with it and used frozen blueberries, a big mistake! The fruit salad still tasted amazing but the frozen blueberries ended up coloring the secret sauce a strange shade of purple which then turned purplish gray and it didn't look very appetizing. Learn from my mistake, and don't use frozen blueberries!How to Make This Secret Sauce Amazing Fruit Salad Recipe
Here's the secret behind the secret sauce. It's vanilla instant pudding mixed with the juice of the cans of fruit.
Get the Regular Instant Vanilla Pudding
The cantaloupe and honeydew I bought were the biggest melons I had seen in a long time, so I purchased a large box of instant pudding. If your melons are normal-sized, then go with the smaller box. In the past, I've made this recipe with the sugar-free variety of instant pudding, and to me, the taste was a little off and the fruit salad tasted almost too sweet.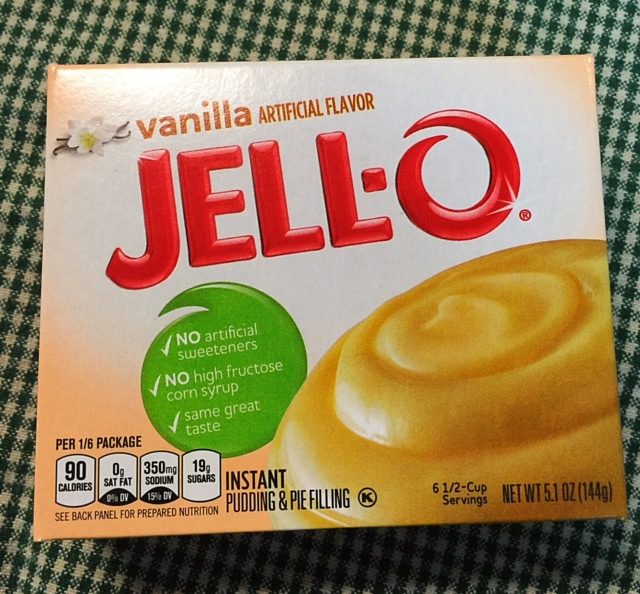 Here's the other component of the secret sauce…. The juice from canned fruit. Make sure your fruit is in juice and NOT heavy syrup!
Whisk the vanilla instant pudding and the juice from the canned fruit until it's combined and all the clumps are gone. Then go ahead and add in the canned fruit and give the fruit and secret sauce a stir to combine.
Next, add in bite-sized fruit of your choosing.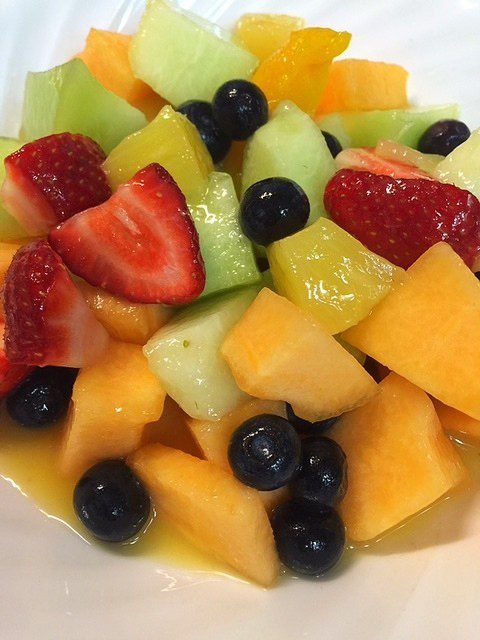 Here's what I used for this beautiful fruit salad recipe:
1 cantaloupe
1 honeydew
1 big container of fresh strawberries (maybe 2 baskets)
1 medium-sized container of fresh blueberries
2 cans peach slices in juice
2 cans pineapple chunks in juice
1 box of instant vanilla pudding
This recipe makes A LOT of fruit salad. It's perfect for potlucks and class parties (cut the fruit up smaller if you are going to serve the salad to small children).
I took this fruit salad to a family reunion and it was inhaled in no time flat. In fact, it was the first thing to go!
This recipe filled up a 7.5 liter (approximately 32 cups) Tupperware bowl. You could easily scale the recipe down if you are feeding a small family.
More Optional Fruit Salad Addins:
Grapes
Banana Slices
Canned Drained Mandarin Orange Slices
Canned Fruit Salad
Kiwi
Raspberries
Blackberries
Secret Sauce Fruit Salad Recipe
This amazing fruit salad recipe will have everyone wondering what the secret sauce Is made from. This fruit salad Is perfect for get-togethers and Is always the first thing to go.
Ingredients
1

each

cantaloupe

1

each

honeydew

1

each

big container fresh strawberries

1

each

medium size container of fresh blueberries

2

cans

peach slices in fruit juice

2

cans

pineapple chunks In juice

1

box

vanilla instant pudding
Instructions
Cut all fruit Into bitesized pieces.

Drain juice from canned peaches and pineapple Into a large bowl.

Add pudding to large bowl with peach juice. Whisk until blended smooth.

Stir in the fruit. Chill before serving.
If you like this recipe check out:
Disclosure: This Amazing Fruit Salad Recipe post contains Amazon affiliate links.