Redwood Trees & Daffodils
Our daffodils in front of our house are up. Last year we had a bunch of wild hogs come through and they dug up and ate most of the bulbs. I always thought daffodils were poisonous to animals, maybe not feral pigs? We also had another weird thing happen, we had a daffodil come up in the front lawn which is not where we planted them 15+ years ago. I am guessing a gopher took the bulb in a tunnel to the lawn?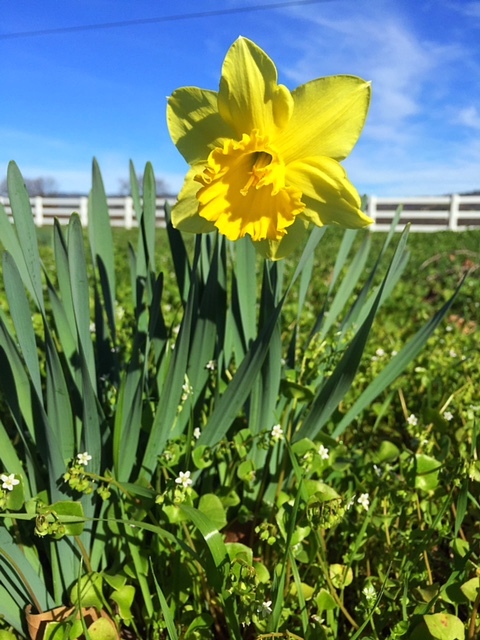 Collecting Redwood Trees
For the past month or so we've been collecting trees to replace all the trees we lost in the Valley Fire. All together we had about 29 30 trees to plant, mostly redwoods. We got some really big redwoods at Costco in Citrus Heights. Costco had us wheeling these trees around inside the store, we looked like a small forest on wheels. The trees were so tall they didn't fit through Costco's 12′ high doors, we had to take the trees off the cart to get them into the store from the garden center, and take them off the cart to get them outside the store. It was so much work! This was definitely a time when we should have taken our teens with us to help out.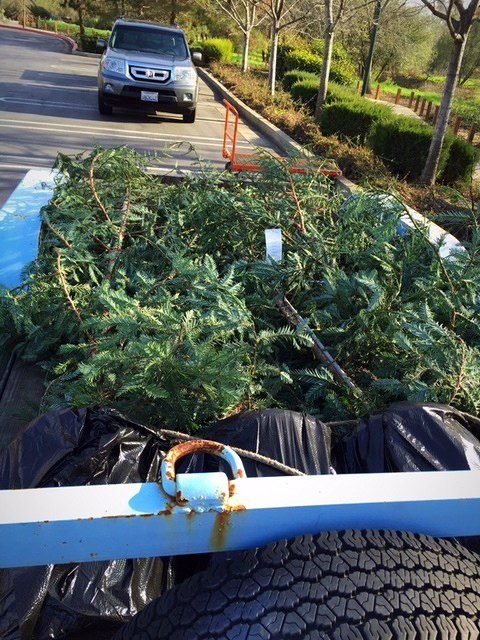 The same day we also bought some medium sized redwood trees at Lowes in Roseville. Weeks before our oldest daughter bought my husband a medium sized redwood tree as a surprise for her dad. It was his first post-fire tree and made his day.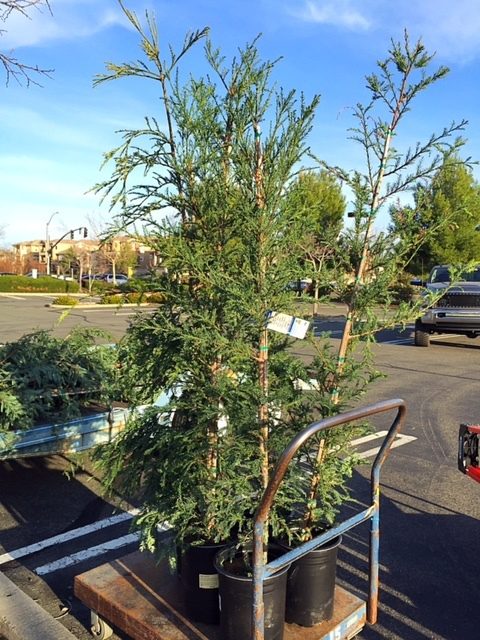 We also received three free trees, from the Facebook – Valley Fire Gifting Tree Campaign. People in nearby counties bought live trees from nurseries and then after the holidays passed, they donated the live trees back to their local nursery. Volunteers then went and picked up all the trees. After we picked out our three trees we drove around the Cobb community and saw so many people planting the donated trees. It was really touching, people who have lost everything replanting their little corner of the forest, and trying to get back to normal.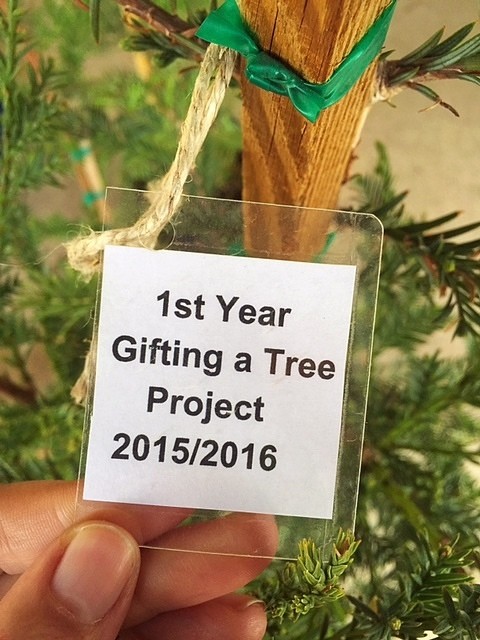 These are our three gifted trees, the big one is a coastal redwood, the medium is a Douglas Fir, the tiny tree is a Dwarf Alberta Spruce. Thank you to everyone who participated and donated a tree and the volunteers who did all the running around and carrying for the 700+ donated trees. We also received a free Douglas Fir from Poppy's Nursery in Lakeport, CA.
Here are some pictures of our trees the Valley Fire burned, we are giving them a chance to live. We did take down a bunch of big trees we felt had zero chance of living. Below these trees all still have a little green on them, I think they should be fine. The red rock was where our garage was located.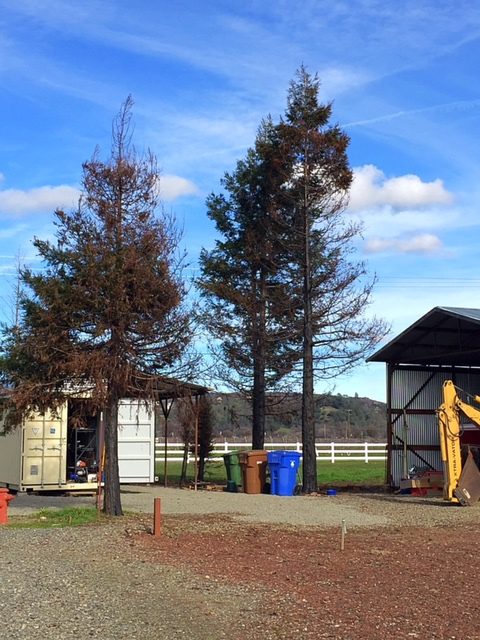 Here are some redwoods and a volunteer oak tree in front of our house that were burned up. Again the redwood trees have a little green so we are babying them and hoping they pull through.
Here are some trees in our backyard. We have a temporary fence up for our dogs, the backyard pre-fire was really big and included the trees. So many fence panels were destroyed we so we had to make the backyard smaller temporarily. The redwood tree to the left actually touches our house, I have no idea how our house didn't catch fire. The redwood tree in the center of the picture looks really rough but there's a new limb sprouting out about 20′ up. The oak tree the right has been cut down since the photo was taken, it was completely dead and the wood was dry. The oak was above my husbands old tool shed and burned really hot.
My kids had a redwood Rainbow Play Fort near where the sand in the picture is, it burned to the ground, not much was left. The sand was my son's old sandbox, the wooden frame burned and was just gone.
Our well burned up in the Valley Fire and we had to replace just about everything, including the electrical box which was in the old shed. The blue tank in the photo is the pressure tank for the well.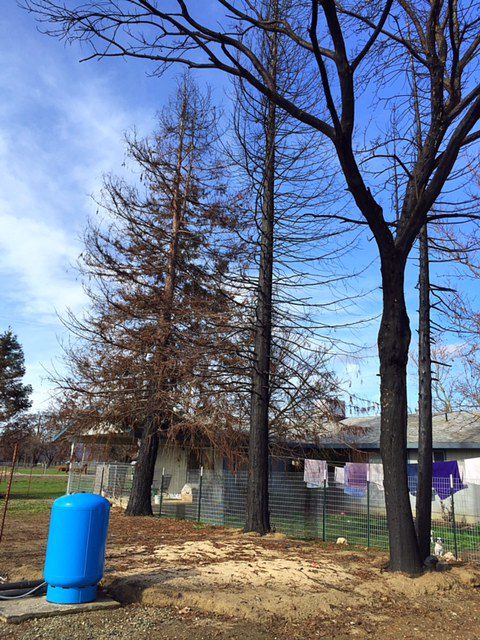 Here are some redwoods by our back patio. Look how close they are to my kids old playhouse! It's amazing the playhouse didn't burn down. These trees all have signs of life, believe it or not as burnt as they are.
This is a closeup of one of the burned trees behind the playhouse. Look at all the new green growth!
In the past few weeks, we have planted 23 trees and have 7 more to plant tomorrow! We weren't messing around and got out the big equipment.
I'm so thankful for our new to us (old) backhoe! We have heavy clay soil and digging in it isn't any fun. The flag hanging on the side of our boat barn survived the fire with just a few scorch marks and holes.
Here's one of our medium sized redwood trees. It's an Aptos Blue Redwood. That's Lulu the Shih Tzu, she was helping us plant the trees, supervising of course.
Here's some more trees we have planted. These two trees are Douglas Firs.
Here are some of the big redwoods we planted by our vegetable garden and surviving chicken coop (barn red small building). I don't know if you can see it or not, but there's a burnt branch on the roof of the boat barn just above the right hand corner of the flag. This floated down from the sky during the Valley Fire. It's amazing it didn't catch the building on fire.
Using a backhoe makes the digging easy, but it also leads to broken pipes! Not fun!
I'd like to give a huge thanks to Redwood Credit Union. RWCU and their members donated money for the purchase of our new trees and drip lines. Our oldest daughter has worked at RWCU for many years. They are an awesome credit union that really cares about the community.
RWCU has helped so many people to move past this disaster and get on with life. Losing some of our animals was the worst, but losing the trees was hard on us too, the vehicles, tractors, trailers, buildings and stuff not so much. My husband planted every tree on our property himself, many over 30 years ago when he was a young man. He always thought the redwood trees were his legacy. Long after he's gone he thought people would wonder who the "crazy old bastard" was that planted so many redwoods on this property. He'll be 61 in May, here's to hoping the burned up trees still standing survive and the newly planted trees thrive.