Here's part two of Jack's I Spy Baby Quilt, you can find part one here – Jack's I Spy Baby Quilt.
To recap, my step-daughter of 20+ years, Meghan had her first baby, a boy named Jack, in late October.
I'd been planning on making a quilt for her baby in September and I got as far as getting my plan down on paper but then we were hit but the Valley Fire on 9/12/2015.
We still have our house, but lost five outbuildings (barn, tractor barn, 2 car garage with shop area, tool shed, and chicken coop), two vehicles, two tractors, a backhoe attachment, quads, a travel trailer, horse trailer, 2 equipment trailers, my daughter #1's beloved corgi Bella, our horse Missy, and a flock of banti chickens.
The fire burned up our water well, burned up most of our 30+ redwood trees we've planted over the past 20 years, and broke all the house windows facing our backyard.
We've been super busy dealing with three separate insurance companies. The state of California did a fantastic job cleaning us up and removing so many big trucks of burned-up stuff.
Unfortunately, this I spy baby quilt was put on the back shelf although I did manage to piece it together.
I cheated a little and bought the I Spy fabric squares on ebay.com, the squares were such a bargain and totally worth it!
I also used some fabrics that I used in quilts for my own kids and Meg when they were all little.
Six months later, we are in the process of rebuilding. We have a building permit for our garage, and our tractor barn and barn have ag exempt building permits (they were signed off on, no building permit necessary).
We pour the foundation for the tractor barn on Thursday and (fingers crossed) get an inspection on the garage foundation a week from Monday and then pour later that week. Today the footings for the new barn were dug. We've been super busy!
Okay, the recap is over.


Finishing Jack's I Spy Baby Quilt
Here's the finished baby quilt! I love it! Meg loves it (I've texted her pics of the quilt) and I hope baby Jack loves it!
Here's a close-up of the back fabric. It's a camping-themed fabric that my daughter #2 found in my fabric stash, I think it's perfect for this quilt.
My daughter #2 also picked out the binding fabric which looks like a brick wall. Overall, I couldn't be happier with this quilt!
Here's all the work I did today to get this beautiful baby quilt finished. I started off by clearing off most of my kitchen table.
Luckily, I have a really big table and I was able to leave my sewing machine on the other end. I then tapped the backing fabric right side down to the table using painter's tape.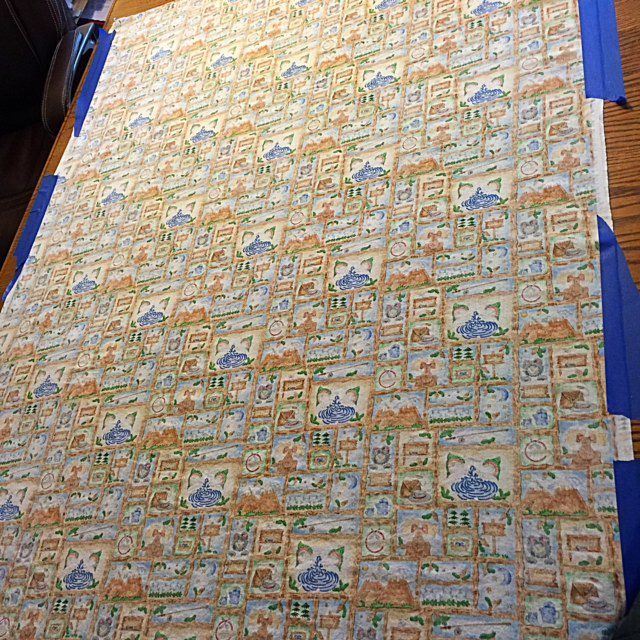 Next came a layer of Warm & Natural batting. This was leftover from another project and was the perfect size for this baby quilt.
My daughter #2 found it for me….. Thanks, Ashley! I absolutely love using Warm & Natural batting, in fact, it is my favorite batting. 😀
Then I topped the batting with the baby quilt top.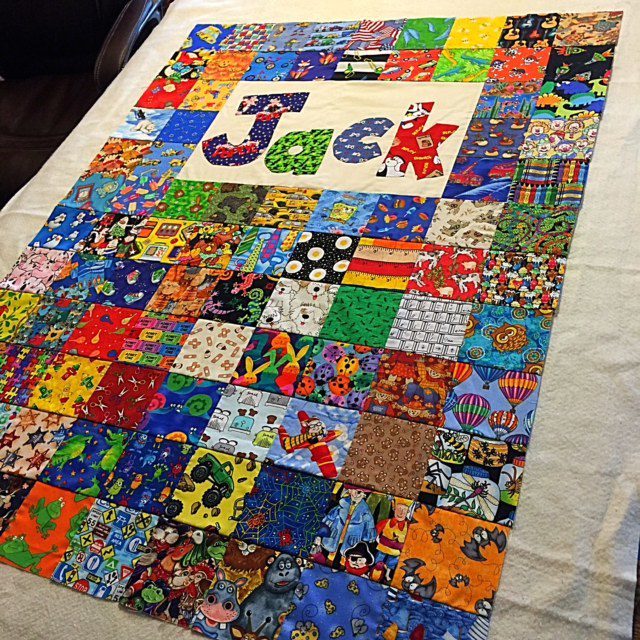 I basted the quilt using these basting safety pins. I should have ordered two packs.
I didn't have enough for the whole quilt and had to use some old straight safety pins I already had. Having the curve in the pins makes basting so much easier and faster.
Now it was time to quilt. Since it's been years since I free motion quilted, I decided to take it easy on myself and quilted in the ditch with a walking foot.
I had drama while setting up my walking foot, the presser foot screw broke in half while being screwed in. I have no idea why this happened, the screw is metal.
Luckily there was just a little of the broken screw sticking out of the slot where it screws in and I was able to back the broken screw out of my sewing machine.
I have another Husqvarna sewing machine, my first machine, it is a 20-year-old 250 model and uses the exact same presser foot screw so I went and robbed that sewing machine of the screw and was back in business.
It didn't take me long to do the quilting, maybe an hour or so. After I was done quilting, I cut off all the excess backing fabric and batting using my rotary cutter and ruler.
I then got the binding ready. My binding was 2.5″ strips.
I attached all the binding strips into one long strip and then pressed the long strip in half, wrong sides together. Using a 1/4″ see allowance I attached the binding to the quilt top.
I then flipped the binding over to the backside of the baby quilt and hand sewed it down.
I'll be putting this I Spy Baby quilt in the mail to Oklahoma on Monday morning. 😀
I recently made an I Spy Denim Rag Quilt using my husband's old jeans. We are calling this quilt "The Fart Quilt" for obvious reasons. 😀 The denim quilt tutorial is up! It turned out beautiful!
Disclosure: This post contains Amazon affiliate links.
Check out these other fun sewing projects
These Rice Cooker Recipes Are Amazing