Baby quilt time! I'm dusting off my sewing machine to make an I spy baby quilt! My stepdaughter recently gave birth to her first child, a baby boy she named, Jack. I decided to make an "I Spy" baby quilt for her baby. This is a quilt Baby Jack will grow into.
If you don't know what an "I Spy" quilt is, it's a quilt made with many different novelty fabrics, which appeal to young kids. It's kind of like a quilt form of those "Where's Waldo" books which were popular in the 1990s. Kids love I Spy quilts, these quilts are so colorful and full of animals, characters, or themes little kids like. Parents can make a game out of challenging the child to find different animals or characters on the fabric squares.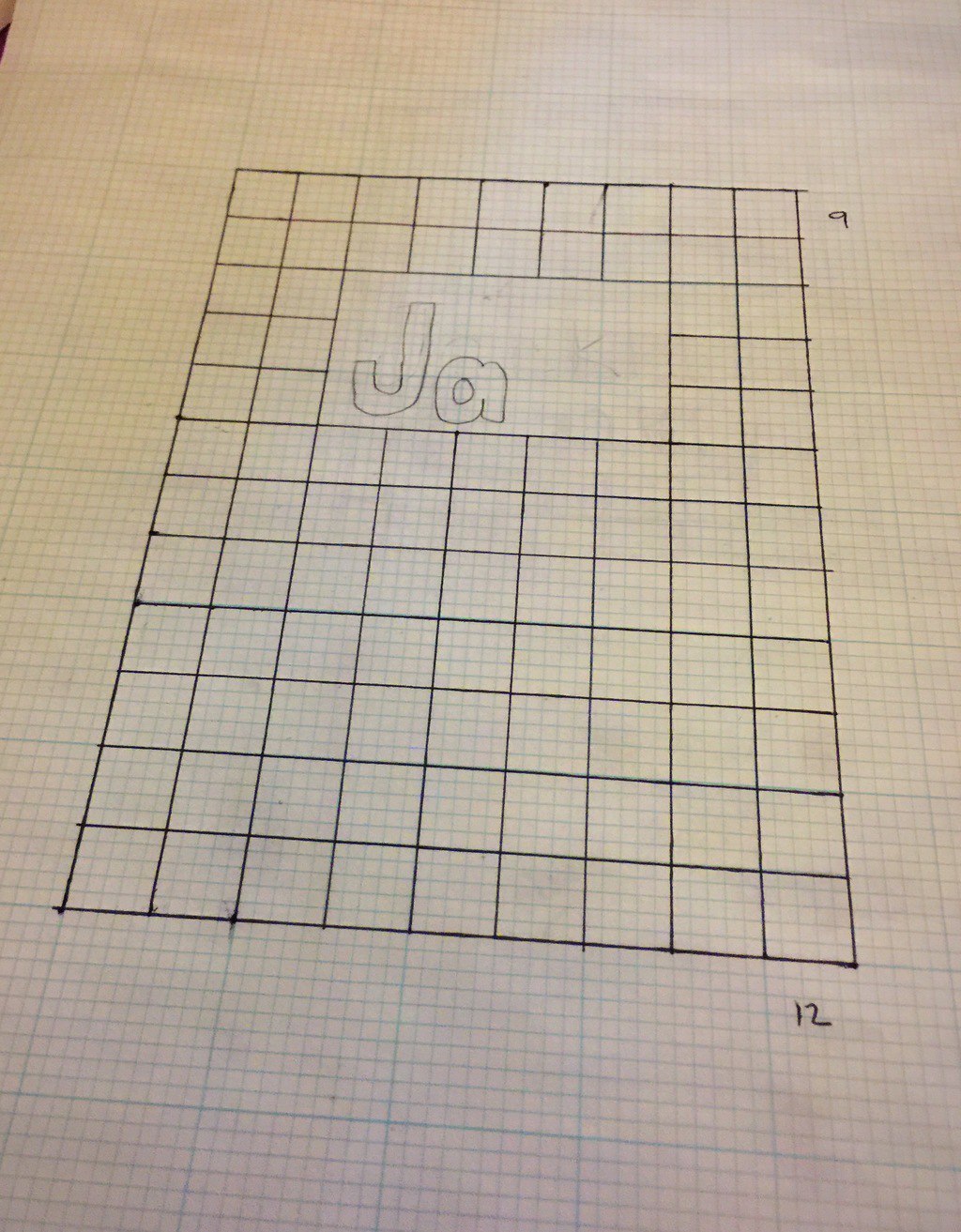 Designing a Quick Easy To Sew Baby Quilt
My first job was to figure out how many squares I needed to make this quilt. So I got come drafting paper and went to work on my design. My design is really simple. My squares were cut 4.5″ square. I have nine squares going across the quilt, with his name appliqued on a center panel. The quilt is 12 rows long. 93 squares in all, plus the center panel. The squares are 4″ square (finished) after you subtract 1/4″ seam allowances.


Isn't Cutting Out a Bunch Of Fabrics a Hassle?
I started looking through my fabric stash, and I soon realized it was going to take me forever to get all the squares cut, especially since I wanted all fabrics to be suitable for a little boy (I'm the mom of three girls, and my youngest is a boy, I have mostly girly fabrics), and I didn't want any repeat fabrics.
I made a quick decision to order a set of 100 – 5″ boy I Spy fabric squares from eBay. I ordered the squares a little big, thinking that I'd receive squares that needed cleaning up. To my delight, I had my eBay order by the end of the week, the squares were perfect, although I did have to trim them down to the 4.5″ size that I wanted. I had the entire baby quilt top pieced together the same afternoon I received the squares in the mail. 😀


UPDATE: Amazon now sells precut fabric squares perfect for I Spy Quilts. Ebay has many listings on precut fabric squares, you can search eBay for your own I Spy fabric. By ordering precut squares on ebay you will save yourself all kinds of time cutting out one-of-a-kind fabrics and a bunch of money buying fat quarters (or whatever size you would buy) to cut your own fabrics.
How I Assembled the Baby Quilt Top
I made this quilt so that when you look at it, all the blocks are lined up in the same direction. Some fabrics go in every direction, though. I took two block squares and lined them up right sides together so the edges were even, I didn't take the time to pin them. I then chain sewed the blocks together, feeding them into the sewing machine one set after another. Now, remember, my design calls for 9 blocks per row, so if you are following this, don't sew all your squares into twos, you will need 9 single blocks to add to a row of 8 blocks.
After I sewed the majority of my squares in twos, I then cut the chain of blocks I had just sewn together, and I sewed those together (end to end), making a chain four blocks long. Then I repeated the process until I had nine rows of nine blocks. Two rows are above the name panel, and seven rows are below.
Next, I assembled the six blocks which are on either side of the panel area. When I sewed these six blocks together, I took the time to press the seams so that I'd get a nice crisp area and not a bunch of bulky seams. Finally, it was time to piece together the rows. I took the time to iron all the rows, paying attention to which direction was having the seams go. I then pinned the rows together at the seam intersections, butting up the seam allowances so my quilt squares line up nicely in the corners.


I just took this picture of the front of the baby quilt, and it's been about two weeks since I ironed everything, but I still think you can see what I'm talking about here? See how the corners of the blocks line up so cleanly? This is because I took the time to press my seams in opposite directions so the seams "butt" up together and lock in place.
Appliqueing Jack's I Spy Baby Quilt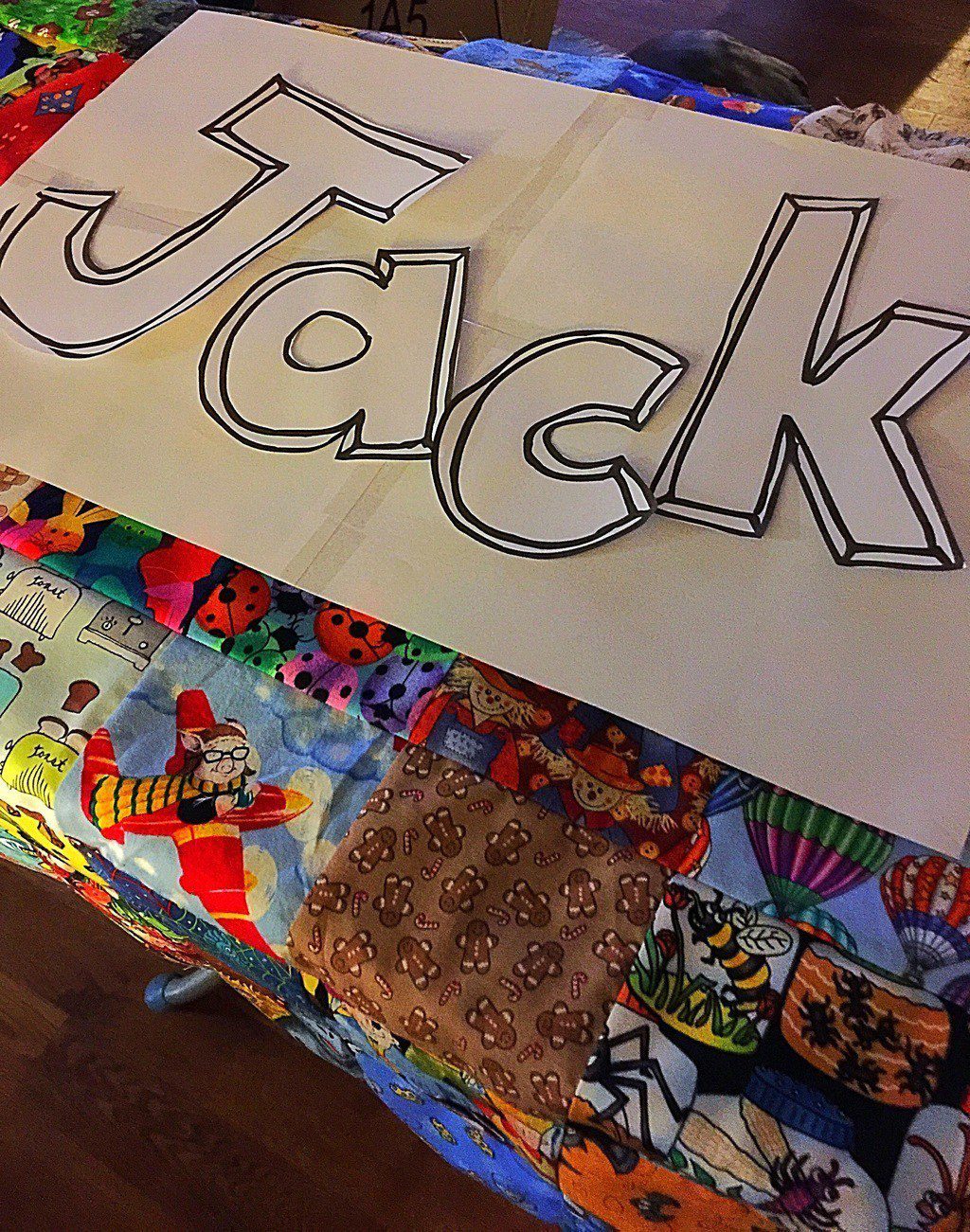 Initially, I thought I could pull off drawing the letters myself. I used to be really creative and could have whipped out beautiful letters, but as you can see in my quilt planning paper above, I'm miserably out of shape when it comes to drawing letters. Online, I downloaded a Macbook friendly font for free. When I selected this font I made sure the "a" in Jack was how he'd be taught to write it in school and not like this "a".
Here's what I came up with. Not too shabby huh? I purchased a quilter's marking pencil and traced the letters onto the right side of the applique fabric. Then I used my sewing machine to baste the letters down. I left room for "needle turn" applique. I did the appliquéing by hand and it took me most of one day.
Presenting Jack's I Spy Quilt Top!
Here's what the baby quilt top looks like now. How cute is this? I had some Popeye fabric and some Deputy Dawg fabric in my stash, so I used those for the fabric in the "J" and "k". Some of these fabrics I used in a quilt I made for Jack's mom when she was a little girl. The Sponge Bob fabric I had leftover from making my son a superman cape when he was maybe 2 years old, he's 15 now. The cow fabric below the "K" and to the right was leftover from my son's baby quilt. So while I did purchase most of these blocks from eBay some were from my fabric stash.
Part 2 is available now. The finished quilt is beautiful!
Disclosure: This post contains Amazon affiliate links.
Check out these other sewing projects
Three Most Popular Recipes on This Site