This afternoon I made myself some new upcycled denim potholders, aren't they cute? For those that don't know, upcycling is, it's when you take something you already own and make into something new or something more usable or valuable to you. In this case, I took some weird fitting jeans that weren't being worn and turned them into the denim potholders you see below.

I made my own patterns and just kinda winged it. I'm very happy with the potholder results. I'm not so happy about how horrible our kitchen table looks in these pictures. 🙁 Please ignore the table, it's really old and needs to be refinished.
What I Love About This Denim Potholder Pattern:
There is no biased binding.
This pattern only calls for old jeans and a small piece of accent fabric.
You don't need any special fabrics or batting.
There's no hand stitching involved.
These potholders are very durable.
It's free and you probably already have everything you need to make the potholders.
The oval denim potholders tutorial with finger protectors is up! You can find it right here – oval denim potholders. I also have some denim potholders with reverse applique. If you are feeling especially ambitious, be sure to check out the beautiful quilt I made from old jeans – Denim I Spy Rag Quilt Tutorial.
Here are some more pictures of the square denim potholders.
A close up of the square potholders.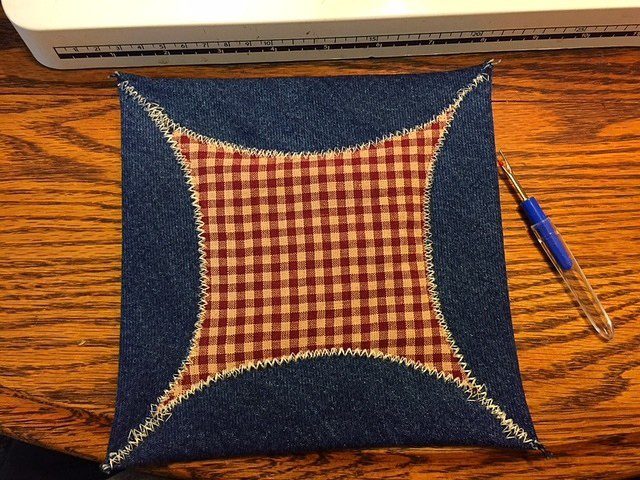 How to Make Upcycled Denim Potholders
Here's what you will need:
Old cotton jeans (how many depends on the jean thickness and the size of jeans you are working with).
Cotton Fabric (I used one 6.75″ square per potholder)
Any old Ink Pen or pencil – I used my favorite brand of pen InkJoy.
This potholder is about 7″ square, your potholder size will vary depending on what size bowl you use for your pattern.
Split the leg of a pair of jeans by cutting up the leg from the inseam up to the zipper. Lay the leg out open and flat in a single layer. I don't recommend using really thick jean seams, but if the seams are thin, go ahead and use them in the circle if you need to. If you are working with small sized jeans, you could also cut the jeans seam out and sew a few pieces of the jean legs together to get your perfect circle size.
Grab a mixing bowl. I used a 10″ diameter a mixing bowl as my pattern for the potholder. Lay the bowl upside down on the inside of the jeans and trace around the bowl with an ink pen.
Cut the circle out. It should look something like below.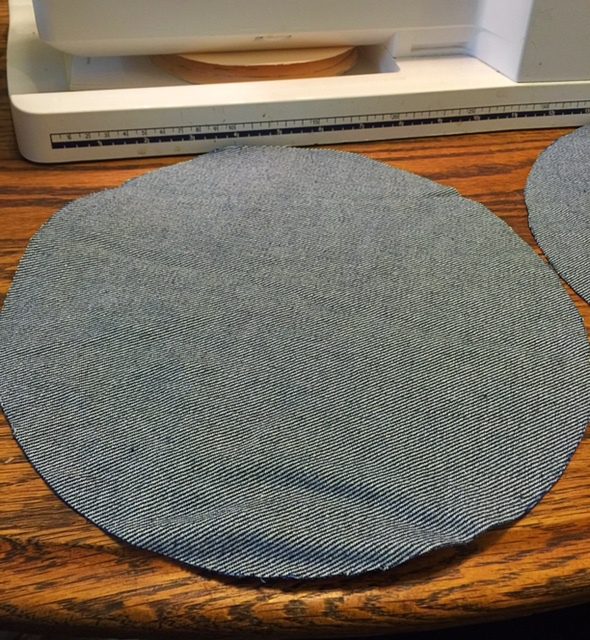 Next you will need to figure out the size of the squares you will be using in the center of this potholder. Here's how I did that. Fold the denim circle in half and then fold in half again. Take a ruler and measure a square. Below you can see my square will be 7″ (3.5″ x 2). I like to give myself a little wiggle room so that the center square fabrics aren't doubled over when I fold over the jean flap. I cut the squares a 1/4″ smaller or 6.75″ square. Find out the maximum square size that'll fit in your circle and then reduce the square by 1/4″.
Cut out three squares of jeans material for each potholder and one square of contrasting cotton fabric. These jeans weren't very thin, if your jeans are thin you may want to cut four squares of denim out and if your jeans are really thick, you may need only two squares per potholder. Keep in mind, the denim squares will be what are going to protect your hands from the heat of the oven.
Center the squares on the fabric circle carefully lining them all up. Pin down one side while smoothing out the top fabric and then pin the opposite side.
Repeat with the other ends. Try and make it so the corners show the jeans and to the accent fabric.
Machine baste the potholder edges but keep the pins in that are holding down the flaps. I basted with the pins in, I just went really slow whenever I got close to a pin.
Now it's time to zig zag. Make two zigzag laps around the pot holder, following the denim edge. Remove the basting stitches and any loose strings. Congrats, you have made your own upcycled denim potholders.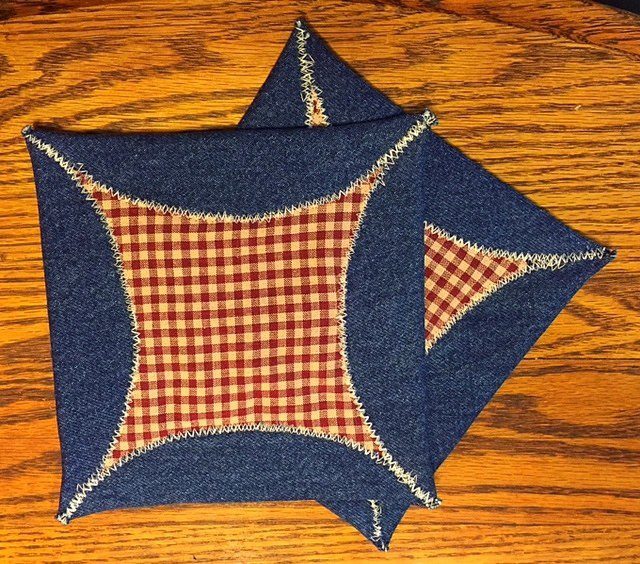 Disclosure: This post contains Amazon affiliate links.