New Potholder PatternYesterday I made two sets of denim potholders out of a pair of funky jeans that were not being used. Here's what I made.
The tutorial for the oval shaped potholder is on this page and you will find the tutorial for the square denim potholders here.
I have another denim potholder with reverse applique hearts.
There are also a cute pair of crazy chicken potholders.
If you have a big stack of jeans needing to be upcycled be sure to check out my Denim Rag Quilt Tutorial. This quilt is a real stunner.
Doesn't everyone has some old jeans lying around the house? Maybe they aren't good enough to donate, or you don't know what to do with old jeans so you just stash them in the back of the closet.
I've been there and done that. I literally have a big stack of old jeans just waiting to be recycled into something new.
Upcycling jeans into potholders is easy and doesn't take very long, especially if you have a nice sharp pair of scissors.
My scissors have seen better days, they are a real hot mess.
I'm almost certain one of my kids has used my "fabric only" scissors for cutting paper. I'm just saying. 🙁
I ended up ordering a new pair of scissors from Amazon and they will be here tomorrow, I can't wait! I ordered these snazzy razor sharp scissors.
This denim potholders tutorial requires a pattern.
You could make your own or you could use the pdf I drew out. I drew my pattern on paper and then traced it onto a manila file so I could easily trace around the pattern multiple times.
If you don't have a manila file, you could use a cereal box or just plain paper.
A Little Background: Back in December 2015, my husband borrowed my oven gloves for a metal grinding project (his welding gloves were in our garage that burned down in the Valley Fire).
He ended up catching both my oven gloves on fire, thankfully he wasn't hurt, but my oven gloves were destroyed.
As a replacement, I purchased these awful oven gloves from Amazon. These gloves look thick on Amazon but in reality, they are so thin, you can see through them (I posted pictures on Amazon).
My everyday socks are thicker than the gloves I purchased. This purchase was a major Amazon fail.
I don't think I'll ever purchase potholders ever again because they are so easy to make at home using things you already have, no special supplies are needed. The denim potholders turn out cute too.
Here's what you will need to make these denim potholders:
Old jeans
Scraps of cotton fabric
Cotton thread
Something to mark with, I used a pen.
How to Make This Upcycled Denim Potholder
The pattern is for ONE potholder. This pattern is designed so that all the layers of fabric won't be in the seams. My sewing machine sewed right through the jeans material without issue.
Print the New Potholder Pattern. Keep in mind all jeans are not the same thickness.
If you have thin jeans, you may need more lining to protect your hands from the heat of the oven. The jeans I was using had a medium thickness.
Get the jeans ready by cutting on one side of the inside seam up through the waistband. Then lay the jean leg open with the wrong side up.
From the Denim cut:
Two of the denim "Body"
Two of the denim "Body Liner"
Three of the "Finger Cover Liner" –

The printed pattern says to cut two, but you actually need three

.
From the accent or contrasting fabric:
Two of the "Finger Cover".
Below are two of the "Body" and two of the "Body Liner".
Center the body liners on one of the body pieces, make sure the "Body" is the wrong side up.
Stitch the liner down. I used a 1/4″ seam from the edge of the liner.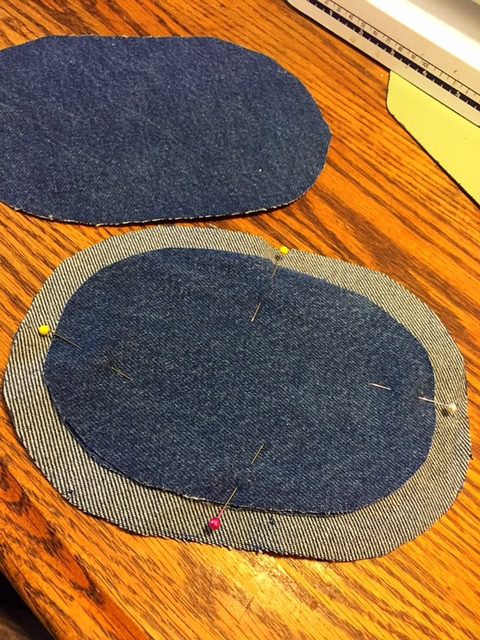 Now sandwich the piece you just stitched with the other "body" piece.
Make sure the top "body" fabric is right side up, like below.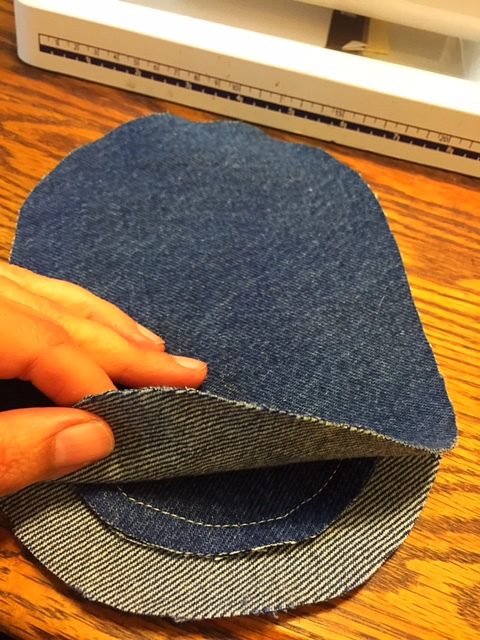 Here's what the "Body" sandwich should look like.
Stitch 1/4″ or so from the edge going all around. I don't have a picture of this stitching.
Now it's time to sew the "Finger Covers".
Cut one of the "Finger Liners" in half.
You will be using 1.5 of the denim "Finger Liners" per "Finger Cover".
Center the "Finger Cover Liners" on the "Finger Cover" contrasting fabric.
You want the contrasting or accent fabric to be right side down.
Stitch down the "Finger Cover Liners" to the "Finger Cover" fabric using a 1/4″ seam.
Now fold the "Finger cover in half and pin it in place. The right side of the fabric will be on the outside.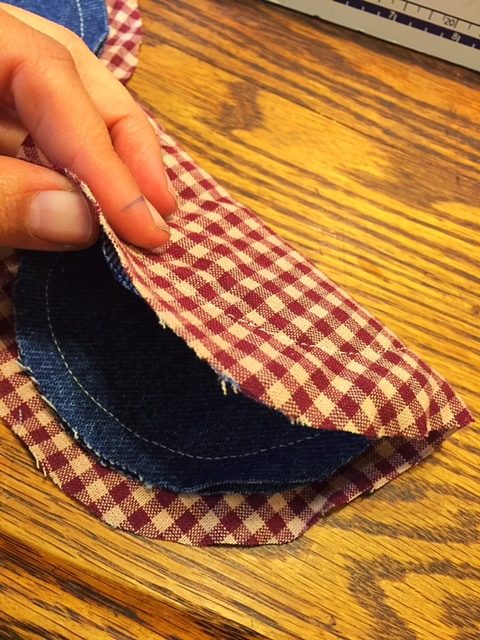 Stitch across the fold using a 1/4″ seam allowance.
Now stitch around the outside of the folded finger protector. Again use a 1/4″ seam allowance.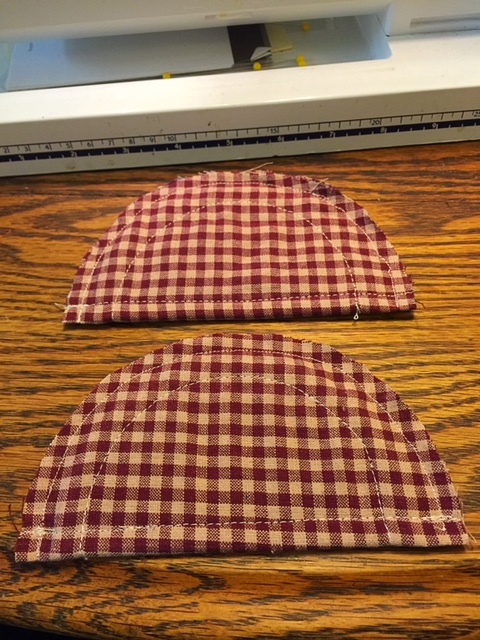 Now it's time to assemble the oval denim potholder
Pin the assembled "Finger Covers" to the back of the assembled "Body".
Your seams should line up like below. If they don't line up, don't worry about it. Pin everything in place.
Straight stitch around the edges using a 1/4″ seam allowance.
When you get to the area where the "Finger Cover" is joining the "Body" at the "Finger Cover" fold do a back stitch or two, this is a stress point so I like to have a few extra stitches, but it's totally optional.
Now it's time to do a double lap around the denim potholder with a zip zag stitch.
When you are done inspect the back of the potholder and make sure you got all the denim edges.
After inspecting my denim potholders, I had to make one more zig zap lap with the back of the potholder facing up so I could get the denim edges I missed.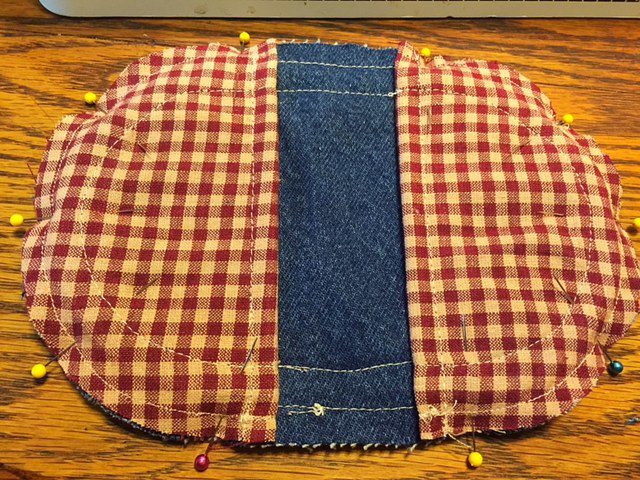 Here's the back of my denim potholders.
Update: I used these potholders tonight when I made this Easy Tater Tot Casserole.
They worked beautifully! I'm extremely pleased with my new potholders.
Disclaimer: This post contains Amazon affiliate links.
Here are some wonderful recipes