When I was a kid, my grandma would make mass quantities of this Portuguese Sandwich for her big family. I really don't remember what she called these sandwiches, but I wish I did.
I recall her frying the linguica and everyone (my grandma had eight kids and lots of grandkids) lining up and assembling their own linguica sandwich. I like keeping traditions and I'm semi-obsessed with linguica so I make these sandwiches frequently for my own kids. It's a nice quick lunch or when my husband is out of town, quick dinner. 😀


The roll I'm using here isn't the type of roll my grandma would buy, her's were about half the size. I think she used dinner roll, the type that comes in a big bag like you'd find at Costco. I just went with what was cheapest and it worked. This Portuguese sandwich is super filling and in retrospect, I'd probably cut these rolls in half for easier handling.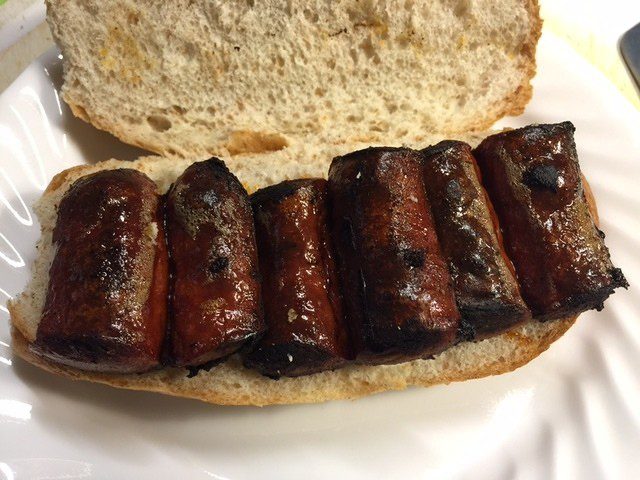 How to make a Portuguese Sandwich
I cook multiple times every day for my family and my favorite cutting board shows it so please excuse the appearance of my well-used and beloved cutting board. It looks like I cut a bunch of carrots on it, doesn't it?
Cut the linguica into manageable sections.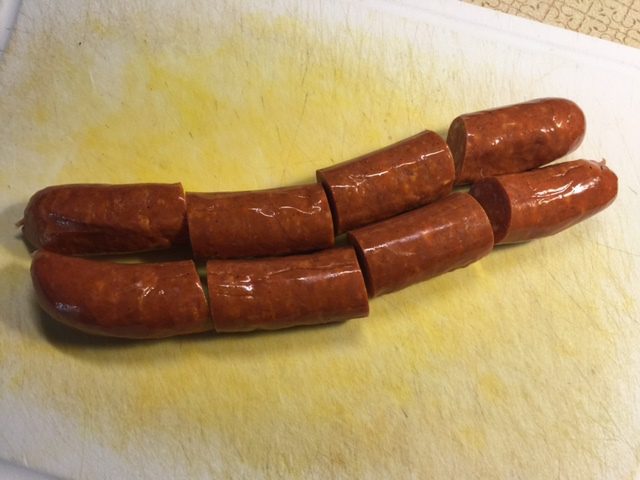 Slice the pieces of linguica in half but be careful not to slice all the way through. I really have no idea why linguica is cooked this way, but it is traditional for my family and it works. Since the linguica is nice and flat it'll brown evenly. I especially love the little burnt edges.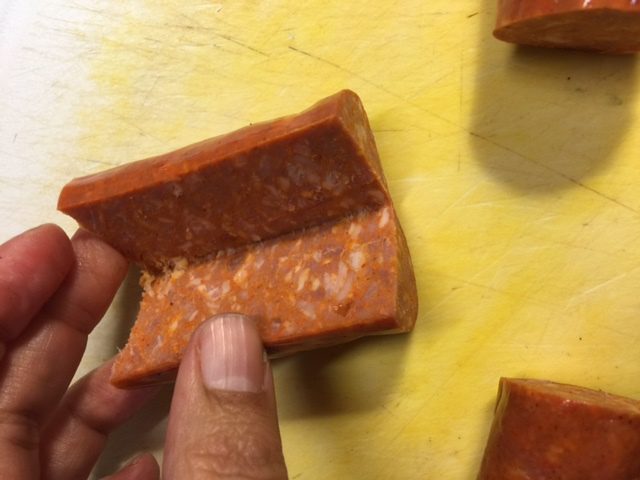 In a non-stick pan add a few tablespoons of oil and over medium heat cook the linguica. In the picture below, you can see I flipped one piece, I think it took about 9 minutes to get to this stage. I actually like my linguica a little darker than the center piece of linguica in the picture below but to each their own, cook linguica the way you like it. 😀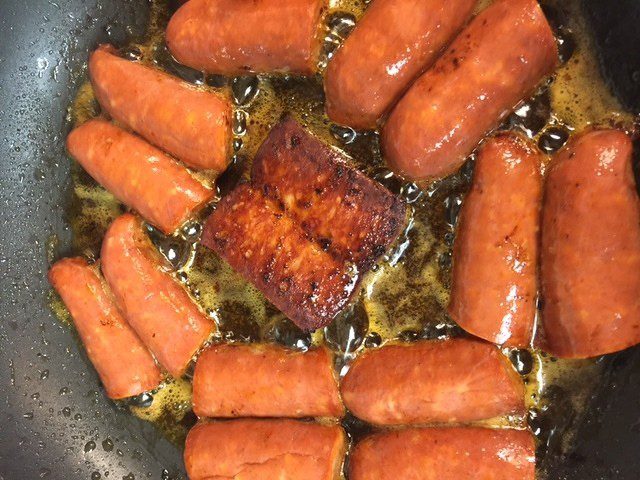 These are the rolls I used for these Portuguese sandwiches. The bag had eight rolls in it. It was a great deal that I couldn't pass up!
Below, I have flipped all the linguica pieces and am getting the backs nice and browned. When linguica pieces are browned to your liking transfer them to a plate lined with paper towels.
Assembling Your Portugues Sandwich
Split the bun open and assemble the Portuguese sandwich. Insert browned linguica into a split bun, what could be easier?
Two of my four kids like to dip their Portuguese sandwich in mustard. As a kid, I didn't dip my sandwich in anything so that's how I like them now, nice and plain. My 15-year-old son thinks mayonnaise would be good on this sandwich but he has yet to try it because he's sticking with tradition.


I ALWAYS used Silva Brand linguica. In my opinion, it's the very best linguica I can buy.
I love making linguica just like described above as breakfast meat. I actually prefer linguica a little bit better more perfect oven baked bacon but they are both equally yummy.
If you like this Portugues Sandwich – Linguica Recipe have a look at my other linguica recipes
What's is your favorite way to eat linguica?
Disclaimer: This post contains Amazon affiliate links.