Delicious Easy Hot Turkey Sandwiches with Pesto and Mozzarella
Yesterday, I went grocery shopping without a list or any idea of what I wanted to make for dinner. I don't really recommend doing this, but I had an hour to kill while my 18-year-old daughter #3 was getting her teeth cleaned, so I figured I might as well use the time wisely, so off to the grocery store I went.
This pesto caught my eye but I wasn't sure what I wanted to do with it. We recently had some homemade spaghetti sauce with spaghetti noodles, so pasta was out. I picked up some sliced turkey meat, some sourdough rolls and a red onion.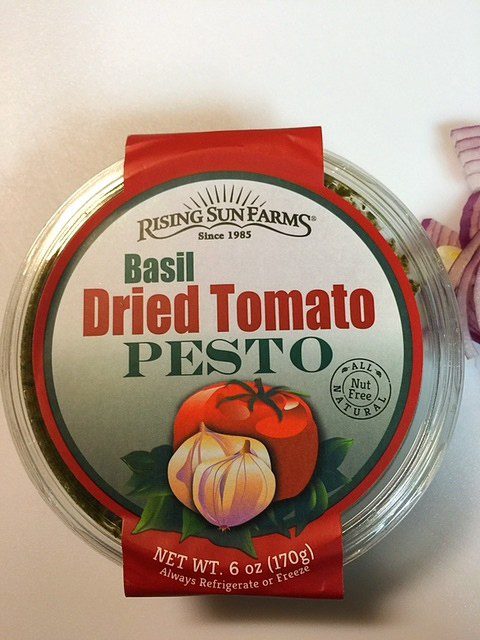 I ended up making Hot Turkey Sandwiches with Pesto in the oven. I cooked five sandwiches at once and it took about 15 minutes total. My kids loved this turkey sandwich recipe and it's definitely a keeper, especially for busy nights or when you don't feel like cooking.
If you can't find Pesto with sundried tomatoes, just use what regular pesto, I'm sure it'll taste great.
Hot Turkey Sandwiches with Pesto and Mozzarella Cheese
I started this recipe by warming up the oven. I set it at 400 degrees. Then I lined a cookie sheet with foil and spread pesto on both sides of the rolls.
I added some red onion slices to one side of the each roll and topped the onion slices with some shredded mozzarella cheese.
Two of my kids are crazy for salami and requested salami on their turkey sandwiches. I indulged them. I topped all the sandwiches with four slices of turkey.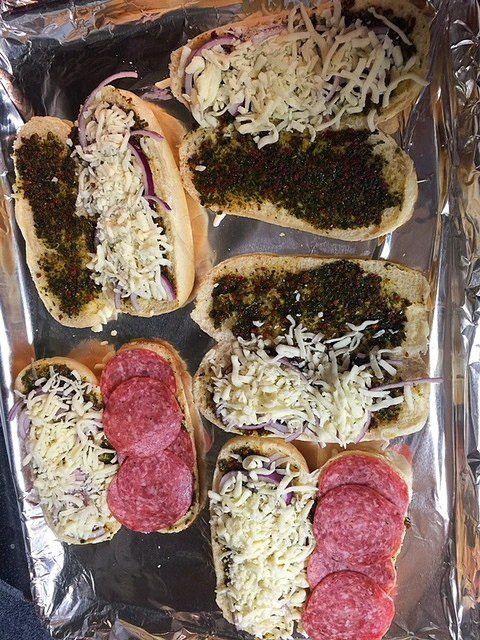 I switched the hot oven to broil and broiled the sandwiches for a few minutes. I stood right next to the oven and checked on the sandwiches every few minutes until the mozzarella was melted and starting to brown. It took about 6 minutes.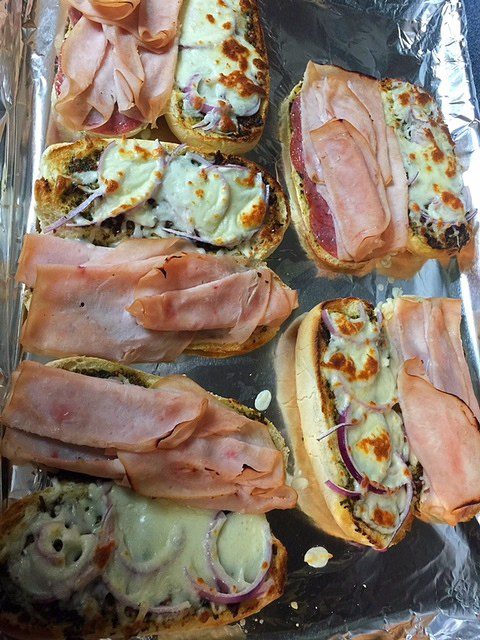 Here's a close-up of one of the sandwiches with the mozzarella starting to brown and all nice and melted. I had bought some lettuce to put on the sandwiches, but they looked so good as is, we ate them without lettuce.
Here's a close-up of the hot turkey and salami sandwich with pesto and mozzarella.
I've had similar hot turkey sandwiches at restaurants before for about $8-$10 each. It's nice to have a low-cost alternative by making them at home.
Next time I make these, I think I'll buy a big long french bread loaf and make one big sandwich and then slice it into smaller individual sandwiches.
I served these sandwiches with some BBQ potato chips and some dill pickles.
Disclosure: This post contains Amazon affiliate links.
If you like this recipe be sure to check out these other EASY recipes: