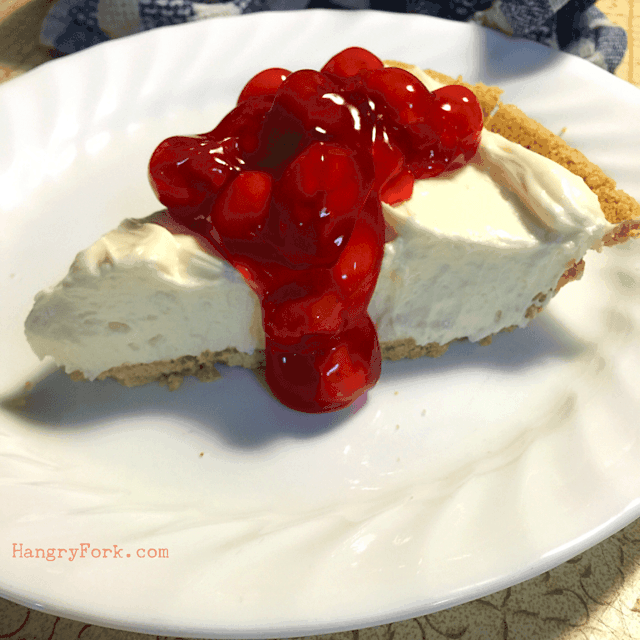 This easy homemade no bake cheesecake is my husband's favorite pie. I got the recipe from his Aunt Fonnie about 20 years ago and have been making this no bake cheesecake once a month for 20+ years. My husband doesn't call this pie cheesecake, he calls this, "Cream Pie" because that's what his family called the recipe when he was growing up.
5 Minute No Bake Cheesecake Recipe
This easy cheesecake recipe goes together quickly, and can't really be messed up.
When making this recipe, I recommend buying a brand name cream cheese, I normally use Philadelphia brand, you could use a store brand, but sometimes I find store brand cream cheese makes a runnier cheesecake.
I make this recipe in my KitchenAid stand mixer. If you don't have a stand mixer, you could make it with a handheld mixer. Once we spent Thanksgiving in a job site trailer in Utah, on my husband's job location, and I made this pie with a fork, it was lumpy but still fantastic.
Set two 8 ounce bricks of cream cheese out on the counter to soften. I recommend taking them out of the cardboard container. You want the cream cheese to be at room temp, this will make a smoother cheesecake filling. If you are in a hurry and don't care about lumpy cheesecake filling, I've been there and done that, you can use cream cheese straight out the frig.
No Bake Cheesecake Recipe
Put two room temp bricks of cream cheese into KitchenAid bowl. Add in one teaspoon of real vanilla extract, a good squeeze of fresh lemon juice (use one teaspoon of refrigerated bottled stuff if you don't have a fresh lemon), and about 85-90% of a can of sweetened condensed milk. Trust me, leave a little of the condensed milk in the can is the secret to this recipe turning out so good! If you add in all the sweetened condensed milk, the cheesecake won't be so firm.
Don't Use All the Sweetened Condensed Milk
Leave a little sweetened condensed milk in the can. I tipped the can a little to the right so you could see how much milk to leave in the can. It's probably two tablespoons.
Blend the mixture for a few minutes. Stop and scrape down the sides, then blend a little more. Pour the cheesecake filling into a store bought graham cracker crust pie plate. This no bake cheesecake recipe should look something like this below.
Cover the pie and refrigerate for an hour or more before serving. Serve a slice of homemade cheesecake topped with a few tablespoons of prepared pie filling. My family likes cherry and blueberry pie fillings.
Easy No Bake Cheesecake
Easy no bake cheesecake recipe.
Ingredients
1

prepared graham cracker pie crust

2 - 8

ounce

bricks of Philadelphia cream cheese

1 - 14

ounce

can sweetened condensed milk

1

teaspoon

vanilla extract

1

squeeze fresh lemon juice

1

can prepared fruit topping

cherry, blueberry, etc
Instructions
Set cream cheese blocks on kitchen counter and let come to room temperature.

In mixing bowl combine softened cream cheese bricks, almost the whole can of sweetened condensed milk (leave two tablespoons in the can), one teaspoon vanilla extract, and one squeeze of fresh lemon juice (1-2 teaspoons). Mix a few minutes, scrape down sides and mix again. You want the cheesecake filling to be nice and smooth.

Transfer the cheesecake filling into the prepared graham cracker pie crust. Cover and refrigerate at least an hour, two hours would be better.

Top slices of this no bake cheesecake recipe with a few spoonfuls of prepared fruit topping.
Disclosure: This post contains Amazon affiliate links.
More Great Recipes