A few months ago I sketched out a bunch of pot holders I want to make from old jeans. So far I've made seven pot holders, one reverse applique pot holder, two square pot holder, two pot holders with finger protectors, and these two cute wacky chicken pot holders. These two chicken pot holders are so adorable. I don't think I'll want to use them or risk getting them dirty! 😀

My favorite pot holders are probably pot holders with finger protectors, whenever I'm pulling something from the oven, I find myself reaching for these pot holders. These pot holders are easy to make using supplies you probably already have on hand. They also protect so well!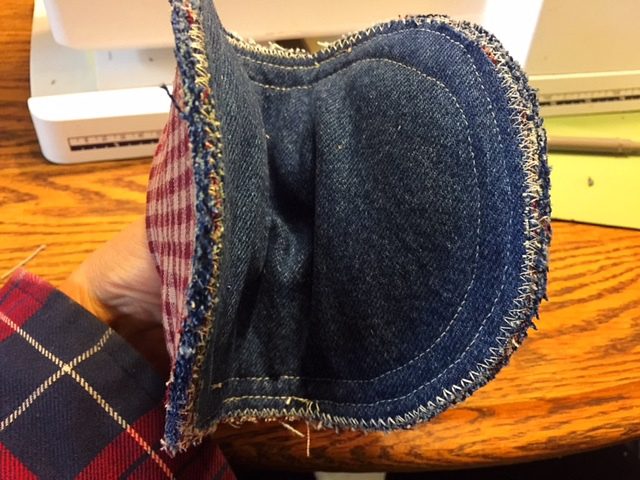 Super-Cute Chicken Pot Holders
Here's an overview of how I made these wacky chicken pot holders. I don't plan on putting up a tutorial or pattern. I just winged it as outlined below.
Drew the chicken pot holder pattern
Created pattern pieces using an old manila file (it's easier to trace around a manila file than it is a piece of paper). You could also use an empty cereal box for the traceable pattern.
– main chicken body
– smaller chicken body for the inside insulation (which is three layers of denim)
– wings
– nose
– comb (hat looking thing on the chicken head)
– I used buttons for the eyes
I used denim for the pot holder backing
I used three layers of denim for the insulation
I used cotton scraps for the main chicken body, wings, nose, and comb
Here's my actual drawing. Yep, I draw like a five-year-old.
I started off by making the pattern pieces (from my drawing), I made templates out of a manila file. I made the wings more alike than in my drawing. I also made a template for the denim on the inside of the potholder (insulation) which is just slightly smaller than the main chicken body. I didn't want to struggle with four layers of denim in the seam.
I stitched the insulating layers to the back fabric.
I traced the main chicken fabric to fabric and then cut it out about 1/4″ larger than the line. I then used scraps of fabric for the wings, nose, and comb. I traced each part onto the wrong side of a scrap of fabric and then stitched the scrap right sides together with another scrap. Alternatively, you could use fusible web for this part. Or you could do needle-turn applique. I left the long straightish sides of the wings open for easy turning. I also left the comb end open for turning. I turned the beak right side out by cutting a slit in one of the fabrics, taking care not to get within 1/4″ of the seam.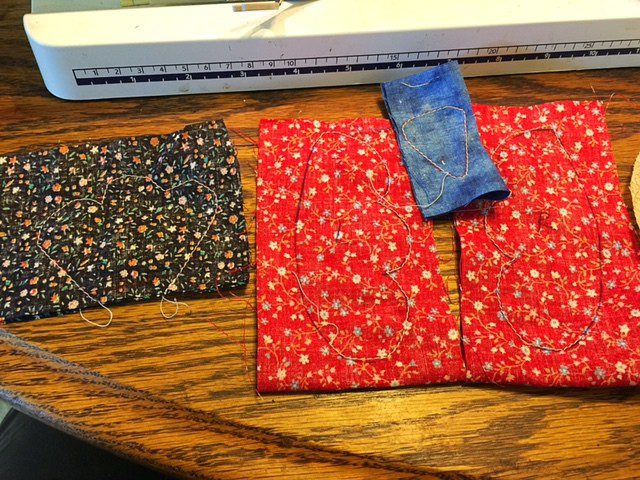 I used a mechanical pencil with the lead all the way down to push the curves and the corners of the fabric out. Then I pressed the wings, nose, and comb with a hot iron.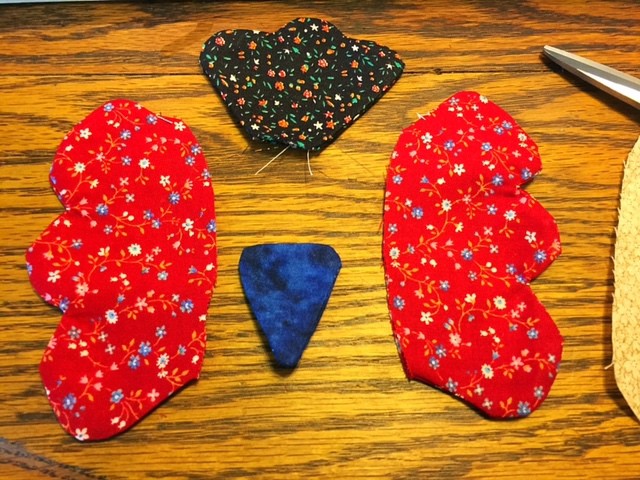 I pinned the wings and nose in place on the right side of the chicken body and stitched them down. I manually sewed on the button eyes.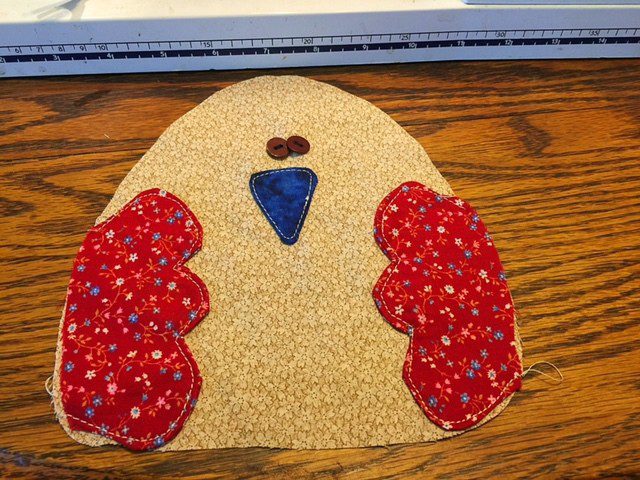 Next, I layered the chicken front to the chicken back right sides together. I left an opening where the comb is inserted after turning the wacky chicken pot holder right side out.
TIP: If I made this pot holder again, I'd probably go ahead and stitch in the comb and leave an opening at the bottom of the chicken for turning right side out. I think, since the bottom is fairly straight, it would be easier to deal with than the curve of the head. Before flipping the chicken right sides out, I trimmed down the seam allowance (look at the bigger chicken body, and you'll see the trimmed seam allowance).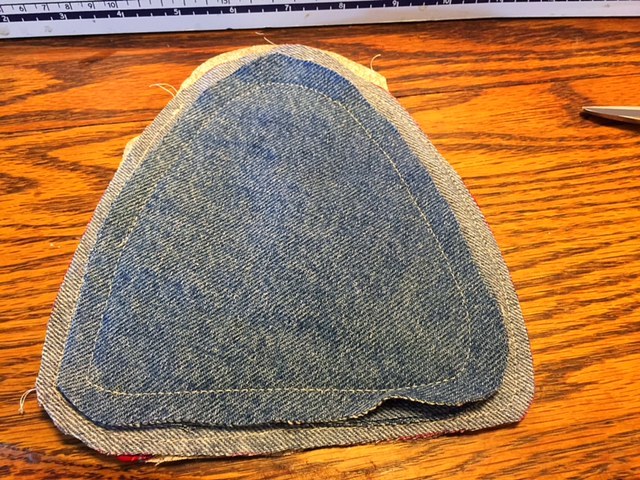 After turning the pot holder right side out I stitched around the edges.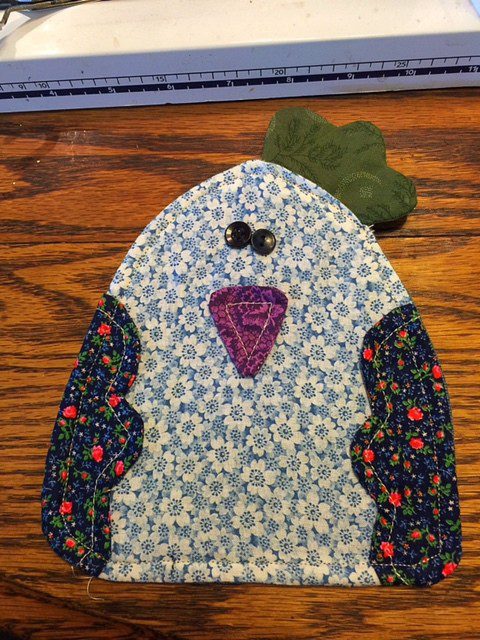 I am participating in the 2016 A to Z Challenge. This is my first year. This Wacky Chicken Pot Holders is my "W" day post.
If you are looking for a bigger sewing project to use up a bunch of old jeans, be sure to check out my Denim Rag Quilt tutorial. I made this quilt from a stack of my husband's old jeans.
I also have a super cute I Spy baby quilt – part 1 and part 2 quilt..
Chicken Friends Wall Hanging Quilt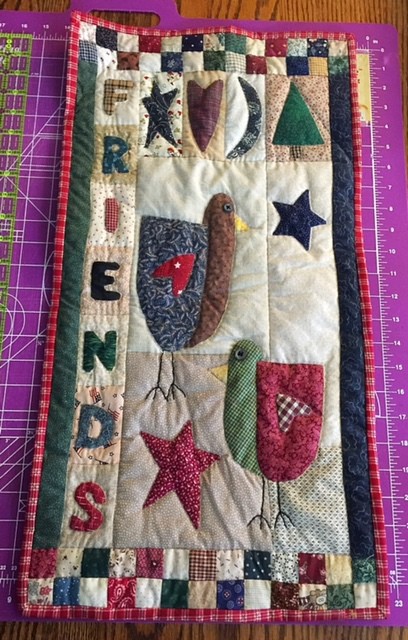 Here are more chicken pot holder patterns to make:
*** This post contains affiliate links.