If you love whipped cream and pineapple, then you'll probably love this recipe for Unbelievable Pineapple Fluff. The graham cracker crust is made from scratch and baked in the oven for 15 minutes. Trust me, making your own graham cracker crust is worth the effort, it tastes so much better than store-bought! Next comes the cream cheese layer, which is topped by the whipped cream layer.
This dessert is definitely a guilty pleasure.
Unbelievable Pineapple Fluff
Layer #1 is the graham cracker crust
Layer #2 is the mix of cream cheese/butter/powdered sugar/ with 1/4 cup pineapple
Layer #3 is the whipped topping with the remaining drained pineapple
Here's what you will need to make this recipe:
To Make the Crust:
2 sleeves graham crackers
1/2 cup melted butter (cooled down)
1/4 cup granulated sugar
For the 2nd Layer:
1/2 cup butter (softened to room temp)
1 – 8-ounce package cream cheese (softened to room temp)
4 cups powdered sugar
20 ounce canned crushed pineapple (drained and divided)
For the Fluff:
3 cups heavy cream
1/2 cup granulated sugar
1 teaspoon vanilla extract
To make this pineapple fluff recipe I used my KitchenAid Mixer, if you don't have a KitchenAid Mixer, you could still make this recipe, but you'll need a large metal bowl and a hand mixer to make the whipped cream, OR you could use defrosted cool whip.
Put the metal KitchenAid bowl in the freezer for at least one hour before making the whipped cream. If you don't have a KitchenAid mixer, put a large metal bowl into the freezer, or you could use premade defrosted Coolwhip.
Preheat oven to 350 degrees.
In a one-gallon zip lock, crush the graham crackers. Add granulated sugar to the crushed graham crackers
Then add the cooled-down melted butter. Mix in the butter by massaging the butter into the graham cracker/sugar crumbs from the outside of the ziplock bag.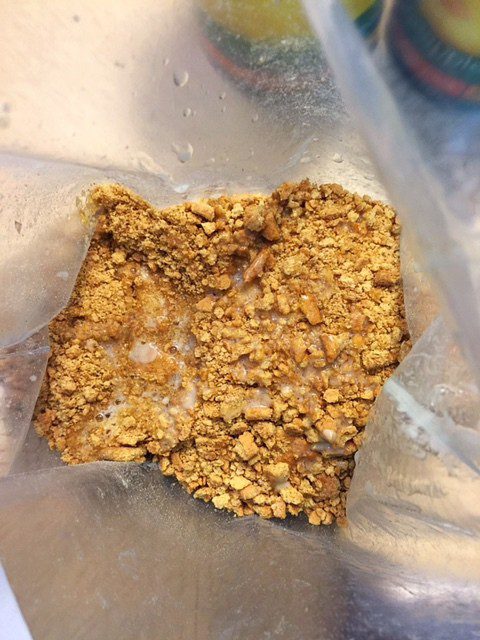 Dump the graham cracker crumb mixture into a 9×13 pan.
Using the bottom of a measuring cup, press the crust down to flatten it.
Pop the graham cracker crust into the preheated oven for 10-15 minutes. I cooked my graham cracker crust 15 minutes, but if your oven runs hot, you should probably check the crust after 10 minutes just to be safe.
When the crust is done cooking, let it cool down to room temp.
Now it's time to prepare layer #3 the homemade whipped cream, we are skipping layer #2 for now. If you are using defrosted store-bought whipped cream, skip this step.
In a metal bowl, that's been in the freezer for at least one hour, pour the heavy cream in and add the granulated sugar. Beat the cream/sugar mixture on high for a few minutes.
This is an action shot just a few seconds after starting the whipping process, see how it's already starting to get thick?
After a few minutes, when the cream is nice and thick, add in the vanilla extract and whip it in.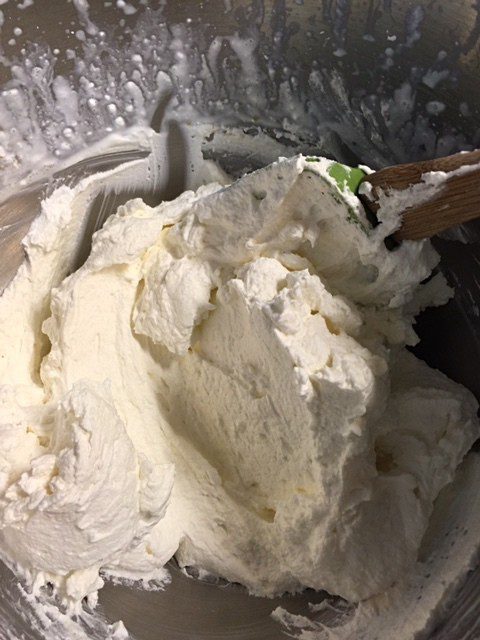 Set the whipped cream aside in a bowl and put the whipped cream in the refrigerator.
Now it's time to make layer #2. Wash your mixing bowl. Cream the softened butter and cream cheese together. Slowly beat in the powdered sugar. When everything is combined, add in 1/4 cup of the drained crushed pineapple. Mix the pineapple in.
Top the homemade graham cracker crust with this cream cheese/butter/pineapple mixture. Spread to smooth it out.
Remove the homemade whipped cream from the refrigerator, pour in the rest of the canned drained crushed pineapple. Gently fold in the pineapple mixture.
I actually have two KitchenAid bowls (one is from my current KitchenAid mixer and the other is from my old broken 20+ ear old mixer), so I used them both for this recipe.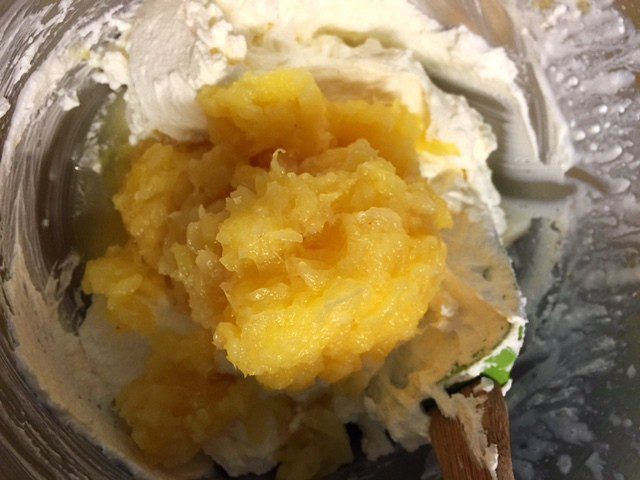 Spread this whipped cream pineapple mixture on top of layer #2.
If you are in a hurry freeze the Unbelievable Pineapple Fuff for at least an hour before serving. If you aren't in a hurry, place the Unbelievable Pineapple fluff in the refrigerator a couple of hours before serving. Store leftovers in the refrigerator.
Disclosure: This Pineapple Fluff post contains Amazon affiliate links.
Update on Our Valley Fire Rebuilding Efforts
We had been working for over a week rebuilding fencing that burned down in the 2015 Valley Fire. We've been digging fence post holes, mostly with an auger, but also many holes by hand and have mixed at least 100 – 60-pound bags of cement by hand. I wanted to treat my family to a special dessert. I was in a hurry after working outside all day so I stuck this Unbelievable Pineapple Fluff in the freezer for just over an hour and it worked out perfectly. This dessert definitely hit the spot! Next time I make this dessert I will be replacing the pineapple with fresh strawberries or maybe fresh blueberries.
We have beautiful new fencing in our front and back yards which are just the beginning of the fencing we have to replace. The rebuilding process feels overwhelming (and we still have our house, I can't imagine how people must feel who lost everything) but I feel like we are making progress. Next, we will slowly replace the pasture fencing. I can't wait to let our mini donkey and llama out of their pen to graze again. Once we get fencing back up, I hope to get a few pet goats, a steer or two and maybe a few hogs too. Eventually, I also want to get more chickens (none of our chickens survived the fire).
Here's our new front yard fencing. My husband still has to build some gates we have a temporary panel for a gate right now.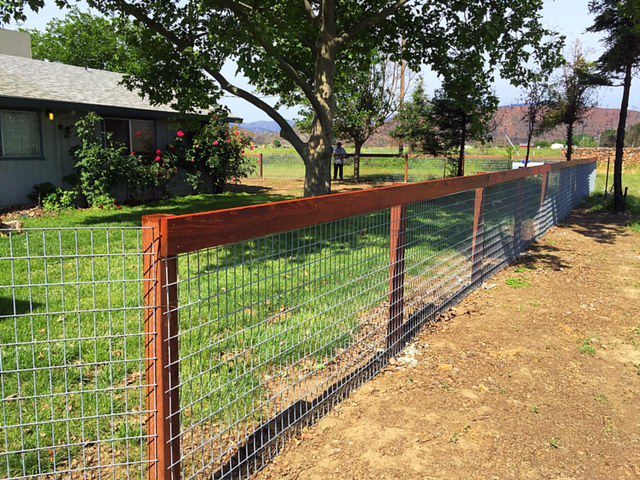 This is the backyard fencing. We plan on getting some lattice or something like that to hide the water well and to keep the dogs from digging around the well.
Our new garage and tractor barn will be showing up this Friday. We are going with all metal buildings because we are hoping the metal buildings will be more fire-resistant. The builder will start erecting the buildings on Monday and I am so thrilled!
If you missed it, we have already rebuilt our barn which is so exciting! We put two bales of hay in it a few days ago which was so cool. Since the fire, we have been storing hay in our pig shelter, which we are lucky to still have, everything around the pig shelter burned down.
*** This post for Pineapple Fluff contains Amazon Affiliate links.
More Great Recipes