This low-carb chia seed pudding is so good! There are only five ingredients! This is a NO COOKING recipe!

There are so many options when it comes to making chia seed pudding. My favorite is this simple keto vanilla chia pudding recipe. It tastes like melted vanilla ice cream.
Combine ingredients in a quart mason jar, stir a few times and let the chia seed pudding keto style sit in the frig overnight.
In the morning, you'll have an AMAZING high fiber, nutritional powerhouse of a pudding that is not only keto-friendly but it's also loaded with antioxidants, minerals, and omega-3 fatty acids.
More Related Posts
What Are Chia Seeds?
Chia seeds are a member of the mint family, but they don't taste anything like mint.

These seeds come from the Salvia hispanica plant. This plant is an annual. Annuals complete the life cycle in one growing season and must be replanted every year.
Are Edible Chia Seeds the Same Thing as Chia Pets?
Yes! The chia seeds you purchase for pudding are the same as the chia seeds that come with Chia pets. However, keep in mind the chia seeds sold to grow chia pets may not be food grade, so do not eat them!

In the last few years, chia seeds have come out of obscurity and can be found at your local grocery stores.

My grocery store thinks chia seeds are made of gold and charges a premium for them, so I buy Anthony's Organic Black Chia Seeds from Amazon. They are affordable and can be stored for YEARS!
At my house, chia seeds don't last long because we eat this pudding weekly. I take it to work for breakfast almost every day.

Many people associate the chia seed plant with the chia seed pets, invented by Joseph Pedott, which were famous in the 1980s.
Chia pets seem like cheesy gag gifts, but they have some pretty cool ones today that would make great gifts for a person that has everything.

Some chia pets currently available include Baby Yoda, diet guru Richard Simmons, poop emoji, painting icon Bob Ross, Golden Girls Mount Rushmore, and Spiderman, plus so many more!
Do Chia Seeds Have Carbs?
Yes, chia seeds have carbs, but the seeds are also high in fiber. So the net carbs are one carb per tablespoon raw.
Anthony's Black Chia Seed Nutrition Label
This WHOLE recipe for Chia Seed Pudding Keto Style has eight net carbs from the chia seeds.

The unsweetened vanilla almond milk has less than one carb per cup, and the recipe calls for two cups.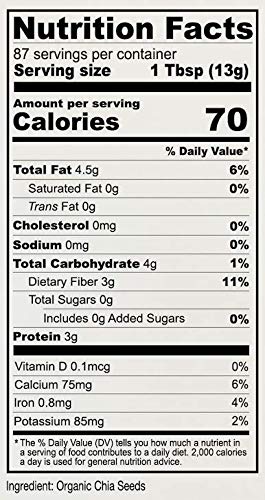 Can I Make Chia Pudding With Almond Milk?
Yes! Chia seed pudding can be made with just about any liquid. My hands-down favorite is unsweetened vanilla almond milk.

I've also made this pudding with canned coconut milk and a little heavy cream, and while it turns out great, I prefer to use the unsweetened vanilla almond milk. I find using coconut milk and heavy cream leaves a film in my mouth while almond milk does not.

Using cashew milk is another option.

Some people who aren't following a low-carb lifestyle make chia pudding with fruit juice, sweetened almond milk, or regular cow milk.
How Long Does it Take Chia Seed Pudding to Thicken?
Chia seed pudding needs to sit in the refrigerator for at least one hour but for best results, let it sit overnight.
How to Make Instant Chia Pudding
If you don't like the texture of the chia seeds or are in a hurry, then Instant Chia Pudding is something you should try.

Put all ingredients into a blender and blend until smooth. Pour pudding into a bowl or mason jar and put it in the refrigerator until the pudding is thickened.
Keto Blueberry Chia Pudding
I like to top the pudding with a small handful of fresh blueberries.

If you don't care for blueberries, no problem, use your favorite berry or leave the berries off and eat the pudding as is.

I have eaten plain keto chia pudding with a little diced-up cantaloupe, and it was delicious!
Chai Seed Pudding Keto Recipe Ingredients
Almond Milk
Chia Seeds
Sweetener (I used Swerve)
Vanilla Extract
Dash of Salt
How to Make Chia Pudding Keto Style
Mix all the ingredients in a quart-sized mason jar. If you don't have a mason jar, use a mixing bowl.

I put the dry ingredients in the mason jar with the unsweetened almond milk beside the jar for the image above. This was to show the ingredients.

I recommend pouring the almond milk into the jar first. You can use the cup marks on the mason jar to avoid getting a measuring cup dirty. Top with the dry ingredients. Adding the ingredients in this order (wet then dry) will make the chia seeds less likely to clump.

The mixture should look similar to the image below.
See how thin and milky the pudding looks? Let the pudding sit for 10 minutes, stir it with a fork, breaking up clumps. Repeat.
Put a lid on the jar and store the pudding in the refrigerator overnight.

I'll give it another shake or two after 30 minutes to help break up clumps.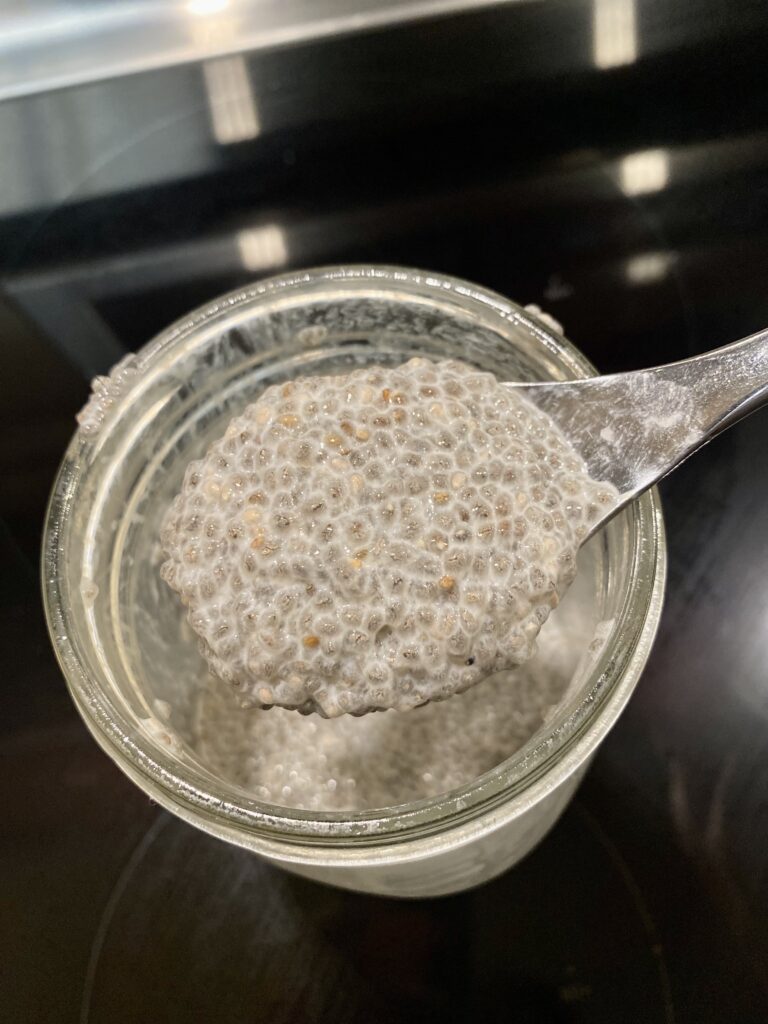 Want More Chia Pudding? 1.5x the Recipe
When making this pudding for my work breakfast, I will 1.5x the recipe in a mason jar. If you choose to 1.5x the recipe, the jar will be full. There will be a little mess when you stir the jar with a fork. Some of the seeds will spill out, but it is very minimal.
Delicious Chia Seed Pudding Keto Style
Additional Time:
20 minutes
The best chia seed pudding keto recipe!
Ingredients
2 cups unsweetened vanilla almond milk
1/2 cup chia seeds
3 tablespoons allulose
1/2 teaspoon vanilla extract
1 dash of salt
Instructions
Add almond milk to a quart mason jar.
Top with chia seeds, sweetener, vanilla, and salt.
Sir mixture with a fork. Break up lumps.
Let chia seed pudding keto style breakfast, snack or dessert sit on the kitchen counter for 5-10 minutes.
Stir with a fork, breaking up lumps.
Let the pudding sit another 5-10 minutes and then stir with a fork again, breaking up lumps.
Put a lid on the jar and give the chia pudding a good shake. Store on its side if the jar is leakproof.
Shake again in 10 minutes or so.
Let sit overnight in the refrigerator.
Serve.
Nutrition Information
Yield

3
Serving Size

1
Amount Per Serving
Calories

178
Total Fat

12g
Saturated Fat

1g
Trans Fat

0g
Unsaturated Fat

10g
Cholesterol

0mg
Sodium

58mg
Carbohydrates

14g
Net Carbohydrates

3g
Fiber

11g
Sugar

0g
Protein

6g
Nutritional information may not be accurate and is for entertainment purposes only.
Do Chia Seeds Help You Poop?
Chia seeds are packed with soluble fiber, which will help soften stools. If you have issues with your bowels, try adding a little chia seed pudding keto style to your diet. However, be careful not to overdo it, or it could backfire. Chia seeds absorb 9-27 times their weight in water.
Is Almond Milk Keto Friendly?
Yes! Unsweetened Vanilla Almond Milk has less than one carb per ONE CUP. Unsweetened Almond Milk is perfect for making chia seed pudding keto style!