I had never heard of chocolate crazy cake until last week. This crazy cake recipe is crazy good, but that's not why it's named crazy cake. This wacky cake has no butter, no eggs, and no milk, but somehow it's still amazingly light and fluffy!
Crazy Cake Recipe History
According to wikipedia, this cake was popular during the great depression when basic staples like eggs and milk were either too expensive or hard to come by.
Variations of this cake are also known as:
War Cake
Depression Cake
Wacky Cake
Milkless, Butterless, Eggless Cake
Boiled Cake
I found two very old crazy cake recipes from before the Great Depression. They are different from each other, they both are eggless, butterless, and milkless. You can find the original cookbooks here and here.
How to Make Chocolate Crazy Cake
In my KitchenAid mixer, I mixed flour, white sugar, baking soda, salt, white vinegar, vegetable oil, water, vanilla extract, and cocoa powder. I poured this mixture into a casserole dish sprayed with non-stick spray. Notice how nice and bubbly the cake mixture is.

I baked the cake at 350 degress for 35 minutes. It came out looking like this. Nice fluffy cake!
Chocolate Crazy Cake Results
This chocolate crazy cake turned out amazing! No one could tell it was missing eggs or milk, and you'd never know there is white vinegar in it. There's not a vinegar smell or taste. My kids all referred to the crazy cake as the "Vinegar Cake", which they found hilarious for some reason.
My husband who is not a fan of any chocolate cake loved this cake. The cake isn't too sweet which is another plus for me. This recipe is definitely a keeper!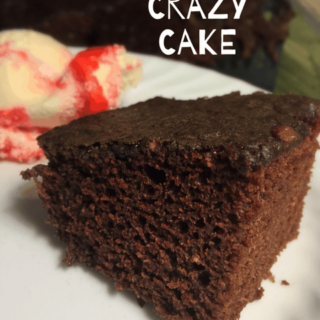 Amazing Chocolate Crazy Cake Recipe [No Egg No Milk]
Delicious moist and fluffy chocolate crazy cake contains no eggs, milk, or butter.
Ingredients
3

cups

flour

2

cups

white sugar

1/2

cup

unsweetened cocoa powder

2

teaspoons

baking soda

1

teaspoon

salt

1/2

cup

+ 2 tablespoons vegetable oil

2

cups

cold water

2

teaspoons

white vinegar
Instructions
Preheat oven to 350 degrees.

Spray 9x13 cake pan with non-stick cooking spray.

Mix all dry ingredients in mixing bowl, or stand mixer. Add in wet ingredients and mix until well blended.

Pour batter into prepared 9x13" cake pan.

Bake 35-40 minutes or until cake is done.
Disclosure: This post contains Amazon affiliate links.
The real secret to the chocolate crazy cake is the baking soda and white vinegar. Think about a homemade volcano. The chemical reaction of baking soda mixing with white vinegar causes the "lava" to flow, and the causes this cake to raise.
More Great Recipes