This is one of my favorite breakfast bowl recipes, it is so delicious! Crunchy baked tater tots, scrambled eggs, sausage gravy, and cheese, what's not to love?
This tater tots recipe is inspired by a breakfast the fast food chain Jack in the Box used to serve. They called their version, "The Hearty Bowl" sadly it was discontinued back in 2011.
This breakfast is easy to make and takes about 30 minutes total. This recipe is easy to scale for feeding large groups. To feed my big hungry family, I used two bags of tots, made a double batch of sausage gravy and scrambled 15 eggs.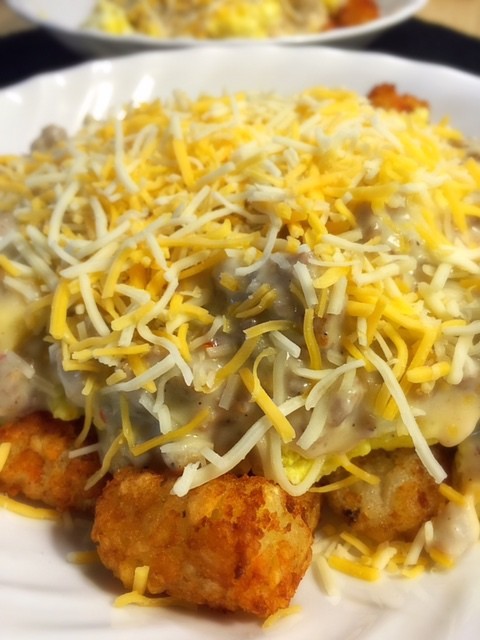 How to Make Tater Tot Breakfast Bowl with Sausage Gravy
Tater tots take about 30 minutes to cook. Follow the directions for baking the tater tots. I baked mine at 425 degrees for about 30 minutes. They came out nice and crisp.
While the tots are cooking, prepare the sausage gravy. Here's an easy recipe for sausage gravy that takes about 15 minutes total. I made a double batch of sausage gravy because I wanted leftovers for tomorrow morning.
When the gravy is done, then prepare the scrambled eggs. Season the eggs with salt and pepper.
When the tots are done, it's time to assemble the breakfast bowl. First goes a layer of tater tots.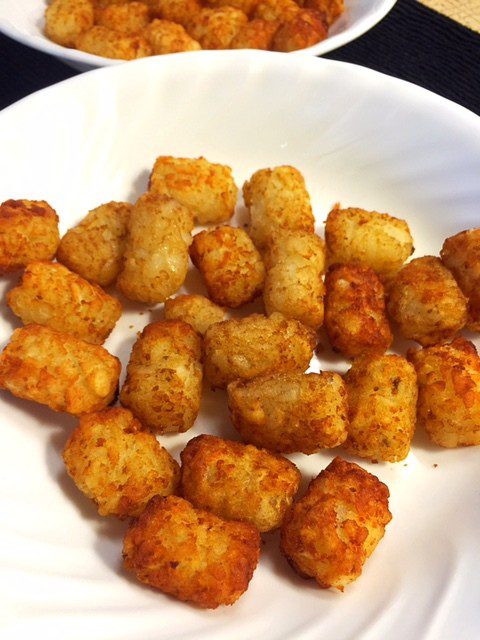 Next some scrambled eggs.
Top the scrambled eggs with a little lot of sausage gravy. I put some pepper flakes and a pinch of cayenne powder in my sausage gravy for a little kick.
Top gravy with taco cheese blend. My husband likes his breakfast bowl with a little fresh Mexican Restuarant style salsa.
If you like tater tots, then you'll love this Easy Tater Tot Casserole. It's the ultimate comfort food. I love it!
I've been thinking about making some tater tot nachos. I think I'll try that next week.

Tater Tots from Sourcemap on Vimeo.