My husband has been very busy with welding projects. He's slowly replacing things he lost in the Valley Fire. He recently made a welding table, a steel man basket for his forklift (he hasn't finished this welding project yet) and some flatbed sideboards for his Ford dually. All the welding projects are his own designs.
Welding Projects
Here's his new welding table. He mounted a vice he pulled from the ashes. Since I took this picture he's oiled the vice and it doesn't look quite as sad as it looks here. He plans on adding a few shelves to the welding table when he gets the supplies. It's pretty snazzy isn't it? Eventually, the welding table will live in the garage (once we get it rebuilt).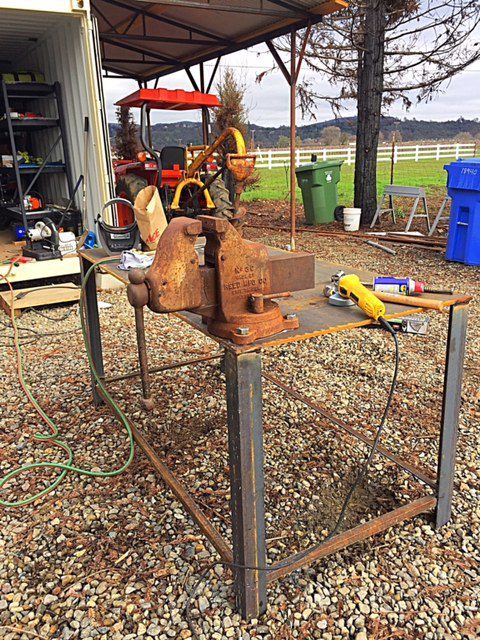 This next welding project took him a few days to build. We had a lot of wet raining days, rain and welding don't mix. These sideboards are removable.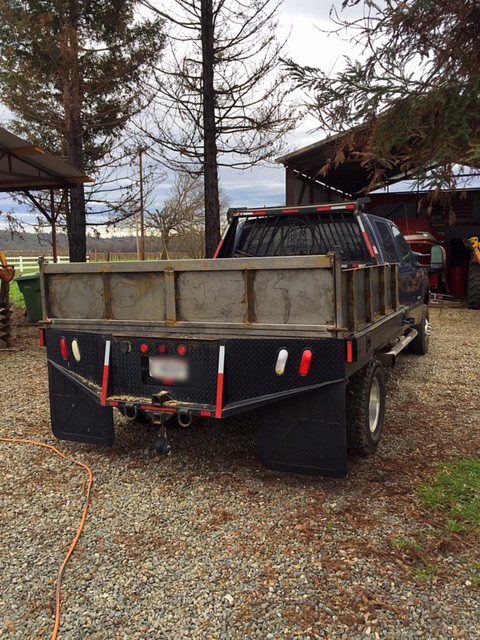 These sideboards were designed for hauling gravel. The end is extra fancy, it locks in place while driving but when it's time to dump the end unlocks and opens for easy dumping.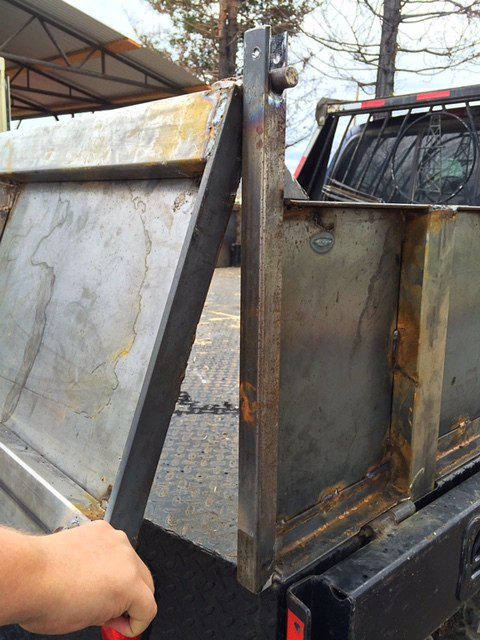 Here's a few pictures of the sideboards in action.
In the picture below, he swung the tailgate up and over so we could get all the gravel out of the bed. We were dumping the gravel into the tractor bucket and then moving the gravel next to the storage container, where the tractor is parked.
Here's the Kubota parked in its spot with freshly spread gravel. Note how all the trees are burnt up. We really hope they will be back in the Spring.
My husband also welded together the rafters covering our new shipping container (tool shed). We bought the 20′ shipping container right after the Valley Fire mandatory evacuation orders were lifted. We lost five outbuildings in the fire and had nowhere to store replaced tools. The shipping container was the fastest easiest storage solution.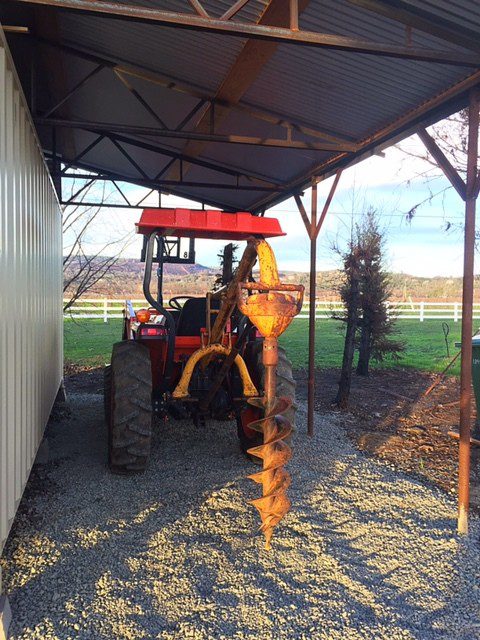 Our New Barn Progress
Yesterday we had two transfer truck deliveries of base rock. We have ordered a new metal barn from our neighbor who just happens to be a barn builder to replace the redwood barn we lost in the fire. The old barn site is very low now because the cleanup crews removed so much dirt to make sure the land wasn't contaminated. We've decided to relocate the barn to a different location that makes more sense to us and we need to bring the land up level with our house so it won't flood when it rains.
This is what 47.49 tons of base rock looks like. Today my husband is busy spreading it all out. Look at our poor burned trees near our house, most of these trees are Redwoods, which are evergreens. How sad!