The other day I was trying to organize my sewing area and I found this cute little Friends Chicken Quilt. It's a wall hanging I made about 15 years ago. I did all the quilting by hand.
I showed the little quilt to all three of my daughters (25, 20 & 18) separately and they all said the exact same thing, "Mom, you should give that to Bri." Bri is one of my oldest's daughter's best friends. She was was so kind to open her home to my four kids, me, our dogs, and a bunny, when we ran for our lives from the 2015 Valley Fire. My husband was working out of state at the time.
This cute quilt has a new home with Bri! Bri is the proud owner of two hens so I agree with my girls, the Friends Chicken Quilt is perfect for Bri.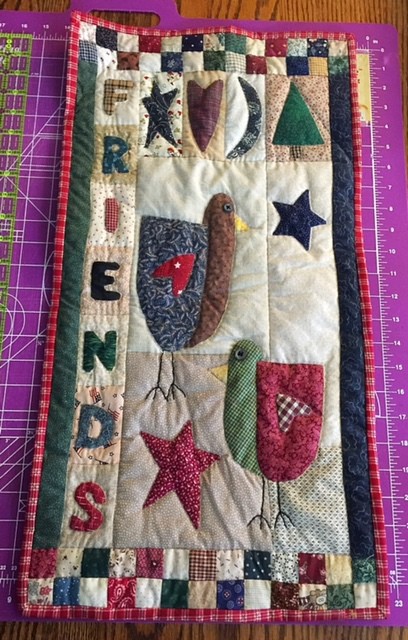 I'm participating in the 2016 A to Z Challenge. This Friends Chicken Quilt post is my post for "F".
If you like this chicken quilt be sure to check out my other completed sewing projects!
This is an old picture of my daughter #3 with one of her hens. We lost all of our chickens in the Valley Fire.
Years ago we used to let our chickens free-range. As soon as we'd open their hen door in the morning to let them out, the whole flock would take off running for my front porch hoping we'd come outside and give them a snack. These little chicken friends really enjoyed pooping on my porch. 😮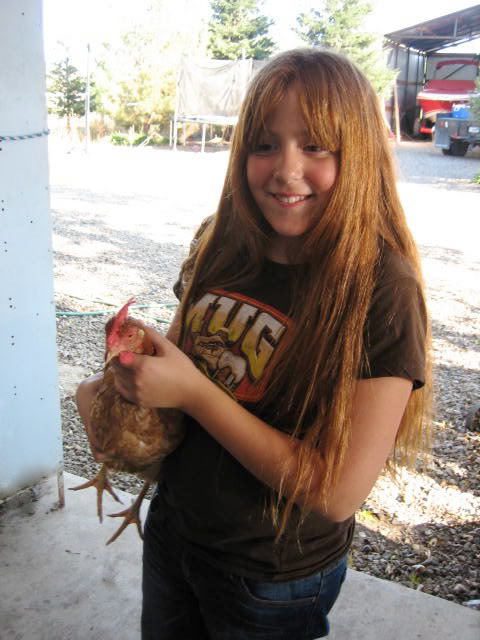 I don't remember if I had a pattern for this friend's chicken quilt or not. If you found this post looking for a free chicken quilt pattern here are some that I've found online. All links open in new windows.


Free Chicken Quilt Pattern Links
Chicken Quilt Block here
Weathervane Chicken Quilt here
One of my favorites – I crazy looking rooster wall hanging here
This is a walking rooster quilt in .pdf form here
This chicken is very whimsical and the pattern is great if you are wanting to use fancy sewing machine stitches.
Here's a rooster applique block pattern
Cute chicken in the coop. It's free quilt pattern. You can find it here.
Here's a paper pieced chicken block
Free Rooster Quilt Block.
Chicks baby quilt here.
Mrs. Cluckers free quilt pattern here.
Free chicken pattern for beginners here.
Big mama chicken pieced square here.
The square chicken here.
Funky chicken pattern, This one is for sale but it's a great source of inspiration.
There is a bunch of chicken quilt ideas on eBay it's a good place to find inspiration.