The Valley Fire
September 12th, 2015 is a day I will never forget. My husband was working in Nevada watching a drilling rig. Our three daughters had gone to a baby shower over in Calistoga, which is about 30 minutes away over a twisty mountain road. It was just my 15-year-old son at home with me.
I noticed a lot of smoke in the air and had seen on Facebook that there was a fire up at Cobb which is about 20 minutes away from my house. I never thought the fire could burn us up, but I was so wrong.
The Last Picture of Our Barn
I took the barn picture at 4:07 pm. The smoke in the air gave everything an orange glow. The roof of the barn wasn't orange, it was an aluminum roof.
I took this photo below from our front yard at 4:13 pm. I still didn't think the fire would get us. Little did I know, we'd be running for our lives less than two hours later.
Ash was raining down from the sky, it was everywhere! Something should have clicked in my brain that this wasn't right. The picture was taken at 4:15 pm.
This wasn't small pieces of ash, it was big black pieces.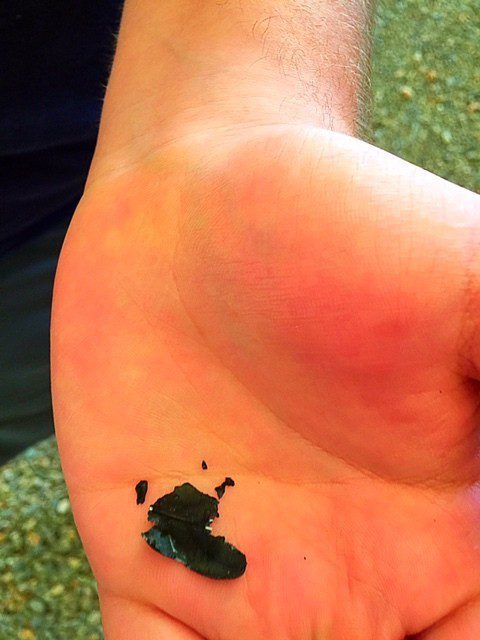 I wasn't really watching the fire closely because I didn't think we were in its pathway. Around 5:50 I heard an explosion. We were watching a show on TV and I figured the sound came from the TV. Then I heard another explosion, and I thought, "Oh, that must be a truck driving down the road too fast." Then I heard two more explosions. I got up quietly and went outside to check things out.

The sky was so dark! I ran just past the horse trailer towards the barn to see my neighbor's pasture on fire and the fire was coming quickly towards us. The wind was whipping in all directions, with reported gusts up to 60 mph.
By this time, my son had also heard the explosions as was with me outside. We ran towards the road and saw a big branch as long as my arm floating down from the sky on fire. We also saw leaf clusters like the one below either black or on fire floating down from the sky. It was getting hard to breathe.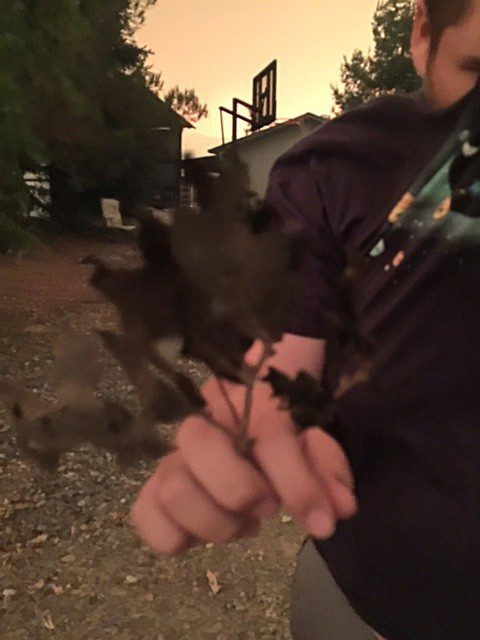 The Valley Fire was Here
A little history… My husband worked overseas for the first 10 years of our marriage. He'd work a month on and a month off. He had always told me that if the kids and I were ever trapped by fire to go into the Sutter Home's vineyard across the street because it's green and shouldn't burn. He'd probably remind me of this at least once a year. Can you imagine my horror when I saw part of the vineyard on fire? It's not supposed to burn, it's green!
I ran into the road and saw both sides of the road on fire in multiple spots. We live on a dead-end road and are about one mile from the highway, there's really only one way out and it looked like I was going to have to drive through fire to get out.
At this point I called my husband in Nevada, I was completely hysterical, and told him what was happening, well actually I screamed it. I told him the vineyard is on fire, branches of fire are raining from the sky, Renee's (neighbor) pasture is on fire, and both sides of our road were on fire between our house and the highway. He told me to grab our little dogs and get the hell out of there.
Earlier, my three daughters had texted me saying they were leaving the baby shower early to come home because they didn't like the looks of the fire. I had been sending them pictures throughout the day. I was so scared they were driving into the fire and I was scared that I wouldn't be able to get my son out of the fire. I thought my son and I were going to die.
My son and I ran into the house and grabbed our little dogs, the electricity went out and since it was so dark outside, it was hard to see in the house.
In the rush and confusion to leave, I forgot to grab Bella the corgi, and she didn't make it. I didn't have time to open any gates for the chickens, horse, llama, or mini donkey either. I didn't think about grabbing my daughter's house bunny. We literally were gone within two minutes, we took nothing with us except the clothes on our backs and our dogs.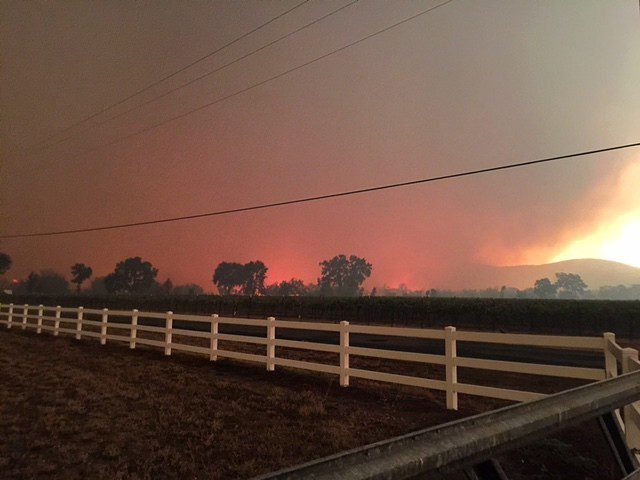 I had no idea where our daughters were and I didn't hear from them for about 30 minutes, all circuits were busy. Thankfully the highway patrol had stopped people from entering the fire area and the girls had been turned around in Middletown.
Running from the Valley Fire
My son and I did drive through fire on both sides of our road and the highway, luckily our vehicle didn't catch on fire. My neighbor left her house around 6 pm as I did, but her car caught on fire from the falling embers. She ended up getting into five different vehicles to escape the fire. Every vehicle she got into caught on fire.
We ended up losing our horse, Missy, a flock of banti chickens, and Bella the corgi. We also lost our garage, a tractor barn, tool shed full of tools, the barn, and a chicken house. The fire took my husband's two tractors, his old jeep (I'd just reduced my insurance policy to liability only), our Toyota Tacoma truck, two quads, our big travel trailer, the kids rainbow play fort, and the horse trailer.
The fire also burned the deck off an equipment trailer, but my husband has already replaced the deck. We also lost about 32 mature trees, most of them were coastal redwoods we planted ourselves. Our pasture fencing is a mess with posts just gone.
By Some Miracle, Our House Survived the Valley Fire
By some miracle, our house did not burn down. My husband keeps a good defensive space around the house and he had just mowed the field before he left for his Nevada job. The fire did break a bunch of windows on the backside of the house, the fire also burnt up our well. Our llama, Llola, survived (that's him in the first picture with the rainbow), and somehow our adorable miniature donkey, Little Mae also survived.
We received a police escort into the fire area three days after we ran for our lives and to our joy, we found daughter #3's house bunny (Man Bunny) alive! The poor guy was so weak and dehydrated, he never tried to jump out of the laundry basket the 2+ hour drive back to the house where we were staying.
The Valley Fire ended up taking 1,281 homes and four lives. It's truly amazing more people didn't die. We never got an alert to leave, no reverse 911 call, no Nixle alert, and no fire truck going down the street with sirens either. If it wasn't for hearing the exploding propane tanks, I don't know what would have happened.
We've been getting a bunch of rain lately and thankfully the burned land is turning green again. The State of California came in and cleaned our place up. Our land has been certified clean and we have the green light to rebuild.
I'm not sure what the blessing behind the Valley Fire experience is or even if there is a blessing. I feel so grateful we are all alive and I feel horribly guilty about accidentally leaving Bella behind.
Material items don't really matter. Collect memories, not stuff.
Let the rebuilding begin!
*** This post contains Amazon Affiliate links.