Our oldest daughter recently bought her first house in Santa Rosa, CA. Previously, she lived in a tiny 500 SF house and is now in a 1,500 +/- SF house. To keep her floors spotless, she bought a Roomba i8 self cleaning vacuum.
Even though she moved the week before Thanksgiving, she offered to host Thanksgiving. So, lucky me, I didn't have to shop, cook, or clean up! Plus, I got to take home some pumpkin pie!
Thanksgiving Charcuterie Board
She's seriously talented at making charcuterie boards. Look at this fancy board she put together. She makes putting these boards together look effortless.
She goes to Trader Joes to buy everything for the charcuterie board. This store has an amazing section of ingredients for these boards.
One of the cutting boards she put ingredients on was a gift from her real estate agent. He had his contact information branded into the back of the cutting board. What a great calling card and new homeowner gift!
I'm not sure if you can see it, but the smallest cast iron skillet ever is in the middle and to the right. It has some hot cheese topped with pistachio and pomegranate seeds. It's so darn cute!
I saw she had a Roomba, and I was immediately intrigued.
I have NEVER owned or seen a robotic vacuum and always thought they were a waste of money, were fragile, or required advanced technical knowledge. However, she told me the Roomba was easy to set up.
At this point, she had her Roomba for about a week. My daughter and her husband said they both love the Roomba.
Unbeknownst to my husband, I decided it was time for me to splurge and get a Roomba. He's not a big fan of new things or technology but after two cleaning cycles, this Roomba impressed him. We both think the Roomba is a solid investment that'll help control the dog hair for years to come.
Splurging on Roomba i8 Self Cleaning Vacuum – Black Friday Deals
I was looking online for a good deal on a Roomba vacuum. I work full time with a two-hour round trip commute so I knew I wanted a model that emptied itself.
I ended up finding and ordering a Roomba i8 Self Cleaning Vacuum from Costco. Costco had this model for $579, $120 off the regular price.
I'm typing this post one week later, and the price is still valid. So grab this deal while it lasts. Here's the link.
This is NOT an affiliate link and it goes straight to the Costco deal.

Here is the Roomba i8 Self Cleaning Vacuum I purchased below with a pen in the photo for scale.
Features of Roomba i8 Self Cleaning Vacuum
When I was looking for a Roomba, I knew so little about robotic vacuums that I didn't know what features I wanted except that I wanted one that would empty itself. As it turns out, this model is pretty loaded with great features.
With this self-cleaning vacuum, I'm supposed to be able to set it and forget about it for months! A disposable bag inside the base station can hold months' worth of dirt and hair.
The vacuum is wifi connected and controlled by your cell phone, but you don't need to be on the wifi to control it.
It has 10x the suction. I'm not sure what the suction in this model is compared to.
The Roomba i8 Self Cleaning Vacuum learns the layout of your home.
Rooms and areas may be targeted on the map for cleaning.
This Roomba is 3.63″ tall, 13.34″ long, and 13.26″ wide
The Roomba is bagless. The bag is inside the base station.
Unboxing Roomba i8 Self Cleaning Vacuum
I ordered this Roomba vacuum on Black Friday, and it showed up at my house on Tuesday.
The box arrived in excellent condition.
I'm not going to lie; I was super intimidated to open the box and didn't open it until Saturday Morning – five days later! Big mistake!
The setup was so easy, took about five minutes, and I missed out on five days of having super clean floors.
This is the inside of the box.
What is included In the Box?
The Roomba i8 from Costco comes with a Virtual Wall Barrier with batteries, spare disposable dirtbags for the tower, and two filters.
The box also indicates the battery of the Roomba i8 is 20% larger.
When the green box is opened, it looks like below. There's a quick start guide.
As seen above, the vacuum was located in the section with the handle.
Again, here's the bottom of the Roomba i8 with a pen for scale.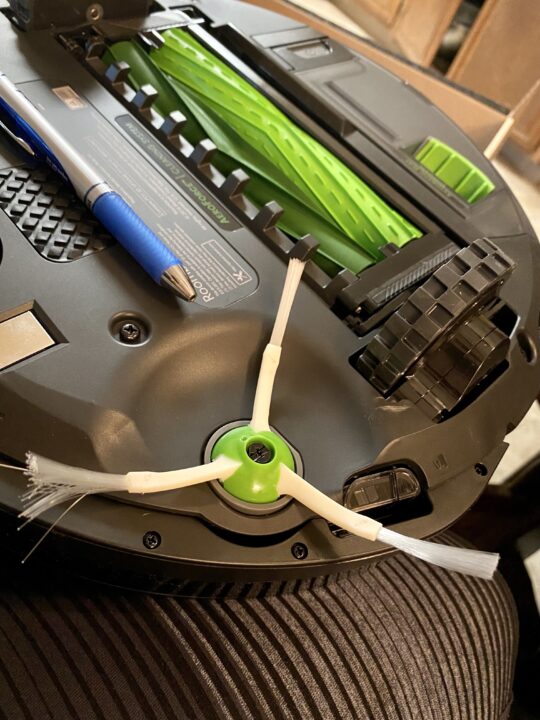 Welcome to the World, Dirt Bag
When you set up the Roomba, you get to pick out a name for it. We named ours Dirt Bag, which was my husband's idea. Lol
Roomba Set up is Easy
Set up was easy, but I did have to put my phone in airplane mode to make it happen.
I charged the Roomba fully before having it vacuum my house. The charge took a little less than two hours, and the first run time was 1 hour and 17 minutes.
Roomba i8 Self Cleaning Vacuum Picks Up Dog Hair
Splurge on a self cleaning Roomba! The battle against never-ending dog fur doesn't have to be a struggle!
Click To Tweet
The Roomba found quite a bit of dog hair, although the house had been swept the afternoon prior. The amount of hair the Roomba found and picked up was awe-inspiring!
I don't know what my expectations of the Roomba were since I know so little about robotic vacuums, but the Roomba impressed me and my hard to impress husband.
Roomba i8 Self Cleaning Vacuum Is Hands Off
At the end of the first run, the Roomba docked, and then the base vacuumed the dirt up, emptying the Roomba into the dirtbag in the base. This emptying process is LOUD, shockingly loud.
I like knowing that the Roomba is ready for another round.
Supposedly, I shouldn't have to do anything physically to help out the Roomba. Everything can be handled on the app, and the stand's dirtbag should hold a few months' worth of dirt and pet hair. We shall see.
I let the Roomba fully charge again, which took less time than the first time. I then sent Dirt Bag on another cleaning mission to vacuum the common living areas.
The first time the Roomba cleaned, it was mapping my house, so the second time it cleaned took less time, 60 minutes total.
The second time I ran the Roomba, it was still mapping, but I could tell it had a good idea where stuff was located, and there was a lot less bumping into things.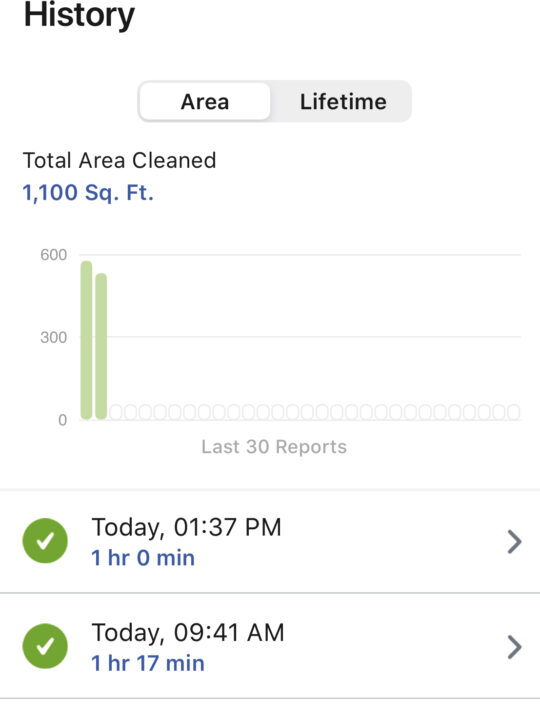 How Do I Know If My Roomba Is Charging?
Look at the app. The app will show that the Roomba is charging and fully charged.
My Thoughts on the Roomba i8 Self Cleaning Vacuum
So far, I love the Roomba. I plan on running it at least once tomorrow. I will update when I have a few more weeks' experiences.
The Roomba cleaning can be scheduled from your phone. How handy is this? I plan on scheduling the cleaning on a regular daily schedule after a few more manual runs.
The Roomba i8 self cleaning vacuum dust bag is big. I've read that the bag can last for months. After the first cleaning cycle, I emptied the disposable bag by reaching my fingers inside and pulling out the dog hair. The hair was pretty compacted, so I can see how it will take a while to fill the bag up.
I don't see any dog hair. Do you know how after you sweep, the dog hair settles? I don't have any dog hair on my floors.
There isn't any visible dust settling. If you have hard floors – you know the dust that settles after you have cleaned the floor? Well, the dust settling did NOT happen. The Roomba doesn't stir up the dust like traditional sweeping.
Roomba i8 self cleaning vacuum impressed my hard to impress husband. The vacuum did a better job than I would do. It took about five minutes to tuck away charging cords so there was no chance of an accident.
Self cleaning is loud. I'm surprised at how loud the vacuum is when it is self cleaning.
– If you had a sleeping baby, this would not be a good thing, but you could schedule the vacuuming and self cleaning feature for when you aren't home or when the baby is awake.
I can still hear the TV while the Roomba is running. I thought the vacuum running would be louder. It's not as loud as a traditional vacuum. My husband was on the phone while the vacuum was running, and he didn't have an issue hearing the person he was talking with.
My three dogs didn't care about the Roomba at all. I thought they would be scared, but they were not. They seriously did NOT CARE. I have an Australian Cattle Dog, an old Shih Tzu, and an old Yorkie, and none of them could be bothered with the Roomba.
– The cattle dog nipped the Roomba once, and it kept on vacuuming.
– The Roomba snuck up on the Shih Tzu and almost got her tail, so she moved.
– The Yorkie slept through both cleaning cycles.
Roomba must be better for people suffering from allergies. Since there is less dust, dog fur, and dog dander, the Roomba MUST be better for people suffering from allergies.
Roomba can get to places that you cannot. Roomba can quickly go under tables, beds, and furniture and vacuum up dust you can't easily get to. So again, the Roomba is a must if you have allergies.
The Roomba doesn't stick out too much. I thought the Roomba would stick out like a sore thumb, but it isn't that noticeable. I have it connected underneath the kitchen bar, and it's not that noticeable.
The Roomba never got stuck. I figured I would have to rescue the Roomba a few times, but that didn't happen. The vacuum engine revved a few times, and I just knew it was stuck, but I was wrong every time.
It doesn't skip areas. The first cycle, I noticed the Roomba had missed ONE small area the size of a shoe behind a recliner. One small place out of 1,100 SF isn't bad at all! The second time I ran the Roomba, it got this area.
I think the skipping of this area on the first run is because the Roomba is still mapping and learning.
Does Roomba Work on Carpet?
Yes! The Roomba does an excellent job on carpet and hard floors.
Best Roomba for Tile
I recommend the Roomba i8 self-cleaning vacuum; it's a workhorse!
Best Roomba Replacement Battery
iRobot, the company that makes Roombas, sells replacement batteries. They have battery replacements for all Roomba models.
Roomba i8 Three Week Review
I love this robotic vacuum! It does a great job and gets all the dog fur. Normally when I sweep, I'll pick up a lot of dog fur and dust but after an hour or so the dust and fur settle on the floor and the floor looks dirty. With the Roomba, this is no longer an issue!
I love the Roomba so much, I'm considering purchasing the iRobot Braava mop.
I was worried about the i8 upsetting my geriatric dogs but they could care less about the vacuum. They aren't scared of the vacuum at all!
I haven't had any issues with the vacuum-eating cords or getting tangled up in cords. The vacuum does like to occasionally get stuck on my kitchen table legs. The vacuum will alert my cell phone app that it needs attention.
Overall my floors are MUCH cleaner! My house feels cleaner. The Roomba has exceeded my expectations. I highly recommend this robotic vacuum!
iRobot i8 Two Month Review
My Roomba iRobot i8 has run 60 jobs since I set it up in December 2021.

I LOVE my Roomba!

My house is cleaner, my hard floors have never looked so nice.

My geriatric dogs do not mind the Roomba at all. They still are not scared and when the Roomba comes around them they could careless.

My Roomba did get a pair of wired headphones tangled up in it. I heard the roomba make a horrible noise so I went to check it out and found the Roomba i8 had my headphones tangled in it. The good news is my headphones still work and the Roomba was NOT damaged.

This self-cleaning Roomba i8 isn't entirely maintenance-free. I'm finding I have to flip the Roomba upside down to remove long tangled-up hair from the brushes.

Cleaning the brushes is an easy process and only takes a few minutes.

Below is what I found in the brushes after four weeks. Keep in mind I have three indoor dogs and I have long hair.

I've decided I will try and clean the brushes every Friday so my Roomba doesn't get stressed out.

I'm convinced I need an iRobot or the equivalent in my life from now on. I really hope to have a long happy relationship with my Roomba i8 Plus.
Cat on Roomba Gif & Video
Chicken on Roomba Video
Dog on Roomba Gif & Video
Baby on Roomba Gif & Video