I'm Jumping on the Blog Income Report Train
I'm doing this for a few reasons:
To hold myself accountable. My goal is to add to this website consistently and grow it out.
– I work full time and have a two-hour round trip daily commute, but I am committing to making one post per week and aiming for two posts.
– It's so easy to make excuses, and I don't want to go there.
– I'm already three months into my commitment to myself to publish once per week, which I am very proud of.
Add sessions and views. I'm trying to get the sessions up to 50,000 per month or the views up to 100,000 per month to join either Mediavine or Adthrive (ad networks).
Backlinks – I hope to get some backlinks from other websites that may link to this post.
I've been blogging off and on since April 2008. You can read about the history of HangryFork here.
Life sometimes gets in the way of blogging. Whenever I got busy with kids or life, blogging was always the first thing to go.
If money was tight and a domain was up for renewal, I would let it go, and there went all my hard work down the drain.
The best year I ever had blogging, I made about $9,000, most of that was from Adsense with some Amazon mixed in.
Food Blog Income Reporting – Is it Tacky?
Maybe? Yes, it probably is, but it won't be the first or last time I've been accused of being tacky. 😉
Over the years, I have found so many excellent food, travel, and personal finance blogs by searching for "blog income report." I have watched these blogs go from making zilch to making several thousand dollars a month.
If this post gets traffic, I plan on making these reports every month. It'll be interesting to watch my blog's income and traffic growth.
I love searching for food blog income reports, and I find them inspiring. Below are some blog income reports from November and October 2021.
30 Blog Income Reports November 2021
14 Blog Income Reports October 2021
My Wishful One Year Blogging Goals
Work on photography. I'm not ashamed to say that my picture-taking skills could use some significant improvement. My kitchen is old and straight out of the '80s. The lighting is horrible, and I'm using my iPhone to take the imagines. Unfortunately, at this time, I'm too cheap to pay for a class or a camera. So instead, I plan on purchasing props and already have some new backgrounds.
Publish one post per week.
Improve one old post per week.
Build this site up and get over 50,000 sessions per month.
Join Mediavine
Continue making monthly food blog income reports.
Consistently make $3000+ per month blogging
Mediavine Pays More Than Adsense
One of the goals of just about every serious blogger is to get 50,000 sessions per month to join Mediavine. If you wonder what a session is, you can read about it here. Mediavine requires 50,000 sessions or more in the previous 30 days.
Food Blog Income Report November 2021
HangryFork.com November 2021 Blog Stats
Posts added in November 2021 = 9
Traffic appears to be going down for November. I think this is due to web-stories losing their traction, and I'm no longer getting as many clicks from web-stories to Hangryfork.com, or it could be due to the Thanksgiving holiday? I've noticed since Thanksgiving passed, my web-stories are getting more traffic.
HangryFork.com traffic per Google Analytics
Sessions 16,196
Users 14,066
Pageviews 56,308
I made a few web-stories and set up separate analytics for them. Unfortunately, sessions from web-stories do NOT count towards Mediavine's 50,000 sessions requirement.
HangryFork.com/web-stories traffic per Google Analytics
Sessions 28,194
Users 27,662
Ahrefs.com snapshot for the past 30 days
Organic traffic is up
Organic keywords are up
Referring domains are down. I noticed that a website with multiple links is no longer up.
Backlinks are up.
Overall I am happy. If you don't have a free account at ahrefs.com, get one. They will crawl your website once a week and let you know about broken links, keywords you rank for with position, and more helpful information.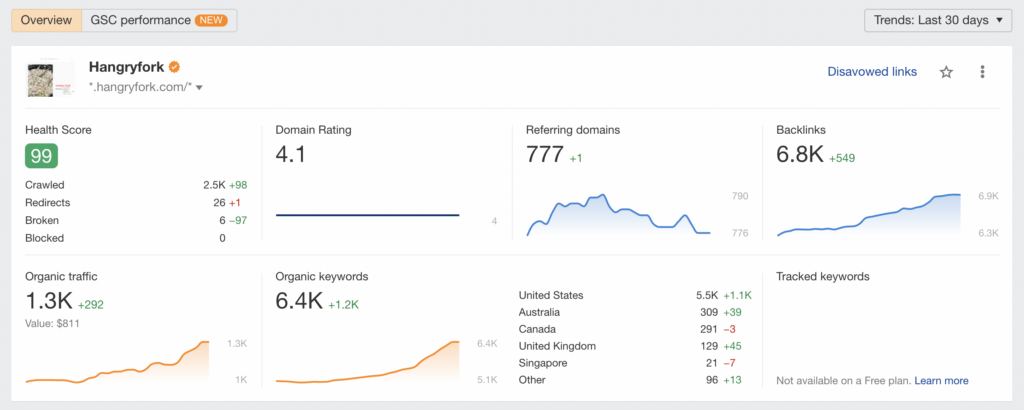 Ahref's will also show how many backlinks you gained per day and lost per day. For example, in the report below, you can see how many backlinks I gained per day.
Blog Income Report November 2021 – $207.32
Adsense $166.49
Amazon $40.83
Blog Expenses November 2021 – $47.99
Hosting $35 – This is a managed WordPress hosting plan which I may downgrade to BigScoot's Turbo Diesel shared hosting plan. I haven't decided yet.
Canva Pro $12.99 – I may cancel because I don't use it as much as I thought.
Net Blogging Income for November 2021 = $159.33
I'm not disappointed, but with the amount of traffic I received, I can't help but think I should have earned more money.
My Take-Aways From November
I listened to several blogging podcasts—specifically, The Blog Millionaire by Brandon Gaille. Brandon has excellent blogging advice, and the price is right – free. Brandon used to sell a blogging course, and I reached out to him to find out if it was still for sale. He told me it is not because he's giving away all the secrets in his course on his podcast!
Schedule posts ahead of time eliminates stress. To keep to my posting schedule at least once per week, I have been typing up posts on the weekends and scheduling them to publish the following week.
I plan to build up organic traffic by doing BETTER keyword research. I will take the tips from Brandon's podcast and apply them to my keyword research. Some of his recommendations are things I would never have thought of.
I need to revamp old posts. I'll redo some older posts that are not getting traffic. I will SEO optimize them.
Here's a breakdown of the traffic I'm getting.

I've Added 21 Posts Since Late August
Here's how much my traffic has gone up from mid-August when I started working on this site again. The dip in the middle is from when I switched WordPress themes. I didn't realize the Analytics code was missing from my site.
My bounce rate is strangely low. I'm currently trying to figure out what is going on. Typically the low rate is due to double analytics code on the site. However, my theme is new, so I'm pretty sure this isn't the case.
I Switched Hosting Twice in November
In November, I switched hosting twice. I started with Kinsta and saw I would go over their 25,000 visits pageview limit, so I switched to Rocket.net.
I signed up for Rocket's $1 for the first-month plan. However, I found my site slowed down drastically, so after two weeks, I moved to BigScoots. I'm delighted with BigScoots and plan on staying with this hosting for the long term.
If you are starting, I recommend choosing a shared hosting plan with BigScoots. Hosting is just $5.95 a month and comes with genuine, helpful support, unlike Bluehost.
Update – Check Out December's Blog Income Report