These delicious Portuguese Beans with Sausage and Linguica are so good! Linguica makes everything better!

This recipe calls for canned beans, so it's easy to assemble and not labor-intensive.

I like to use a variety of beans, so the Portuguese Beans are visually appealing.

The beans are then covered in foil and baked for one hour.

I like to stick to low-carb dishes the majority of the time, but I like to splurge and make beans every once in a while.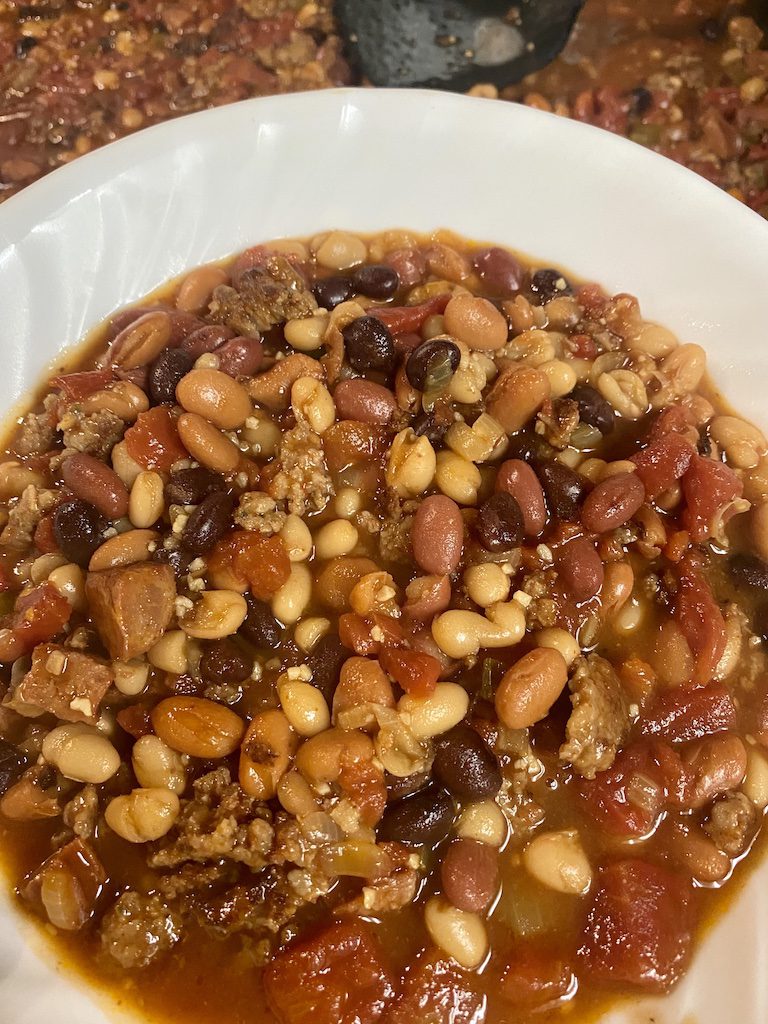 Portuguese Beans with Linguica Recipe History
When I was a young bride, my husband and I went camping with my dad and his wife. We stayed at Doran Beach, California, and had a great time.

My step-mom made this wonderful Portuguese Beans recipe, and they hit the spot. So this is my version of Karen's Portuguese Beans.
Weather Doran Beach California
Doran Beach can get chilly, and these warm beans were just what we needed!
BODEGA BAY WEATHER
My husband and I will be celebrating our 27th anniversary this summer. I've been making these baked beans for at least 25 years!

We haven't camped at Doran for a long time, but we try and visit Doran every couple of years.
What is Linguica?
Linguica is a Portuguese pork sausage. Linguica is mild and flavored with garlic, red wine, and subtle red chilies. It's a great addition to most dishes that call for sausage, and it is a wonderful breakfast meat!
What to Serve with Portuguese Baked Beans
These beans are so good that they can be the star of the show (main dish), or they make a great side dish to:
BBQ'd meats
Smoked meats
Meatloaf
Baked Chicken
Burgers
Chicken Wings
Fried Chicken
Fried Pork Chops
Steak
Portuguese Baked Beans with Linguica Ingredients
Linguica
Sausage – I used Jimmy Dean Hot
Onion
Bell Pepper – My bell pepper was huge so I used half
Fresh Garlic
Canned Tomatoes
6-7 Cans Canned Beans – I like to use a mixture of pinto, black beans, white beans, and red beans so the dish looks interesting
Salt
Cumin
Chili Powder
BBQ Sauce
Prepard Yellow Mustard
Worchestershire
More Easy Linguica Recipes
Portuguese Beans with Sasuage and Linguica Optional Add-Ins
Cooked Bacon Ends – I include bacon ends about half the time when I make these beans. The bacon adds deeper flavors but the beans are fantastic without bacon too.
Leftover Smoked Meats – Smoked meats are a wonderful addition to these beans.
Double the Sausage – If you are serving these beans as a main dish and like your beans extra meaty then consider doubling the sausage. It's not necessary but my husband enjoys the extra meat and I prefer these beans as written here.
Rotel – If you like your beans with a spicy kick then swap out the canned tomaotes for Rotel.
Two Different Colors of Bell Pepper – This will make the beans more appealing.
Equipment Need to make Baked Beans with Sausage
Large skillet – the skillet needs to be large enought to hold all the cooked meats, beans, and tomatoes.

Use ONE skillet to minimize the clean up.
I used my Ninja 12″ non stick skillet to make these beans.
If I had used seven cans of beans everything would not have fit.
In the past I have used this dutch oven to make these beans but sadly this pot doens't work with my induction range.

Cutting board and chefs knife.
Extra large baking pan for baking the beans.
How to Make Portuguese Baked Beans with Linguica
Preheat oven to 350 degrees.
Cut the linguica into bite-sized pieces. Brown linguica in a large skillet. Drain linguica on paper towels.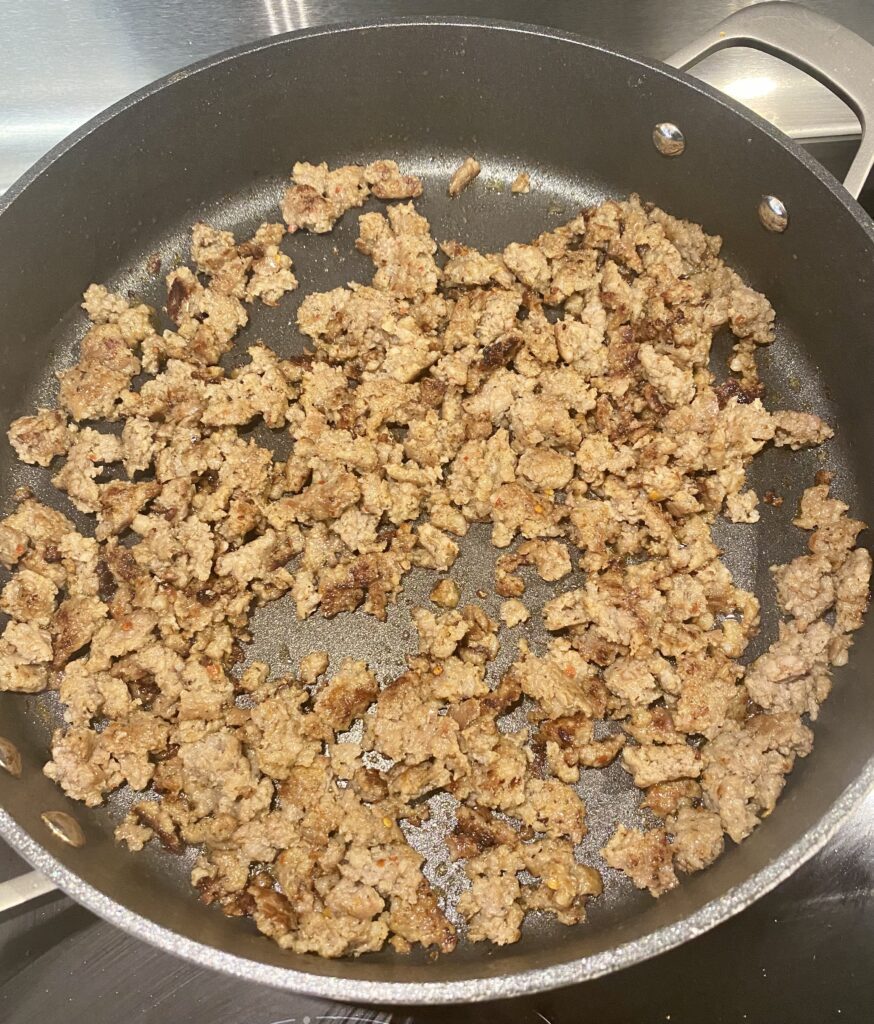 Wipeout linguica fat. In the same skillet, add sausage and brown.
Add chopped onions and bell pepper. Saute until the onions are translucent or about five minutes.
Add minced garlic and spices. Saute for 2-3 minutes.
Add tomatoes, canned beans with juices, mustard, Worcestershire sauce, and BBQ sauce.
Bring to a simmer and cook for five minutes—taste for seasonings.
Sometimes I add a little garlic powder and a little more BBQ sauce.
Spray a deep baking dish with non-stick spray. Pour bean mixture into the baking dish, be careful because the mixture will be HOT!

Cover baking dish with foil and bake covered in the hot oven for ONE HOUR.

For thicker beans remove cover the last 15 minutes of cooking.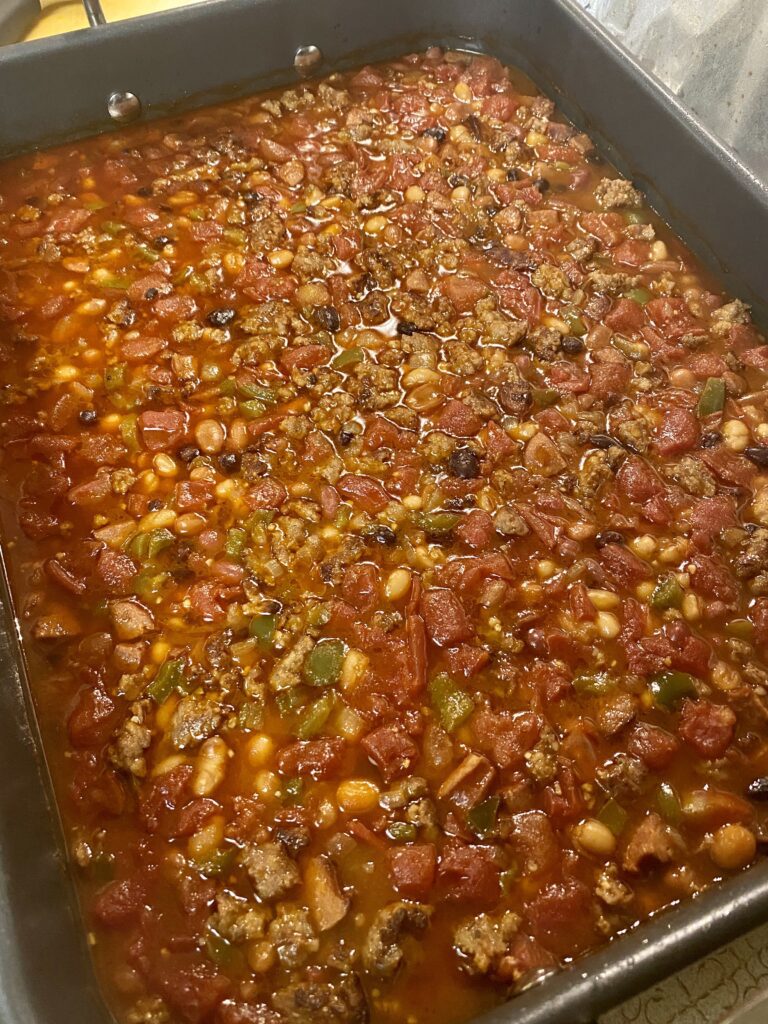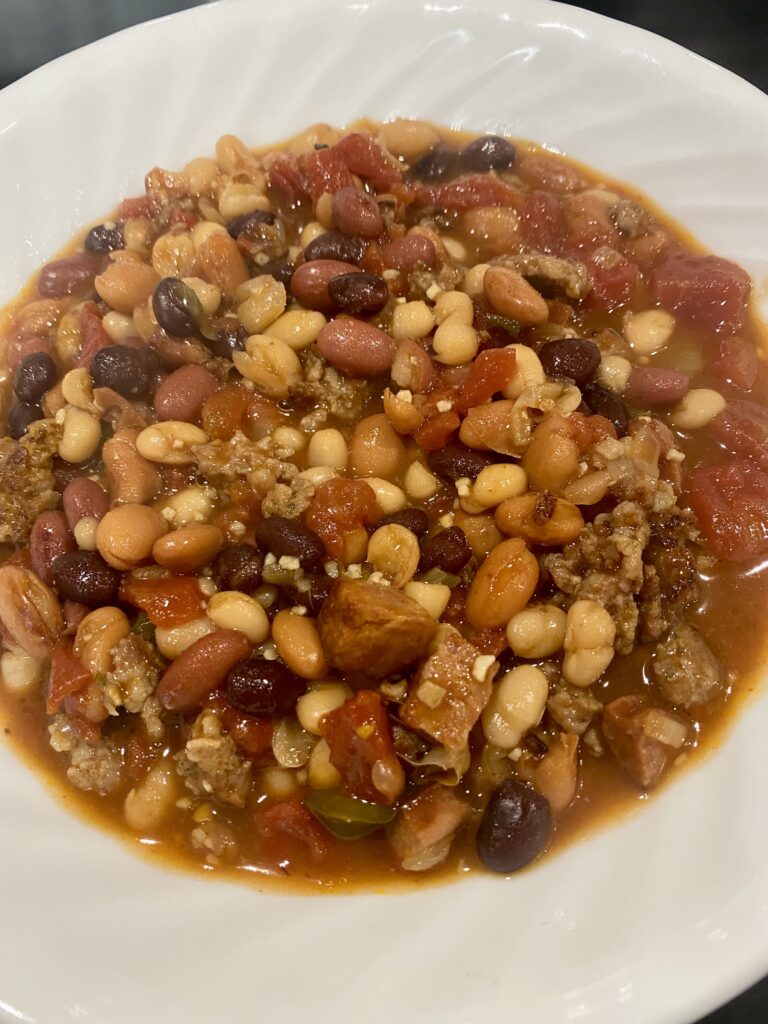 Recipe Card for Baked Portuguese Beans with Sausage and Linguica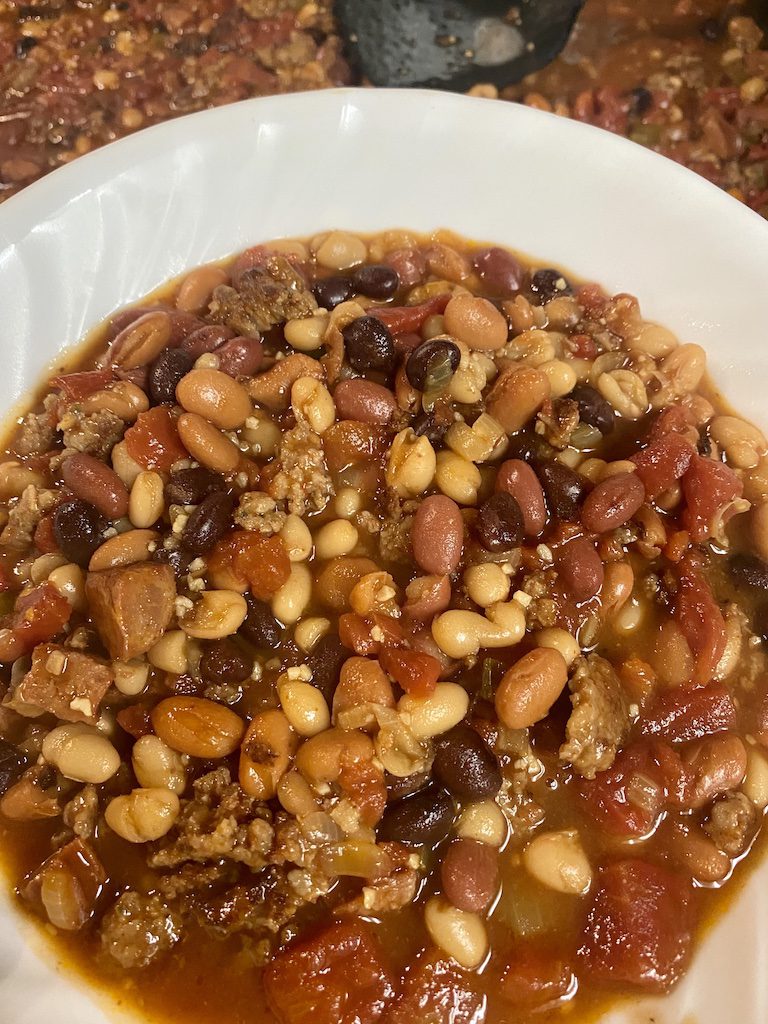 Best Baked Portuguese Beans with Sausage and Linguica
The best baked Portuguese Beans with Sausage and Linguica! Step up your baked beans and add some Linguica!
Ingredients
1 pound linguica - cut into bite sized pieces
1 pound ground sausage - I used Jimmy Dean Hot
1 small onion - minced
1 small bell pepper - chopped
2 teaspoons garlic - minced
1 tablespoon salt
1 teaspoon ground cumin
1 tablespoon chili powder
1 28 ounce can tomatoes with juices
6-7 cans of beans with juices
1/4 to 1/2 cup BBQ sauce
1 tablespoon prepared yellow mustard
1 teaspoon Worcestershire sauce
Instructions
In a large skillet with sides, brown linguica.
Remove browned linguica and drain on paper towels. Wipe out skillet with a paper towel to remove excess grease.
Brown sausage in skillet.
Add onions and bell pepper to sausage and cook until onions are translucent or five minutes.
Add garlic and spices. Cook for three minutes to wake up the spices.
Add remaining ingredients. Bring to a boil and cook for five minutes. Taste for seasonings.
Spray baking dish with non stick spray.
Carefully pour beans into the dish.
Tightly cover with foil and bake for one hour.
Notes
For thicker beans, remove foil the last 15 minutes of cooking.
More Great Recipes