This creamy black beans recipe tastes great as a side dish, but these black beans also taste great inside burritos, and on nachos.

The recipe calls for canned black beans and takes about 40 minutes to make but tastes like it took hours to make.

The refried black beans turn out creamy and full of flavor!

This refried black beans recipe is a keeper!
How to Make Canned Black Beans Better?
Canned black beans are very handy to have in your pantry. You can use them in so many different dishes. They are a great way to stretch meat and save money.
Make this refriend black beans recipe! Seriously, it is a great way to doctor up canned beans, no one will know you used canned beans.
Add a can of black beans to taco meat. This will stretch out your meat volumne and save you money.
Refried Mexican Black Beans Ingredients
Here's what you'll need to make these delicious refried beans from canned black beans.
Canned Black Beans
Garlic
Jalapeno Pepper
Ground cumin
Chicken broth
Monterey jack cheese.
Equipment Need to Make Mexican Black Beans Recipe
How to Make Refried Beans From Canned Black Beans
In a skillet with sides, saute seeded minced jalapeno and minced garlic in a small amount of vegetable oil for a few minutes.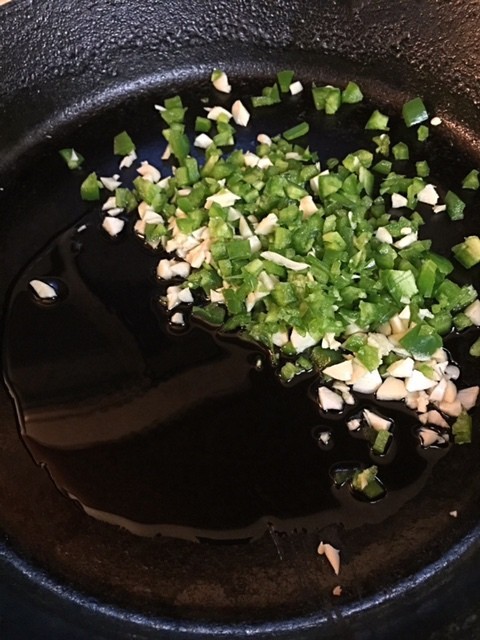 Add in four cans of rinsed and drained black beans.

Add 3/4 teaspoon ground cumin, two cups of chicken broth -OR- add two cups water with one big teaspoon of chicken base.

Bring to a simmer.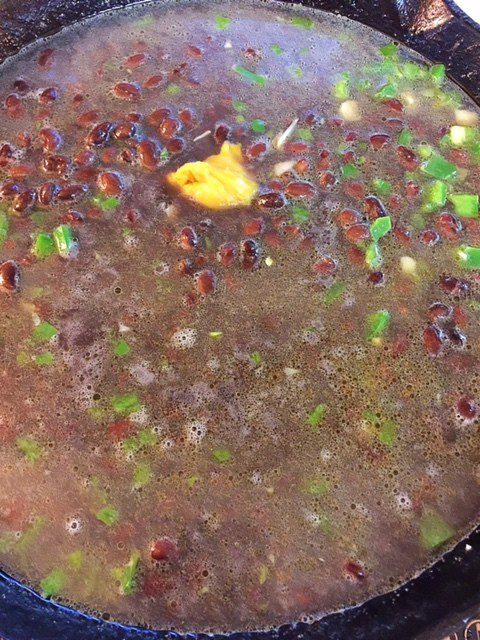 Mash about half the beans with a potato masher. Simmer uncovered and stir frequently.
Below is what the beans look like after about 15 minutes.

At this point, the beans will start thickening and they may start trying to stick, so you'll need to stir them often.
Keep cooking another 15 minutes or so, beans should be thicker. Add in one cup of Monterey jack cheese, and stir in.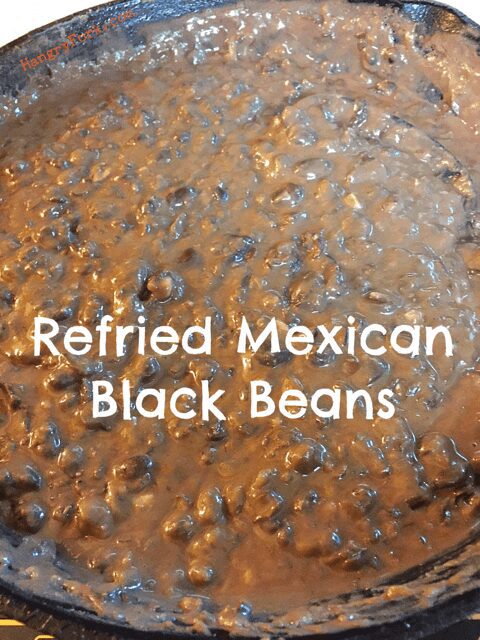 Refried Mexican Black Beans Recipe
Delicious refried Mexican black beans!
Ingredients
4

cans black beans – drained and rinsed

6-8

clove

garlic – minced

1

large jalapeno – seeded and minced

3/4

teaspoon

ground cumin

2

cups

chicken broth

I used two cups water and one heaping teaspoon chicken base

1

cup

Monterey jack cheese

2-3

tablespoons

vegetable oil
Instructions
In a skillet with sides, saute minced garlic and jalapeno in vegetable oil for two minutes.

Add in four cans of drained and rinsed black beans, ground cumin, 2 cups chicken stock (or 2 cups water and chicken base)

Bring beans to a simmer.

Take a potato smasher and smash about half the beans.

Continue to simmer 20-30 minutes, stirring often. Beans will try and stick as they thicken up.

Add cheese and stir it in.
Are Canned Black Beans Healthy?
Yes! Black beans are a nutritional powerhouse. Half a cup of canned black beans contains 110 calories, 20 carbs, and almost 5 grams of fiber. Some studies suggest eating black beans may ward off certain types of cancers.
What to Do With Canned Black Beans?
Make this healthy six-ingredient refried beans from canned black beans. These authentic Mexican black beans taste like you've been cooking all day but the recipe only takes 40 minutes to make!
Disclosure: This post for Mexican Black Beans Recipe contains Amazon affiliate links.
More Great Recipes