I love this crunchy taco recipe and serve these crunchy tacos to my family for dinner often.
This is my standard taco meat recipe. It's simple to make, and you probably already have most of the ingredients on hand.

It's great in burritos, tostadas, enchiladas, most of the time I'll make street-style tacos with skillet toasted corn tortillas, taco meat, and topped with chopped white onions and cilantro.

I'm cheap so I don't use taco seasoning packets. Instead, I use my own spice mix because it's cheaper and better tasting!
Are You Craving Crunchy Tacos?
My husband was craving homemade guacamole and crunchy tacos so this is what we had for dinner last night.
This taco meat is also wonderful in a taco salad. Top with my Mexican restaurant-style salsa, food processor salsa, or this tangy tomatillo avocado salsa for an amazing and easy-to-make dinner.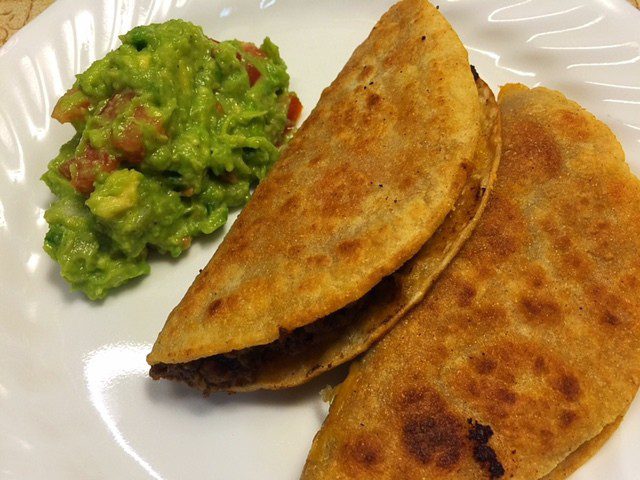 These crunchy tacos are wonderful and easy to make.

They aren't greasy either, because the recipe calls for very little oil.

You could add lettuce, chopped white onions, cilantro, sour cream with Tapatio (hot sauce), salsa, or whatever you like to top tacos with.
**** All pictures are for a double batch of taco meat.
What Goes With Tacos?
Crunchy Taco Recipe Ingredients
Here's what you will need to make this crunchy taco recipe:
Ground beef
Salt
Ground paprika
Onion powder
Garlic powder
Ground cumin
Cayenne powder (optional)
Chipotle powder (optional)
Vegetable oil
Corn tortillas
Taco cheese
Equipment to Make Crunchy Beef Tacos
Skillet
Tongs
Paper Towels
Baking Sheet
Foil or Parchment Paper (Optional)
How to Make Crunchy Tacos
Preheat oven to 285 degrees. Brown the ground beef over medium heat.

When meat is no longer pink drain fat.

Add in all the spices and cook a few minutes, add in 1/4 cup water if your meat seems to dry.
Taste taco meat, make sure it tastes good for spice and salt. Sometimes I'll have to add in a little more chili powder, garlic powder, and/or salt.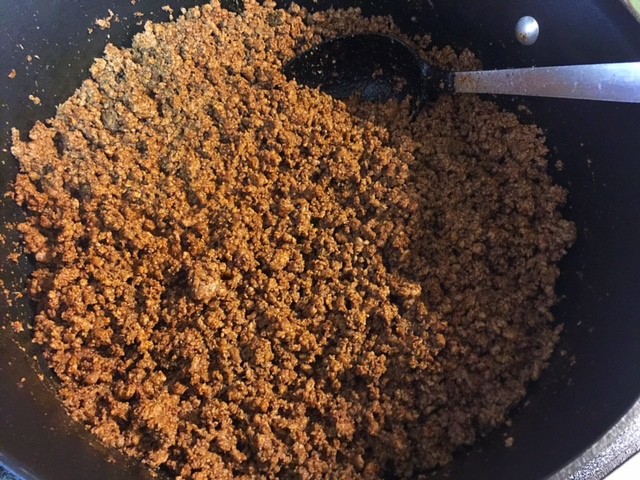 Add in the can of refried beans.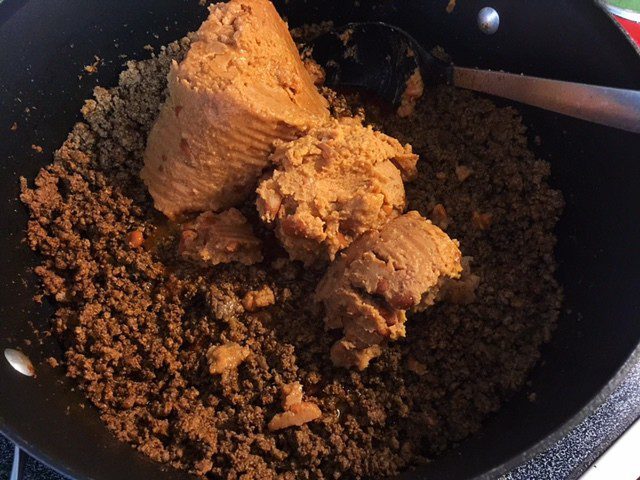 Stir to combine the beans and meat.
In a non-stick skillet, heat a couple of tablespoons of vegetable oil over medium-high heat.

Place about 1/4 cup of taco meat on half the tortilla.

At this point, you could also top the meat with a little taco cheese OR you could add the taco cheese later, it's up to you.

I do it both ways, here I opted to add the cheese later, and it'll melt in the oven.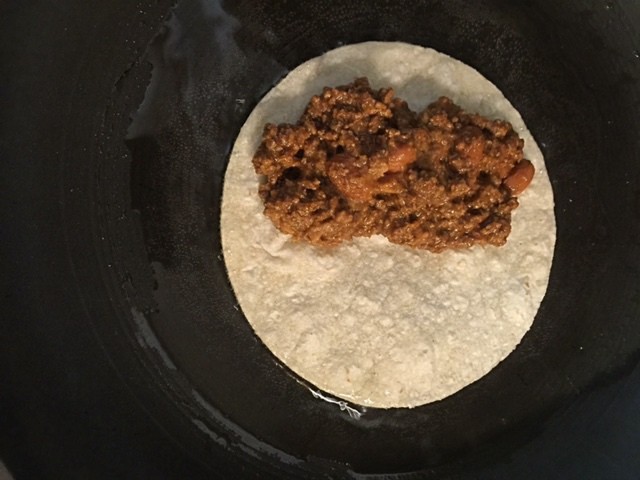 After a few seconds, fold the corn tortilla in half. Cook a few minutes.

I used a spatula to help me turn the crunchy tacos over.

When you flip the tacos make sure to flip towards the fold, this will help keep the taco filling inside the tacos.

If you find your tacos are cooking too quickly, turn the heat down to medium.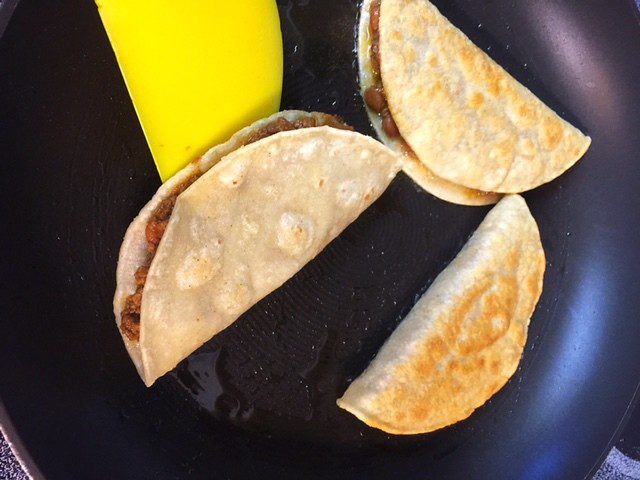 Here are two tacos I flipped, and one that hasn't been flipped yet.
You will need to add a little oil as you cook more tacos.
Place cooked tacos in a foil-lined baking dish. Top with cheese.
Put the tacos in the oven to melt the cheese.

After about 5- 6 minutes, pull the crunchy tacos from the oven and check if the cheese is melted. Yum melted cheesy tacos!

If you want to top the crunchy tacos with lettuce or other toppings now would be the time to do it.
My daughter #3's crunchy taco plate with homemade guacamole.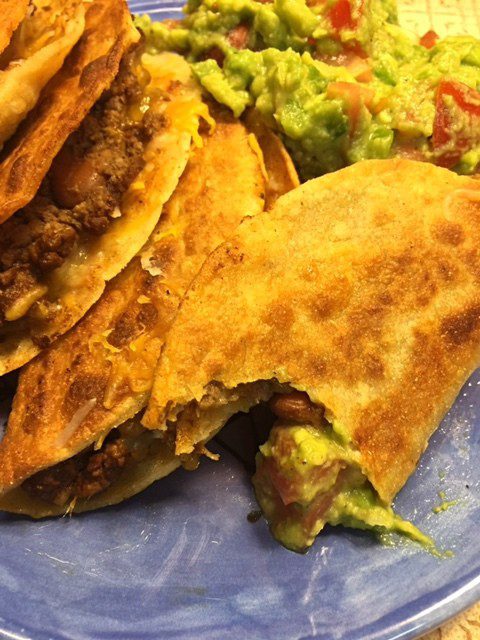 Crunchy Tacos Recipe Card
Crunchy Taco Recipe – Taco Meat From Scratch
Easy Crunchy Taco Recipe
Ingredients
2

pounds

ground beef

2

big tablespoons chili powder

2

teaspoons

salt

1

teaspoon

ground paprika

1/2

teaspoon

onion powder

1/2

teaspoon

garlic powder

1/2

teaspoon

ground cumin

2

pinches

cayenne powder

optional

2

pinches

chipotle powder

optional

1 – 16

ounce

can refried beans

Vegetable oil

15-20

Corn tortillas

Taco cheese
Instructions
Preheat oven to 285 degrees.

In a large dutch oven or skillet with sides, cook ground beef over medium heat. When meat is no longer pink, drain fat and add chili powder, salt, ground paprika, onion powder, garlic powder, ground cumin, cayenne powder, and chipotle powder. If the meat seems too dry, add 1/4 cup water. The spices should become fragrant.

Taste meat for flavor, add spices or salt if necessary.

Add refried beans to the taco meat. Stirring to combine.

Remove meat from heat.

Line a baking dish with foil (for easy cleanup).

In a large non-stick skillet, heat two tablespoons over medium-high heat.

When oil is hot, place one corn tortilla in skillet, place about 1/4 cup of taco meat on half the corn tortilla. Fold the tortilla in half.

Depending on how big your skillet is, you could cook up to three tacos at a time.

Cook tortilla a few minutes, flip towards the fold so the filling stays inside.

When tortillas are browned to your liking transfer them to the foiled lined pan.

Add a tablespoon or so of oil to the skillet as you cook more tacos.

Top all the cooked tacos with some cheese and transfer to the hot oven for 5-6 minutes to melt cheese.
Ground Beef Nutrition Facts
4 ounces of raw 80/20 ground beef has 287. You can read more nutrition facts on the USDA website.
Disclosure: This post contains Amazon affiliate links.