Tomatillo Avocado Salsa
This is a quick wonderful tangy recipe and a great way to stretch avocados when they are too expensive to make traditional guacamole. I actually think this recipe is better than the guacamole salsa you'll find in most Mexican restaurants.
This avocado salsa recipe is fast and easy to make because it's made in a food processor. If you don't have a food processor, you may be surprised by how affordable they are now. At the time of this post, this food processor was less than $50 and had 26,000+ reviews.
The tomatillos and peppers are not roasted but you can roast them if you want the deeper flavors roasting will create.
If you are making this salsa to take somewhere I recommend making it fresh right before serving. I've successfully saved leftovers up to two days by placing a piece of plastic wrap directly on the guacamole salsa, so it's like skin to the green salsa, blocking doesn't turn brown at all, thanks to the lime juice and the way it's stored. The flavors actually deepen and the salsa is even better the next day.


Can You Eat Tomatillos Raw?
YES, you can eat raw tomatillos, they taste tangy raw. If you are not familiar with tomatillos, they are Mexican green tomato-like fruits with a husk attached. The fruits are green or green-purple with a green papery wrapper attached. When shopping for tomatillos, you want to pick out the firm feeling ones, avoiding mushy or moldy tomatillos. The husks should be green, not brown. The sticky feeling you get on your hands when peeling the tomatillos is completely normal.
Making Tomatillo Avocado Salsa
You can make this salsa as spicy as you like. Like it spicier? Add in more peppers, I've added in pasilla peppers before and the salsa turned out fab!
Tomatillo Avocado Salsa
Ingredients
1

pound

tomatillos - husked

washed, and cut in half

2-3

jalapeños peppers - cut in half and seeded

2-3

sermons peppers - cut in half and seeded

1

medium white onion - cut in chunks

1/2

bunch of cilantro - big stems removed

3

garlic cloves - peeled

2

or 3 avocados

1

lime - juiced

1

teaspoon

salt

1/2

teaspoon

garlic powder

Dash of cayenne powder

optional
Instructions
Cut the seeded peppers into small chunks. Put the garlic cloves and seeded peppers in a food processor or blender and pulse until they are in small pieces.

Next, add onion chunks, cilantro, tomatillo, lime juice, salt, garlic powder, and cayenne. Pulse until smooth. Add the peeled seeded avocado and pulse a few times. I like to keep the avocado kind of chunky, doing this makes the salsa look like it has more avocado in it than there really is.

Taste the mixture for salt on a tortilla chip (some tortilla chip brands are saltier than others). Here's where I'll normally add a little more salt and some more garlic powder to the tomatillo avocado salsa. Hit pulse a few more times, or until you get the desired consistency.
Tomatillo Avocado Salsa Tastes Good on Just About Everything!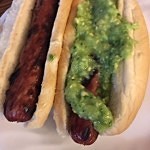 My 15-year-old son likes eating this tomatillo avocado salsa with chips, in burritos, on tacos, with scrambled eggs, in a breakfast hash, and on his hotdogs. This kid will eat anything, so I'm not so sure I'd recommend eating this salsa with hotdogs. 😀
Can You Freeze Tomatillos?
I've had great success freezing tomatillos.
Peel the husks off.
Rinse the tomatillos to remove the stickiness.
Blanch the tomatillos in boiling water for about three minutes.
With a slotted spoon, remove tomatillos from boiling water and place them in a metal mesh colander over the sink.
Quickly rinse with cold water
Let blanched tomatillos cool and then remove the skins.
At this point, you can puree the tomatillos and place them in a freezer bag or freezer container.
Or freeze on a cookie sheet until frozen and then transfer to a freezer bag or freezer container.

If you like this Salsa Verde Recipe with Avocado be sure to check out these other delicious recipes:
Want to make your own tortilla chips? Here's a great video on how to. If you are needing a great nonstick pan to back the tortilla chips on, here's a great deal from Amazon – Non Stick Pans.
This post contains affiliate links to Amazon.com.