This is a delicious recipe for easy breakfast burritos or tacos. The filling is so good, I sometimes make breakfast for dinner. Kids and adults both love these Mexican burritos!
When served as tacos, with corn tortillas, they are great for anyone suffering from a hangover.


The recipe is very simple. Chorizo, frozen potatoes O'Brien, and some eggs. You'll also need some vegetable oil for browning the frozen potatoes.
Whenever I make this recipe, I always double the recipe and my kids will eat this morning, noon, and night. LOL they never get tired of it!
I cook this recipe in my large non-stick electric skillet set at 375 degrees, if you are going to cook it on your stovetop, I recommend using a nonstick skillet.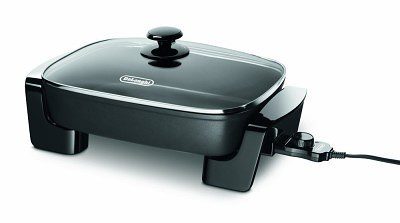 Chorizo is available in different-sized packages depending on what brand you purchase. This recipe calls for 18 ounces, in the brand I use this equals two sticks. I highly recommend using pork chorizo, but beef should be okay too.
This is a one-skillet meal and is easy to clean up!
How to Make Easy Breakfast Burritos
Step one – cook chorizo, when done, move it to a plate and set it aside. In the picture below the chorizo isn't cooked yet. When the chorizo is done cooking, it'll be loose looking, this should take about 10 minutes or so, depending on your heat setting, and how much chorizo you are cooking. If you are unsure what cooked chorizo looks like, scroll down to step three below and take a look at my cooked chorizo.
Step two – brown the potatoes in the skillet (no need to clean it) with some vegetable oil. Cook according to package directions. Hint – don't turn too often or the potatoes will get mushy rather than crispy.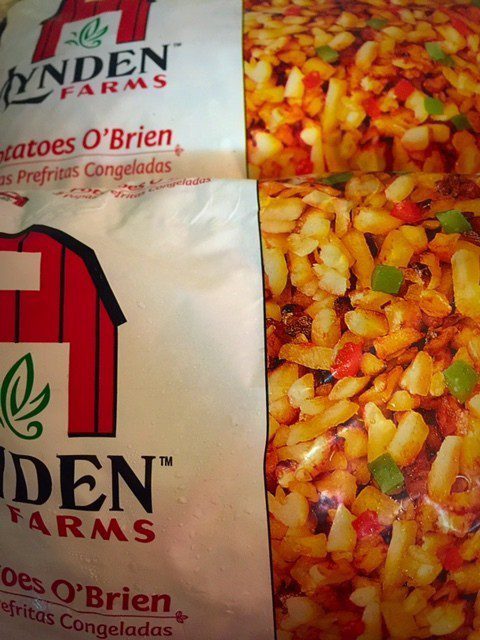 Step three – Add back the cooked chorizo on top of the browned potatoes and add the eggs.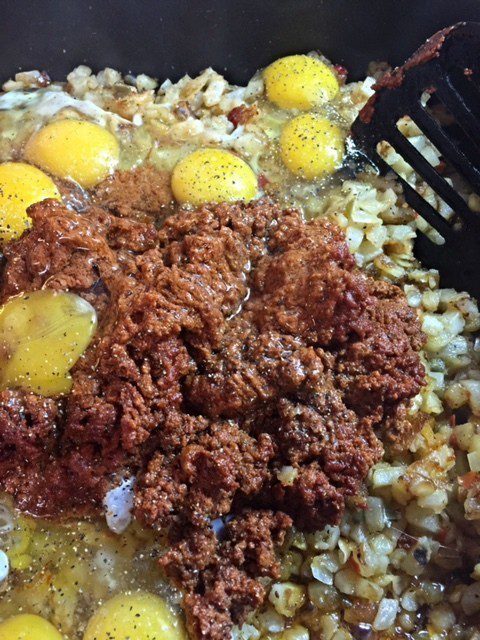 Step four – Fold in the eggs and chorizo and cook until the eggs are set. Warm up tortillas and assemble your easy breakfast burritos by placing some filling on the tortilla, and topping with cheese. Fold the burrito and enjoy! You could also just eat the burrito filling by itself.
Easy Breakfast Burritos Recipe
Ingredients
1

bag frozen O'brien potatoes - about 32 ounces

2

sticks of chorizo - about 18 ounces

8-10

eggs

vegetable oil

seasoned salt

salt & pepper

corn tortillas -OR- flour tortillas

shredded cheese
Instructions
Remove chorizo from the package. In a non stick pan or non stick electric skillet cook the chorizo over medium heat until done (about 10 minutes). Transfer chorizo to a plate and set aside.

Add two or three tablespoons vegetable oil to the pan and cook the frozen potatoes according to the package directions. When potatoes are nicely browned, season them with some seasoning salt, and salt and pepper. You'll have to taste them to make sure the seasoning is right.

When potatoes are done, add the chorizo back to the pan and top with the cracked eggs. Before stirring, season the eggs with salt and pepper, then go ahead and fold the eggs in.

Cook until the eggs are set.

Heat up tortillas, and assemble burritos or tacos.
What's your favorite burrito recipe?
Check out these other delicious recipes
This post contains affiliate links to Amazon.