Food Blog Income Report January 2022
Hey everyone!

Welcome to my January 2022 food blog income report.

In this post, I will share how much money I earned last month and give you a breakdown of where it came from.

HangryFork History
Hangryfork was created in 2015. You can read about the history of Hangryfork here. This site sat neglected for over five years. It constantly earned enough money to pay for the hosting and gave me a little pocket change in those five years.
Why Am I Posting These Income Reports?
I'm not posting them to brag because there isn't anything to brag about. Lol.

I'm posting blog income reports to hold myself accountable. On my birthday last August, I committed to building out this site and giving it an honest try to turn it into something.

I'm posting income reports to:
Hold myself accountable. Knowing people are watching drives me keep going.
Blogging isn't always fun or easy.
I work a fulltime job and have a two hour round trip commute.
Sometimes when I get home from work I'm so tired I fall asleep.
I'm not going to let being tired stop me from achieving my goals.
Drive more traffic. This blog post will eventually rank for a bunch of keywords which will result in traffic.
Hangryfork.com January 2022 Stats
Sessions are up over December! I'm slowly inching towards my goal of getting 50,000 sessions per month. In January, Hangryfork.com got 18,267 sessions and 57, 385 pageviews! I am very happy with this growth.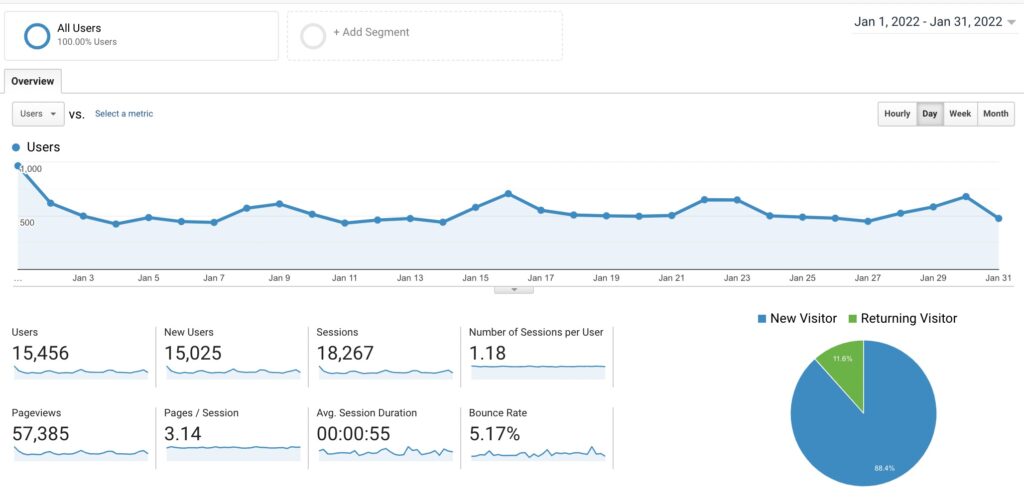 9 New Posts Added in January 2022
2 New Web-Stories Added in January 2022
Optimized Old Posts in January 2022
I went through the media file and optimized all images
I optimized a lot of old posts. I didn't keep count but I think it's probably at least 10 old posts. Some of them were not indexed with Google and now are.
I worked on internal linking. I added links in older content to newer articles.
Ahrefs.com Snapshot of the Past 30 Days

Organic traffic is up 400+
Organic keywords are up 1,500+
Referring domains are down 38-
Backlinks are up 300+
Organic traffic is worth $1,200 and is up $277
218 keywords are on the first page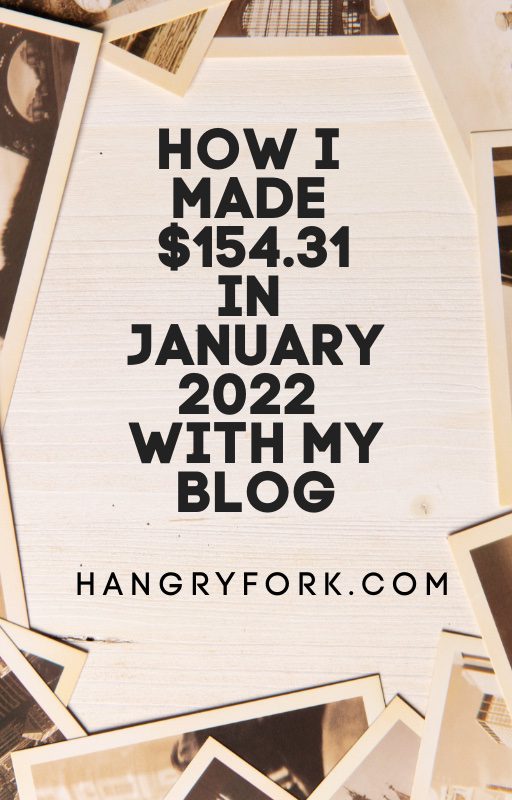 | Month | Posts Added | Total Posts | Sessions | Top 10 KWs | Adsense | Affiliate | Gross Earnings |
| --- | --- | --- | --- | --- | --- | --- | --- |
| Aug 21 | 0 | 96 | 7,266 | 89 | 43.27 | 2.53 | 45.80 |
| Sept 21 | 4 | 100 | 8,124 | 129 | 48.40 | 6.72 | 55.12 |
| Oct 21 | 6 | 104 | 8,553 | 147 | 74.64 | 7.61 | 82.25 |
| Nov 21 | 9 | 113 | 16,196 | 132 | 166.49 | 40.83 | 207.32 |
| Dec 21 | 6 | 119 | 15,707 | 180 | 166.40 | 22.89 | 189.29 |
| Jan 22 | 9 | 128 | 18,267 | 218 | 157.07 | 23.74 | 180.81 |
Food Blog Income Report January 2022 – $180.81
Hangryfork Expenses January 2022 – $26.50
Hosting $20
Canva Pro $6.50
Net Blogging Income
for January 2022 = $154.31
Income is down over December and November. This is because these months are notoriously low months for ad network payouts.

Check out this calendar Mediavine published. It shows when ad revenue is predicted to pick up again.

I'm not really worried about the dip in ad revenue.

My site is continuing to grow closer to my goal of getting to 50,000 sessions per month so I can join Mediavine.
My Take-Aways From January 2022
My goal for January was to publish one article per week but to aim for two articles a week.
I published nine posts and made my goal!
My website Domain Rating dipped. I think this is due to losing a bunch of backlinks. Some older backlinks were from sites that are no longer up and running so I lost them.
Feburary Goals for HangryFork.com
Publish one post per week but aim for two.
Build a few backlinks through blog comments. I have read that doing this doens't really help with rankings but I'm still going to do it.
Website #2 Facts & Goals
Facts
This site is now ranking for 98 keywords.
Analytics shows this site had 70 sessions in January 2022.
In January I published four articles with an average of 944 words each.
The traffic value is $0.77
Goals for February 2022
Publish two post a week. I'm publishing this food blog income post on the weekend of 2.13.22. I was on quite a roll yesterday and published seven posts! I'm definiately going to make my publishing target for February.
Thanks for reading my January food blog income report!
So, what can we learn from reading these food blog income reports?

The main thing is that there's no one-size-fits-all recipe for success. Instead, your approach to generating revenue will depend on your niche, audience, and marketing strategy.

If you're willing to experiment and put in the hard work, there are plenty of ways to make money blogging about food or anything that interests you.

Want to know more? Check out the links below for links to over 100 blog income reports from real bloggers who have found success in a variety of different ways.

Be sure to come back next month to watch how this blog grows. Thanks for reading!
17 Blog Income Reports – January 2022
7 Reddit Case Studies – January 2022
Read 80+ Blog Income Reports here