It's time for another blog income report! Find out how much money this website made in December 2021 and its traffic.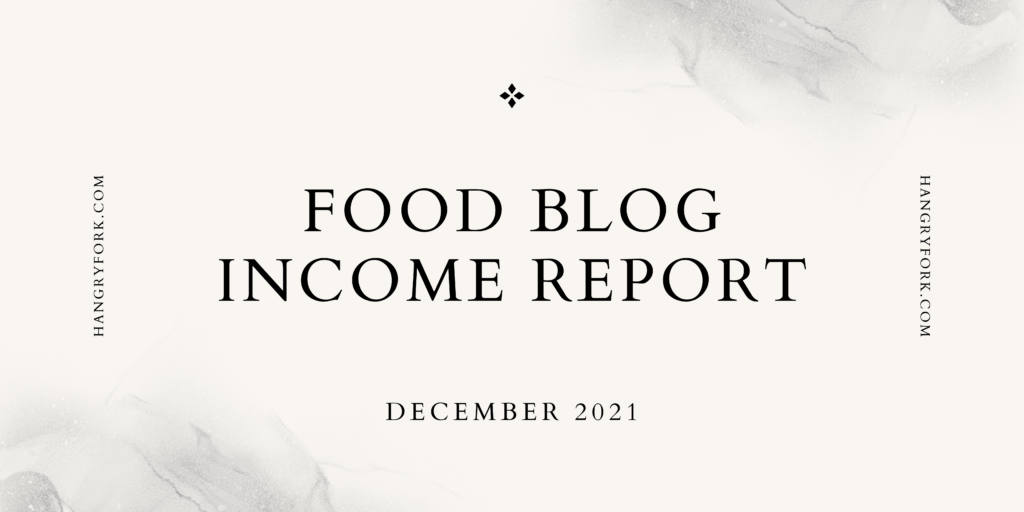 Hangryfork was created in 2015. You can read about the history of Hangryfork here.

I made my first blog income report in November 2021.

I'm making income reports for two reasons.

#1 is to hold myself accountable. Knowing people are watching makes me more determined.

#2 to drive traffic to my website. Traffic from blogging income reports will help me get closer to getting admitted to the Mediavine ad network.

Here are some searches this post may eventually rank for and how many searches these terms get per month.

– blogger earnings – 2,900
– blogging income – 1,600
– income from blog – 1,600
– income reports – 1,000
– income blog – 1,000
– blog income report – 1,000
– bloggers income report – 1,000
– blogging income reports – 880

You can see how making posts like this could add up to a bunch of monthly traffic.

Since posting my November 2021 blogger earnings report on December 6, the post has received 298 pageviews.

My husband plans to retire in four+ years, and the current plan is for me to retire when he retires.

My goal for this website is to create a consistent monthly income that will eventually take the place of my current income. I have four years to make it happen.

I've been working consistently on this website since my birthday in mid-August.

I am approaching growing this website like a part-time job.

I'm so grateful to have my husband's support because support makes all the difference!

Getting Over My TikTok Addiction
Before recommitting to my side hustle, I was spending an embarrassing amount of time watching TikTok videos. I had a TikTok addition! I would waste work evenings and weekends watching one TikTok after another. I was addicted.

In August, on the day I turned 52, I had the realization that time would pass regardless of what I was doing, so why not do something productive that would pay off in the long run?

Why not invest in myself and my future? I have nothing to lose. Blogging is one of the cheapest side hustles you can try. No matter what season of life you are in, you can fit blogging into your life.

– Teenager – You can blog around your school schedule. You will need an adult to help you get AdSense and Amazon Affiliate accounts.
– Recent college grad – Blog around your new work or job-hunting schedule.
– New mom – Blog when your kids are napping or in school. Or you could blog on weekends.
– Empty nester – Blog around your work schedule and on weekends.
– Recent retiree – Your time is your own. Blog whenever you feel like it.

A domain will cost $10 per year. Monthly shared hosting will cost $5.95 to $7.95 per month. BigScoots provides daily backups, so you won't have to worry.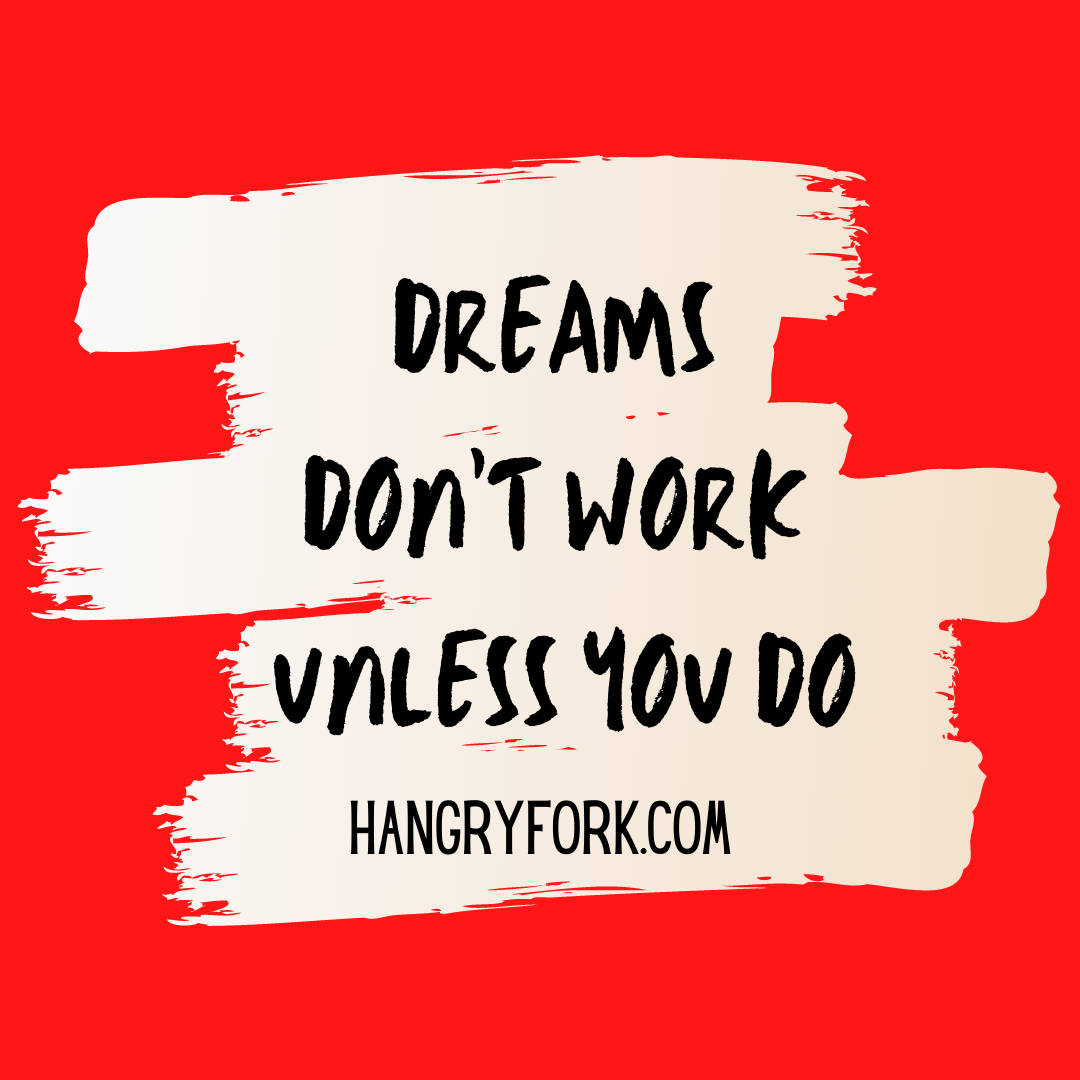 My Blog Goals for 2022
Publish one post per week but aim for two. As of this post I currently have 121 published posts on HangryFork.com.
My goal for 2022 is to add a minimum of 52 posts. While I will be pleased with myself if I add 52 posts, if I can accomplish adding 1.5 posts per week or 78 posts I will be beyond THRILLED. My goal is to have 173 – 200 published posts by the end of 2022.
Update two old posts per month. A lot of my older posts need updating. Some posts need to have longer content and I need to add internal links.
Get a job closer to home so I have more time to devote to my websites.

I am working full time with a two hour round trip commute over twisty mountain roads.
I've had this job for over five years and my retirement is vested.

I've been applying for jobs closer to home but want to continue working for the State of California.
I love the work/life balance the state offers employees.
I've been on five job interviews but nothing has stuck.
I will continue to apply for promotional state jobs closer to home so I have more time to work on my websites.

Get this website to 50,000 monthly sessions so I can join Mediavine. I currently have Adsense Ads showing on this website. The RPMs (rate of pay per 1,000 visits) for Adsnese is extremely low compared to what is being reported by people who are with Mediavine.

Here's one report of a blogger getting $48.97 per 1,000 visitors.
Hangryfork's RPMs averaged $6.02 in December which is unusually high for Adsense.
Over the last three years the average RPMs for Hangryfork was $3.37.
Can you imagine the difference switching to Mediavine would make?

Build up my NEW website so I can put Adsense ads on it. You can read more about my plans for this new website by scrolling down or by clicking this jump button.
Make $3,000 per month consistently by the end of 2022.
Food Blog Income Report December 2021
Hangryfork.com December 2021 Stats
Hangryfork.com, December 2021 Blog StatsTraffic is down slightly for December – I didn't make many web-stories because I would rather use my time creating more new content.

I've read that Twitter is no longer supporting AMP websites. Since web-stories are AMP, I think they are probably a waste of my time. However, this may be a mistake?

If web-stories sessions counted towards Mediavine's 50,000 requirements, I would be making 3-5 web-stories a week.
HangryFork.com December 2021 Stats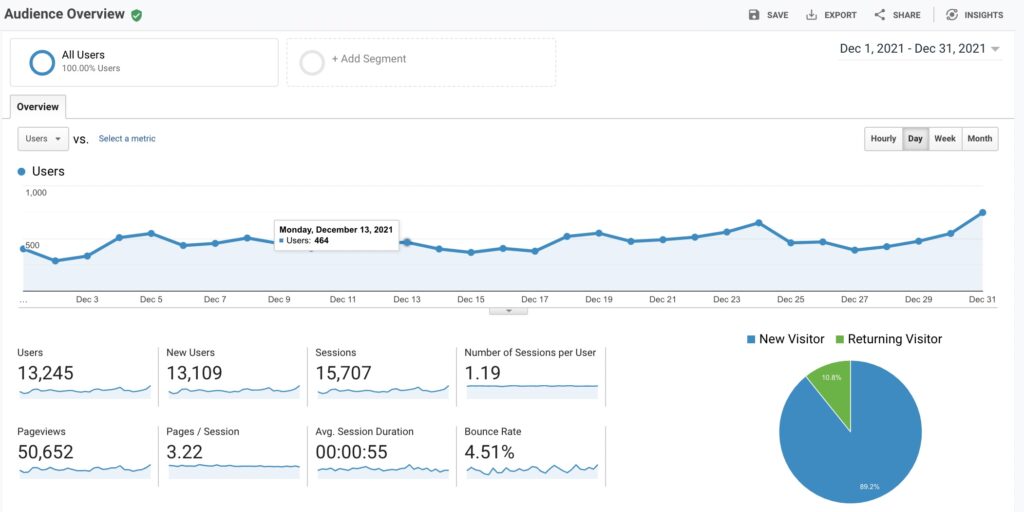 Posts added in December 2021 = 6
Sessions 15,707
Users 13,245
Pageviews 50,652
Hangryfork.com/web-stories December 2021 Stats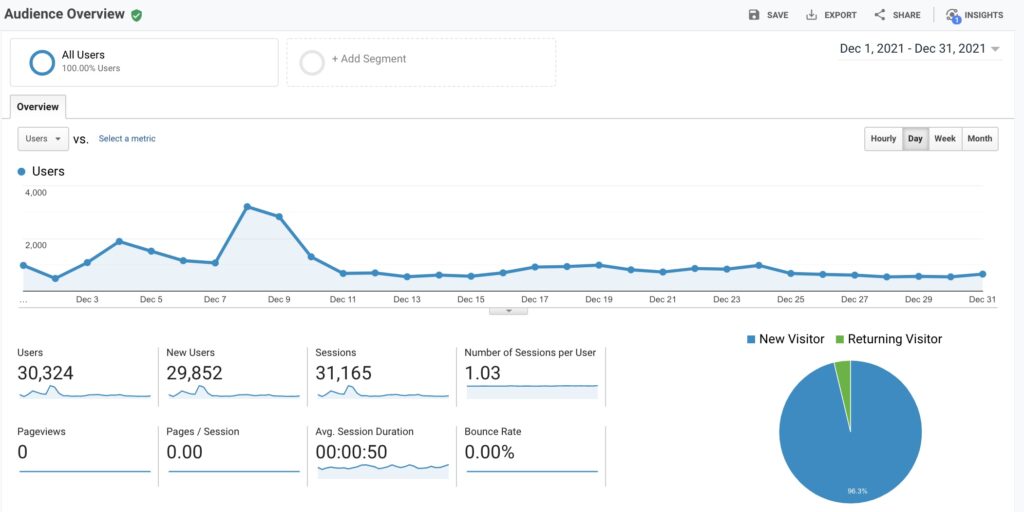 Web-stories created = 3
Sessions 31,165
Users 30,324
Ahrefs.com Snapshot of the Past 30 Days
Organic traffic is up 200+
Organic keywords are up 500+
Referring domains are up 40+
Backlinks are up 500+
Organic traffic is worth $923
Domain rating is up from 4.1 to 22 an increase of 17.9.
At one point in December Hangryfork's domain rating was a 29. Several websites that used to link to Hangryfork are no longer live. I'm not concerned because I cannot control this and I'm in this for the long haul.
Overall I am very pleased with my website's improvement.
Backlinks Added Per Day in December 2021
Blog Income Report December 2021 – $189.29
Adsense $166.40
Amazon Affiliate $22.89
Hangryfork Expenses December 2021 – $26.50
Hosting $20 – I now have two blogs and will be splitting the cost of hosting evenly.
Until I can place ads on Website #2, I will not be including the expenses of hosting this site. To me the expenses are a little splurge no different than going out to eat.
Canva Pro $6.50 – I will be splitting the cost between my two sites.
Net Blogging Income for December 2021 = $162.79
Sessions & Pageviews from July to December 2021
Here are pageviews going back to July for comparison. Notice how much this site has grown and how my efforts are paying off.
Sessions are up more than 125%
Pageviews are up more than 519%
Month
Net
Income
Expenses
Sessions
Pageviews
Organic
Keywords
Backlinks
Dec 2021
162.79
26.50
15,707
50,652
6,900
7,300
Nov 2021
159.33
47.99
16,196
56,308
6,400
6,800
Oct 2021
8,553
29,619
Sept 2021
8,124
10,497
Aug 2021
7,266
8,683
July 2021
6,959
8,182
Hangryfork.com Income Reports 2021
My Take-Aways From December 2021
I feel like I'm on the cusp of taking my blog to the next level and I'm excited to see where the growth of my two websites will take me.
I finally embraced Gutenberg block editor. This is the editor built into wordpress, the framework of this website.
I had been very resistant to using Gutenberg, but it's easy and using it has made my site more engaging.
I should have switched from the classic editor months ago. What can I say? I'm hardheaded. Lol
I took one week of vacation from my job in December to relax at home the week before Christmas. What I did while on vacation:

I set up my new website, wrote and posted five posts.
Wrote three posts for Hangryfork.

Going forward I will use the weekends to

Do keyword research for both websites.
Recipe development for Hangryfork.
I will also write at least one post on the weekend for Hangryfork.

I will write one post per week during the week for website #2 using keywords I found on the weekend.
Here's a breakdown of the traffic I Got in December 2021
My traffic source in December 2021 is my most significant win of the month!

Please take a look at my traffic sources in November 2021.

Organic traffic is the goal. My organic search is up, which is a great thing!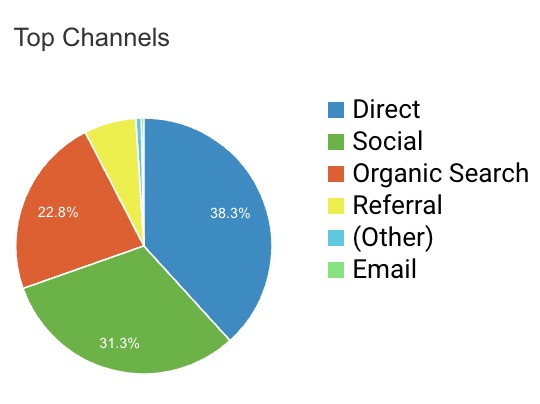 Organic Pages & Traffic From 2015 to Current

As you can see, in 2016, I briefly had the traffic levels I'm trying to attain now. At the time, I was so busy and overwhelmed with going back to work after 20 years of being a stay-at-home mom to my four kids that I didn't even know I was getting this traffic.

I can only imagine where this website would be if I had never neglected it.

My takeaway from this mistake is that I can do it again if I did it before. I am headed in the right direction.
Traffic From Mid August 2021 to Current
To recap, I started working on this website on my birthday after years of neglect during the third week of August. Look at that growth! I have almost doubled the traffic.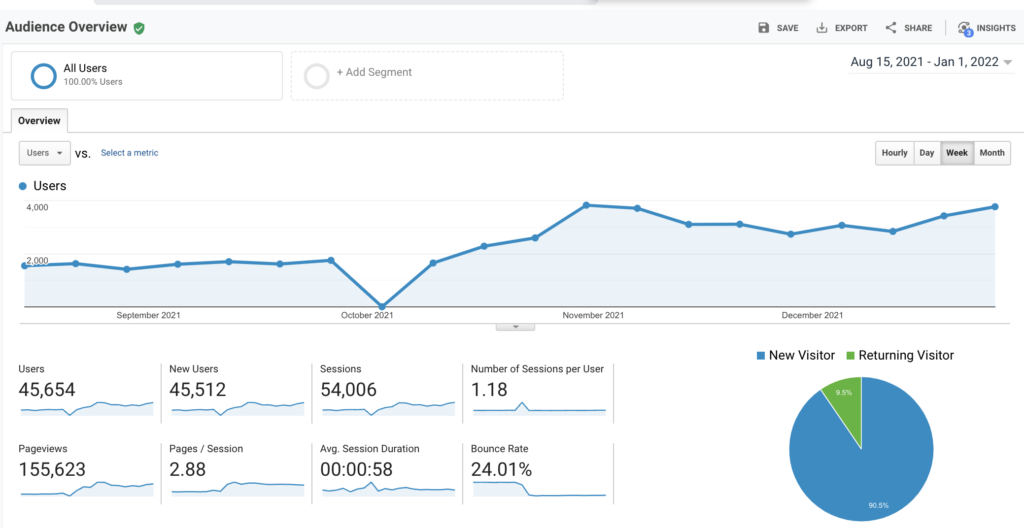 Website #2 Goals
This site targets ANY random low competition keyword I stumble across which will bring traffic without building backlinks.
Publish four posts per month. When I get 20-30 posts up I will submit the site to Adsense for approval.
I started this website in December and I currently have five published posts with an average of 1,182 words each.
The site is getting a few visits a day. I'm very pleased.
It's only taken Google a day or so to index new posts. I've read recent stories on Reddit about Google taking more than a month to index new sites.
Make $100 a month consistantly off site #2 by the end of 2022.
Website #2 Organic Keywords
I have no immediate plans to disclose the URL of this new website. The domain is new, pronounceable, only six letters long, and is a .com. At some point down the road, I may flip it.

With website #2 I'm writing about low competition keywords that have a minimum of 50 searches per month (Volume) with a low (green) keyword difficulty (KD). This means I should be able to rank for these keywords without backlinks.

I don't care about the CPC – cost per click; I just am looking to build up traffic.

I'm currently getting ZERO traffic from these organic keywords in the image below, but what makes me so happy is that I am ranking.

For one of the keywords with 90 searches a month (Volume), I'm in position 23. I'm down so low in position that realistically, I am not likely to get clicks from this keyword, but it's a great start.

Considering this site is one month old, I'm thrilled with the results thus far.

For comparison, HangryFork.com has 120 posts, ranks for 6,900+ search terms, and is six years old.

With time, internal links, and more content, website #2 should increase in all positions and rank for even more keywords.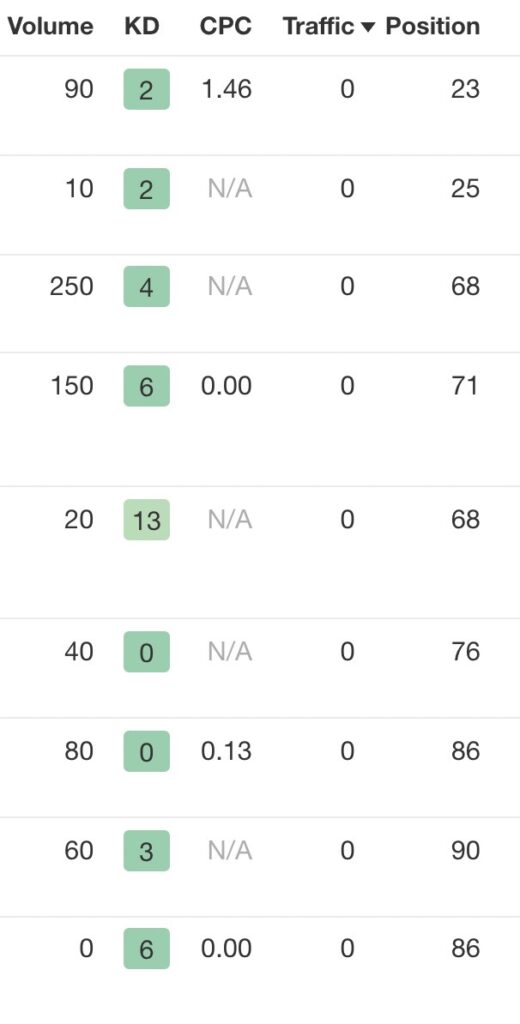 Thank you for taking the time to read my food blog income report for December 2021!

I'm excited and looking forward to a prosperous 2022.
Is Starting a Blog Easy?
Yes! If you want to start a blog, do it. You can create a blog for less than $20!
Buy a .com domain for $10 per year.
Shared hosting at BigScoots is only $7.95 a month if you pay month to month. There aren't any long-term commitments. If you prepay the cost drops to $5.95 a month.
Whatever you do – DO NOT host with GoDaddy or Bluehost, they are garbage.

Successful bloggers who recommend either of these hosts do NOT use them.
These bloggers are selling you out for money. I would be leary of anyone promoting a hosting company they do not use themselves.

Years ago, when I started my first site I had Bluehost. They never helped me with technical issues.
Once or twice a year Bluehost would threaten to suspend my site because I had too many files but they never told me how to remedy the problem. I felt bullied and out of desparation I would delete my images becasue I had no idea what else to do.

I started my own websites without any training. If I can do it then so can you! I promise you it's easy!
The time will pass regardless, so live your life without regrets! Start a side hustle and invest in your future.
I will be adding more blog income reports
to the list below as bloggers publish them.
29 Blog Income Reports for December 2021
LivingTheDream – $9,872
ThymeandJoy – $7,081.91
WhiteHatBlogging – $711.00
ThriftsandTangles – $6,797.00
MyRoadtoWealthandFreedom – $3,875.00
CarlBroadBent – $11,000.00+
This Reddit case study is a report of three blogs – $15,000. One year ago he was making $300 a month.
Another Reddit case study of a gaming website which made £232.43 in December. This site is one year five months old.
This guy has three websites and made $10,000+ in December.
Here's an old site that's being rejuvinated and making $200-$300 per month.
MidWestFoodie – $72,229 – This is a Quarterly report for the 4th quarter.
OneHourProfessor – $18,720 This blogger has A WHOLE LOT going on.
WalletSquirrel – $582.16
ByLeahClaire – $2,600.00
FreedomInABudget – $5,090.20
MyRoadtoWealthandFreedom – $3,875.00
AriellePhoenix – $192.11 negative. This blogger is outsoursing some of the blog articles.
MintedEmpire – $931.00 This blogger has three websites and is running Ezoic ads and Amazon links. He made more in Amazon than he did with Ezoic.
BelowAverageBlogger – $1,833.05
LemonadeAndAdventure – $114.31
PassiveIncomeUnlocked – $49,382.00
SideHustleDirectory – £1,522.73
Smutlancer – $553.17
NickNolan – This guy has a bunch online of side hustles. He didn't give a total and I'm too lazy to add them all up. 😀
MyIncomeNook – $282.58
TheInnerWorkings – $1.32 Her website is only five months old. I think she's off to a great start.
This blogger below reports his earnings on video. He recently purchased a website and included the cost of this site in his P&L. -$774.79

2 – 4th Quarter 2021 Food Blog Income Report
10 Bloggers Income Report 2021 – Annual Income