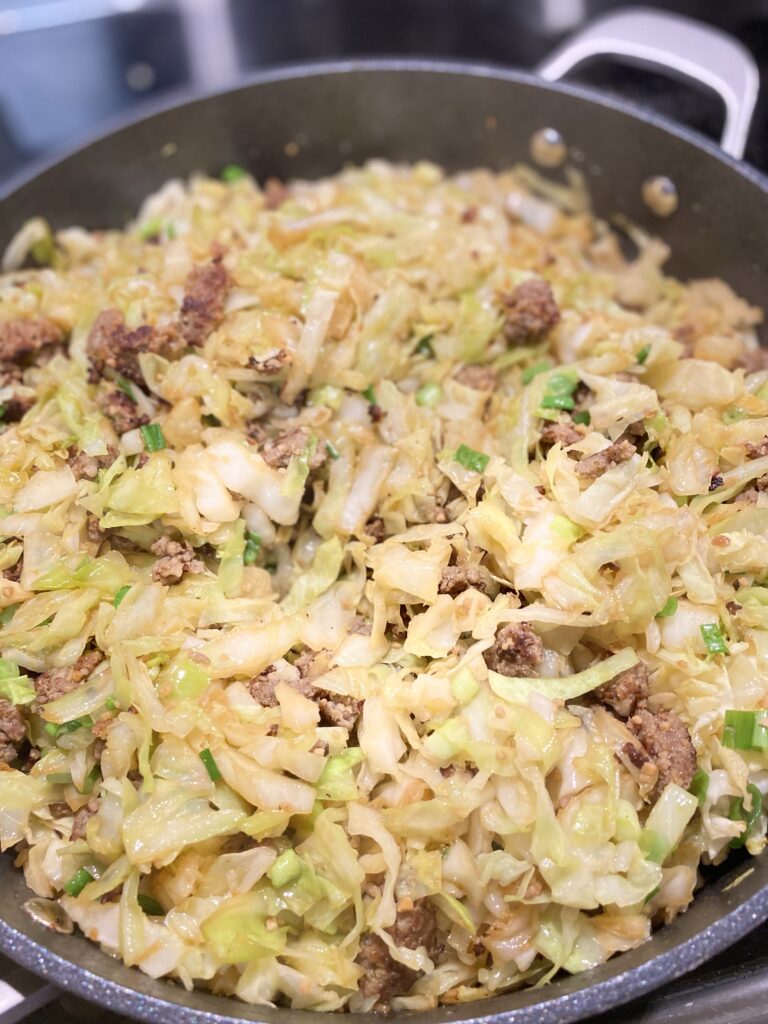 Here's a quick Asian-inspired recipe for Egg Roll In A Bowl Keto Style.

The recipe takes 15 minutes to make from start to finish.

If you add a fried egg or two on top it's a complete meal in a bowl.
Egg Roll in a Bowl Keto Dinner or Side Dish
I've been making this dish for a few years. It's great as a one-pot keto meal or as a side dish. It's better than a lot of take-out with a fraction of the carbs and cost!

One great thing about making your own Asian-inspired foods are YOU control the ingredients. You know exactly what is going into this egg roll in a bowl recipe so no carbs are snuck in.

The image below is of this cabbage and sausage recipe with two fried eggs with sriracha. Doesn't it look good?
Try This – 10 Minute Low Carb Pizza Tortilla Recipe
Cabbage and Sausage – Foods That Last a Long Time
Meal Planning – If you plan your meals a week at a time so that you only have to go shopping once per week, this is a great recipe to make towards the end of the week.

The two stars of this recipe, ground breakfast (Jimmy Dean) and cabbage both last a long time. If you pay attention to the date on the sausage when you purchase it, chubs of Jimmy Dean can last up to a month in the refrigerator. Cabbage can easily last a few weeks or longer in the refrigerator.
Roomba Robotic Vacuum Three Weeks Later Is It Worth It?
Here's What You Will Need:
Large cabbage head
Breakfast sauasge – I prefer Jimmy Dean
Minced garlic
Ground ginger
Soy sauce
Green onions
Sesame seed oil
Seasoned salt (optional)
Egg Roll In A Bowl Keto Style Substitutions
If I don't have fresh green onions, I'll use dehydrated green onions (I always keep these on hand).

Here's a list of easy substations:
| | |
| --- | --- |
| Original Ingredient | Substitution |
| Sausage | Seasoned Ground beef |
| Head of Cabbage | Coleslaw Mix |
| Soy sauce | Coconut Aminos |
| Green Onions | 1/2 Onion – thinly sliced |
| Fresh Garlic | Powdered Garlic |
| Powdered Ginger | Fresh Ginger |
Keto Egg Roll in a Bowl Substitutes
What to Serve With Keto Egg Roll in a Bowl
Top with a Fried Egg
Low Carb Balsamic Chicken with Garlic (recipe coming soon)
Baked Chicken
BBQ'd Meats – This seems strange but I've served this egg roll bowl with BBQ'd meats and they went together wonderfully!
How to Make Egg Roll In a Bowl Keto Style
Brown sausage in a large skillet. While sausage browns, core, and chop cabbage.
I chopped half of a head at a time because that's what fit on my cutting board.
Add minced garlic, soy sauce, and ground ginger to browned sausage. Stir and cook for two minutes.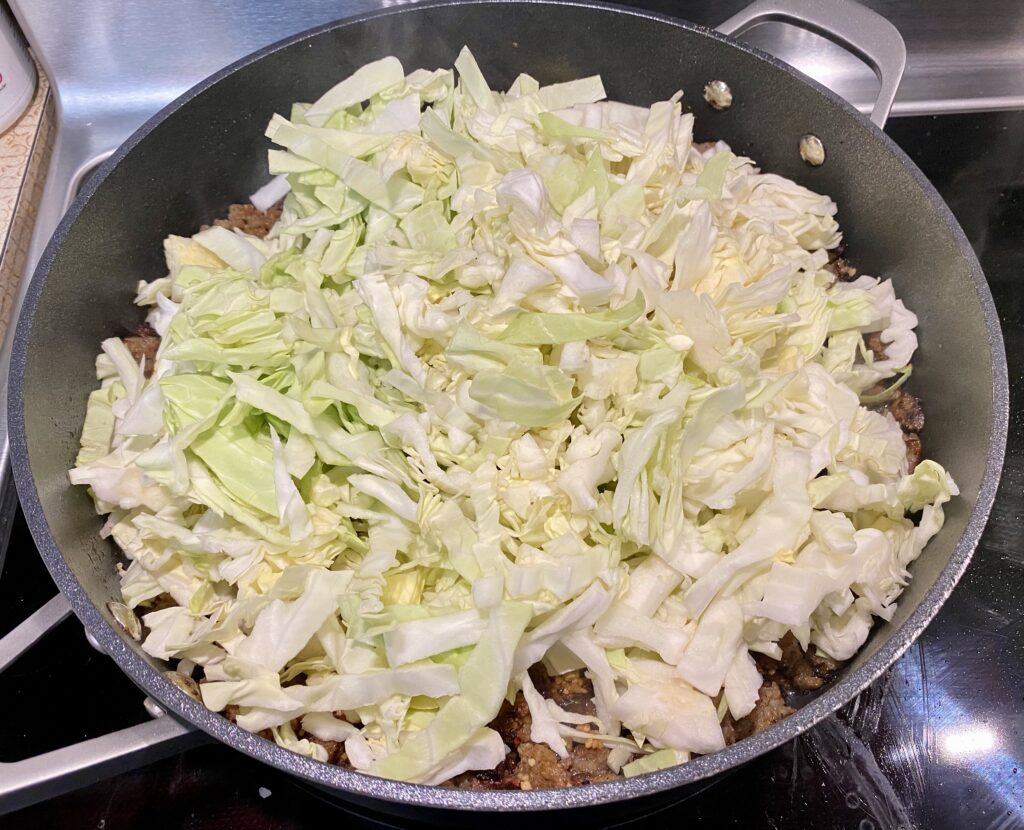 Add half the cabbage.
Let it cook down a bit and then add the other half of the cabbage. Cook 4 minutes or until the cabbage is tender-crisp.

You do not want the cabbage to cook all the way and become wilted.
Add green onion and 1 teaspoon sesame seed oil. Cook one minute.

Taste for seasoning. I always add a little seasoned salt and sometimes another splash of soy sauce.

OPTIONAL: Top with a fried egg. I absolutely love adding a fried egg and some siracha to this Delicious Egg Roll In A Bowl Keto Style Crack Slaw. I stay full for the longest time.
My husband ate this keto egg roll bowl with two fried eggs and two pieces of fried linguica.
I ate my egg roll with a fried egg. Yum!
More Great Low Carb Recipes
How to Make Egg Roll In A Bowl Keto Style Crack Slaw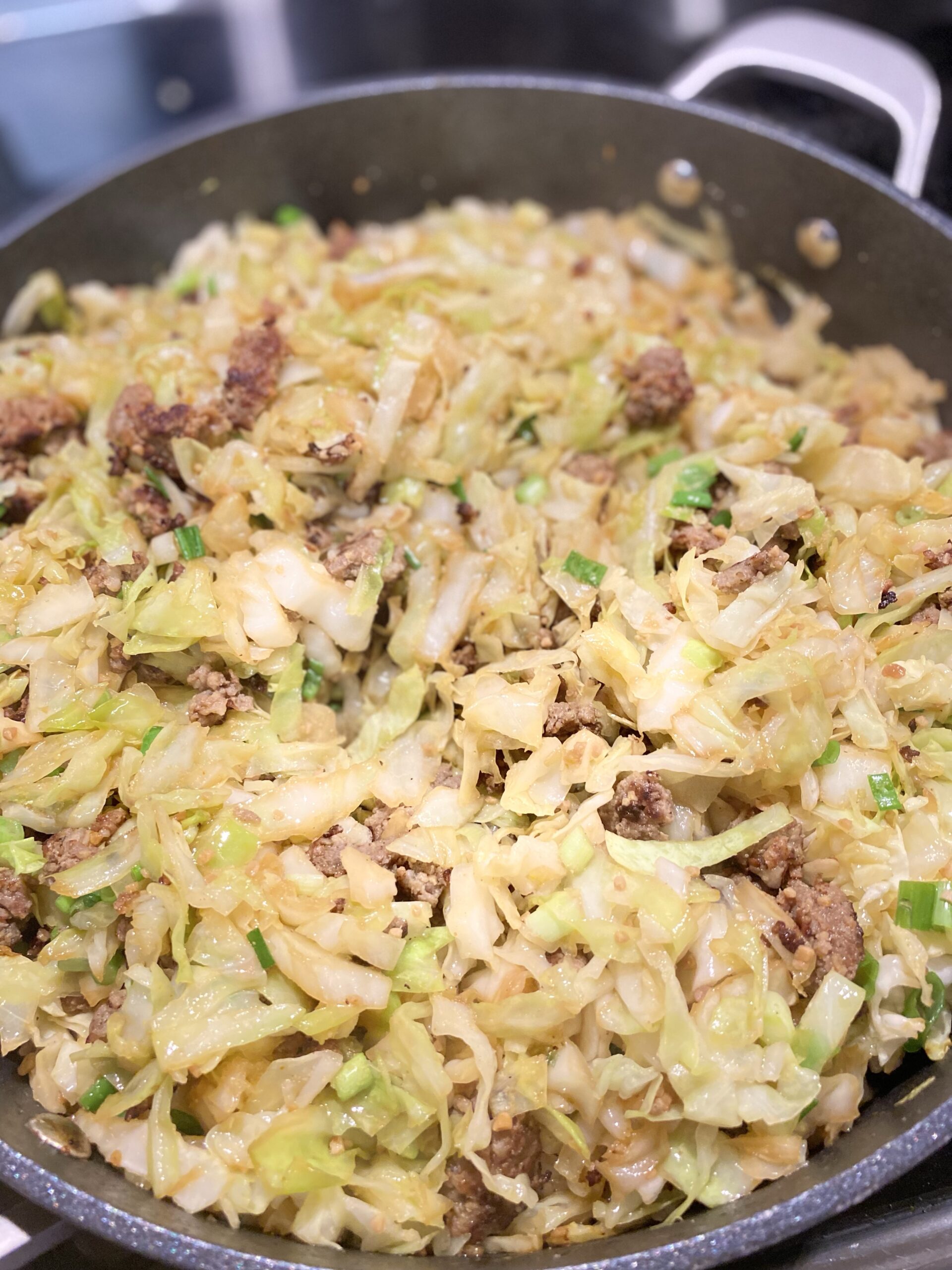 Delicious Egg Roll In A Bowl Keto Style Crack Slaw
Delicious Egg Roll in a Bowl Keto Style - Crack Slaw Recipe
This is a quick one pot dinner for busy work nights. The leftovers are wonderful for work lunches.
Ingredients
1 pound pork sausage
1 large cabbage - shredded
1 tablespoon garlic - minced
1/2 teaspoon ground ginger
2 tablespoons soy sauce
1 bunch green onions - sliced
1 teaspoon sesame oil
Seasoned salt
Instructions
In a large skillet, cook crumbled sausage over medium high heat until browned.
While sausage cooks slice cabbage.
When sausage is browned add garlic, ginger and soy sauce. Cook a minute or until the garlic is fragrant.
Add in half the cabbage. Cook a few minutes and then add other half of cabbage. Cook 4 minutes or until the cabbage is tender crisp. You do NOT want the cabbage to over cook.
Add green onion and drizzle the sesame oil over the crack slaw.
Taste for seasoning. Add additional soy sauce, seasoned salt, and garlic powder if needed.
Serve as is or top with a fried egg, and or sriracha.
What to serve with crack slaw?
– Top crack slaw with a fried egg.
– Serve crack slaw with an Asian radish salad
– Asian flavored chicken wings
– The best Rice Cooker Chinese Fried Rice
More Great Recipes To Try