This Quick Keto Thai Wonton Soup tastes like the broth took all day to make, but the soup is ready to eat in about 15 minutes! It's the perfect quick dinner for busy nights.
The recipe is a naked wonton soup with all the exquisite tastes of traditional wonton soup but without carbs and wonton wrappers.
15 Minute Naked Thai Wonton Soup Recipe - All the deliciousness of wonton soup with none of the guilt!
Click To Tweet
This Thai Wonton Soup recipe is NOT authentic, but I promise it tastes amazing! The soup will satisfy your craving for delicious Thai Wonton Soup. Another plus is that the soup is inexpensive and tastes better than some restaurants.
Keto Thai Wonton Soup Is For Everyone
No matter what diet you follow, this quick, easy soup recipe is sure to please! It's low in carbs and calories. It's especially low in calories if you only eat the broth and vegetables, skipping the wonton sausage balls.
The soup warms up wonderfully the following day as the flavors get deeper.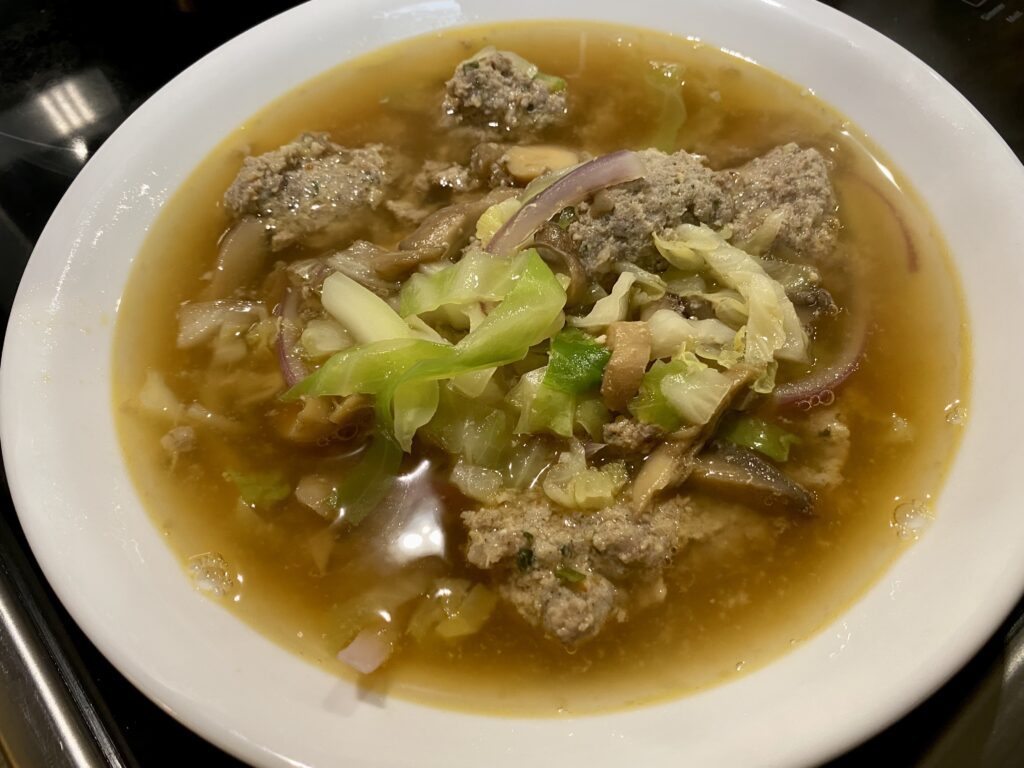 Equipment needed to make this Quick Keto Thai Wonton Soup
Thai Wonton Soup Ingredients
Wonton Soup Broth
Wonton Soup Meatballs
Wonton Soup Add-Ins
How to Make Quick Thai Wonton Soup
In a large soup pot, combine all the wonton soup broth ingredients. Bring to a boil.
While broth is coming to a boil, put all meatball ingredients into a medium-sized mixing bowl.
With a clean hand, combine all the sausage wonton soup meatball ingredients.
When Thai Wonton Soup broth is up to a boil, drop teaspoonfuls of the sausage mixture into the boiling broth.
I use two spoons—one to scoop the mixture and another spoon to push the mixture off the first spoon.
It is going to seem like A LOT of meatballs. Just keep repeating the process until all meatballs are in the broth. Do NOT stir for 3-4 minutes, or the wonton meatballs may fall apart.
Cook the meatballs in the boiling broth for six or seven minutes. If you made your meatballs on the larger side, you might need to add additional cooking time.
While the meatballs cook, prepare the add-ins. I thinly sliced some leftover red onion and sliced 1/4 a head of cabbage.
I used canned mushrooms. I usually use freshly sliced mushrooms, but I'm a HUGE fan of using what I have and not making extra trips to the grocery store, so drained canned mushrooms are what I used.
Add in the veggies after meatballs have boiled in the Thai Wonton Soup broth for at least six minutes.
Continue to boil and cook vegetables until they are tender-crisp 2-4 minutes.
Taste broth for seasoning. I usually have to add a little more soy sauce.
Quick Keto Thai Wonton Soup Recipe
Quick Keto Thai Wonton Soup
Yield: 6

Prep Time: 5 minutes

Cook Time: 10 minutes

Total Time: 15 minutes

Quick and easy keto Thai wonton soup recipe. This tastes like it took you all day to make it but it only takes about 15 minutes.
Ingredients
WONTON BROTH:
8 cups water
2 tablespoons better than bullion chicken
3 tablespoons coconut Aminos (or soy sauce)
2 tablespoons sesame oil
SAUSAGE WONTON MEATBALLS:
1 pound sausage
1/4 cup green onions - minced (I used 2 tablespoons dehydrated)
2 teaspoons soy sauce
1/2 teaspoon ground ginger
1/2 teaspoon black pepper
1 tablespoon garlic - minced
1 large egg
WONTON SOUP VEGETABLES:
1 cup fresh mushroom slices
1/4 large cabbage - sliced thin
1/4 cup green onions - minced (I used 2 tablespoons dehydrated)
Instructions
Combine broth ingredients in a large soup pot. Bring to a boil.
Mix wonton sausage meatball ingredients in a large mixing bowl. Combine the ingredients using your clean hand.
When the broth comes to a boil, put spoonfuls of the sausage mixture into the broth, using two teaspoons.
Boil wonton sausage balls for six minutes. You may have to cook longer if your balls are larger than one teaspoon.
Cook 3-4 minutes before stirring the pot. This will prevent the balls from falling apart.
While wonton sausage balls cook, prepare the vegetables.
After meatballs have been cooked for six minutes add the vegetables to the pot and cook for 2-4 minutes.
Taste for seasoning.
Here's an exciting history of Wonton soup.
**** This post for Quick Keto Thai Wonton Soup contains Amazon affiliate links. If you purchase using one of my links, I may receive a small commission at no additional cost to you. Thank you for supporting this website!
More Great Asian Inspired Recipes