If you love big McDonalds Big Macs but are trying to stick to a low-carb lifestyle, this Keto Big Mac Salad recipe is going to become a new favorite soon. This low-carb salad has all the flavors of a Big Mac without the carbs. This meal is perfect even if you aren't low carb!
This meal is a nice quick lunch or an easy work night dinner. You can have this on the table in about 30 minutes.
This recipe may seem a little strange but trust me; you need to try it; I think you will love it.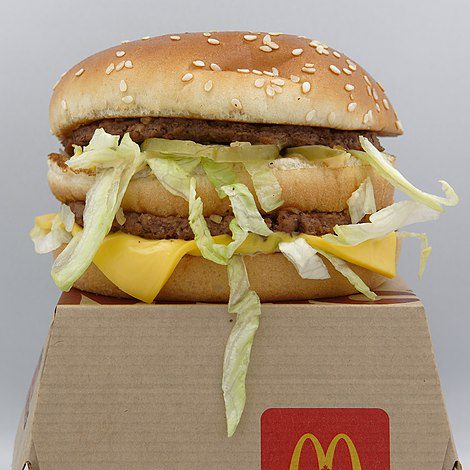 I've been making this recipe for my husband for a few years. He's always been a massive fan of Thousand Island Dressing. I'm personally not a fan of mayonnaise, but my husband LOVES the stuff.
I have to admit the hamburger component of this big mac recipe smells divine while cooking. My husband loves this salad so much he asks me to make it at least once a month and sometimes twice a week.
What You'll Need to Make this Big Mac Salad in a Bowl or Plate
Skillet
Cutting board
Wisk
Small mixing bowl
Keto Big Mac Salad Ingredients
Here's what you'll need to make this tasty Keto Big Mac Salad recipe. It's broken down into three parts: the cheeseburger, salad, and dressing.
Ingredients for Beef in Keto Cheeseburger Salad
Ground beef
Salt & black pepper
Onion powder
Ingredients for Salad
Iceberg lettuce head
Shredded cheddar cheese
Dill pickles
Red or sweet onion
Ingredients for Keto Big Mac Salad Dressing
Mayonnaise
Minced dill pickle
Yellow mustard
Apple Cider Vinegar
Onion powder
Paprika
How to Make a Low-Carb Big Mac Salad
The first step is to make the salad dressing. You want to do this first so that the flavors blend.
How to Make Keto Big Mac Salad Dressing
Combine all the salad dressing ingredients in a large measuring cup or small bowl.
Wisk until the ingredients are smooth. You don't want lumping dressing.
The dressing should look something like this. Set the sauce aside and let flavors blend.
Cook Ground Beef for Cheeseburger Salad
In a skillet, brown ground beef on medium-high temp. Cook until you get little brown bits.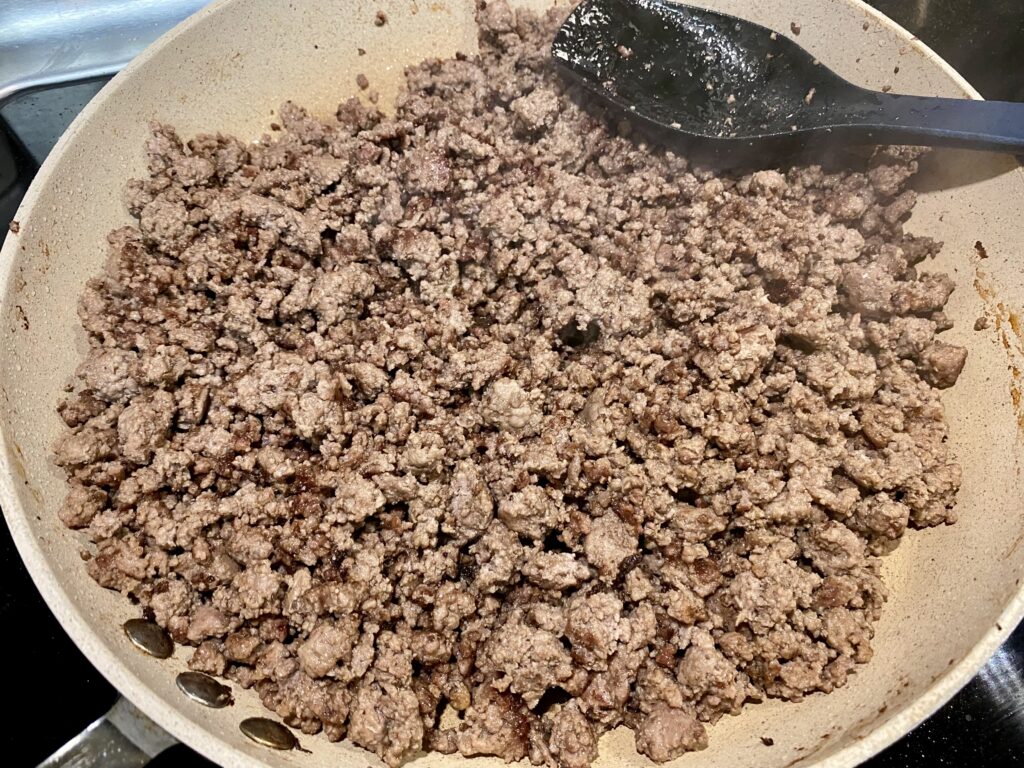 Add the seasonings.
Stir seasonings into ground beef, turn the heat down to medium, and continue cooking.
While ground beef cooks, chop the salad toppers – pickles and red or sweet onion.
Chop up the lettuce.
Assembling Keto Big Mac Salad
On a plate or in a bowl, layer ingredients as follows:
Lettuce (Cabbage is also good)
Seasoned Beef
Shredded Cheese (I used taco cheese because it's what I had)
Big Mac Dressing
Diced Dill Pickles
Diced Onion
Your salad will look something like below. Of course, you may customize the salad, so it's perfect for your tastes. As you can see below, my husband likes extra meat and Big Mac dressing.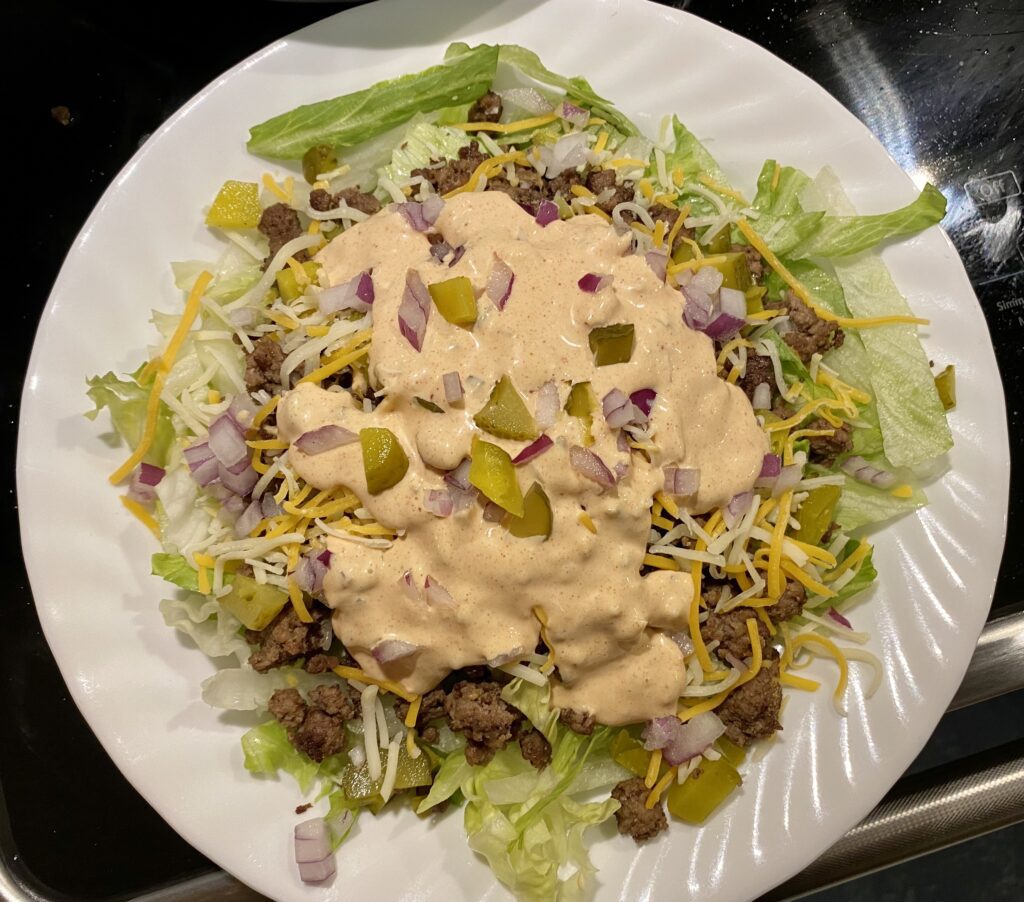 Keto Big Mac Salad Recipe
This recipe is a Keto Big Mac Salad on a plate or bowl. If you love Big Macs, you'll love this recipe!
Ingredients
Keto Big Mac Salad Dressing
1

cup

mayonnaise

4

tbsp

ketchup

sugar free

1

ea

dill pickle

minced

1

tbsp

prepared yellow mustard

1

tbsp

apple cider vinegar

1

tea

paprika powder

1

tea

onion powder
Hamburger Meat
2

pounds

ground beef

2

tea

salt

1

tea

black pepper

1

tea

onion powder

1

tea

garlic powder
Salad Ingredients
1

head

Iceberg lettuce

cut into bite-sized pieces

1

cup

shredded cheese

1/2

cup

dill pickles

chopped

1/2

cup

sweet or red onion

diced
Instructions
Combine all Keto Big Mac Salad Dressing ingredients. Wisk to combine until smooth. Set aside.

In a skillet over medium-high heat, cook ground beef. When beef is browned, add spice ingredients. Turn heat down to medium and continue cooking. Stir often.

Prepare other salad ingredients.

Chop pickles and onions. Cut Iceberg lettuce Into bite-sized pieces. Shred cheese (or use pre-shredded).

Assemble Keto Big Mac Salads by layering on a plate or bowl: Lettuce, seasoned ground beef, cheese, Big Mac dressing, pickles, and onions.
History of the Big Mac
Big Mac burgers were first created in Pittsburgh in the late 1960s. The burgers didn't start with the Big Mac name.
The original name for the burger was "The Aristocrat," but people had a hard time pronouncing the name. It was quickly changed to the "Blue Ribbon Burger," but the burger didn't catch on until the name was changed to the iconic Big Mac.
The original burger was full of preservatives which were recently removed in 2018. You can read more about the history of the Big Mac here.
This Man is Made of Big Macs and Proud of It – He's Dedicated!
More Great Keto Recipes
Check out these great recipes