Here is a healthy shredded cabbage salad recipe without mayonnaise. This quick coleslaw is low in fat and the perfect filler when hungry, but you don't want to blow your eating plan. So instead, the recipe calls for a light coleslaw dressing containing apple cider vinegar that gives the slaw the perfect zing.
This tasty coleslaw recipe is the perfect addition for BBQs, picnics, and of course, work lunches! You won't feel guilty eating a big bowl of this fresh cabbage salad!
I could eat this coleslaw every day! It is that good!
Here's What You'll Need to Make This Mayo Free Coleslaw
You won't need anything special to make this recipe, just standard kitchen items.
Cutting board
Chefs knife
Big bowl
Tongs
Ziplock bags for storage (I like to take this low-calorie coleslaw to work in a ziplock bag)
Shredded Cabbage Salad Ingredients
Cabbage head
Apple cider vinegar
Oil (avocado or your favorite)
Sugar substitute
Dijon mustard (I love Trader Joe's brand)
Salt
Black pepper
Salt
How to Make Healthy Coleslaw
Combine the low-calorie coleslaw dressing ingredients in a small bowl or glass jar. Stir to blend and set aside.
Chop one whole cabbage and half a red onion. If the entire cabbage doesn't fit, add what you can to the bowl. The cabbage will reduce after the dressing is added, and there will be room to add more cabbage to the bowl.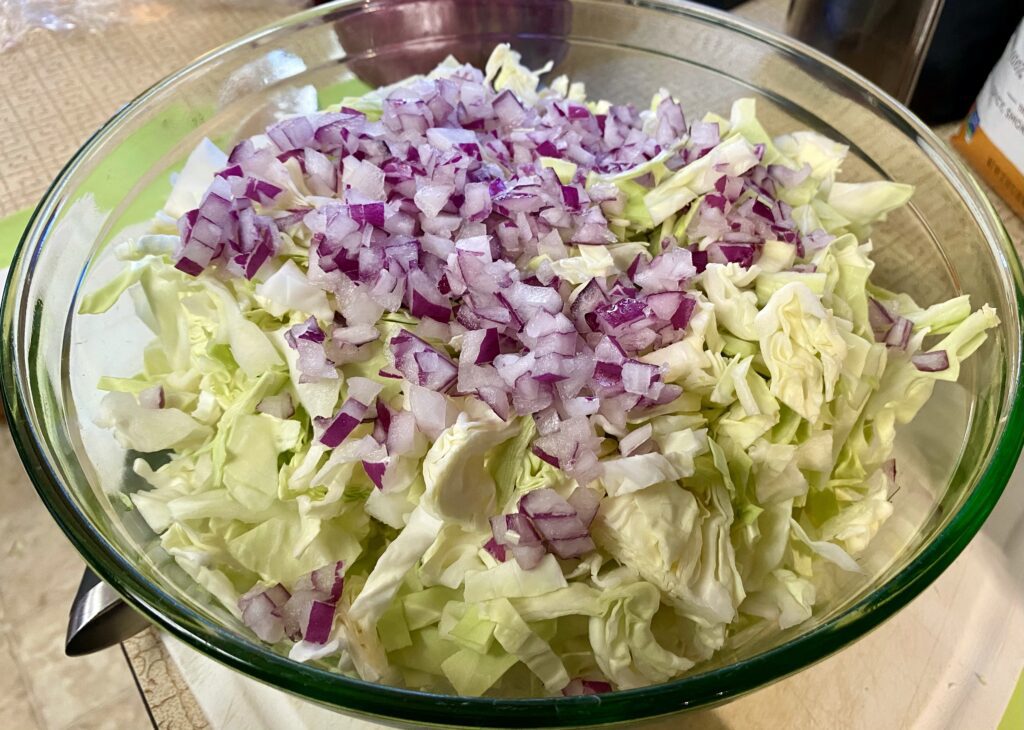 Add dressing to the cabbage bowl.
With tongs, toss the shredded cabbage salad to combine.
Let the cabbage salad sit for at least 15 minutes for the flavors to combine and for the cabbage to release its juices.
*** This recipe is inspired by Everyday Coleslaw from recipetineats.com, which you will find here.
Eating this shredded cabbage salad won't make your pants tight!
Click To Tweet
Shredded Cabbage Salad Recipe
Additional Time:
15 minutes
Here is a healthy shredded cabbage salad recipe without mayonnaise. This quick coleslaw is low in fat, and the perfect filler when you are hungry but don't want to blow your eating plan.
Ingredients
1 ea cabbage, shredded
1/2 ea red onion, chopped
Light Coleslaw Dressing No Mayo
¼ cup cider vinegar
2 tbsp oil, I use avocado oil
½ tea sugar substitute, I use Swerve
1 tea dijon mustard, I recommend Trader Joes
½ tea salt
½ tea garlic powder
½ tea black pepper
Instructions
Mix coleslaw dressing ingredients in a jar or small bowl.
Chop cabbage and onion. Please in a large bowl.
Pour dressing over and toss to combine.
Let the cabbage salad sit out for 15 minutes before eating.
Nutrition Information
Yield

6 servings
Serving Size

1 serving
Amount Per Serving
Calories

80
Total Fat

7g
Saturated Fat

1g
Trans Fat

0g
Unsaturated Fat

6g
Cholesterol

0mg
Sodium

123mg
Carbohydrates

4g
Net Carbohydrates

3g
Fiber

1g
Sugar

2g
Protein

1g
What to Eat with Coleslaw
Coleslaw also goes wonderfully with:
Fried chicken
Hamburgers
Sandwiches
Fish sticks
Smoked meats
BBQ'd everything
I ate this shredded cabbage salad with a bunless keto-friendly chili dog.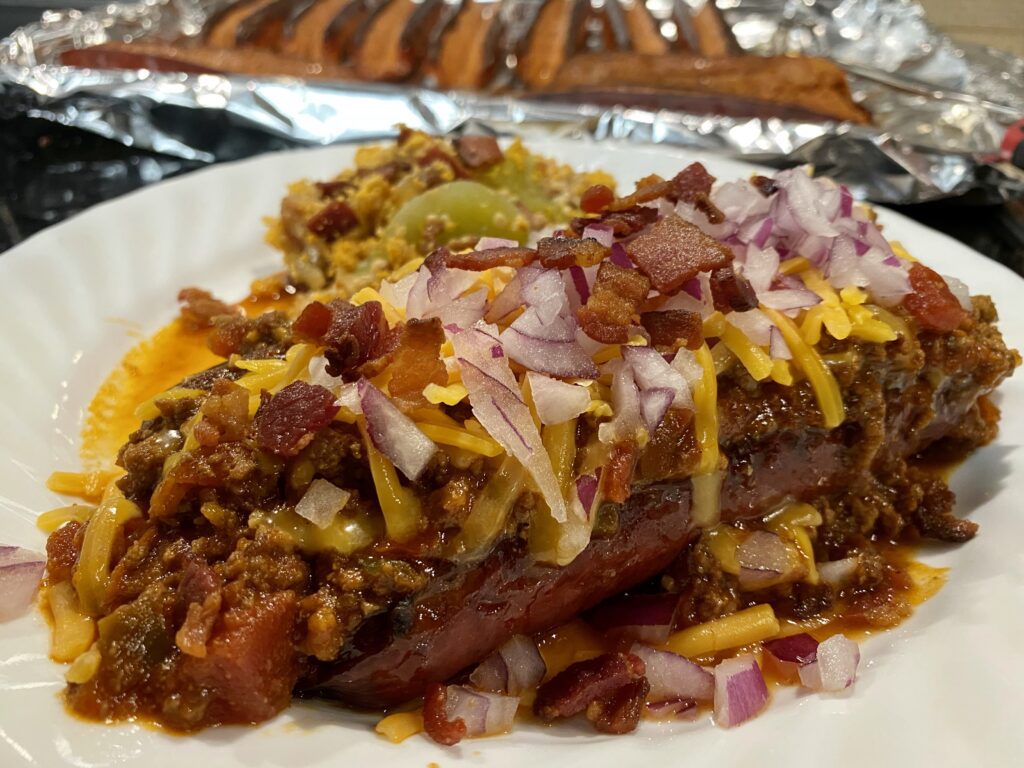 More Great Cabbage Recipes
Can I Use Cabbage Instead of Lettuce in Salad?
Yes! I love using cabbage in salads.
Cabbage is chewier, so you feel like you are eating more than you are.
Cabbage keeps longer in the refrigerator. So whenever I go shopping, I always buy at least two heads of cabbage for the week. I don't have a plan for the cabbage when I'm buying it, but cabbage is so versatile that I always find a way to use it.
Cabbage has more vitamins and minerals than lettuce.
Cabbage holds up better in premade salads than lettuce.
Health Benefits of Eating Cabbage
Is Coleslaw Good For You?
Not all coleslaw is good for you. This healthy coleslaw recipe is low in carbs and calories. You can eat high volumes of this coleslaw recipe.
How to Chop Cabbage Like a Pro