Here's a Gourmet Italian Cauliflower Salad recipe. This salad is so delicious, fresh, and fancy. It's definitely better than some deli versions of the recipe. This cauliflower salad recipe is perfect for picnics, potlucks, BBQs, and work lunch side dishes.
This is a NO mayo recipe so it's perfect for mayo haters (we all know some, myself included).
Italian Cauliflower Salad Recipe Ingredients
This salad is great for using whatever you have on hand. If you don't have olives, no worries, leave them out. Or if you don't have artichoke hearts the recipe will still turn out amazing.
Here's what you'll need (pick and choose based on your tastes or what you have on hand):
A whole head of cauliflower
Can of olives
Fresh (or canned) mushrooms
Red onion
Marinated artichoke hearts
Salami slices
Fresh tomatoes (optional)
The best homemade Italian Salad Dressing
How to Make Italian Cauliflower Salad Recipe
I like to partially cook the head of cauliflower. If you like raw cauliflower, then use raw, but if you're like me and you prefer your cauliflower semi-cooked then either steam the head or do semi cook it the lazy way as I do.
How to Partially Cooking Cauliflower
Remove all stems from cauliflower. Cut a little of the core out so the cauliflower cooks more evenly.
Flip cauliflower upside down and run it under the faucet. Wrap cauliflower in plastic wrap. I wrap it twice so it's nice and sealed. Wrap it in one direction and then turn it halfway and wrap it in the other direction so all sides are sealed. Microwave for four minutes or so. The cauliflower will steam.
The goal is to partially cook the cauliflower, you still want some of that delicious crunch.
Preparing Other Italian Cauliflower Salad Ingredients
Slice the olives and place them in a large bowl. I'm using a clear bowl so it looks like the olives are laying on the counter by they are not. Lol
Next, chop the onions and add them to the bowl.
When the cauliflower is done partially cooking, let it sit for a few minutes and then drain it on a paper towel. Be careful unwrapping the plastic because the cauliflower will be extremely hot.
Add sliced mushrooms, salami cut into small pieces, and tomato (I forgot to take a picture of this step).
When the cauliflower is cool enough to handle, chop it into bite-sized pieces and add to the salad bowl.
Add marinated artichoke hearts.
Below is what the salad should look like at this point.
Now it's time to make THE BEST ITALIAN SALAD DRESSING. This Italian salad dressing is seriously so easy to make and tastes better than anything your can buy. My husband always tells me that if we could bottle this salad dressing and sell it in stores it would be our ticket "outta here".
Pour the dressing over the chopped Italian Cauliflower Salad. Toss to combine. I always use the whole recipe of dressing but you may use as much or as little as you prefer.


Next, season salad for taste. I often have to add a little salt, black pepper, and garlic powder.
Italian Cauliflower Salad Optional Addins That'll Take This Recipe to the Next Level
Green onions
Fresh parsley
Cubed sharp cheddar, provolone, or mozzarella cheese
Diced bell pepper
Marinated bell pepper
Boiled al dente pasta
Italian Cauliflower Salad
Gourmet Italian Cauliflower Salad recipe perfect for picnics, bbq's and potlucks.
Ingredients
1

head

Cauliflower

1

can

Black olives

drained and sliced

1/2

ea

Red onion

minced

1

cup

Fresh Mushrooms

sliced

1

cup

Marinated artichoke hearts

cut Into bite sized pieces

8

slices

Salami

cut Into bite sized pieces

3

ea

Tomatoes

cut Into bite sized pieces

1

ea

Recipe of The Best Italian Salad Dressing
Instructions
Remove leaves from whole cauliflower. Remove some of the Inner core. Turn cauliflower upside down and run under faucet. Wrap cauliflower twice (sealing It) In plastic wrap and microwave four minutes.

Prepare remaining Italian Cauliflower Salad Ingredients.

Cut marinated artichokes Into bite-sized pieces.

Cut salami and tomatoes into small pieces.

Drain partially cooked cauliflower on paper towels. Be careful, the cauilflower will be extremely hot.

Cut cauliflower Into bite sized pieces.

Prepare Italian Salad Dressing, or use your favorite store bought brand.

Toss all Ingredients. Taste for salt, black pepper, and garlic powder.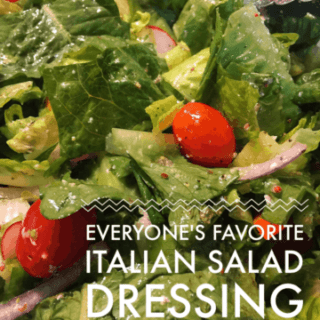 Everyone's Favorite Italian Salad Dressing
Quick and easy Italian Salad Dressing recipe.
Ingredients
3/4

cup

canola oil

1/3

cup

red wine vinegar or apple cider vinegar

1/2

teaspoon

sugar

3/4

teaspoon

dried oregano

3/4

teaspoon

dried basil

1

teaspoon

salt

1/2

tablespoon

garlic powder

1/2

tablespoon

onion powder

1 1/2

teaspoons

dijon mustard

1/2

cup

Parmesan cheese

1/2

teaspoon

black pepper
Instructions
Combine all ingredients into a glass jar. Stir or shake to combine. You can cover the Italian Salad Dressing and let this sit on the counter a few hours or serve it right away. Before serving shake or stir the dressing.
What is your favorite cauliflower recipe? Drop a link in the comments.
More Great Recipes
Growing Cauliflower at Home
Here are some facts about growing cauliflower at home.