Once upon a time, I used to buy bottles of Italian salad dressing, and then I realized I could make my own salad dressing, for a fraction of the cost. That was years ago, and I've never looked back. Making your own salad dressing is so easy if you have never tried it, why not give it a go? My refrigerator doors are no longer full of half bottles of salad dressing, which is big bonus.
This Italian salad dressing recipe is so easy to make, and you probably already have all the ingredients on hand. Oil, red wine vinegar, dried spices, a little dijon mustard, and Parmesan cheese, and you'll have a salad dressing that tastes better than store bought, and without any preservatives.
Here's a little snapshot of how much money is spent on commercial salad dressings. The money spent on salad dressing seems a little shocking, but when you factor in that some bottles costs almost $5.00 each, it's not so surprising.


Find more statistics at Statista
I make this homemade Italian salad dressing in a quart mason jar, but if you want to get fancy, this is something I've had my eye on for quite awhile. It is the Good Grips Salad Dressing Shaker.
This recipe calls for dijon mustard. I highly recommend Trader Joe's Whole Grain Dijon mustard. It's nice and grainy and makes a very tasty salad dressing.
I tossed this dressing with a chopped salad and served it with Portuguese Spaghetti.
Serve This Homemade Italian Salad Dressing with:
Update: I've been making this recipe for years, and last week I tried something new, I substituted the red wine vinegar for balsamic vinegar and the dressing turned out fantastic!!! I'm not sure if I don't like it better? Here's what the balsamic vinegar salad dressing looks like tossed in a green salad, it's so darn good!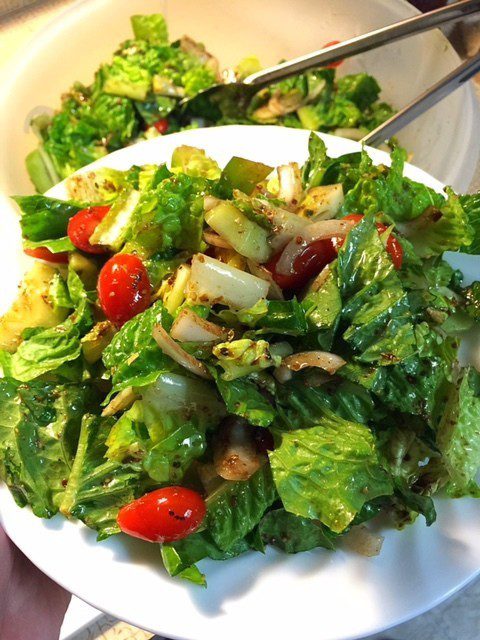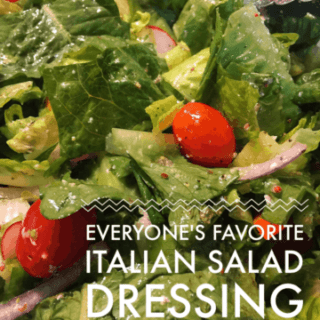 Everyone's Favorite Italian Salad Dressing
Quick and easy Italian Salad Dressing recipe.
Ingredients
3/4 cup canola oil
1/3 cup red wine vinegar or apple cider vinegar
1/2 teaspoon sugar
3/4 teaspoon dried oregano
3/4 teaspoon dried basil
1 teaspoon salt
1/2 tablespoon garlic powder
1/2 tablespoon onion powder
1 1/2 teaspoons dijon mustard
1/2 cup Parmesan cheese
1/2 teaspoon black pepper
Instructions
Combine all ingredients into a glass jar. Stir or shake to combine. You can cover the Italian Salad Dressing and let this sit on the counter a few hours or serve it right away. Before serving shake or stir the dressing.
Nutrition Information
Yield

6 servings
Serving Size

1 serving
Amount Per Serving
Calories

287
Total Fat

30g
Saturated Fat

3g
Trans Fat

0g
Unsaturated Fat

26g
Cholesterol

7mg
Sodium

539mg
Carbohydrates

3g
Net Carbohydrates

3g
Fiber

0g
Sugar

0g
Protein

3g
Nutritional data is NOT always accurate. This data was provided and calculated by Nutritionix on 11/12/2021
Disclosure: This post contains Amazon affiliate links.