These keto vegan garlic mushrooms in balsamic are so good! They are full of delicious garlicky goodness and a nice change from typical sauteed mushrooms.

Saute these mushrooms in soy sauce, butter, garlic, and balsamic. In less than 15 minutes, you will have a fantastic keto garlic mushroom side dish!

You could also serve these as an appetizer if you cooked small mushrooms and kept them whole. Place cooked garlic mushrooms on a serving platter with toothpicks in each mushroom.
Keto Vegan Garlic Mushrooms with Balsamic Ingredients
Fresh mushrooms
Balsamic vinegar (I used prepared balsamic vinegar for this recipe but you can make a zero carb balsamic vinegar – keep scrolling for the recipe)
Soy sauce
Avocado oil (or your favorite oil)
Butter
Minced garlic
Brown sugar substitute
Dried thyme
Is Balsamic Vinegar Keto?
Yes!

Not all balsamic vinegar brands are the same. Check labels for net carb content.

Most balsamic bottles of vinegar are two net carbs per tablespoon. However, some brands are higher, with six net carbs per tablespoon.

One of the best low-carb brands of Balsamic Vinegar is Papa Vince's Moscato Balsamic Vinegar. It has three net carbs per tablespoon. There are no add sugars, pesticides, or sulfates.
How to Make a Zero Carb Keto Balsamic Vinegar Substitute
Here's what you'll need to make Zero Carb Keto Balsamic Vinegar
1 cup red wine vinegar or apple cider vinegar
1/3 cup brown sugar substitute
In a small saucepan, combine red wine vinegar and brown sugar substitute.

Cook mixture over medium heat, stirring constantly. Bring to a low boil. Cook until the brown sugar substitute has dissolved. It will take a few minutes.

Store in the refrigerator in a sealed container.
More Related Keto Mushroom Recipes
What To Serve With Keto Vegan Garlic Mushrooms in Balsamic
Steak
Baked Chicken
Dinner sausage links
Pork Chops
How to Make These Delicious Garlicky Mushrooms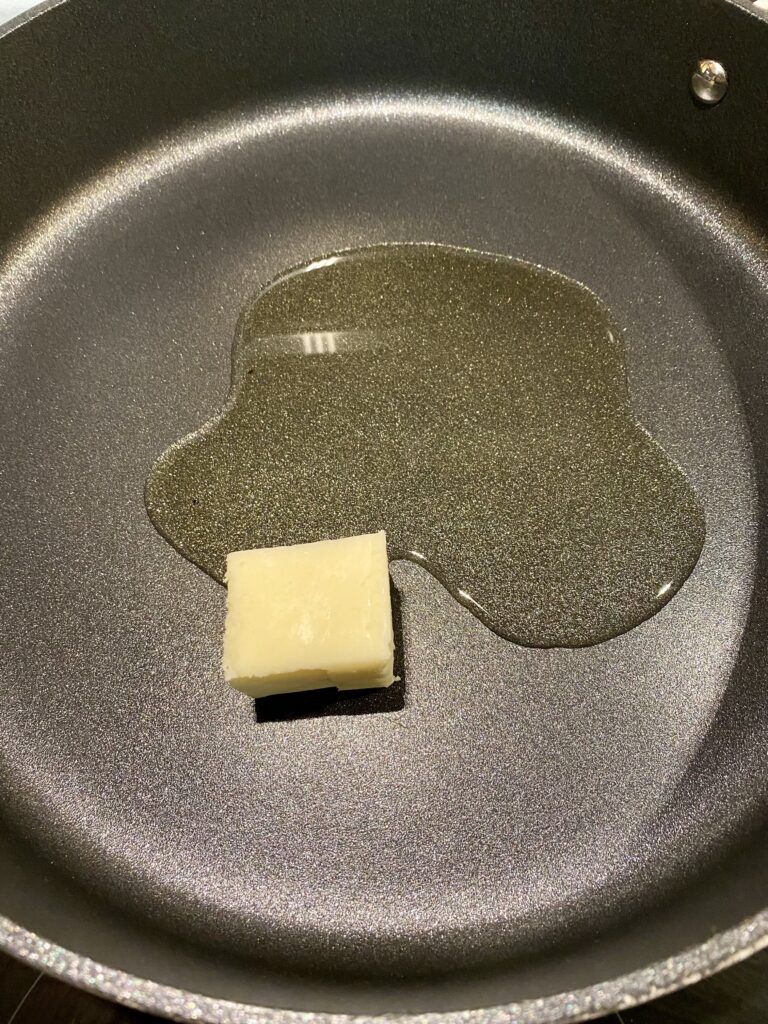 Combine butter and oil in a large skillet over medium heat.

While butter melts, prepare the mushrooms. Wipe off dirt and slice large mushrooms in half.
Combine the remaining ingredients for the balsamic vinegar keto garlic sauce in a small bowl. Whisk to combine.
I served these low-carb garlic mushrooms with these beautiful flank steak, cheese, bacon, spinach steak rolls.

We cooked these steaks in a hot cast iron in the skillet. I first heard of this method for cooking steak watching the Martha Stewart show.

If you have never cooked a steak in a cast-iron skillet under the broiler, you are missing out!

We put the skillet under the broiler for 15 minutes. Then, added the steaks to the skillet and cooked them for 3 1/2 minutes per side. The results are excellent!

This steak cooking method works for regular steaks too.

Brush both sides of the steaks with avocado or canola oil and then heavily season with salt and pepper.

Depending on the thickness of the steak, cook for 3 minutes per side.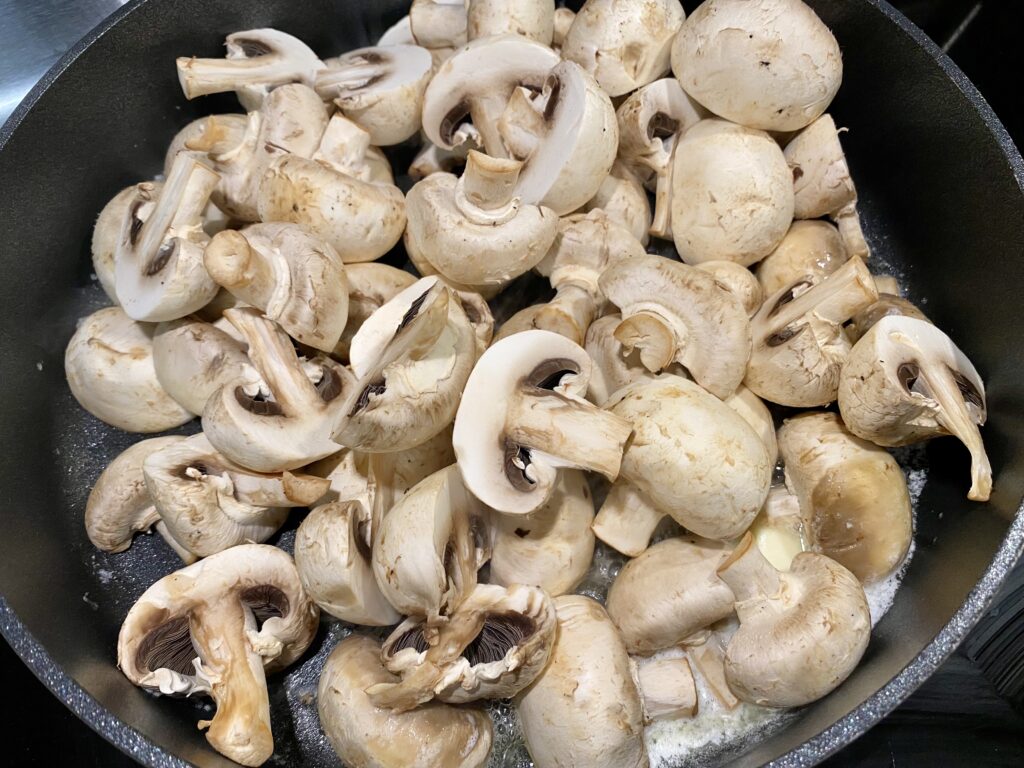 Add sliced mushrooms to the melted butter.

Saute on medium-high for 2-3 minutes without stirring. The goal is to brown the mushrooms.

After 2-3 minutes, stir the mushrooms. Cook another 2-3 minutes without stirring.

Repeat two more times.
Mushrooms should be nice and browned like the image above.

Add balsamic garlic vinegar mixture to mushrooms.

Cook another two minutes.

Serve hot.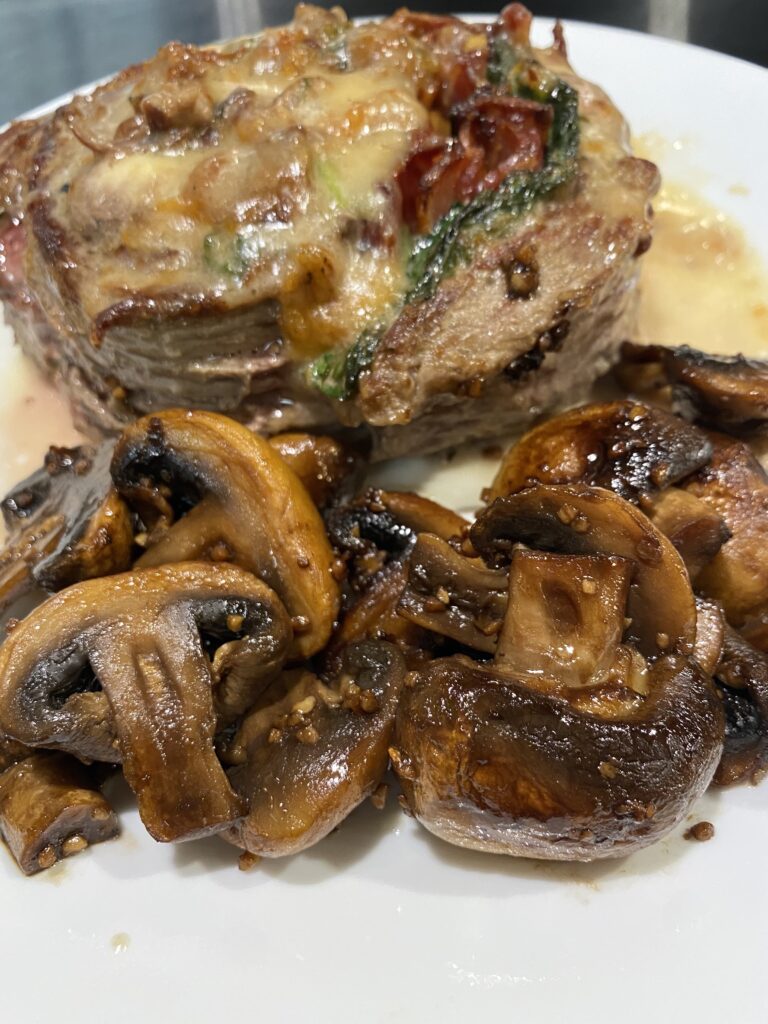 Keto Vegan Garlic Mushrooms with Balsamic Recipe
Keto Vegan Garlic Mushrooms with Balsamic
Ingredients
2 pounds mushrooms
2 tablespoons avocado oil
3 tablespoons butter
1 tablespoon minced garlic
6 tablespoons balsamic vinegar
2 tablespoons soy sauce
1 tablespoon brown sugar substitute
1/2 teaspoon thyme
Instructions
Cut large mushrooms in half.
Make the sauce by combing all ingredients, stirring to combine.
In large skillet over medium-high heat melt butter, add avocado oil.
Add mushrooms to the skillet. Cooke three minutes without stirring.
After three minutes stir mushrooms.
Cook another two minutes without stirring, repeat.
Add sauce mixture to mushrooms. Cook another two minutes or so or until the mushrooms have absorbed the sauce.
Serve warm.
More Great Easy Keto Recipes