This keto canned chicken pizza crust is AMAZING! I know making pizza crust with canned chicken sounds strange but trust me, it's divine! If you aren't eating a low-carb lifestyle, this pizza crust is worth trying.
Great Things About This Canned Chicken Pizza Crust
It tastes great
You can pick it up and eat it, so skip the fork
It's a low effort for high return (the bake time is a little longer than traditional pizza crust but there's no stress or yeast involved).
The crust is low in carbs
It's what I call a "Pantry Meal". I almost always have everything on hand to make it so a trip to the store isn't necessary. Instead, I'll adjust the pizza ingredients to whatever I have on hand.

Dealing with active dry yeast can be intimidating for some people but this keto pizza crust takes away all the stress. I think this recipe is pretty much foolproof.

Canned Chicken Pizza Crust Ingredients
To make this keto pizza crust you will need:
Canned chicken
Egg
Parmesan cheese
Garlic powder
Salt & pepper
To make a pizza you will also need:
Toppings of your choice
– Cooked Meats (sausage, pepperoni, salami, linguica, etc)
– Veggies (onions, mushrooms, olives, etc)
Mozzarella cheese (or whatever cheese you have on hand)
Equipment Need to Make This Pizza Crust Recipe
Oven
Cookie sheet or pizza stone
Steps to Make this Canned Chicken Pizza Crust
Preheat oven to 375. Prepare a cookie sheet by lining it with a piece of parchment paper. Don't skip this step! The parchment paper ensures the canned chicken pizza crust will not stick to the cookie sheet.
Next, mix the keto pizza crust ingredients together in a bowl. Use a spatial or your freshly washed hands to thoroughly mix the ingredients. Once all the ingredients are mixed, dump the mixture onto the prepared, parchment paper-lined cookie sheet.
Spread the mixture out with your hands. You want the chicken pizza crust to be thin but not have holes in it. It's a fine balance so pay attention.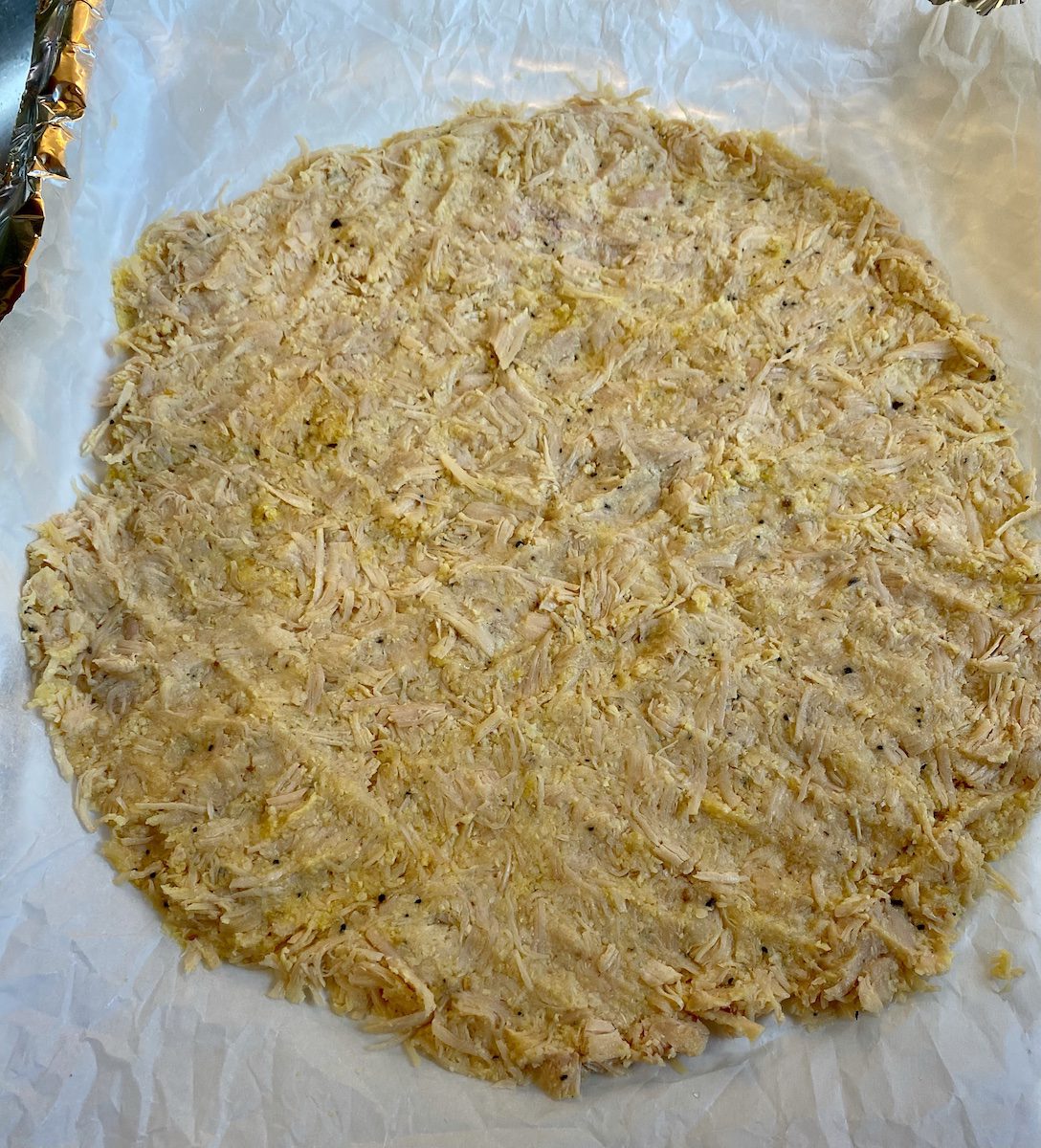 Bake the Canned Chicken Pizza Crust
Place the chicken crust into the preheated oven and bake for about 30 minutes. Remove from heat and spread a layer of pizza sauce.
While the pizza crust is baking prepare all your pizza toppings. All meats should be cooked and cut into bite-sized pieces. All vegetables should also be cut bite-sized.
As you can see in the image below the crust shrunk a little.

After spreading the sauce I like to put the canned pizza crust back in the oven for 5-8 minutes. I prefer the sauce to be a little more set up and baking it these extra minutes accomplishes that. Trust me, even if you are in a hurry, this step will make all the difference.
Assembling the Keto Canned Chicken Pizza
Assemble the pizza however you prefer. Here's how I like to layer it but there is no wrong way:
Cheese
Meats
Veggies
A thin layer of cheese
Your pizza should look something like below.

Place the keto pizza back in the oven and bake another 15 minutes or so. I like for the cheese to get a little browned.

Let the pizza cool for at least 10 minutes so the cheese settles and locks all the toppings in place.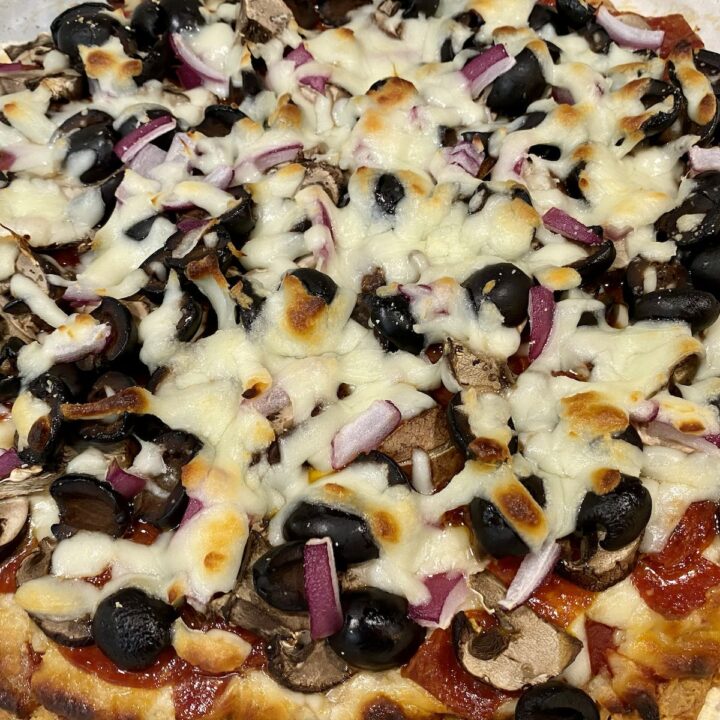 Keto Canned Chicken Crust Pizza
Total Time:
1 hour
8 minutes
Easy to make and delish! This crust Is keto and has ZERO carbs.
Ingredients
2 cans Canned Chicken, Drained
1 ea Egg
1/2 cup Parmesan Cheese
1 dash garlic powder
2 dashes salt & pepper
Instructions
Preheat the oven to 375.
Combine all canned chicken pizza crust Ingredients In a bowl. Mix with a spatula or clean hand.
Spread crust mixture thinly onto a baking sheet covered with a piece of parchment paper. Bake for 30 minutes. Remove from oven.
While crust bakes, prepare toppings. Meats should all be fully cooked.
Spread the crust with a layer of your favorite pizza sauce. Bake 5-8 minutes. Remove from oven.
Add layer of cheese, toppings and another light layer of cheese.
Bake for 15 minutes or until cheese Is melted. Remove from oven and cool 10 minutes before cutting.
Nutrition Information
Yield

4 servings
Serving Size

1 serving
Amount Per Serving
Calories

187
Total Fat

10g
Saturated Fat

4g
Trans Fat

0g
Unsaturated Fat

5g
Cholesterol

89mg
Sodium

618mg
Carbohydrates

3g
Net Carbohydrates

3g
Fiber

0g
Sugar

0g
Protein

21g
Nutritional information may not be accurate.
**** This post contains Amazon affiliate links.
What is a keto pizza crust made out of?
There are several options when it comes to making keto pizza crust. "Fat Dough" is very popular but my absolute favorite is keto pizza crust made from canned chicken. It tastes amazing and best of all its ZERO carbs!
What is the lowest carb pizza?
The lowest carb pizza is the one you make at home. Making pizza at home isn't difficult. This keto pizza crust is made from canned chicken but you'd never know it! This is the BEST keto pizza crust recipe!
10 Random Keto Canned Chicken Pizza Questions
Chicken crust pizza or fathead crust? Chicken crust every single time!
How long does this low carb chicken pizza crust last in the fridge? Three days!
Could I cut this in half and make 2 different pizzas? Yes! This is a great idea and you will get more delicious little brown bit edges.
How many carbs are in the chicken crust? ZERO!
What makes an incredible pizza? Everything! You an pick up the crust and it doesn't taste weird.
What makes this pizza different from all the other keto pizza out there? It's made with canned chicken which is easy to always have on hand.
Ground chicken or canned chicken? Canned chicken!
Does this actually taste like pizza or more like chicken and pizza toppings? This keto pizza tastes like real pizza!
What kind of chicken can you use? My favorite is the canned chicken costco sells but any canned chicken will do.
Can you tell that we love pizza?
More Great Pizza Recipes
Here Are Some More Great Recipes