This recipe is always a big hit! The other day daughter #2 asked me if I could make Pizza Burgers soon. Today was her lucky day! This recipe takes about 35-45 minutes to make, which is perfect for a busy day. The cube steak pizza burger picture below may not look like anything amazing, but it's soooooo good and easy to make.
This recipe makes a lot, if you are feeding a small family, you may want to half the recipe. The recipe easily makes 10 good sized pizza burgers.
How to Make This Cube Steak Pizza Burger Recipe
Here's what you'll need:
3 pounds cube steaks (8-12 cube steaks)
1 onion – diced
1 green bell pepper – seeded & diced
5-6 cloves garlic – minced
1.75-ounce pack of pepperoni slices
2 jars spaghetti sauce
Mozzarella cheese
Salt, black pepper, and garlic power
Sandwich rolls
1 Cube butter
Dried Parsley
Season both sides of cube steaks with salt, pepper, and garlic powder. I used just over three pounds of meat. I bought three packages of four smallish sized cube steaks. Cut the seasoned cube steaks into slices going against the grain. This will make the meat very tender.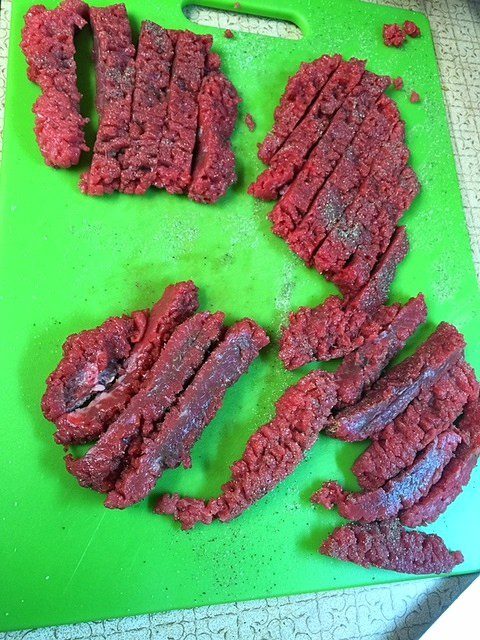 I used my De'Longhi BG45 Electric Skillet for this recipe. If you don't have an electric skillet you can make these pizza burgers in a non-stick big dutch oven or a non-stick skillet with high sides and a tight-fitting lid.
Brown the seasoned cube steak slices in a bit of vegetable oil. When the meat is all browned, remove the meat and place it in a bowl and set aside.
Now it's time to saute one diced onion and one seeded diced bell pepper. You may need to add a bit more oil.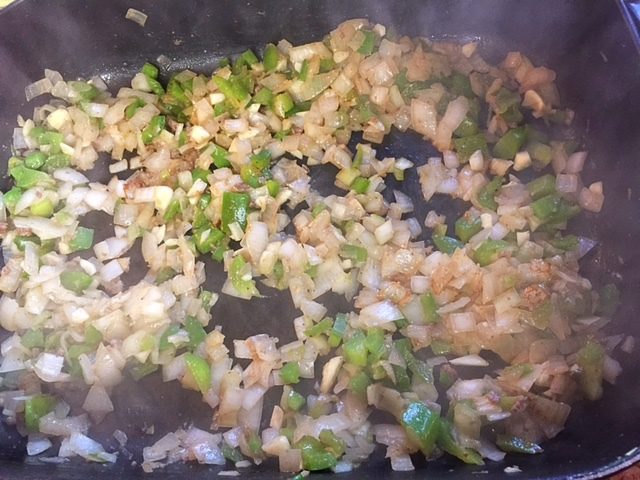 When onions and bell pepper are cooked, add in 5-6 cloves minced garlic and a small package of sliced pepperoni. As you can see in the picture below, I sliced the pepperoni into strips. Saute the garlic and pepperoni about two minutes.
Add the browned cube steak slices back to the onion skillet, stir in two jars of Prego (or your favorite brand) spaghetti sauce. Simmer covered for 20 minutes. You will need to stir often. The sauce will pop, so wear an old tee shirt when you make pizza burgers. I use the electric skillet lid as a shield when I stir, but I still get hit.
After 20 minutes of simmering and stirring, top the pizza burger meat with shredded mozzarella cheese.
Cover the skillet with the lid, and let the cheese melt. I leave the electric skillet on low while the cheese is melting, it just takes a few minutes. Your dish should look something like this below with the cheese all melted.
Now it's time to get the rolls ready. This step is optional, but it really does make these pizza burgers exceptionally delicious. Melt one stick of butter in the microwave. Add one teaspoon of garlic powder, and two big pinches of dried parsley, stir it all together.
I use these sandwich rolls for pizza burgers. Most of the time I just buy what's on sale, lucky for me these rolls were on sale are are one of my favorites. Whenever I make this dish, I buy two packages of rolls.
Brush the garlic butter mixture on the inside of the roll.
Toast the bread roll in a non-stick skillet on medium or medium high if you are watching them carefully. Your roll should look something like this, nice and toasty.
I've served these cube steak pizza burgers for lunch for company before. If you are serving a small crowd, you can do this toasting of the bread in the broiler, but you'll have to really watch the bread so it doesn't burn.
Here's a big cheesy pizza burger I made for my husband. I filled it a little too full, but he didn't complain, he really loves meat.
Here's my half-eaten cube steak pizza burger. These burgers can be very messy. 😀
Cube Steak Pizza Burger Recipe
Delicious cheesy pizza burgers are a big hit with everyone
Ingredients
3

pounds

cube steaks

8-12 steaks - cut into slices

1

bell pepper - seeded and diced

1

onion - diced

5-6

garlic cloves - minced

1.75-

ounce

package of pepperoni slices

2

jars spaghetti sauce

Mozzarella cheese - shredded

Salt

Black pepper

Garlic powder

**** Rolls ****

Sandwich rolls

1

cube butter - melted

1

teaspoon

garlic powder

2

big pinches dried parsley
Instructions
Season both sides of cube steaks with salt, black pepper, and garlic powder.

Cut cube steaks into slices.

Brown cube steak slices over medium heat. When meat is browned, remove to a bowl and set aside.

Saute onion and bell pepper in skillet. When the onion and bell pepper are done, add in minced garlic and pepperoni slices. Saute two minutes.

Add meat back to skillet and stir in two jars of spaghetti sauce.

Reduce heat to a simmer and simmer covered for 20 minutes, stirring often.

When the 20 minutes are up, stir cube steak pizza burger meat and top with mozzarella cheese, return lid to skillet and let the cheese melt.

***** Prepare the Rolls*****

Melt butter in a microwave safe dish. Add in 1 teaspoon garlic powder and two pinches dried parsley, stir to combine.

Brush the melted butter mixture on inside of sandwich roll. Toast the bread in a non-stick skillet over medium heat.

Top toasted sandwich roll with cube steak pizza burger filling.

Serve with plenty of napkins.
Disclosure: This post contains Amazon affiliate links.
More Great Recipes