My husband and kids love stuffed peppers. Years ago my husband followed a low-carb diet, and this is my version of low-carb stuffed peppers. It's a great way to use up summer zucchini from the garden. My family enjoys this recipe so much I still make it whenever bell peppers go on sale.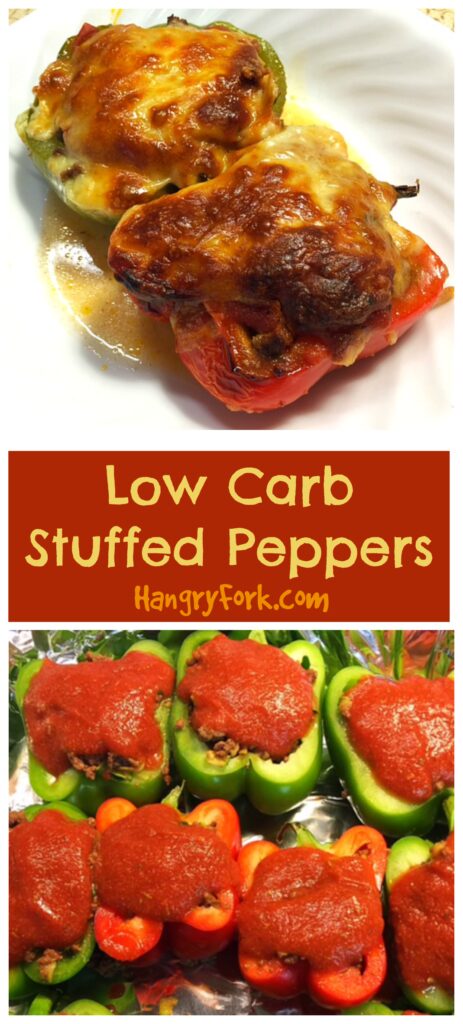 Zucchini Stuffed Peppers – Low Carb Stuffed Peppers
Here's what you'll need to make this recipe.
1 pound ground beef (you could also use ground sausage)
2 small shredded zucchinis or one large
1/4 cup parmesan cheese
2 – 8-ounce cans tomato sauce (separated)
4 large bell peppers – cut in half from stem to end and seeds removed
1 tablespoon Worcestershire sauce
1/2 teaspoon garlic powder
1/4 teaspoon onion powder
salt & black pepper
1 teaspoon Italian seasoning
1 teaspoon garlic powder
black pepper
Mozzarella cheese
How to Make Low Carb Stuffed Peppers
*** Please Note*** the pictures below are of a batch and a half. I like to make extra for leftovers.
Preheat oven to 350 degrees.
Brown ground beef, drain fat, and then add shredded zucchini, parmesan cheese, ONE can of tomato sauce, Worcestershire sauce, 1/2 teaspoon garlic powder, and 1/4 teaspoon onion powder. Cook a few minutes and then taste for salt and black pepper.
Prepare the bell peppers. Cut bell peppers in half from the stem to the bottom of the bell. Remove the seeds. I like to slice the seed area with a knife, but I'm really careful not to slice through the bell pepper. Line the pan with foil for easy cleanup.


Add the cooked ground beef zucchini mixture to the bell pepper halves.
Now it's time to make the simple seasoned tomato sauce that goes on top of the stuffed peppers. I mix this in the tomato sauce can for easy cleaning up but you could use a small bowl.
Open the other can of tomato sauce and add 1 teaspoon of Italian seasoning, 1 teaspoon of garlic powder, and a few shakes of black pepper to the can. With a spoon, stir the spices in.
Top the stuffed peppers with a layer of seasoned tomato sauce.
Cover the low-carb stuffed peppers with foil, and bake for 30 minutes.
Remove the foil cover and top each stuffed pepper with some shredded mozzarella cheese. Return the stuffed peppers to the oven and cook another 30 minutes. Cheese should be melted and browned and the peppers should be tender.
If you don't like your cheese this browned, then cook the stuffed peppers for 40 minutes and then add the cheese and cook an additional 20 minutes uncovered.
I like to make a few extra stuffed peppers for my husband's work lunch. They warm up wonderfully.


I have exciting Valley Fire rebuilding news. The metal building for our replacement garage and tractor barn showed up today!