In May 2014, three of our kids and I tagged along with my husband on a business trip and we made a little detour to Yellowstone National Park. This park is AMAZING! I think Yellowstone National Park should be on everyone's bucket list. I'd like to visit again.
My Yellowstone National Park Tip
On our first day at Yellowstone there weren't any crowds at all. The second day there were crowds but it wasn't that bad. I recommend going in late May before public schools get out, and when the roads are open because if you go too early some of the roads are still closed due to snow. Also, visit during the week if you want to avoid crowds.
We visited Yellowstone for three days in a row and were lucky enough to see so many buffalo, one HUGE Yellowstone wolf, many Yellowstone elk, a mama grizzly bear and her cub, and a black bear.
The buffalo and their babies run beside the road inside the park.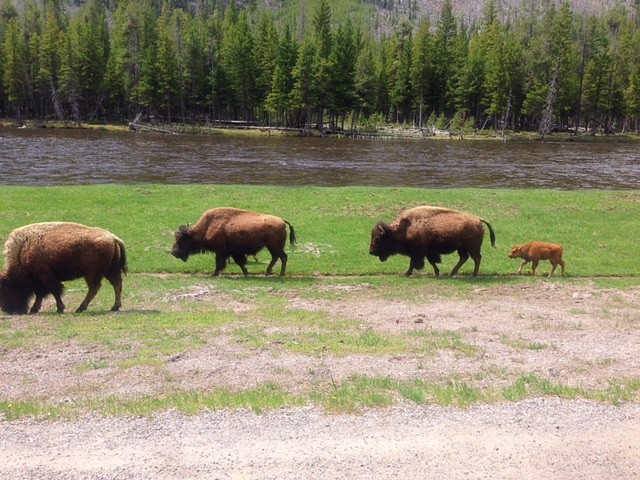 I took this picture of the Yellowstone buffalo from inside the truck.
Here are some pictures of Yellowstone National Park hot springs.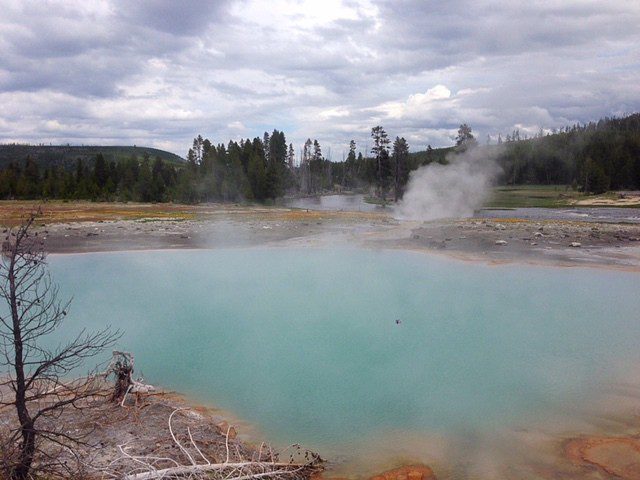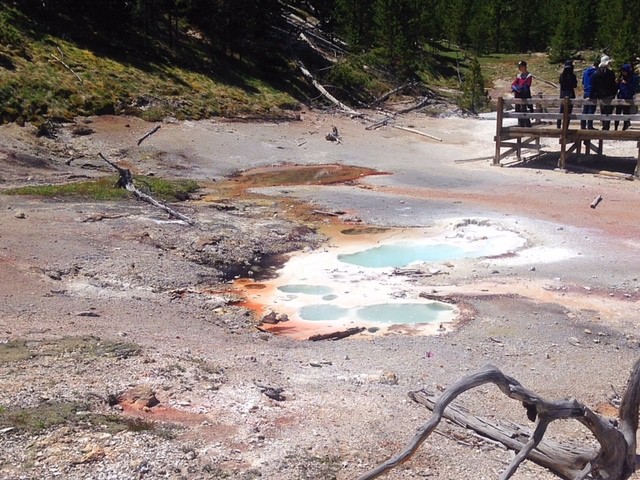 Our daughter #2 and one of the hot springs. Look at the color of the spring, it's just amazing! Within the park, there are signs everywhere to stay on the paths or else you could be cooked alive.
Our three youngest at Yellowstone National Park. We were so tired from all the hiking and walking at all the stops along the roads, my husband and I didn't walk down this path, but our kids did. Next time we visit Yellowstone, I plan on physically training for it. There is so much walking up and down hills, but it's so worth it.
At some of the stops, you have to walk over one mile just to see the spring, bubbling mud pot, etc.
My kids waiting for Old Faithful to erupt. They were so excited! Old Faithful erupts on a schedule, but sometimes it's late and the seating fills up fast.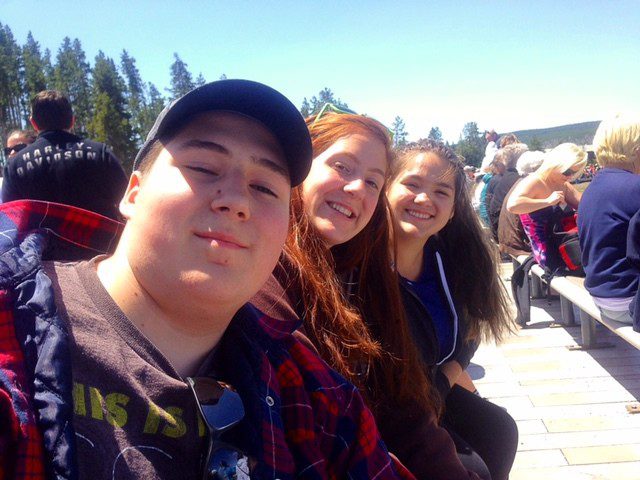 This is Lake Yellowstone at Yellowstone National Park. It's a beautiful lake and there was still ice on in late May.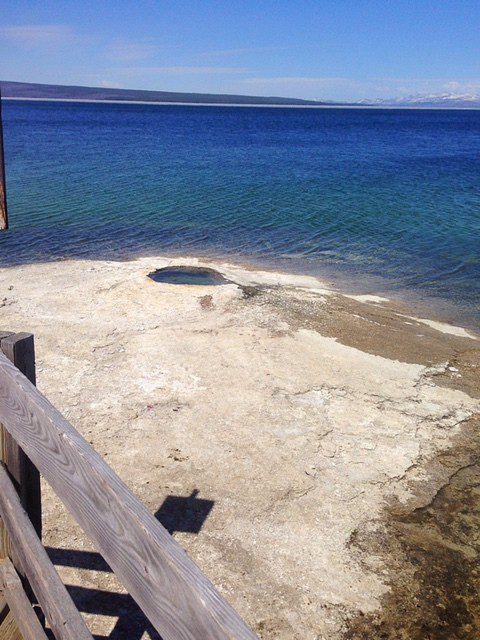 This is another picture of Yellowstone Lake with our two youngest up the path.
Here's our red-headed daughter (#3) on a path at Yellowstone National Park. The paths are really nice but not very wide and they can get crowded.
This is the wolf we saw, he's pretty far off and was eating something, I'm guessing a buffalo placenta, but it's just a guess. The wolf looked HUGE even from a distance. We found the wolf by observing other drivers. When someone spots something they pull over and then so does every other car in both directions.
Check out the beautiful colors in the flowing water.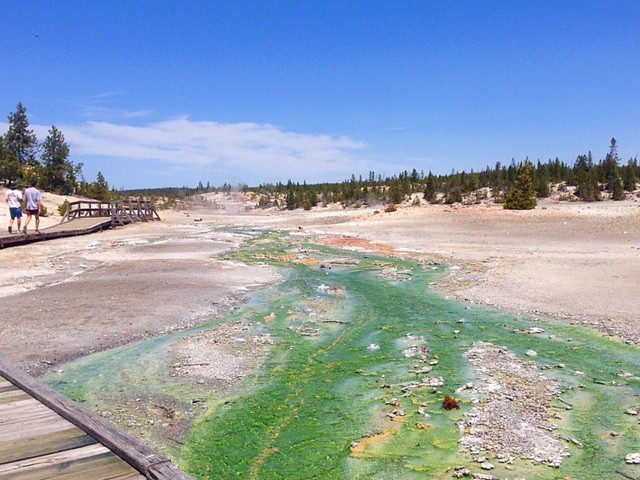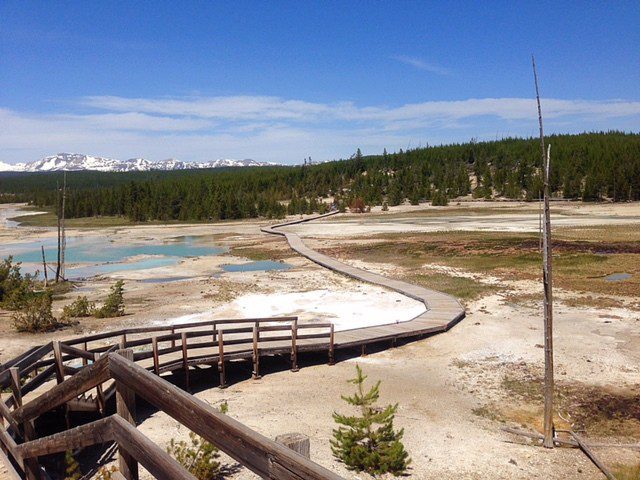 Daughter #2 at one of the many falls inside Yellowstone.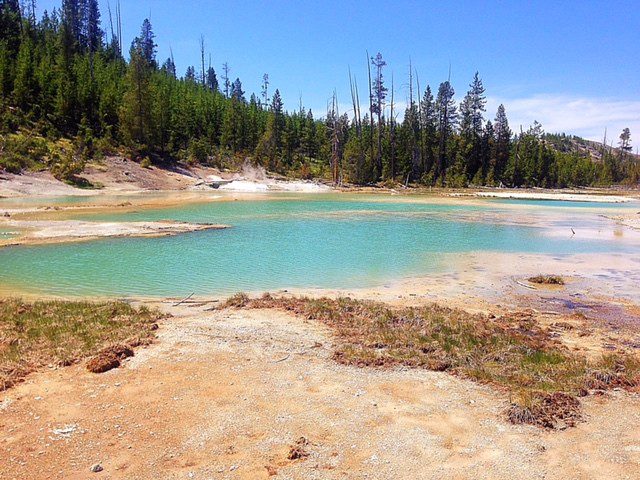 I'm not sure what these rock formations are called but they are pretty incredible and like nothing I've seen before.
Yellowstone Mud Pots Video
Here I am trying to get my three youngest kids into my Yellowstone Mud Pots Video. I'm not the smoothest. Lol
If you haven't made the trip to Yellow Stone National park, you should definitely try and make the drive. The park is amazing and full of so much wildlife. I recommend going around May. You want to visit when most of the snow has melted and before the tourists, all show up. We rented an Airbnb near the park and cooked simple meals to save money. If you like camping there are few campgrounds in the park but I would imagine they are booked years in advance.
I'm participating in the 2016 A to Z Challenge. Today's post for Yellowstone National park is my "Y" day post.