The past two days I've been busy cutting out fabric circles from old jeans. I have a huge stack of old jeans I want to upcycle into usable items. So far I've made two square denim potholders , a set of denim potholders with finger protectors and this reverse appliqued denim potholder.
I'm working on making a denim I spy rag quilt, which will be similar to the square denim potholders, but with frayed edges. The Denim I Spy Rag Quilt Tutorial is up! Here's the stack of denim circles I've cut out so far for the denim quilt, there are 100+ denim circles in the pile.
I split the jeans up the inseam and used a pasta bowl for the circle pattern. I traced around the pasta bowl with a sharpie on the wrong side of the old jeans.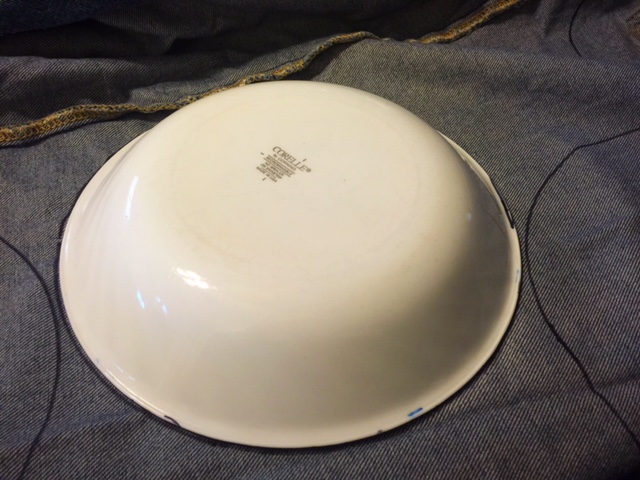 I ended up having a big pile of scraps.
Some of the scraps were usable.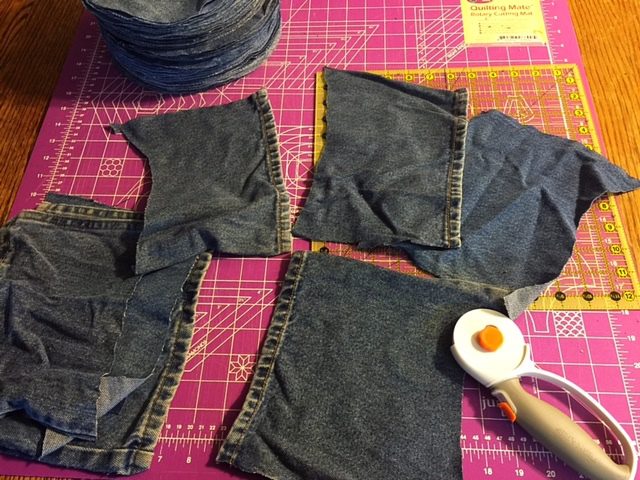 I got out my new rotary cutter and my new 12.5″ x 12.5″ EZ eyes ruler and went to work making the denim scraps uniform sizes for this denim potholder.
I'm really excited about getting a new rotary cutter and new quilting rulers, my old ones were 15-20 years old. The rulers were brittle and they all had cracks or had broken in half. My old rotary cutter was dull and it had a hard time keeping the blade exposed so it could cut.
I also got some new scissors! Over the years, my kids have snuck around and used my fabric scissors for paper, which is a huge no-no. This time I marked up my new scissors so there can be no confusion. I can't tell you what a joy it is to cut 100 circles of denim from old jeans with razer sharp scissors! It's like cutting butter with a hot knife! I don't know why I tortured myself with my jacked up old scissors for so long.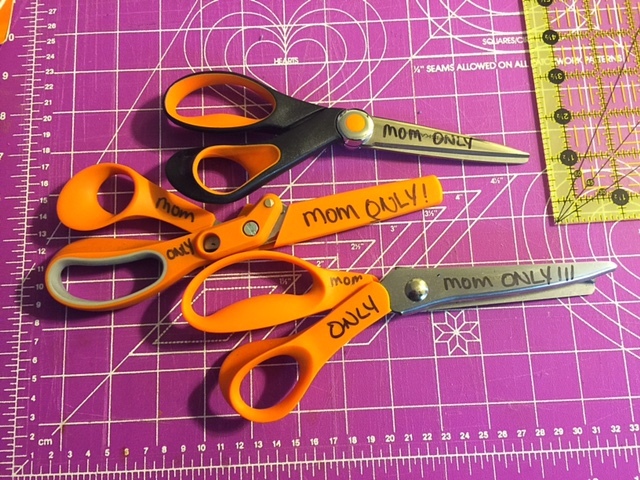 Reverse Heart Applique Denim Potholder
I decided to make a denim potholder with reverse appliqued hearts. So I drew a heart on a piece of paper and cut it out. I traced around the heart onto the wrong side of the denim.
There are a few ways you can do reverse applique, this one is probably the easiest, especially if you are working with flimsy fabrics. Since I don't own any tiny scissors and because I'm working with fairly stiff denim fabric, I did it my way and went ahead and cut out the heart shapes.



I flipped the denim heart layer over and put a checkered layer of fabric behind the denim fabric. I also put another layer of denim behind the checkered fabric. It was like a denim checkered fabric sandwich. 😀
I stitched around the hearts.
I then flipped the front over and trimmed away the excess fabric. I did this because when I wash the potholder, I don't want the excess checkered and denim fabrics wadding up.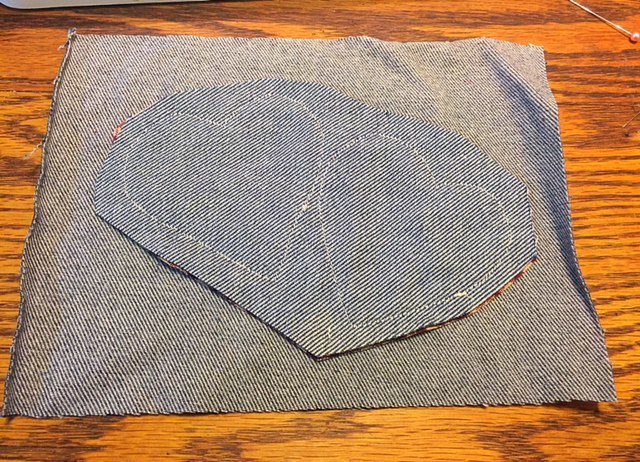 Next, I prepared the backing. I pinned to two layers of denim liner to the what will be the backing of the potholder. I made sure to make inside liner denim pieces were 1/2″ smaller than the potholder backing fabric so that I won't have lots of denim layers in the seams. I then traced around the paper hearts – this is the potholder quilting. I purposely put three hearts on the back and only two on the front to see if anyone would notice, and my kids picked up on it right away.
Liner side up, I sewed around the hearts and then sewed around the liner edges. here's what the back of the potholder looks like.



Now it was time to join the front and the back sections together. I pinned the two pieces together, lining up the edges and then I made two stitch trips around the potholder.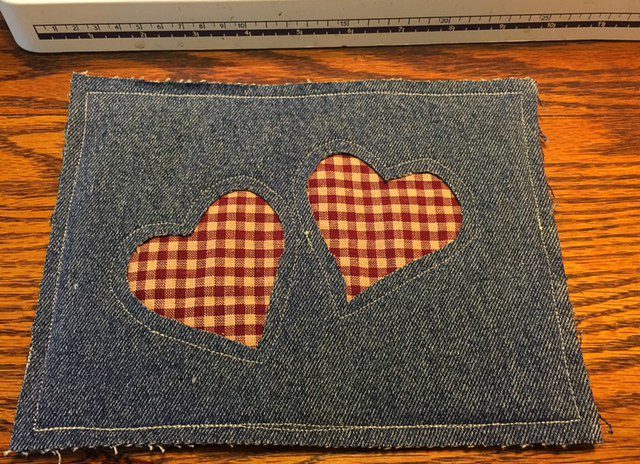 Here's the finished denim potholder after I ran it through the washer and dryer. I love the rustic look of the frayed edges. It's perfect for my country kitchen! 😀 I think this may be my favorite homemade potholder.
Just for fun here's another denim potholder I made 6-10 years ago for my husband. This potholder is well used and has the stains to prove it. I cut out three circles of denim and two of the green fabric, then I sandwiched the denim between the green fabric pieces and machine quilted going in a continuous big circle. I made biased binding and attached it to enclose the edges. I can't imagine how many tasty meals I've pulled out of the oven with this potholder.
Disclaimer: This post contains Amazon affiliate links.