This roasted cauliflower with garlic and parmesan cheese is so easy to make, it takes about 10 minutes to get the cauliflower ready to go in the oven, and then it roasts whole for one hour and thirty minutes. This roasted cauliflower recipe is so hands-off, I just love it. The cauliflower comes out of the oven firm enough to cut and hold its shape, but very moist and soft to eat. The cauliflower still has a lot of flavors, unlike boiled cauliflower. My mind is spinning with possibilities for more roasted cauliflower recipes.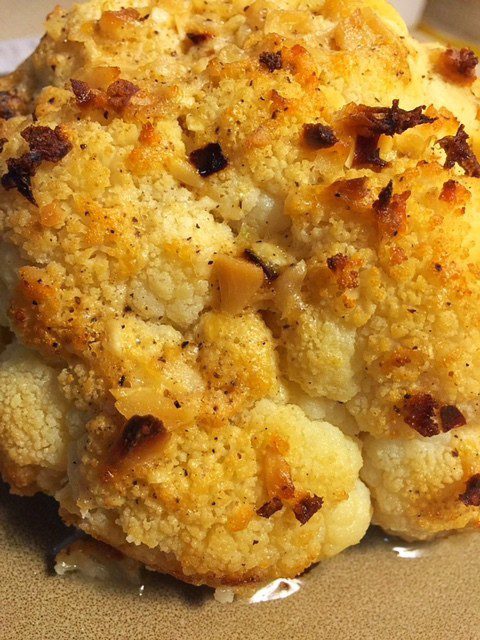 How to Make Roasted Cauliflower
Make Garlic Butter Sauce
In a small bowl combine melted butter, minced garlic, a pinch of crushed red pepper, parmesan cheese, black pepper, and salt.
Prepare Cauliflower
Prepare the head of cauliflower. Remove all the leaves and make carefully a whole in the core.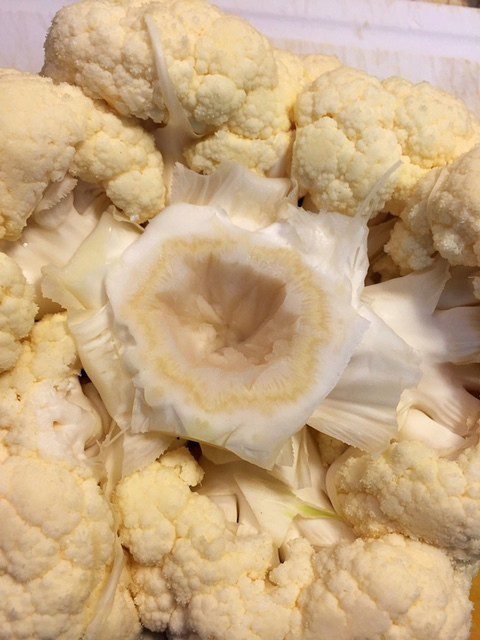 Get Baking Sheet Ready
Line a cookie sheet (with sides) with foil makes for easy cleanup and then cut another piece of foil big enough to wrap the cauliflower head.
Assembling Roasted Cauliflower with Garlic and Parmesan Cheese
Coat the cauliflower with garlic sauce. I dipped the top of the cauliflower head in the bowl, laid the cauliflower on the foil, and then really coated the cauliflower well with the garlic butter sauce.
Sealing and Baking Cauliflower
Wrap the cauliflower head tightly in foil. Roast cauliflower @ 350 for one hour 30 minutes, maybe a little less if your cauliflower head is small. I was working with a large cauliflower.
Here's What the Finished Roasted Cauliflower Looks Like
This is what the cauliflower will look like when done.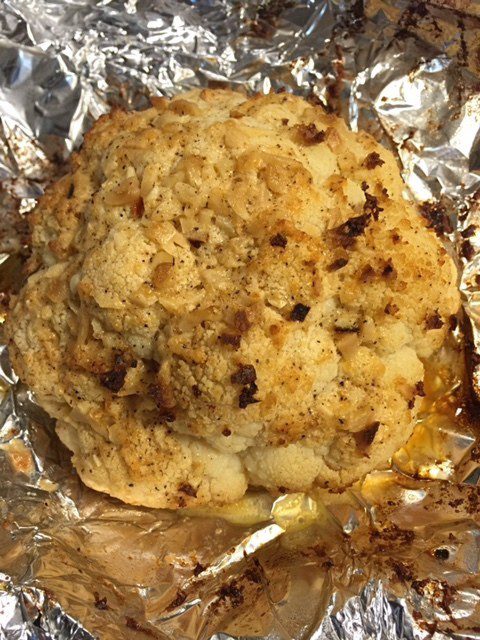 Here's what roasted cauliflower looks like sliced.
With a spatula, carefully transfer the cauliflower head to a plate.
Roasted Cauliflower with Garlic and Parmesan Cheese
Roasted cauliflower with garlic and parmesan cheese.
Ingredients
1

large head of cauliflower

1/4

cup

butter

2

cloves

garlic - minced

2

tablespoons

parmesan cheese

1

pinch

of crushed red pepper flakes

Dash of black pepper

Dash of salt
Instructions
Preheat oven to 350 degrees.

Line a cookie sheet with foil.

Cut another piece of foil large enough to tightly wrap the entire head of cauliflower.

Carefully cut a little hole in the core of the cauliflower (on the bottom).

Melt butter in microwave safe dish. Mix in minced garlic, parmesan cheese, pepper flakes, and dashes of salt and pepper.

Dip head of cauliflower in butter bowl and transfer cauliflower to foil. Coat the entire head of cauliflower with butter mixture. Use all the butter.

Tightly wrap cauliflower in foil.

Bake @ 350 for 1 hour 30 minutes.
Check Out These Great Recipes