This homemade hummus recipe is so easy to make and tastes so much better than the store bought stuff.
This is a spicy hummus recipe with garlic, a seeded jalapeno, tamed nacho rings, tahini sauce, lemon juice, and spices all whipped up in the food processor with two cans of drained garbanzo beans. Add a little water until you get the desired consistency.
You can make this as spicy or as mild as you want. You can eat it right away, or you can let the flavors blend in the refrigerator overnight. This recipe is fantastic and only takes about five minutes to make!
What to Eat With Hummus?
Hummus is delicious and good for you, but what can you eat with it? There are so many great options to choose from. You can eat just about anything with hummus.
Here are some of my favorite ways to eat hummus
You can try dipping a variety of vegetables, fruits, crackers, chips, and pretzels in hummus for a healthy snack.
Vegetables – Fresh vegetables like carrots, celery, cucumbers, bell peppers, and broccoli are great choices. You can even dip cooked veggies like cauliflower or eggplant into your hummus.
Fruits – Hummus tastes great with apples, pears, and grapes.
Crackers – Choose whole grain crackers or hearty grain crackers to pair with hummus. Wheat thins work well too!
Chips & Pretzels – When I'm craving something crunchy to pair with my hummus, I usually reach for baked pita chips or pretzels. You could also try sliced baguette or bagel chips instead of regular potato chips if you want something different.
Dip tortilla chips in hummus
Dip wheat thins in hummus
Dip celery sticks in hummus
Dip carrot sticks in hummus
Dip mushrooms in hummus
Dip seeded slices of bell pepper in hummus
Dip cucumber slices in hummus
Spread hummus in wraps
Spread hummus on sandwiches
Spread hummus on toasted bread
Spread hummus on toasted English muffins
Spread hummus on pita bread
Spread hummus on halves of a hard-boiled egg
Eat hummus on hot cooked pasta
Toss some hot cooked broccoli with garlic hummus
Mix mashed avocado with hummus for an avocado hummus
Thin hummus out with some vinegar and use as a salad dressing
Substitute hummus for mayo in recipes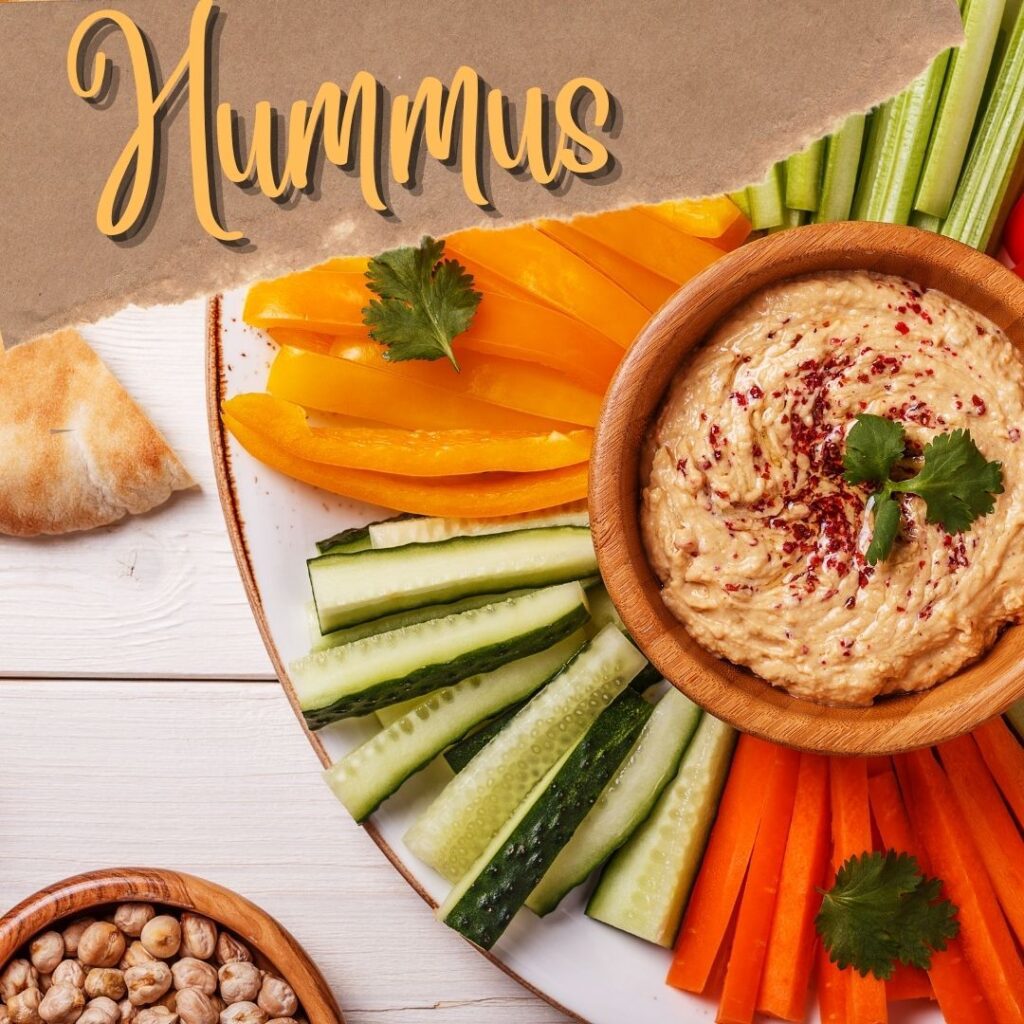 What to Eat with Hummus For Weight Loss
Hummus is a delicious Middle Eastern dip made from chickpeas and olive oil that's packed full of protein. The high fiber content and protein make hummus a perfect food for when you're looking to lose weight because it will help keep you feeling full for longer.
If you love hummus, then you probably already know that it's a great sandwich spread or dip for vegetables, but did you know that there are many other foods that go well with hummus too?
Hummus has become a very popular food in the United States and is found on most grocery store shelves. Not only is hummus is one of the healthiest dips on the planet. It's made from chickpeas which are high in fiber and protein. But what's even better about hummus than just being tasty, is that it can be used to help you lose weight! Here are some tips on how to incorporate this into your diet plan:
Find an alternative for mayonnaise – Homemade hummus has a creamy texture that makes it perfect for use as a sandwich spread or salad dressing instead of mayonnaise (which is high in fat). Use hummus as a spread instead of mayo. Mayo is higher in calories and fat than hummus and contains added sugar. Hummus is a better option on sandwiches and wraps if you're trying to lose weight.

Tuna – Use hummus instead of mayo.
Wraps – Use hummus instead of mayo in your favorite wrap recipes.
Salad Dressing – Use hummus as a salad dressing. Water it down with a little apple cider vinegar.
Pair with lean meats – If you baked a chicken and it's a little dry, spread some hummus on top of the meat. Hummus will add moisture.

Homemade hummus flavors – You can make your own versions of hummus with different flavors like sun-dried tomato or roasted red pepper which will add more nutrition and flavor while still being low calorie. Just make sure they aren't packed in oil or you'll be adding calories.
Use hummus as a dip for weight loss – Dip celery sticks, sliced bell pepper, cucumber sticks, baby carrots, broccoli florets, cauliflower florets, tomato slices, baked pretzel sticks, and pita chips, in hummus for a nutritious snack.
How to Make Homemade Hummus Recipe
In a food processor combine roughly chopped seeded jalapeno and garlic cloves.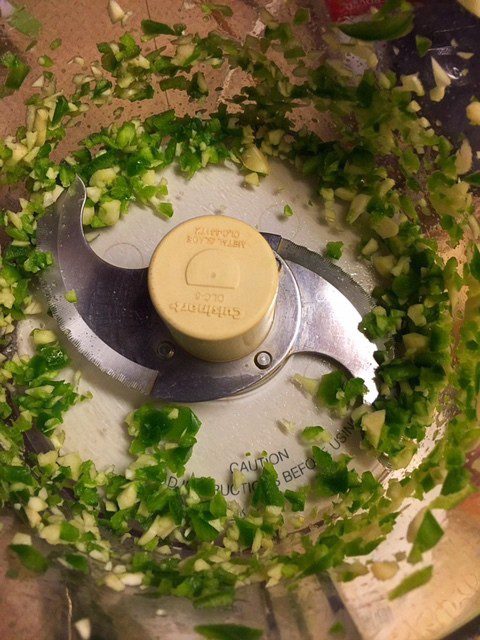 Add in two cans of drained garbanzo beans, olive oil, lemon juice, tahini, tamed nacho rings, juice from nacho rings, black pepper, cayenne powder, ground cumin, garlic powder, and oregano.
Add in water until you get the desired consistency. I used about half a cup of water.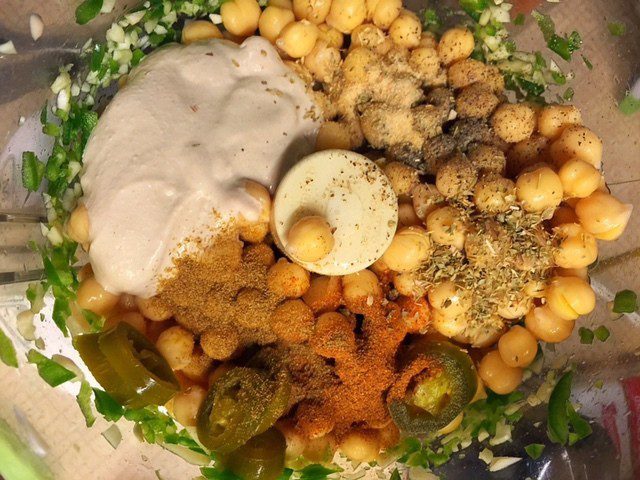 My favorite way to eat homemade hummus is with baked tortilla chips.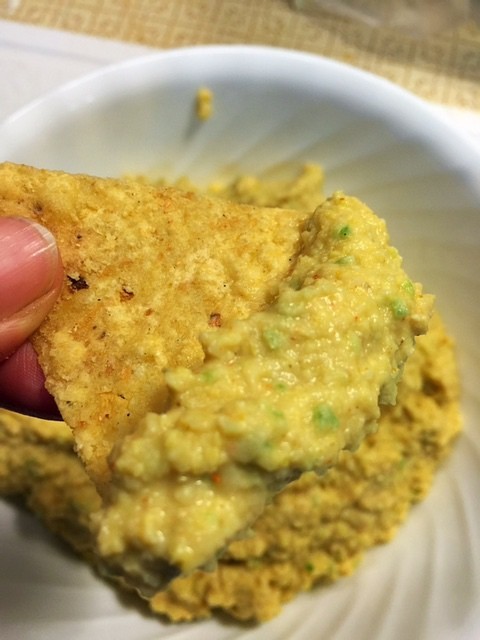 I made this recipe with five cloves of garlic, six tamed nacho rings, and 1 1/2 teaspoons of cayenne powder, adjust the recipe to your own tastes.
Easy Homemade Hummus Recipe
Quick and easy homemade hummus recipe made in the food processor.
Ingredients
2

cans drained garbanzo beans

2-5

cloves

garlic

1

jalapeno seeded and roughly chopped

2

tablespoons

olive oil

optional

1/8

cup

lemon juice

2

tablespoons

tahini

4-6

slices

tamed nacho rings

2

teaspoons

juice from tamed nacho rings

1/2

teaspoon

black pepper

1/2 – 1 1/2

teaspoons

cayenne powder

1/2

teaspoon

ground cumin

1/2

teaspoon

garlic powder

3/4

teaspoon

dried oregano

Dash of salt

Water
Instructions
Combine garlic cloves and roughly chopped seeded jalapeno in a food processor. Scrape sides and pulse again.

Add drained garbanzo beans, olive oil, tahini, nacho rings, juice from nacho rings, black pepper, cayenne powder, ground cumin, garlic powder, dried oregano, and a dash of salt. Pulse.

Add in water until you get desired consistency.
Frequently Asked Questions
Is Sabra hummus healthy?
Sabra classic hummus is healthy if you eat the recommended serving which is two tablespoons. Hummus is high in sodium.
Here are the nutritional values per serving: 70 calories, 5 g fat, 0 cholesterol, 130 mg sodium, 3 net g carbs, and 2 g protein.
This hummus contains: Cooked Chickpeas, Water, Tahini (Ground Sesame), NonGMO Soybean Oil, Garlic, Salt, Non GMO Citric Acid, Potassium Sorbate Added to Maintain Freshness.
How to make hummus without a food processor
Use a blender. If you don't have a blender, you can use the back of a fork to mash the chicken peas.
Easy Homemade Hummus Recipe Conclusion
Homemade hummus is a great, healthy snack that is easy to make. It's perfect for parties, potlucks, or any other gathering. So go ahead and give this easy homemade hummus recipe a try!
Disclosure: This post contains Amazon affiliate links.
More Great Recipes