Cheesy leftover chicken fajitas quesadilla is easy to make, and kids love them! The other day I made oven baked chicken fajitas and ended up having a small bowl of fajitas leftover, it wasn't enough to feed more than one person, so I ended up dicing up the fajitas and turning them into leftover chicken fajitas quesadillas. These chicken quesadillas are so good! They are cheesy and have all the delicious flavors of chicken fajitas. This is my favorite way to eat leftover fajitas.
How to Make a Leftover Chicken Fajitas Quesadilla
I started with a small bowl of leftover chicken fajitas. I dumped the fajitas onto a cutting board and diced them up.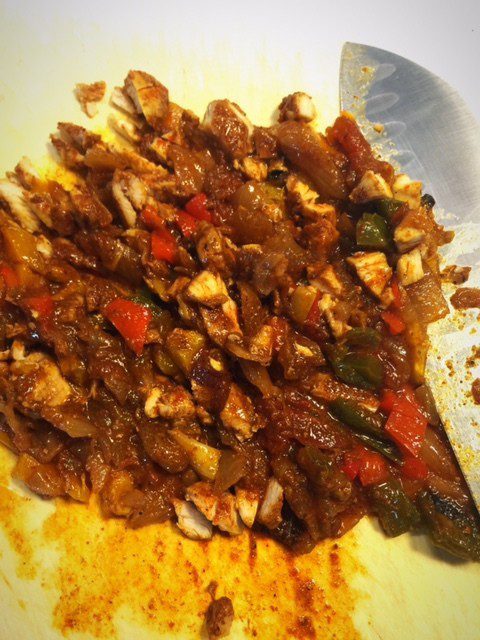 Warm up the diced fajitas in a bowl in the microwave. Heat a nonstick skillet on medium and brush with some melted butter.
Lay a tortilla (I used big flour tortillas from Costco) on the hot skillet and put down some taco cheese.
Add a layer of the chopped warmed up fajitas and another layer of cheese.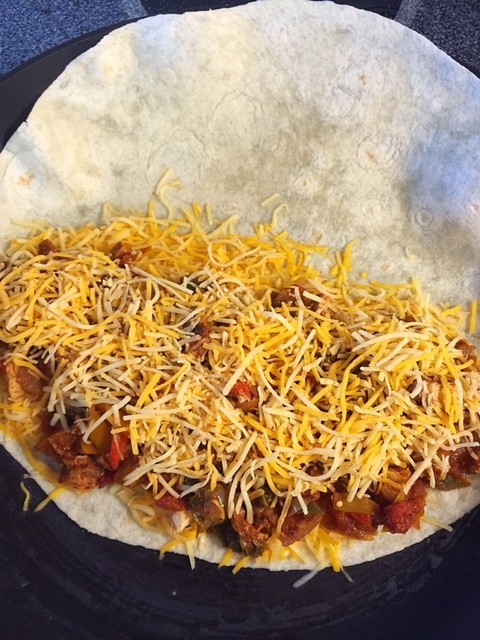 Fold the quesadilla in half. The first quesadilla will take longer to cook than subsequent ones. Take a peek inside to see if the cheese is melting. I like to use a spatula, to also take a peak at the side of the tortilla that's cooking. When the tortilla bottom is nice and a little brown, brush the top outside of the tortilla with a melted butter and flip.
Tip: When flipping a quesadilla, tip towards the tortilla fold, this keeps all the filling inside the quesadilla.
See how nice and browned the tortilla is?
When the other side of the tortilla is nice and crisp and the cheese has melted move it to a cutting board and cut to serve.
Here's a closeup of the leftover chicken fajitas quesadilla.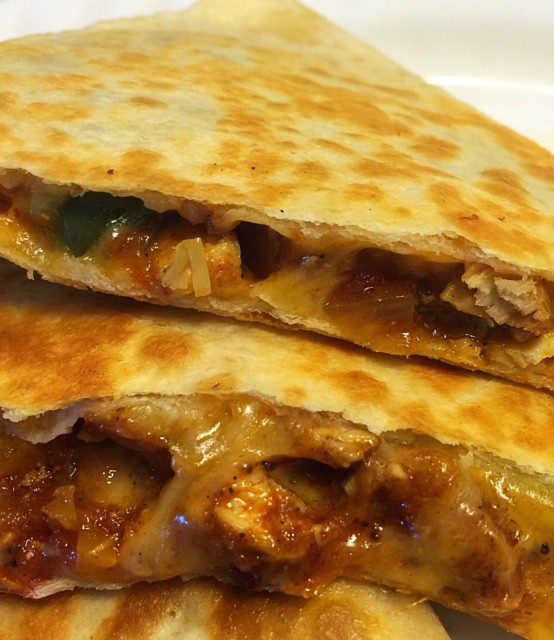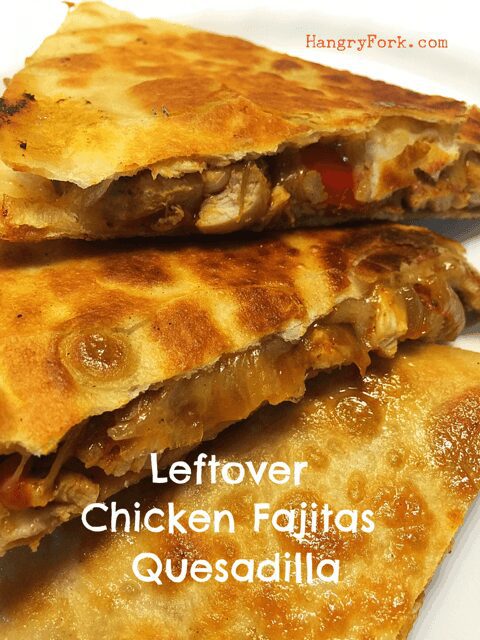 Serve a Chicken Fajitas Quesadilla With:
Sour cream
Your favorite hot sauce
Guacamole
More Great Recipes